Bedrooms are a great place to express a more individual style then presented in the rest of your home – after all no one but you and your closest friends are privy to this private zone. With that in mind why not take the plunge and create the bedroom of your dreams, embracing one or two of the latest trends in the process.

With today's love of open plan living, more and more people are opting to have a soaking tub within their bedroom rather than in the bathroom. This makes sense when you think of how much time a soak in the tub can take, especially if your bedroom has amazing vistas of the city, country, forest or water. Wouldn't you want to enjoy the scenery while relaxing in a nice hot bath in this amazing stainless steel soaker? I know I would.
Duna River


We've all seen DIY ideas where you take an old door and mount it sideways behind your bed as a headboard, but most of the door is hidden behind pillows and the vintage feel that it is supposed to create becomes minimized. This idea is so much better. A row of vintage doors is mounted horizontally up to a chair rail height on one wall with doors mounted above it vertically for a full wall effect and then the headboard wall switches it up by showcasing doors of varying heights. It's totally vintage in a big way and I totally love it.
Brody House


If you like the idea of an open concept bedroom but aren't ready to make the complete leap then this is the bedroom for you. It features a closet behind the headboard with open access on either side and a really cool wood screen mounted above the bed. Its open while still being separate and playing up this duality is the way the ceiling material changes from wood to drywall at mid point over the bed.


On the other end of this master suite is the bathroom, completely contained and completely visible through the walls of glass. The way this bedroom and bathroom are separated by a glass wall lets the view of the garden beyond permeate both zones and that's pretty clever. See more of this luxurious loft.
Eque & Seta


Indoor- outdoor lifestyles are a trend that is not going anywhere and what better way to embrace that lifestyle than with a bedroom that opens wide to a terrace via sliding glass doors that stack out of the way and out of sight. It would be so relaxing to sit under the stars before turning in for the night – especially in front of your own private outdoor fireplace. Check out this modern masterpiece home.
McLean Design


Fireplaces are an amazing way to add ambiance to a bedroom, but have you ever noticed that often they are too low to enjoy from the vantage point of the bed? Not so in this bedroom rendering. Here the fireplace is not only visible from the bed but also from the bathroom. Mounted high in a linear void within the side wall it's the perfect artistic moment and adds a blast of color to the otherwise monochromatic color scheme. To find out more click here.
Ando Studio


Bedrooms are places to make individual and personal statements and this bedroom makes one hell of a statement with its cantilever bed. The room boasts precious minimalism featuring only a few key pieces but each of those key pieces speaks volumes. See more details of this contemporary luxury apartment.
Triumph Palace


Textures are all the rage, and if you're lucky enough to have brick walls or exposed beams it would be a crime to hide them. Having said that, not all brick or wood is naturally pretty but take a cue from this all white room filled with brick, beams and plank flooring – the textures are amazing. Adding to the rustic modern aesthetic is the white drapery and furnishings that is then punched up with power packed pink tones. Don't like pink? With the white surround this picture perfect bedroom could feature any color.
8emezzo / Pianco Spa


Guys take heart; a trendy bedroom can be filled with manly moments without loosing its high stylin aesthetic. Just check out this red-hot brick and mortar bedroom and its red leather headboard and gymnastic rings suspended from the ceiling. Add in the exposed wood ceiling and brick walls and you have a bedroom that is sporty, sexy, beautiful and definitely trendy.
8emezzo / Pianco Spa


Something I've been noticing a lot lately is the way architects and designers are creating "area carpets" on the ceiling and I love how they created one over this bed by removing the drywalled ceiling and exposing the structural beams above it. It's great balance to the wood planking on the floor, both of which are connected visually by the floor to ceiling headboard treatment – which I might add is a brilliant sepia giclee of pansies.
Imativa Arquitectos
Photograph by Alexander Potiomkin


Wood is everywhere these days and this bedroom is no exception and by wrapping the wood on all surfaces the room is cozy and warm, personal and luxurious. This bedroom does double duty as both a place to sleep and a place to work but the wood de-emphasizes the office area, as does that surreal patina on the ceiling. There are so many places for your eye to look at while relaxing in the bed that you simply don't focus on the work station – which is a good thing when you want to sleep.
P+0 Arquitectura


Last but not least, my favorite trend of all – the suspended fireplace! It's such a mod look and if you love modern design it doesn't get much better then this. Aside from being a stunning – yet functional feature, it also solves the problem of being able to see the fire from the vantage point of the bed itself and that is after all a rather important detail. Also, did you notice how the hearth material matches the area rug beneath the bed? Now that's clever designing.
Michael Fitzhugh Architect


Very modern and unusual, with an office nook above the bed. Source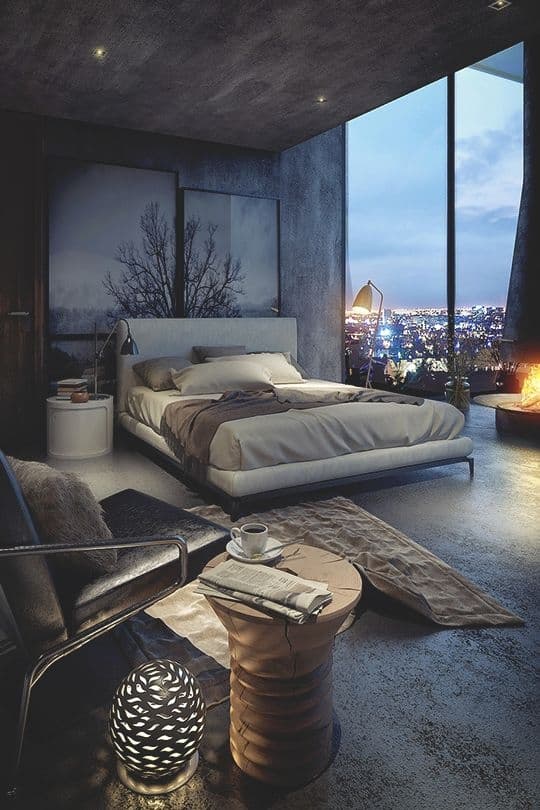 Simply stunning bedroom. Source


Modern artistic decoration. Source
Stunning Bedrooms with a View

Source


Source


Source
Each of the two bedrooms below has access to its own patio. How awesome is that!


Source


Source


Imagine falling asleep in this bedroom. I probably won't be able to at first.
Source


This one is in Rio de Janeiro. Source


This would be like taking a picture-perfect shot every time you go to bed. Source


This one is for urbanites. Source


Just wow … Source


Imagine watching sunsets from your bedroom! Source
For more stunning inspiration, check out our section devoted to bedroom interior design ideas.
—
Please note: this collection was updated – we've added 14 more bedrooms.