A minimalistic space is more than just an uncluttered area. It's sharp, it's sleek and it holds fashion-forward vibes without all of the fuss. If you're inspired by clean lines and open air, then you'll definitely like this genre of interior design. Check out these 40 simple and chic minimalist bedrooms that are packed with style but also laid out in the most simple and chic of ways. From the decor to the furniture choices, they blend together seamlessly, without chaos or mess.
Interior Design Ideas starts us off with this serene, naturally-lit space. Bare except where it counts, this neutral palette and simple floor plan will keep your mind at ease and your clean, contemporary vision at piece. And that pop of black against the light foundation adds just the right amount of interest you need.
Sometimes you don't need "stuff" to decorate your personal space. In fact, natural elements may be your best bet. This plant-filled, minimalistic room brings so much warmth to our hearts because of its subtle color pairing and organic air.
Just because you may have a minimal vision in mind, doesn't mean that you can't go shopping. You still need "stuff," just not a plethora of it. A textural throw rug, a pouf and a suitcase that you turn into a side table, they come together easily without too much fuss. You have all the essentials here without clutter or excess.
If you're not working with a lot of space, then this room will definitely become an inspiration to you. It's both minimal and contemporary with all the necessities one needs. Check out similar ideas over at Interior Design Ideas.
You can even add enough plushness to your space to add a welcoming warmth to it. Minimalistic doesn't always mean cold and bare, it just means simple and without fuss. And this bedroom we found on Pinterest hits all the marks.
Architectural Digest featured this beautiful bedroom. Its focus seems to be on its art pieces and we love that they're highlighted in such a way. You get all of your bedroom necessities with both subtly and posh charm.
Homey Oh My gives us a great peek into a room that's filled but still minimalistic. It helps inspire our organizational skills as well when it comes to keeping our "things" neat, tidy and "put away." The white pallet and soft, wooden accents contribute to its simple design as well.
We're loving this open bedroom as well. The soft blues and natural woods blend well together creating a relaxing palette. The green adds that organic beauty that every room benefits as well. This natural theme is paid homage without going overboard to cluttered with accessories.
This bedroom from Roohome has a youthful spirit with its splattered paint canvas and funky hanging lights. It's a great example of how you can keep statement pieces inside of your minimalistic bedroom without straying too much from the end goal. As you can see, the rest of the space is clean, precise and without chaos.
Hecale gave us a beautiful display of minimal style with a deep foundation. The gunmetal walls and the white, exposed brick accent give enough interest to the room that there's no reason not to go with a simple design. Then, the texture on the bed and floor finish it off with ease.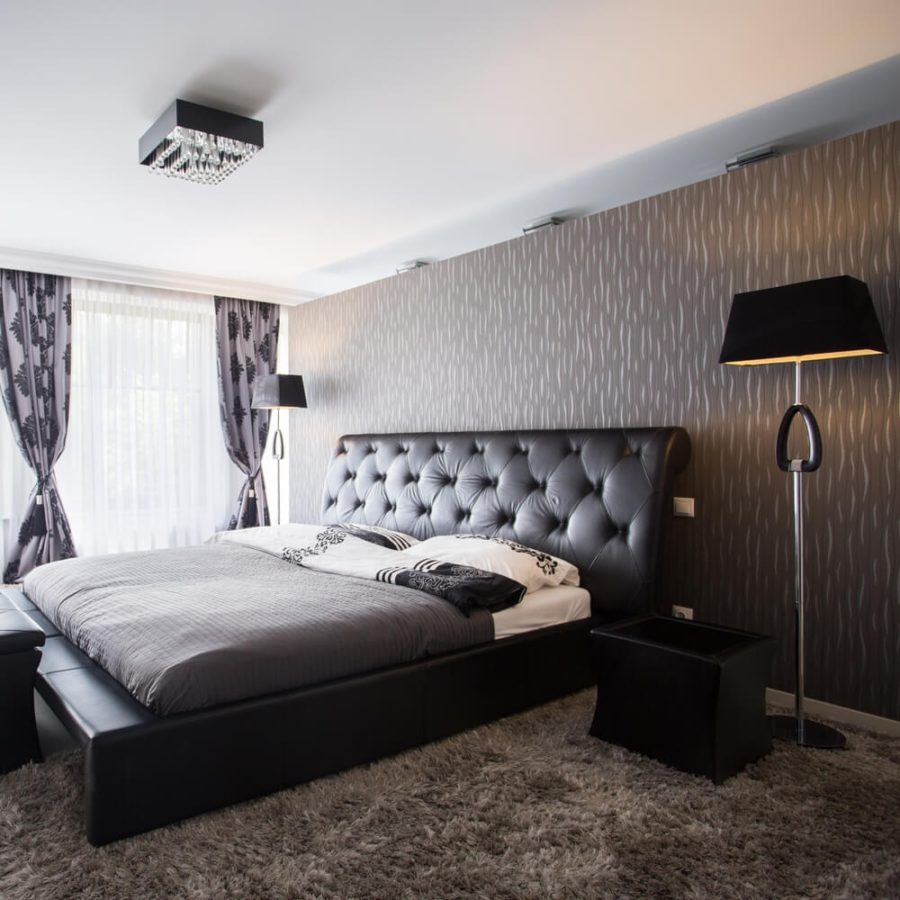 Bedroom Ideas featured another room with darker tones. Covered in layers of gray, this space is warm and welcoming but without the cluttered effects that deeper colors can carry. We also love the varying textures that convey style without "stuff."
Here's another brilliant example of a minimalist bedroom that's still filled with the right kind of necessities. From the floating desk that doesn't take up too much space to the simple, platform bedroom, it's perfectly prepared. And that natural lighting only adds to its freshness.
Etsy may have been showing off the beautiful wall art here but we couldn't help but be inspired by the entire bedroom. The addition of the blue make for a welcoming entrance into a bedroom that has personalization but also simplistic poise that is striking here. Everything is stylish without being overwhelming.
Soft grays and a touch of natural wood, this Asian-inspired room is both minimalistic and relaxing. A small bout of greens in the corner and bare windows provides a lot of organic feels throughout the entire design. This setup was found at Hecale and we love its simple luxury.
White on white with some distressed wood on the side, this bedroom is both subdued and minimalistic. Again, the natural lighting really plays a nice role in providing an open, spacious feeling. And the less space that's taken up by things, the more space that can be opened with the sun.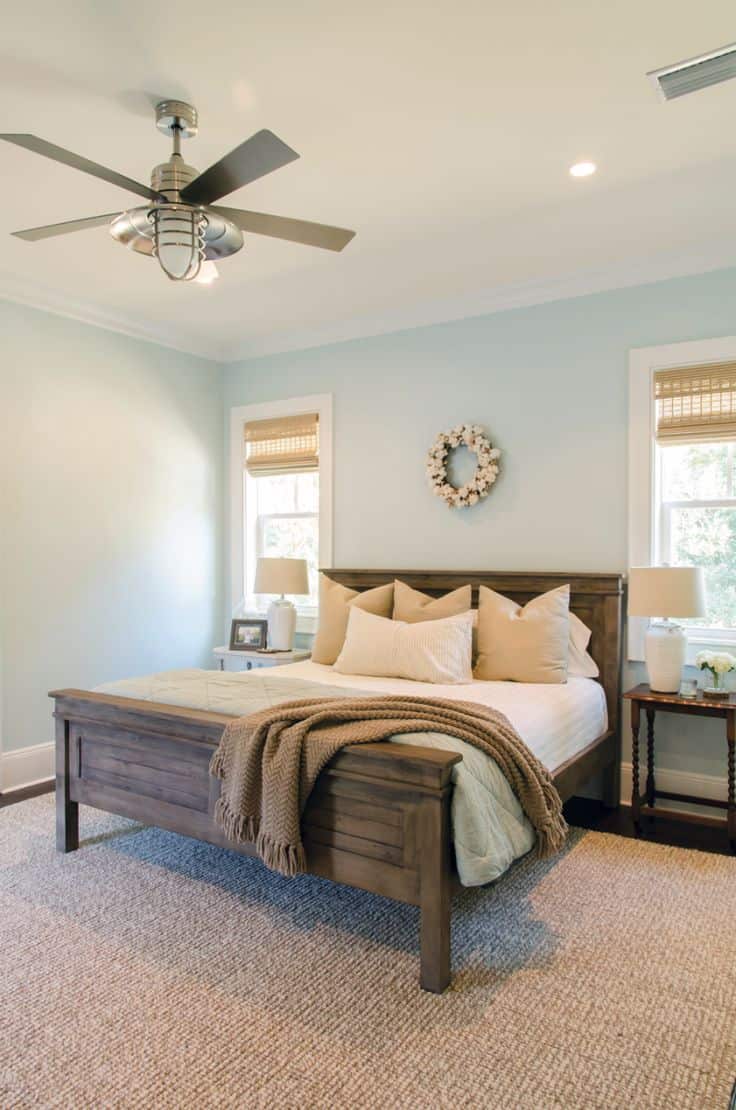 Pinterest gave us this more traditional space that has a touch of rustic charm as well. A soft, powder blue is on the walls with creams and butter tones accenting the foundation all around. It still holds a very minimalistic style though but in a way that feels more homey than the stark modern structure we're used to seeing.
Check out out this beauty from Adventures in Cooking! Again, there are a lot of items in the room that create a personalized abode but without too much to overpower it either. Soft, plush textures, simple whites and a few rustic elements create an organic beauty that feels … good.
Architectural Digest shows off a more modern minimalistic space. This one feels a bit more masculine as well, working for both men and women or even couples that want to keep things chic and tidy. The navy blue and white make a crisp and clean pairing as well.
Light and airy, again we're loving the contrast between the hardwood pieces and bright, neutral tones. The extra fabric billowing around the room adds an air of romance. The Every Girl knew how to make our hearts swoon with this one.
Found over at Magnolia Market, this minimalistic bedroom has a splash of industrial style thrown in. With the metal bed and the simple window dressings, there's an understated, edginess hidden in the nooks and crannies. But again, nothing is chaotic or too bold for the space to handle.
When you've got floor to ceiling windows, you've got to use them to your advantage. Paired with an edgy accent wall, you don't need anything else busying the space. Instead, use the foundation of the room as all the interest and focus.
Even your coziest of guest rooms and nooks can be created with a minimalistic vision in mind. Some simple floor pillows and a few cozy blankets could create a space that's special and calming. A plant and one, single piece of artwork on the wall and you'll be done! Thanks for the easy inspiration Homeastern!
Whether you use this space as inspiration for your guest or teen's bedroom, it's a wonderful example to follow. Grays, whites and natural woods are a seamless way to fashion your minimalistic vision after. And that pop of natural green in the corner adds the bit of "life" you need to make it welcoming. (via Design Inspiration)
Interior Design Ideas had this spacious bedroom featured as well. And although it does have a bit more "stuff" involved in its design, the simple lines of all the pieces make up for it. When you have more room to work with, it's okay to add a seating area and a shelving system for organization.
Another chic and crisp space we stumbled upon on Pinterest, it's another beautiful example of how well whites and navy blues can come together to create a posh finish. Also, don't be afraid to mix prints when creating your minimal signature style. You still want to add some personality to your home!
Even when you're designing a bedroom that doesn't feel clutter or over-styled, pay attention to your bedding. You'll always want to be excited to climb into your warm and cozy bed. So, make sure you're adding plushness and softness to where you lay your head at night.
There's a gorgeous, sunlit glow surrounding this open bedroom and we're in love. Again, utilizing natural lighting will fill bare space with energy rather than accents. You'll love how free you feel in a bedroom that has so much positive energy surrounding it. And this blushing bedding is from Urban Outfitters.
Design Rulz showcased this light wood room and it's another example of how beautiful a bit of lively greens can be. Minimalistic style is all about minimizing the clutter and excess, and that's what you see here. The necessity is the bed and the bout of greens helps to breathe life into the nook.
Check out that ceiling! There are a lot of ways to bring in bouts of style without adding to the floor of the bedroom. Here we see a gray room filled with lighting tones and natural lighting. It's simple, it's clean and it fits within a minimalistic-lovers heart.
UltraLinx had this dark beauty up their sleeve. Although there's not a lot of stuff cluttering the corners, this room feels a bit more filled because of its deeper tones. It doesn't make it less "minimal" it just makes it a bit warmer for those that like a more mystery or edgy vibe.
And for those that are inspired by color, think about playing around with nature's favorite tones. Sage greens work well within more bare spaces and leave a calming effect. Pair it with a blushing pink for a punch of femininity as well.
If you love the thought of decluttering and creating a minimal bedroom, but still love the idea of adding a touch of glam to the mix, then check out this setup we found on Pinterest. With just a small bout of gilded pieces, you'll be able to get that touch you're looking for. Between the framed piece and the lamps on the side tables, you'll be "golden."
Architectural Digest gives us another beautiful space to grab ideas from. Layers of greens, a variety of textures and just enough "stuff" to give you all the needs of a bedroom, it's a bedroom that feels good. And it's unisex in decor as well, with a few tweaks it could really work for anyone!
Ultra modern and chic, this black and white bedroom is what a lot of us think about when our minds wander to minimalistic styles. Because it's so closely associated with contemporary interior design. Just think of how easy it would be to clean up.
This bedroom from Hecale is filled with texture. Rattan, wood, fabrics and shaggy carpets, there's so much to love about the combination. But because of the sharp lines and precise placement, you still get an overall minimal style.
Here's one of the most "minimalistic" examples on the list. Found on Pinterest, there's not even a bed here, just a couple of mattresses stacked with a side table to hold morning coffee and a laptop. Although it's bare, it's still beautiful, don't you think?
This space has a definite Asian influence, with its love bed and surrounding display area. Hanging lights, one mirror and a plant in the corner all create an air of personalization but, again, it's not too much and doesn't take over the spaciousness of the room.
Check out this room over at Interior Design Ideas! A low bed, white foundations and a lot of focus on the beautiful, surrounding view, the focus here is the sunlight and how it fills up the room without the needs to extra accents or decor pieces. The natural wood and whites pair easily here as well.
If you really find a piece of art you love, you can fashion your entire room around it. A bed with sleek lines and one, nice canvas on the wall, you'll create easy focus without worrying about all of the odds and ends. Those side table lamps help out with the contemporary vibe as well.
And finally, it's another room filled with texture instead of a lot of decor. Wooden floors, exposed brick walls and white on white everywhere else, the interest is in the details and not the accents. Sometimes simplicity really is the key.