Aren't you tired hunching over your laptop, lying literally in your lap? Do you think your home office could use a little decorating? Well, then waste no more time scrolling through some of the most fashionable home offices we could find on the web to put a smile on your face and an idea in your brain.
Fashionable Hues
Don't want to splurge on a new desk and chair? While we're not saying you shouldn't, there are easier ways to bring style to your working den. Dark shades have always attracted attention on both runway and in life, so why not use them to create a smart, stylish look?
Yup, black is slimming, but it also reflects the light quite poorly, so be careful not to overuse it. Pairing it with white is always a winning tactic. And metallics never fail to get some glamour going.
One of the more popular ideas is to keep the black or dark shade to just one wall behind the desk and leave the rest neutral. It really gives your working space a pop.
Stylish Blues
Blues are especially intriguing these days, as the royal shade gives way to ultramarine, indigo, turquoise, blue-gray, and many other interesting hues. They're great alternatives to black or dark grays.
White and blue go just as well together, but if you want something more coastal, sandy yellow will make a good pair to aqua or even royal blue.
For a more dramatic effect, opt for purples, emerald greens, and turquoise to create a jewel-toned decor.
Classic Whites
There's no denying that white color can make almost any room or area brighter, visually larger, and simply more pleasant. Classic whites can handle any amount of bright color. They also look particularly good in a combination with gold.
White is a truly easy color to decorate with even if your white furnishings don't exactly match each other. There is a trick to matching them, though. Try to judge your whites by undertones and not intensity or purity.
Feature Walls
Feature walls are a great way to make your working area stand out from the open plan living room or in a bedroom. Stripes of all kinds never fail to create the right impression.
Brights and all kinds of interesting hues are also the right way to creating a feature wall. If paint gives you headaches, then maybe washi tape, wallpaper, or big artwork can help you create a focal point on your wall.
Many designers simply go with the most practical solution and create a storage wall in place of any other feature.
Most Fashionable Home Offices with Views
Most fashionable home offices should probably take a cue from top office buildings and introduce a window as a design element. This is not only a good way to keep your eyes healthy but also bring some daylight in, to visually expand the space.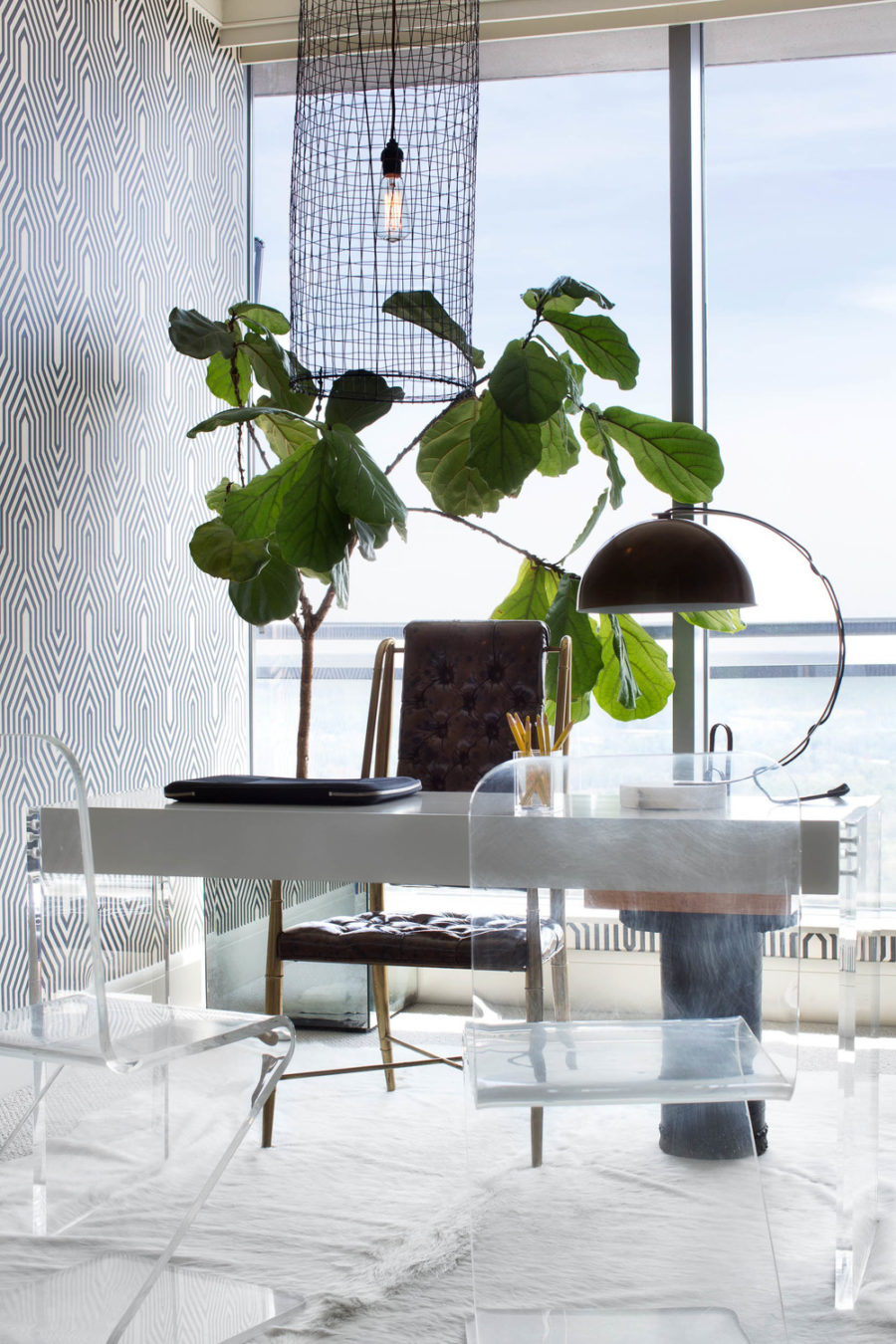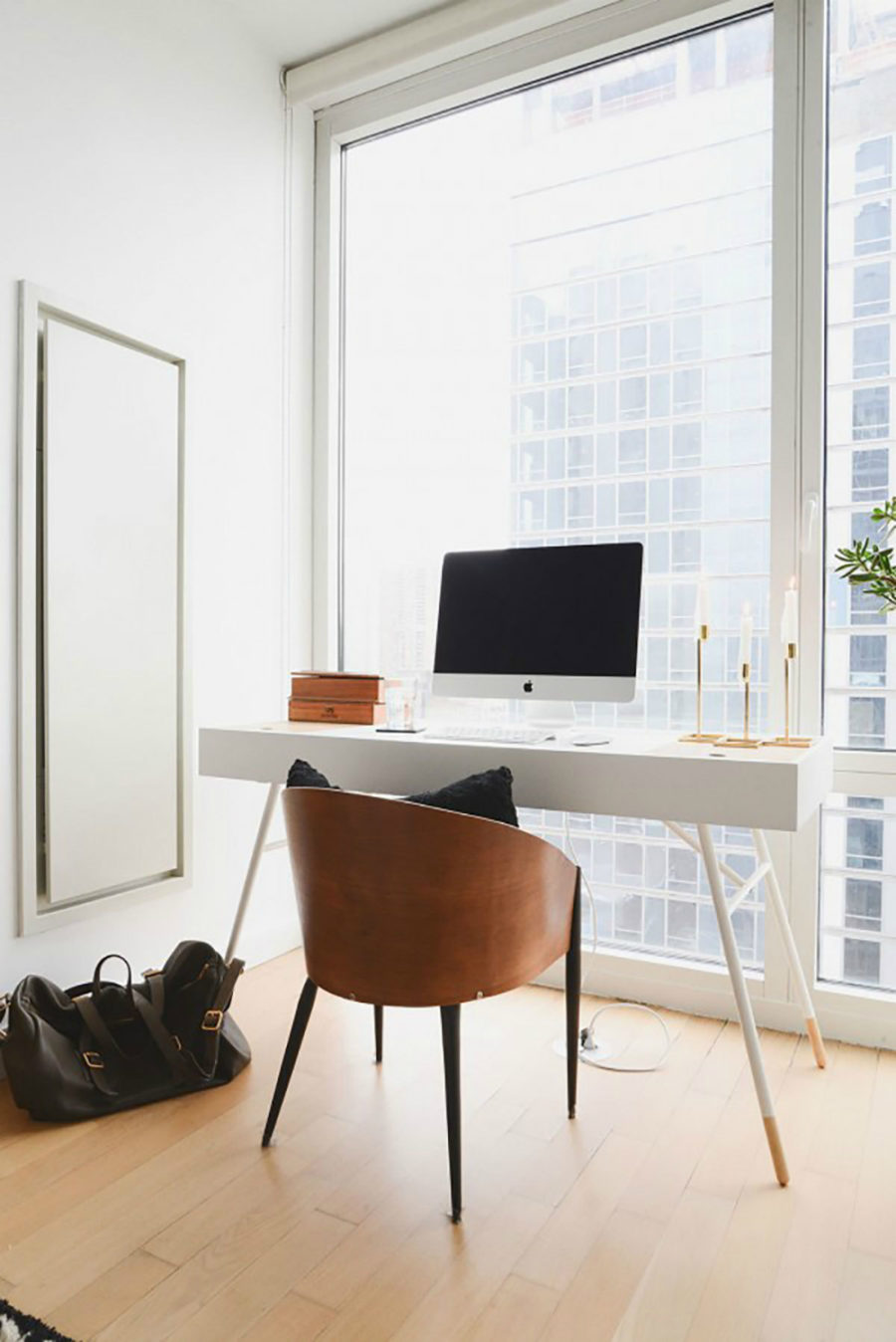 Even if you live on the ground floor, a pair of French doors can make all the difference in the world for both your health and home office aesthetic.
With a wall-sized window, you don't even need a feature wall to make your home office look impressive.
Fashionable Seats
If you are ready to invest a little more into making yours one of the most fashionable home offices, you won't get by without either really cool seats or a statement desk. It's usually a good idea to choose one or the other.
Modern seats may cost you, but if you aren't hunting for the true middle of the century designs, you may get away spending almost as much as you would on a fashionable statement desk.
Don't need additional seats in your office? Maybe it'd be more effective to splurge on a unique desk, as it will stand out better in a room with little furnishings.
Statement Desks
There is a trend of certain boxy desks that don't cost a lot but look incredible. These come in all sorts of colors, but white is probably the most popular, as it looks great with golden brass legs and details.
Wooden industrial desks or live edge designs will require more funds, but they do give you a certain look which will always be in vogue.
Most Fashionable Home Offices
Home offices aren't only about desks, chairs, and colors. Lighting can play a definitive role in the room's decor. Artworks and art objects will certianly make it look more impressive.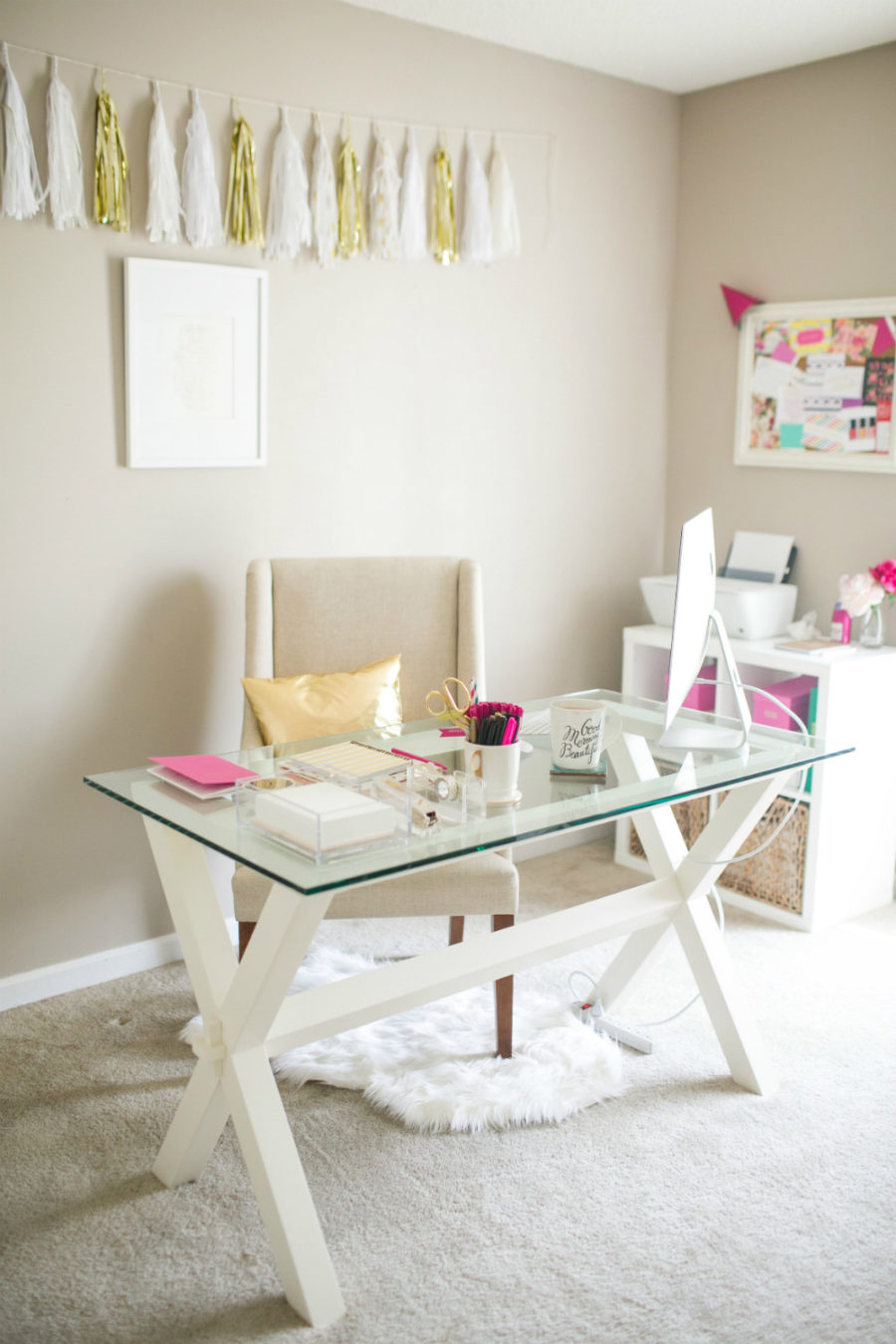 There is a certain formula to creating fashionable home offices. Velvet seats, metallics, and cool rugs can instantly get the job done. But if you want more personality and character in your creative space, you should really examine your tastes and express them the best way you can.