Reclaimed wood is a viable construction material that can be used in anything from flooring to wall finishing. Many craftsmen and furniture manufacturers jumped on a trend for reclaimed wood furniture, so now you can also add that to your eco-friendly home. Built with all types of wood, from sturdy oak to soft cedar, reclaimed wood desk designs offer surprisingly wide choice from minimalist console types to spacious L-shaped surfaces.
Minimalist Reclaimed Wood Desks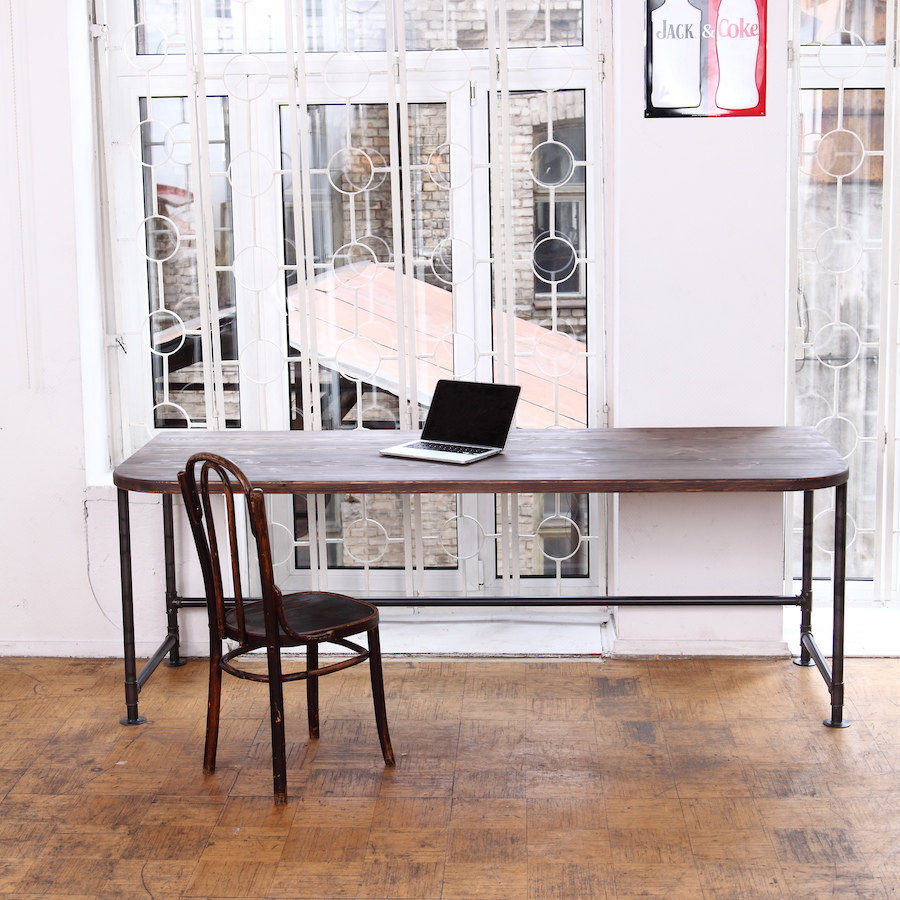 Handcrafted from reclaimed timbers this industrial style pipe-legged long but slim creation is for those who work digitally but like quite a bit of space on their desk.
The simpler the desk the less it will cost. And considering today's reliance on computers, this is just what you need. Additional storage for paperwork will quickly bump up the cost of the design, though.
Slim console-like desks are more practical than you may think. Sure, there's less space for snacks and additional devices, but you can reuse it as a hallway or living room console, a breakfast counter, or a TV stand.
Besides, it won't take up as much space in a small apartment with its metal pin legs giving the reclaimed wood tabletop a ghostly levitating look.
Take this reclaimed wood desk from Timber & Soul, for example. With its broader thicker tabletop it could be reused as a dining table with a space for a bread basket.
As a desk, though, it's a perfectly functional surface with a shelf for a printer and some surface for coffee.
Sourcing walnut slabs from the villages of Bulgaria Our Hood sometimes creates special desks that look like those trendy live edge pieces.
This rustic wood table they designed with metal pins for legs shows off the walnut's beautiful texture in the irregular edges and an oil-finished tabletop.
Slim Desks With Drawers
Missing the days when people used pencils for writing at their desks, Recycled Brooklyn added a small pencil drawer to the side of this slim desk to keep the reminder of what came before computers.
Perfect design for artists and home workers alike it can be built-to-order with personal modifications proving your particular design one-of-a-kind.
Speaking of one-of-a-kind reclaimed wood desks, this one made by Recycled Brooklyn out of a sourced tree slab is completely unique and also comes in a live edge style.
Equipped with two drawers it makes a beautiful addition to any contemporary office lacking life and natural beauty.
This beauty while too comes with simple metal pins for legs looks like a desk with a history. And it's not just the aesthetic of a weathered discolored wood. The desk was made of timbers taken from a house built in 1886.
Giving the user a gorgeous diamond pattern to admire and contemplate, we believe that such desk may increase one's creativity.
Drawer Reclaimed Wood Desks
Crafted with pine wood Juliana Sawhorse desk looks different with its sawhorse metal legs and a three-drawer top. Featuring preserved natural wood cracks and knots, the desk brings a rough rustic/industrial vibe to the interior.
Combined with a matching bookshelf and a luxury leather chair, it certainly makes for a statement home office.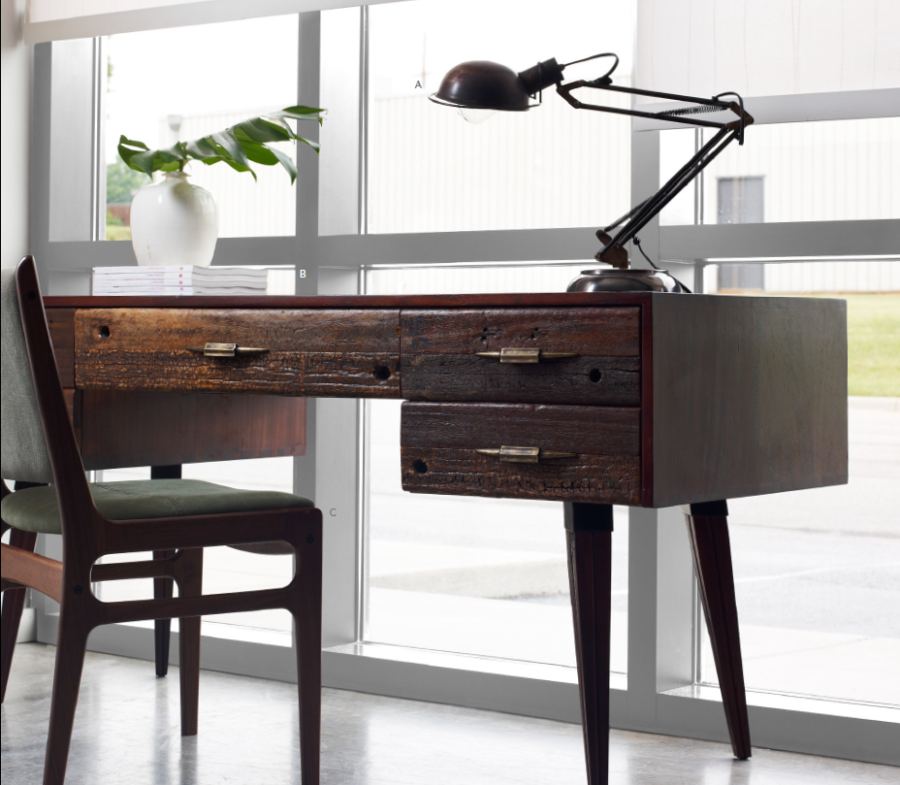 Another creation from Zinhome is a Mitchell desk made of reclaimed peroba finished with natural beeswax. Showing off wear marks the desk looks like a historical piece. Its mid-century modern style further reinforcing the impression.
Each Mitchell desk is carefully handmade, so no two are alike. It would definitely find a place in an eclectic home with a smart interior replete with jewel tones.
Unique Industry continue reusing 19th century reclaimed wood to create their beautiful desks. This one has a chevron pattern and three drawers with cool metal handles.
Even though a perfect desk material, we can definitely see this one as a hallway console that attracts attention and sets the tone for the entire home right away.
Reclaimed Wood Desks With a Hutch
Reclaimed desks can be multi-functional in their very design. Here is an example used by LABL Studio in one of their projects.
A slim console-like tabletop perched on metal pin legs is long enough to house a TV and a computer, a keyboard and some additional things tossed in a hutch. Perfect small apartment solution.
Hutch is often a better addition to a reclaimed desk than a drawer. Urban Wood Goods created desks with inbuilt reclaimed storage wooden boxes that amplify their rustic charm.
These are also arguably better because they can store more and bigger things than those slim desk drawers.
Storage-Friendly Desk Designs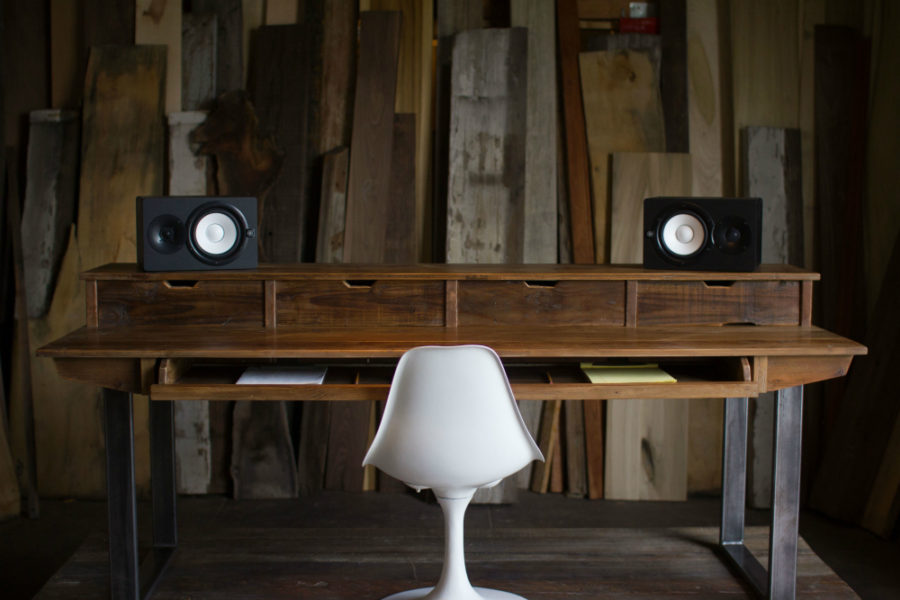 If you think a reclaimed wood desk can only serve for writing and working on a computer, Monkwood is here to surprise with their professional workstation for those working with audio and video.
Impressive in size and design the workstation that fits an 88-key electric piano was made of poplar and two industrial raw steel bases. Available wood types for the desktop include birch, cherry, walnut and oak. Shelves and racks are customizable as well.
Like industrial style and colorful wood? WWMake got you covered with their reclaimed barn wood patchwork desk encased in a hand welded steel frame with a bottom shelf for occasional papers.
Want to know an even cooler thing about it? It's made with 100+ year-old wood.
Smart, slim, and completely chic in rustic industrial sense this welded steel frame wood desk shows natural finish and storage-friendly design.
Although quite simple this desk comes at a more affordable price than many other reclaimed wood desks.
This loft style workstation is for those who still work with documents and require a bit of storage space to accommodate all that paper.
Smart and stylish this desk could also work as a TV stand with the small shelves housing external devices and DVDs.
Reclaimed Wood Desks With Unusual Bases
Made of reclaimed peroba woods Zinhome's Clapton desk is a definition of style. Its concrete tabletop alone makes it a perfect contemporary piece.
Complete with two drawers and mid-century style aged metal legs the desk is a stunner and deserves its own home office room.
If you're looking for a reclaimed woo desk with an unusual base, Vintage Industrial offers a few designs any industrial loft enthusiast would kill for.
Here is their Industrialux Sit Stand Desk that, as the name suggests, you can adjust to a sitting or standing height with the help of a crank. How cool is that?
Although small and minimalist this desk by Scout And Forge has a cool cast iron machine base and around 200 years of age between its parts.
Handcrafted in U.S. it requires no assembly, but will match the shop photo precisely.
Made of reclaimed cast iron and solid oak this reclaimed wood desk is also a looker thanks to its non-dull base. It could totally double as a cool loft dining table.
Don't mind its slim top, as it contrasts beautifully with the thicker metal legs. Besides, oak is hard and sturdy enough to withstand heavy loads let alone a computer and a few paper documents.
Live Edge Desks
Live edge furniture is no longer a small niche. More and more people are looking to add a piece or two to their inteirors.
Elpis & Wood Furniture offer a range of different furnishings made of natural wood slabs that can look both impressive and more casual like this desk with industrial metal legs.
This epic live edge walnut desk was a custom order of a man working in a concrete office that lacks warmth and beauty of nature. Living Wood Design offered him a walnut slab with a natural crack and a limb extension.
In combination with a distressed industrial base and a rough bark edge the desk looks entirely out of this world.
This reclaimed live edge maple desk is a real eye-catcher. Its decorative steel base in aged bronze finish imitates a tree trunk in shape and color to complement the beautifully cracked maple slab top, what's not to love about this sculptural look?
Surprisingly enough, a reclaimed wood desk will probably run you much more than an Ikea desk or a piece from West Elm, especially if you are looking to custom design. But there is an option of building one yourself (including sourcing the materials) or simply finding a cheaper option.