These industrial style kitchens are design ideas you'll want for your own modern kitchen. The style was born out of the commercial restaurant kitchen – and usually, people with industrial kitchens know how to whip up a marvelous meal.
We've collected some of the best industrial style ideas from around the world, to provide you with a more diverse variety of marvelous designs for the modern home.


If you'd like to create such kitchen in your home, you need to piece together the components.
What are the standard components in an industrial style kitchen?
Stainless: As much stainless as you can manage, although black can be an surprising alternative. But unless you're doing a black theme, get as much as you can.
Open Shelving: At least on the top but you can do the bottom too. If dust is an issue in urban areas, use glass window style cupboard doors.
Overhead Pot Racks: Cast iron or stainless hangers for your pots and pans. And hang a chile and garlic ristra or two.
Utensil Bar: Don't forget a stainless bar to hang your kitchen utensils from, with stainless S hooks. Everything in plain view and easy to reach.
Edison Lights: These radio bulbs are a nice touch, even better if you can use them in pipe lights.
Exposed Structures: Bonus points for exposed brick to show off and even better if you can add exposed duct-work.
Concrete: Concrete floors, concrete counters, concrete walls.
Distressed Furniture: Especially counter stools.
Windows: Black metal framed windows, that have come to be known as loft windows, are another strong choice.
Wood: It's great to have a big thick slab of solid wood, either for a counter or tabletop.
Beams: Exposed beams and pillars are good.
Faucets: And finally, that ubiquitous pull down industrial kitchen faucet.
Put five or six of these components together and you're well on your way. Keep your eyes open, you'll find many of these items in these stunning kitchen images below.
San Francisco Industrial Kitchen

The Clocktower loft is a prime example of a well-done industrial style kitchen. A marriage of stainless steel, black and brick. And Edison lights.
Helpful Inspirational Resources:
Plumbing Pipes Furniture
Edison Bulb Lamps
Industrial Faucets
Kitchen Designs for Loft


A black metal ladder, borrowed from the model of library ladders, is handy for reaching items on the top shelves.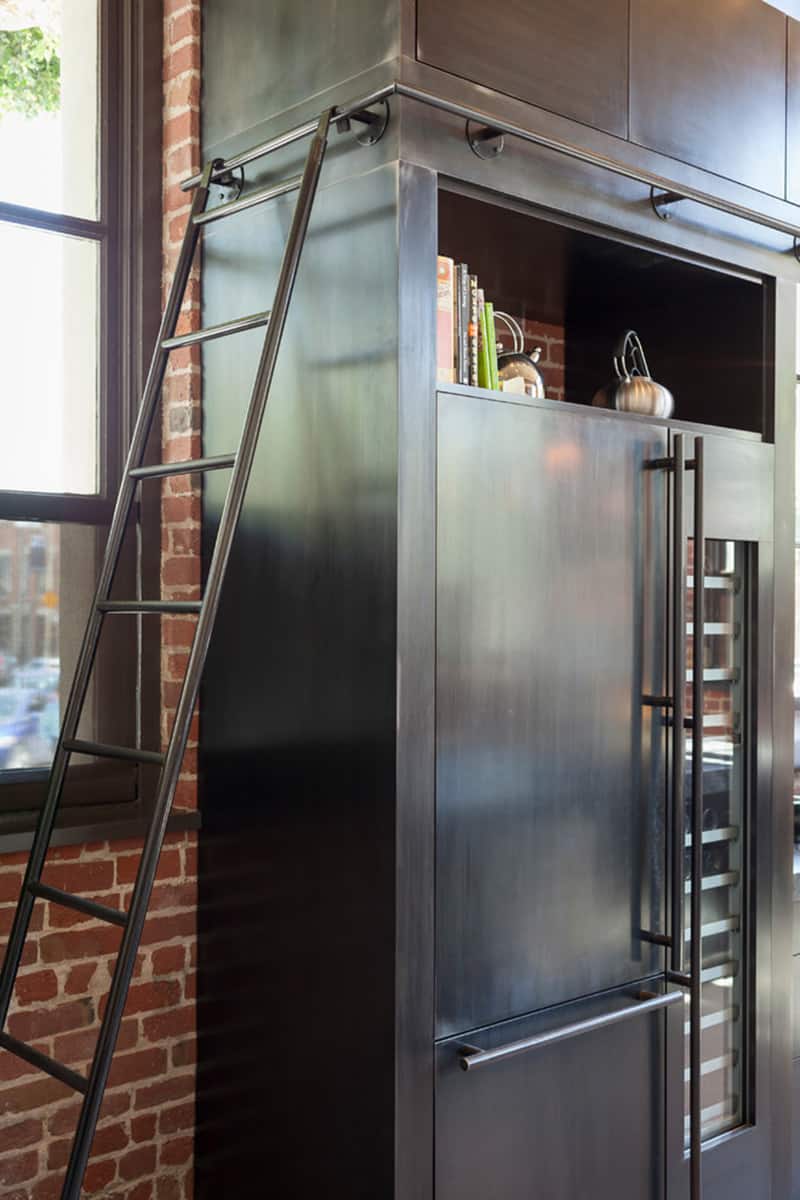 Unlike a rolling library ladder, this kitchen ladder unhooks to move locations. A tall, narrow wine cooler blends into the cupboards.


The plumbing pipe lights close to the ceiling suit the industrial style kitchen, and provide lighting for the upper shelves.


The entire kitchen island is on wheels – lending to the industrial motif. The distressed stools are a perfect touch.


The ever-present industrial style kitchen faucet with pull down. What would an industrial kitchen be without one?
Clocktower loft, San Franciso, by Muratore Corp.
Photography: Scott Hargis
Portland, OR Industrial Kitchen

This modern industrial kitchen in Portland, Oregon, takes the stainless steel kitchen all the way. And it looks incredible!


A real dream kitchen with its factory style black iron windows, industrial range hood – and get a load of that faucet. Possibly the most imposing industrial faucet we've ever seen and it works well.


The long solid wood harvest table is a perfect match for the black aluminum industrial chairs. And the cement column with the fireplace and dish pantry is a perfect match for the industrial look. And every good chef worth his salt knows that you can't beat white porcelain dinnerware for a blank palette on which to serve your culinary creations.
Source
New York Industrial Kitchen

This kitchen in a New York loft (on Prince Street) has more of an upscale atmosphere than many industrial settings.


The kitchen is fit for a chef with custom stainless counters, cherry wood cabinets, and top tier professional appliances ranging from SubZero to Wolf, Fisher Paykel to Miele.
Source: Sotheby's
Russian Industrial Kitchen

Now, here's how to do an industrial kitchen without any stainless. The Mammut Extractor hood by Minacciolo is perfect in this room.


Love the matching color country style dining table and the fireplace, surrounded by exposed brick walls. Source
Spain Industrial Kitchen

This kitchen, in Spain, sits at one end of a long, open great room. Two bunches of industrial lights hang over the dining table.


Exposed pipe, beams and brick all contribute to the industrial style.


Looking out from behind the island, the masses of flush-to-the-wall stainless set the tone for the whole room.


The kitchen island provides an extra seating area. The warm wood contrasts the cold steel.
Related Resources:
Kitchen Island Designs


Wooden blinds are an interesting window treatment. The wood here also helps warm up the stainless steel look.


Source
Budapest Industrial Kitchen

This Budapest kitchen is set in a wide open room with lots of stainless to delineate it. We just love the placement of the exposed air duct here.


Utensils, pots and chile ristras hang from the stainless range hood. Stainless always looks so sleek up against these kinds of rich colors.


Gleaming subway tiles, cement, hanging pots and spices – these all spell industrial. We've covered this entire apartment before, but felt the kitchen was worth a second look.
Sydney Industrial Kitchen

An industrial kitchen in Sydney, Australia with open storage everywhere and distressed concrete floors.


The double sink under the window is an commercial piece, with a commercial kitchen faucet and modern awning windows. Source: Design Style
Istanbul Industrial Kitchen

We featured this Istanbul loft a while back, looking at the whole unit. Now that we're exploring industrial style kitchens, we went back for another look.


Once again, white porcelain dinnerware (the pros know what they are doing), exposed shelves and clear jar canisters provide plenty of eye candy in this industrial style kitchen in Turkey.


Cement table and counters are the finishing touch on this prime example of an industrial style. Source
Amsterdam Industrial Kitchen

This kitchen is found in a loft-style apartment that is part of a garage. And thus the name, Garage Loft. The New York subway tile backsplash is brilliant in this room. Open white shelving above and closed black cupboards below complete the look.


It's a long room with high ceilings, emphasized by the industrial track lighting. And the large industrial pendant lights over the dining table. Source: Brick Studio.
Washington, DC Industrial Kitchen

Wow, this Washington, DC carriage house renovation really ticks off a lot of the industrial style kitchen boxes.


It's got the iron windows, the stainless steel, hanging pots and pans, open shelves, exposed beams, pipes and pillars, industrial lighting.


We just love how open and spacious this kitchen is. Source
If you've been dreaming of an industrial style kitchen – what's holding you back? Get designing that baby!