A wall mounted desk is such a space-saver. Multi-functional, convenient, and simply stylish it can help you create a functional home office in no time. Its major advantage over a regular desk is that it doesn't take up a lot of precious space. There are lots of different options on the market today from folding desks to minimal floating shelf-like designs. While some feature storage space others are made to look as airy and unnoticeable as possible. But wall mounted desks aren't just for small spaces. In spacious modern homes their sleek and minimal look is valued way over bulky furniture pieces.
Folding Mounted Desk Designs
Wall mounted desks have a lot of advantages. Some come with additional storage space while others are so thin you can hardly notice them in a room. When choosing a wall mounted desk make sure it fits with your needs though.
Molteni's secretaire desk comes with a few tiny shelves and compartments for documents and papers. Featuring built-in lights it's perfect for those who require some storage space. When not in use it can function as a small shelf for display objects and a clock.
This is the beauty of the folding desks. Their retractable tabletops can further minimize their presence in the room freeing up space, if only visually.
Nubo desk by Ligne Roset is a great example of a folding desk that occupies so little space you won't even notice it's there. Featuring an attractive cushioned lid the desk works as wall decor, treasure box, and working surface. So small and yet so multi-functional.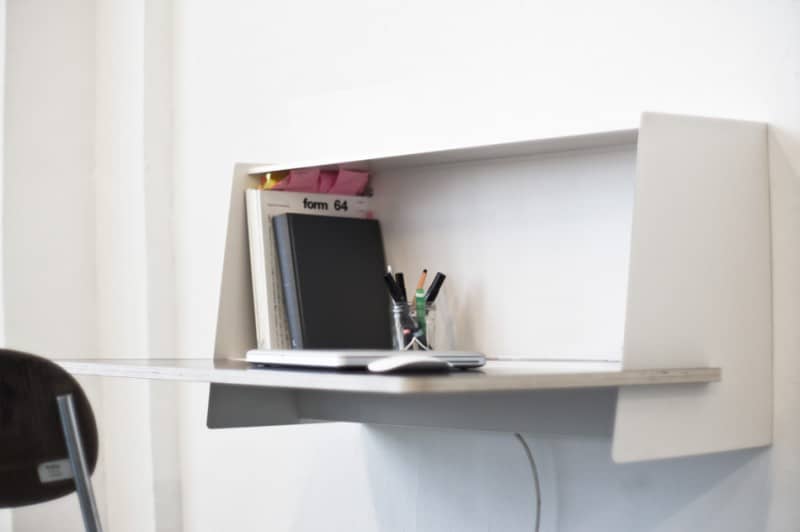 Another compact and functional desk is also built as a secretaire by Studio Unieke. It has a folding lid that turns into a desk and offers some storage space.
Featuring a trapeze shape the black and white design looks quite decorative when closed. It's also quite large, which is not usual for these types of desks.
Here is an unusual desk for those who also seek to decorate their walls. Presenting Saturne by Élise Fouin. Featuring a built-in light it comes in a circular shape that folds to create a working surface.
When unfolded it looks like a wooden sphere highlighted with a LED ribbon that creates a gentle glow. It could probably work as a lamp even when the desk is not in use.
Wall System Desks
Since space-consciousness is a huge part of what made a wall mounted desk so popular, it often comes in a size that should fit into the smallest area. But there are, of course, exceptions.
Some wall systems might feature a built-in desk like the Royal by Poul Cadovius. Even though it seems large, in reality it occupies little floor space all the while providing with not only ample storage space but also a working surface. 
Cut-X desk is another such system designed by Sudbrock. Although it's not integral, the entire system is so sleek and minimal it can definitely create a fully functional office.
Beside its highly functional design it features a beautiful modern aesthetic and color scheme that can also add style points to your interior design.
Modern Scrittoio by Porro may require a bit more space, but it can still fit in a room with a bed. Comprised of a floating desk and a wall mounted shelving system the minimal design looks both elegant and incredibly functional.
Surely some shelves might take away space visually and make the room look a bit cramped, but if it matches the wall color it will become less noticeable.
For a wall system to look more airy and minimal thin lines and surfaces are in order. Stairway white desk from CB2 is a perfect example. It doesn't take too much space neither visually nor physically.
It's a perfect marriage between a floating desk and shelving. It definitely offers more functionality than a simple desk and can also create a focal point in the room.
Wall Mounted Desks With Storage
Considering the fact that we practically don't need to work with paper documents these days, there isn't a need for too much storage space anyway. Arco's Deskbox provide minimum storage space, but it's a no less great design.
Clever structure allows to minimize it when you're done working by sliding the tabletop into the wall-mounted shelf. When closed Deskbox looks like a small floating shelf.
Prepac make functional modern furniture that stands out with its elegant design. It may not be perfect for tiny spaces, but it would look great in a spacious studio apartment.
The Designer Floating Desk is elegant and functional. Beside its ample surface there are numerous open shelves where you can store books and small electronics.
Their Espresso Floating Desk is more of a wall system featuring small shelves at the sides. It is made to create a more focused working area with two side walls tuning out little distractions.
Its espresso brown color calls for a more traditional style in the room. But it surely looks a bit more unconventional than a regular desk.
LAXseries created a Wall Mounted Desk that is perfect for both worlds, modern and traditional. Its natural wood frame is accented with a glossy white sliding drawer enclosure, which makes an eye-catchy accent.
Complemented with the firm's 3X – Wall Mounted shelf the desk becomes a part of a wall system that's easy to rearrange.
Wall Mounted Desks of Unusual Shapes
If you have no way to mount a desk on a wall Furniture of America offers a wall-leaning home office desk that is not only perfect for small spaces but also keeps walls intact.
It features two metal legs for support. And its unusual shape helps to add some style points to the interior design. A perfect compromise between a regular and a wall mounted desk.
Mamba Light by MDF Italia makes a strong case for unusual desk designs as they combine aesthetics with functionality.
Creating an attractive wall accent Mamba Light is as functional as any desk.
Floating Wall Mounted Desks
Lutgarde is a great compromise between a secretaire and a floating shelf. Made of solid wood it provides a small working surface fit for a computer and quite a few compartments for documentation and display objects.
It's a nice combination that can easily be transformed into a hallway panel or a display shelf for the living room.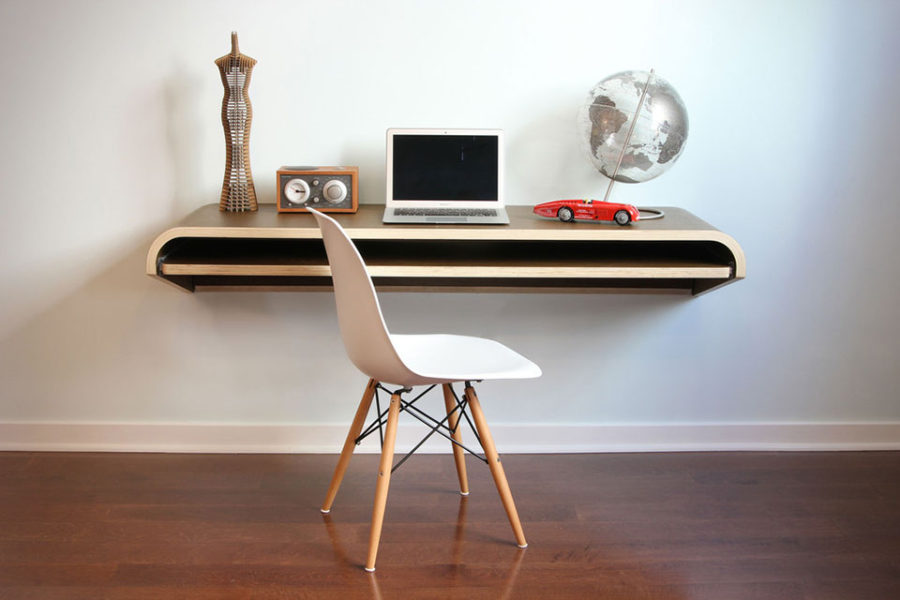 This Minimal Floating Desk is not only cool because of its pull out tabletop but also for its retro style. The rounded corners and minimal details make for a very attractive design.
Disguised openings allow to hide unsightly cables, which often ruin the home office look. And in red color this desk makes for an ultimate home office furnishing.
Montana's Write desk is a long succession of open shelves that come in a wide variety of beautiful brights and pastels for which the brand is known.
Incredibly versatile it can easily double as a hallway console or a living room storage system.
Repurposed Wall Mounted Desks
When it comes to costs wall mounted desks vary greatly in prices. There are cheaper ones that offer medium quality. High end and designer pieces will set you back a couple of hundred dollars for premium quality. But then there are DIY options that may not be as apparent.
For instance, IKEA's NORBERG kitchen table might as well serve as a home office desk. Thanks to its folding tabletop and neutral design it can fit anywhere in the room or double as a kitchen table.
EKBY shelf from IKEA can also double as a wall mounted desk. Featuring drawers it is a perfect affordable option for a stylish home office.
Other pieces of furniture that can be hacked and repurposed as desks are floating TV stands and consoles.
Wall Mounted Desks in Interior Design
Many modern interior designers go for the wall mounted desks. They are often custom-made or built into an existing interior architecture like in this duplex by n232 Arquitectura.
Connecting two windowsills into one continuous desk the architects created a perfect working surface for those who don't need much of storage space.
This Grenada house designed by Susanna Cots features a wall mounted vanity that doubles as a working desk and a storage area. Clever positioning saves space in the room minimizing the home office presence through combination of functions.
As you can see there are so many things a modern wall mounted desk can offer. Beside saving space it can have multiple functions and purposes. It can even be decorative and fill out the empty wall space with unusual shapes and designs.