From commercial space to contemporary abode, Spanish architects Egue & Seta executed this loft conversion with ease – or so it would seem! The easygoing atmosphere boasts a fresh blend of outdoor inspiration (in the form of interior courtyards and gardens) and edgy industrial elements in the open concept layout, exposed brick walls and concrete floors. While the look and feel is informal and casual, you can be sure it involved a thorough thought process and careful assemblage of every element, from the bike parked by the entrance, to the exposed ductwork, and concrete ceilings and floors that sandwich you in their cool yet cozy embrace.

At the entrance, a trio of timber-topped steps usher you to a raised wood catwalk which leads to the open-concept living, dining and cooking area.


As you enter the home, you're escorted by the steel ducts overhead and the indoor gardens lining the glass wall.


While open and connected within this vast space, each "room" is defined by its own quirks – the living area by its sunken space and built-in seating; the dining area by its bright Edison bulb lighting; the kitchen by its sleek, stainless steel storage shelves and appliances.


The open dialogue between the living, dining and cooking areas is conducive to entertaining and everyday living alike. Well, make that "everyday living with flair."


The kitchen is our idea of organized chaos. The open pantry puts all your culinary tools within easy reach and artfully on display.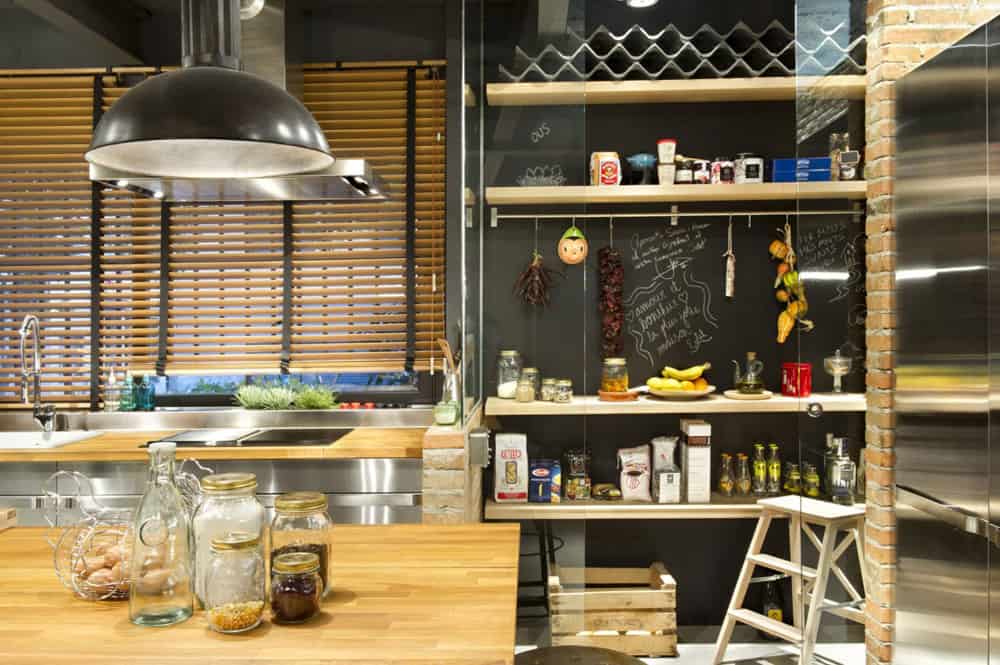 This pleasant disarray is complemented by the rustic brick walls, wood slatted windows, and the wood counters and island top – warm, yet contributing to the overall industrial aesthetic.


Faucet function and fashion!


All this brick and steel can easily become overwhelming, but because this kitchen boasts lots of natural light, the heaviness is quickly offset by the sunlight streaming in.


Looking at the space from the opposite perspective, the culinary chaos quickly converts to a view of modern, minimalist simplicity.


The armless Eames chairs surrounding the dining table are a timeless addition.


The gardens along the large windows offer some privacy, and a wonderful green focal point that permeates every inch of the home.


Apart from their green scenes, the gardens also serve as a buffer between public and private areas and the glass walls that separate them.


On either side of the shower, a pair of vanities face a glass wall overlooking the master bedroom.


A wood floor and ceiling usher you into the bedroom, with wood sliding doors that offer privacy between the bedroom and bath.


A grated headboard maintains the home's theme of openness and industrial-chic.


To the rear of the room, an open closet wraps its way behind the bed.


A sitting nook is furnished with a leather-upholstered sofa in a warm, cognac hue, echoing the earth. Above it, a pair of mounted deer heads – at least in their image, these two are faux and fab! – add a subtle raw quality to the space.


One of the home's most awesome features – and you can be sure there are many! – is the bedroom and bathroom combination, which is separated by a glass wall and garden, basically summing up the architect's approach to the design: "Transparency and permeability are a new spatial reference in this property with the soul of "loft" [being its] landscaped heart."
This isn't the home for you if you're shy or need privacy. Here's a closer look at this earthy, organic and totally out-of-the-box bath:


Egue & Seta