We love Brazil architecture firms like Galeria Arquitetos, who let their climate and culture guide their designs, and the Brooklin House is a prime example. This outdoor living house plan in Sao Paolo takes the alfresco living concept a step beyond your typical patio or balcony, with an open long and narrow layout and one of the coolest loft design ideas which offers privacy and openness all at once. The main level is open in its composition and utterly funky by design. And sometimes all it takes is an eclectic collection of furnishings and accessories to bring bold personality to simple, open concept homes – point proven. In contrast to the modern, open lower level, the wood clad loft overhead is warm and intimate. Take the tour and see why we love love love Brazil homes… and all their eccentricities.


A hidden door in the timber loft wall opens to reveal a private bedroom with a view!


The folding wood doors and warm and rustic, lending the home a humble look and feel without compromising its modern flair.


The wood doors and windows on both levels complement the wood deck at ground level.


And of course, another wood patio at the rooftop level is the jewel in the crown. This secret space is a perfect getaway from the everyday, surrounding residents in lush, leafy vistas in every direction, without ever leaving the comfort of home.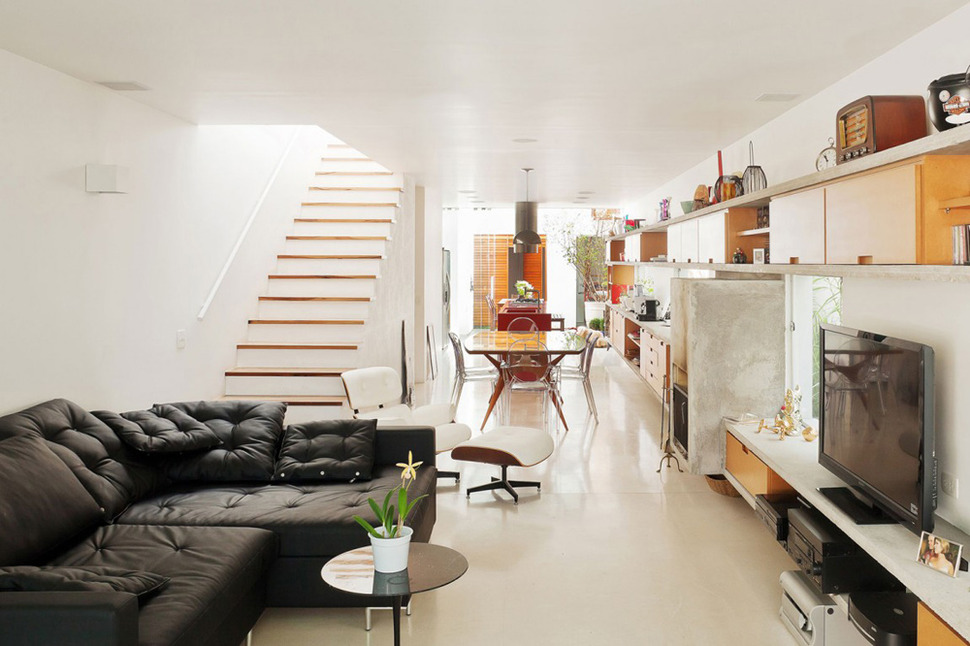 Inside, a long, linear layout maximizes every inch – nothing wasted on walls or hallways, 100% efficient, usable living space.


A vibrant red kitchen island is an instant focal point in the unobstructed floor plan. The rear of the main level is open to the deck and dining area outside. the wall-less design soaks every inch with natural light and fresh views.


The home's open layout is complemented by the open shelving lining the walls, leaving nothing to the imagination, and everything on display.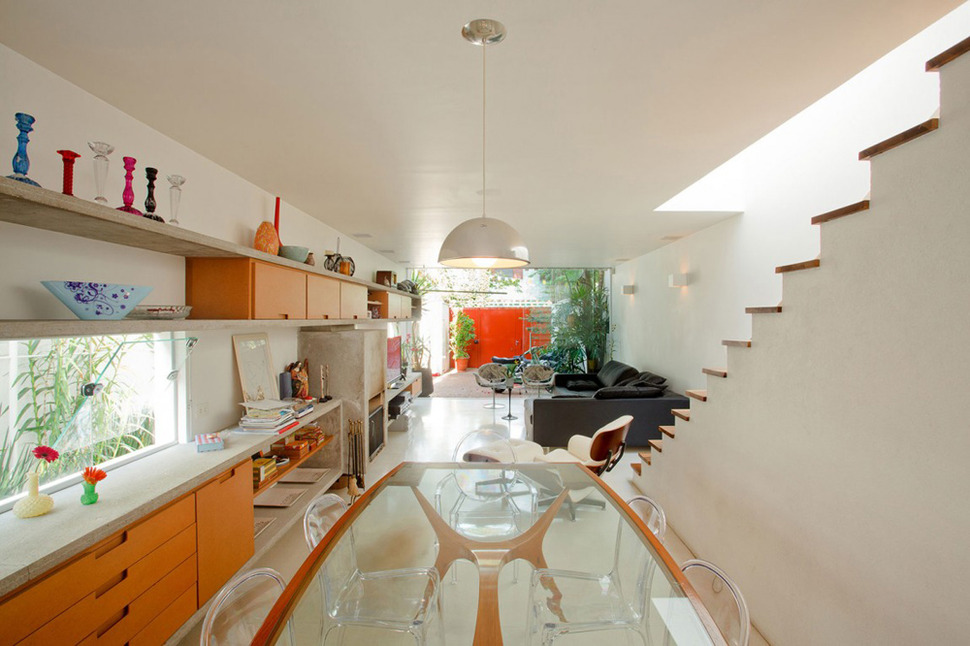 And totally in line with the home's philosophy of transparency is its clean dining table and chairs – see-through and fabulous!


A white-walled stairwell leads up to a large skylight overhead, flooding both levels with sunlight.


Two bedrooms occupy the loft space upstairs, enjoying the ultimate in privacy and views – the best of both worlds!
Floor plans:


Section:


Galeria Arquitetos