Exposing your clutter, old dishes and even a mixture of both can be quite intimidating. The chaos is there, but many of us prefer to have it behind doors where no one can see it. Keeping that in mind is why most of us prefer having cabinets and hiding it all away. Do not fret, but it's time to make a change and officially embrace shelving. While they might seem like an expensive option they aren't. Here are kitchen shelving ideas that won't break the bank.
Minimal Display
If we are talking about minimal décor then we mean just that. It's time to embrace the space and declutter, but in a baby step type of way. This can be done by displaying only your favorite dishes on simple shelves and putting the rest of your dishes away in cabinets. You don't need to remove all of your cabinetry and replace it with shelving you simply need to work shelving in anywhere you can.
Wood Shelves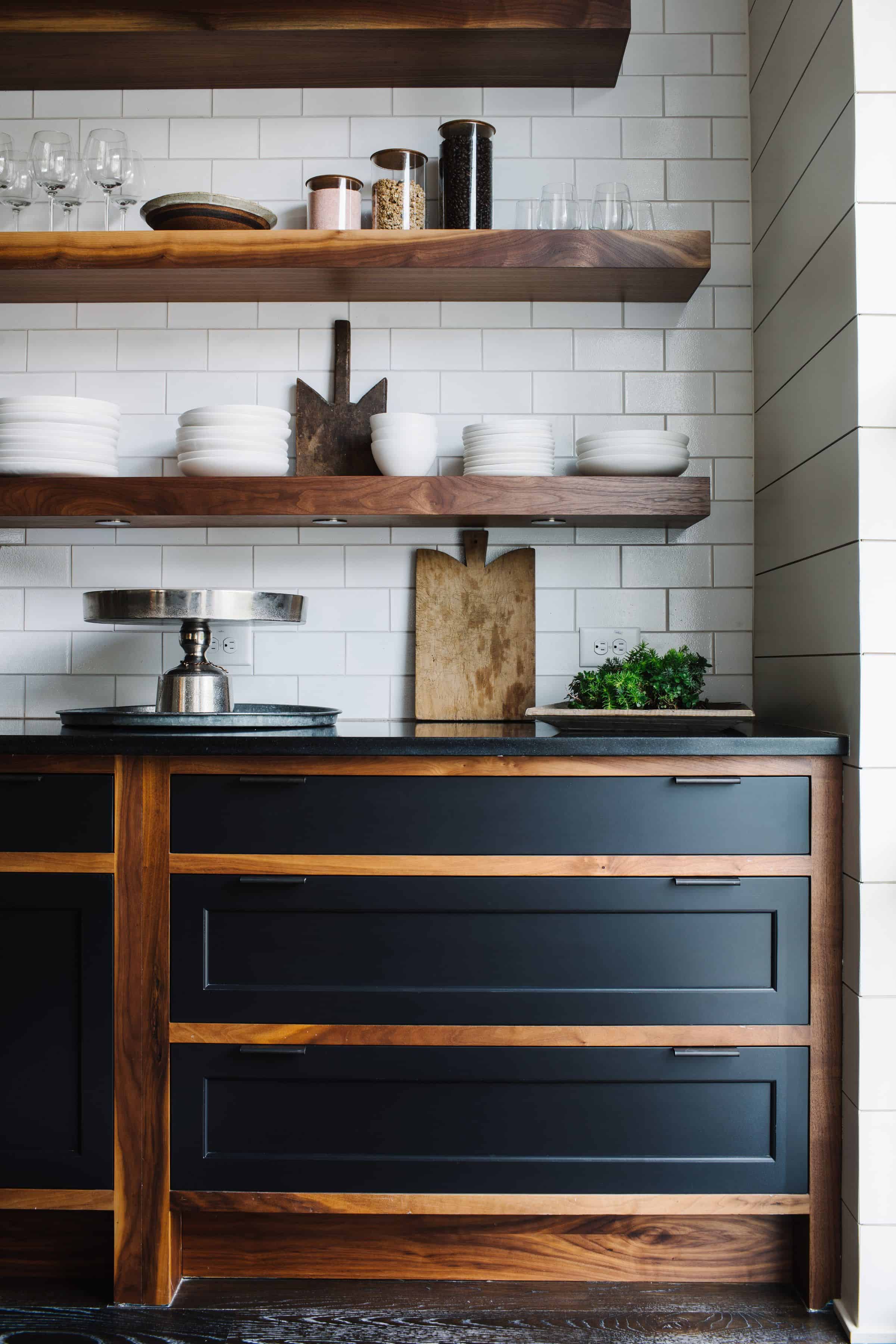 Rustic, farmhouse décor has become quite popular. So much so that many prefer it against any other decorating style. Keeping that in mind, when you want to have open shelves, consider adding in wood ones. Simple wood shelves can make a huge difference in a room. Whether it be a rustic kitchen or simply a space that needs to feel warmer. A few wood shelves displayed can make a world of a difference.
One Section of the Wall
While exposing all of your clutter can feel like too much, having just one section be open could be exactly what you need. The key is using a corner on your wall and embracing everything you want to display. Showcase your favorite cup, dish, or bowl and allow it to become the main focus of the room. Even if you only have 2-3 shelves, they can make a huge impact right where you need it.
Mix & Match
Obviously, you will need shelving for your plates and cups, but why not bring fun and functional to one single space by mixing and matching the décor you decide to showcase. Add in a set of cookbooks or magazines right next to your cups for the perfect pairing that makes sense to the room. You might even want to showcase your favorite artwork on the shelf as well.
Taupe
Though most of us will prefer to have traditional shelves or ones that are wood, painting your shelves taupe could work just as well. Taupe is the perfect in-between shade. It's neutral works great and feels even better while still making sense in the room. Regardless of the color palette, you are working with a few taupe shelves can brighten up the room.
Remove your Doors
Say you want to keep your cabinets yet want to have shelves as well. Even though this might seem impossible its quite easy. Remove the doors from your cabinets, paint the backdrop and watch your kitchen take on a new life. Just like magic your shelves will completely transform proving something new and fresh to the room.
Industrial maybe
If you have been wanting to add something modern, and refreshing to your kitchen, an industrial twist is a way to go. Industrial décor is not only modern but it's quite the enchanting piece of art to have. Add in industrial touches to your shelves to bring them back to life without having to spend much money at all. If you already have open shelves pair some of them with industrial pipelines for that chic new twist.
Up Against Tiles
Most kitchens come with subway tiles preinstalled into the home, while most of us love them, they sometimes get covered up with heavy cabinetry. Install open shelving and allow your tiles to take on the spotlight. You want to have your shelving, display against your tiles to truly allow them to come to life. This works best if you have colorful subway tiles or tiling that has been uniquely done.
Metallic Please
Another excellent option is having a metal frame as the outside of your shelves. Not all shelving needs to be the same or appear alike. Sometimes a kitchen needs something fresh and new and that is where a metal-framed shelf will come into play. Add minimal cabinets inside to truly make a difference while allowing your metal pieces to make the big statement they intended to do.
Bureaus Anyone
While you might think bureaus are off trend and they should only reside in your grandmother's home, it's quite the opposite. They are very much on-trend due to how functional they are. This year's ending months are all about functionality and that is where a large bureau will come into play. Remove the doors and allow your pieces to make a statement while still feeling a bit vintage to the room.
How are you embracing kitchen shelves? Please share with us your ideas below.