Nova Lima is home to this awesome alfresco house designed by local Brazil architecture firm Anastasia Arquitetos. Located by an environmental reserve, this outdoor living house plan is connected to its natural environment, from its outdoor living rooms and open architecture that even transforms interiors into alfresco spaces, to its staggered multi-volume composition taking shape beneath the lush, leafy tree canopy overhead. Even inside, you get a good sense of the outdoors thanks to the glass walls, open layout, interior gardens, and walk-out access to the outdoors. Come on in (and out!) and see it for yourself.


The house itself has an earthy appeal to it, apart from the views. The horizontal wood slats distinguish it from the vertical lines of the surrounding forest. The materials, however, are suit its surroundings perfectly.


Its concrete walls have a raw quality, complemented by natural wood and voids that let air and light flow in and out.


Up the sloping site, past the concrete and glass, a set of stairs leads you to the wood-wrapped entrance.


It's interesting that behind the home's exterior walls, inside is where it really opens up. Its facade makes was for a rich environment that combines nature and architecture, the simplicity of the earth and the luxury of thoughtful design and details.


Sheltered outdoor entertaining areas let the homeowners enjoy alfresco living in any weather.


Privacy and nature are afforded by virtue of the sloping site.


It's a fine line between indoors and out – something that is proven in this house design through and through. One minute you're outside, and within a few steps, you find yourself enveloped by a rich wood patio area.


A few steps more, and you're inside the house – about as "inside" as you can get in when it comes to outdoor living. Glass walls that slide open, wood details, and interior gardens blur the boundary.


A wood slat ceiling lets natural light spill indoors. Coupled with the indoor garden, you really get that sense of alfresco living.


The sense of space in this double-height living area is enhanced by its open concept layout.


An upper level loft echoes the wood details running across the ceiling, overlooking the living space below and open to the patio and forest views.


It's all in the details!


Follow the wood slats up the stairs to the loft landing, where this semi enclosure separates the space without closing it off from the rest.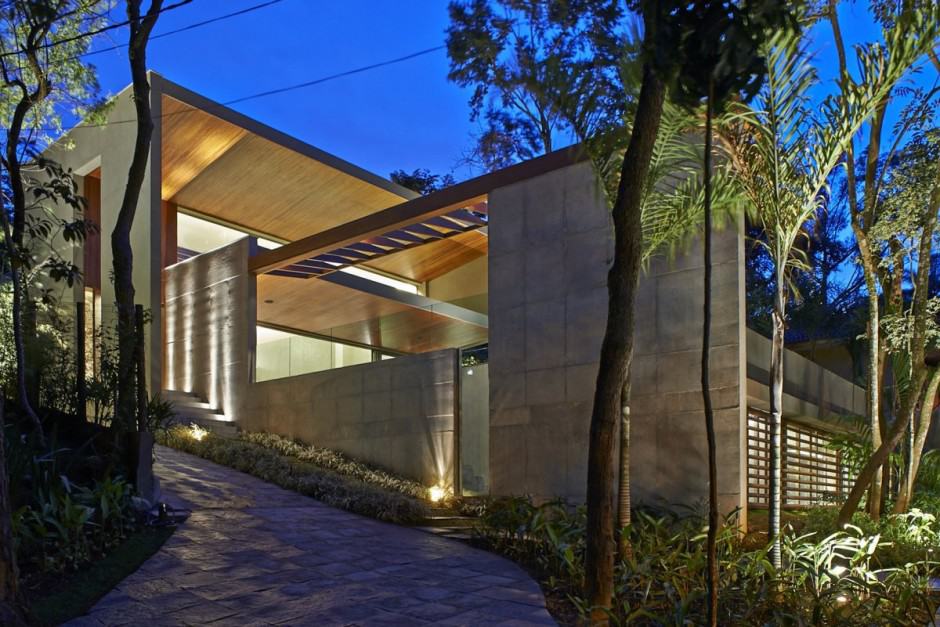 Artful illumination welcomes residents and guests into its warm embrace.
Plans:


Anastasia Arquitetos
via Contemporist
photo credit: Jomar Braganca