Here are 35 sublime koi ponds and water gardens for modern homes. These popular water features come in all shapes and sizes and can add such a focal point to a garden or backyard. You can even do a raised pond or garden on a rooftop. A little sun, a little shade, a few fish and plants, and you've got your own eco-system in your yard. Or in your house. Why not? Water gardens inside homes are a fantastic feature (and a favorite location seems to be under the stairs). A koi pond or water garden leading to the house can look so elegant. Especially in the evening with well-chosen lighting. You can make your design ultra custom – they are all almost totally bespoke.
We've gone hunting again, and this time we've come up with 35 of the absolute best koi pond ideas and water garden designs for modern homes. And a few at the end that are a little more eclectic. But eclectic modern is trending today, and this is Trendir, after all. And you're going to love these ideas.


Pros
You can create a place with strong visual appeal.
Interacting with the fish, feeding them and observing them in their habitat will provide hours of relaxation.
There are environmental benefits.
Your fish can become like pets and you'll start to recognize them – you may even name them.
Cons
It can be expensive to build and maintain a koi pond, but you need to weigh the benefits.
Yes, there is maintenance required – but nothing good is ever easy, right?
Your fish can become a responsibility – someone has to feed them when you travel and in colder climates, they must be overwintered and guarded from predators.
Also see:
55 Most Awesome Swimming Pool Designs on the Planet
Glass Walled Swimming Pools: 10 Amazing Designs
Indoor Designs
The pros to an indoor garden are obvious – you can enjoy your koi pond or water garden in any weather. You may have to account for the humidity and install a fan or two, possibly a dehumidifier. But it certainly is a statement feature inside the home.


Wow. What a room – all cement and wood, and water. Notice the colorful insect sculptures placed around the pond. Source


This modern home design has an inner atrium – and the koi pond can be seen from every floor. Source


A very zen indoor water garden with boulders. And two Japanese Shinto benches for contemplation. This would be an easy addition to your home. Source


Under the stairs is perfect for a water feature. Especially when they are glass stairs. Source


Another example of an under the stairs water garden – the perfect indoor location. Source
Outdoor Ideas
Outdoors is clearly the most popular place to put your water garden or koi pond. And there are so many ideas you could use. It could be a raised design on your back deck, or a sunken design amongst your bamboo. If you raise it, it can have a glass window, like an aquarium. It can be an entrance pond or garden, with a pathway to the door. The possibilities are seemingly endless.


You can build a water garden right around your house – like a moat. Source


Or you can build the most ethereal enclosed viewing area – all glass. Source


Under the deck is another great place. Don't you love the colorful stools? Source


Even in a small yard, you can build and incredible looking koi pond. Source
Glass Window Designs
Putting a window on a raised koi pond is really a window to another world. Like having your own private aquarium, outside. Attached to your pond. The only con I can even think of is that you have to clean a little more glass. Well worth the trouble – for all the days you'll watch your fish swim around under the surface.


It opens up an entire world to observe these fish under the surface. Source


A glass panel in an unexpected place opens up the view from dry land. Source


This is a submerged patio with an infinity koi pond – all the latest. Source


Now, we're sitting down in the submerged patio at the pond level. This is amazing. Source


This small solar design gives everyone a chance to be a pond keeper. Source


A glass wall on a raised koi pond has a lot to recommend it. You see far more than you do from your perspective on a standard design. And the best part is, you could do both with a little planning. A vantage point from which it is a standard pond. And a garden bench down at the other end by the window. Source
Walkway or Entrance Koi Ponds and Water Gardens
There is no better way to set the mood than to have a koi pond or water garden at the entrance to the house. It tells your guests to expect something special – think of how plain most front doors are.


What an elegant entrance – we love the wood and all the right angles. And the head sculpture up by the door – we love it. Source


A very Japanese Zen atmosphere – and curved walkway. Source


Or you could go for a modern entrance accented with a koi pond and waterfall faucet coming from the wall of stone. Source


Perhaps you prefer a rich rustic entrance – with natural stone stepping stones. Source


Stately palms set in water gardens line the entrance to this home. Source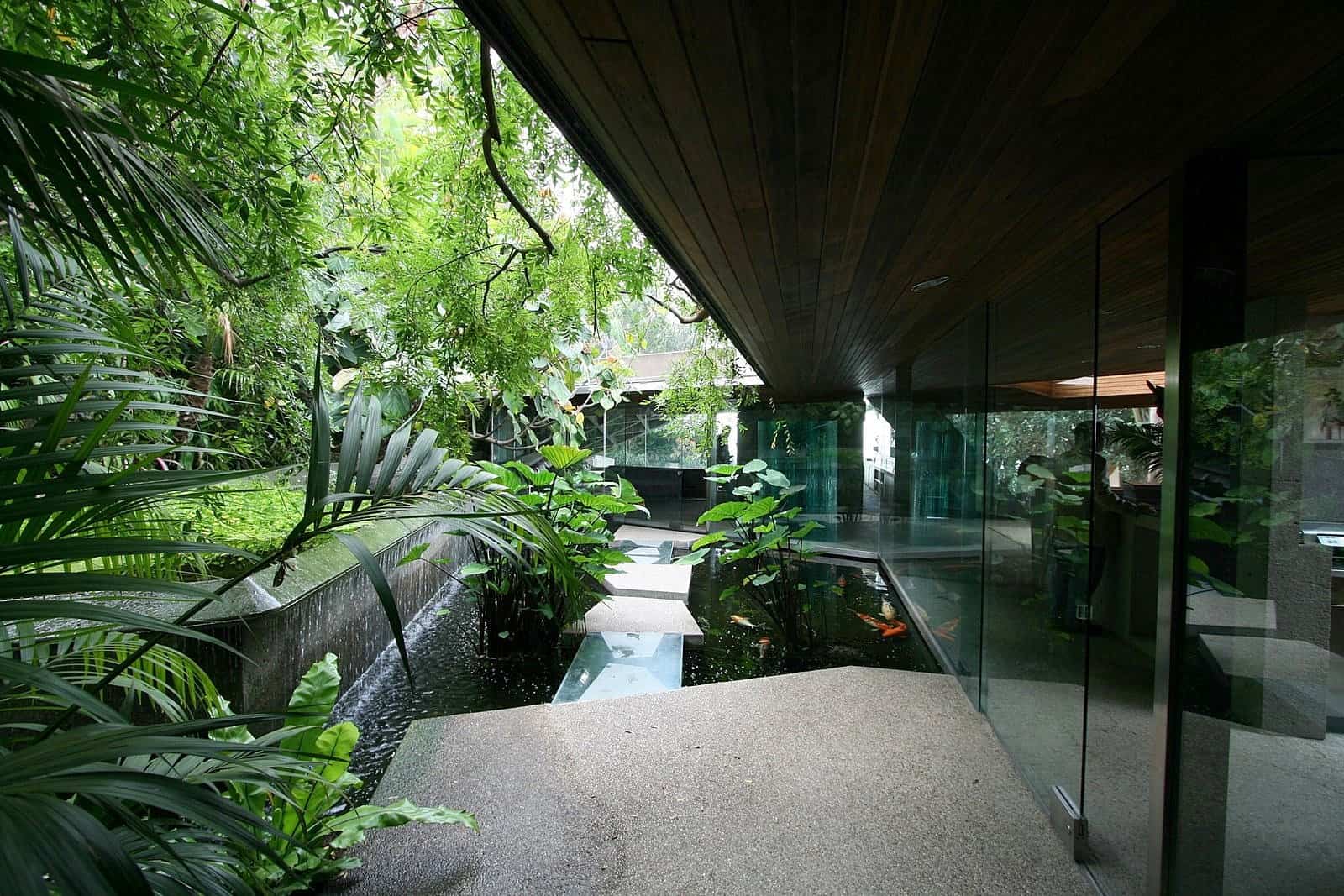 The Lautner Sheats Goldstein house has positioned the koi pond to be a stepping stone path to the entrance of this remarkable house.
Night Time in the Koi Ponds and Water Gardens
Lighting your design will open up yet another world, especially the ponds with fish. Plan your lighting right in, before you start building. The only danger here is that you won't be able to rip yourself away from your pond and will spend your nights under the stars, watching this aquatic world come to life.


This star-lit koi pond is in the bow of a violin pool and spa. For more details on this incredible custom water extravaganza, please see the full Trendir article. There's a hot tub in the chin rest – it's amazing.


These giant koi are the main attraction in this entranceway. Note how the cascading light inside the home reflects the cascading plants outside. Source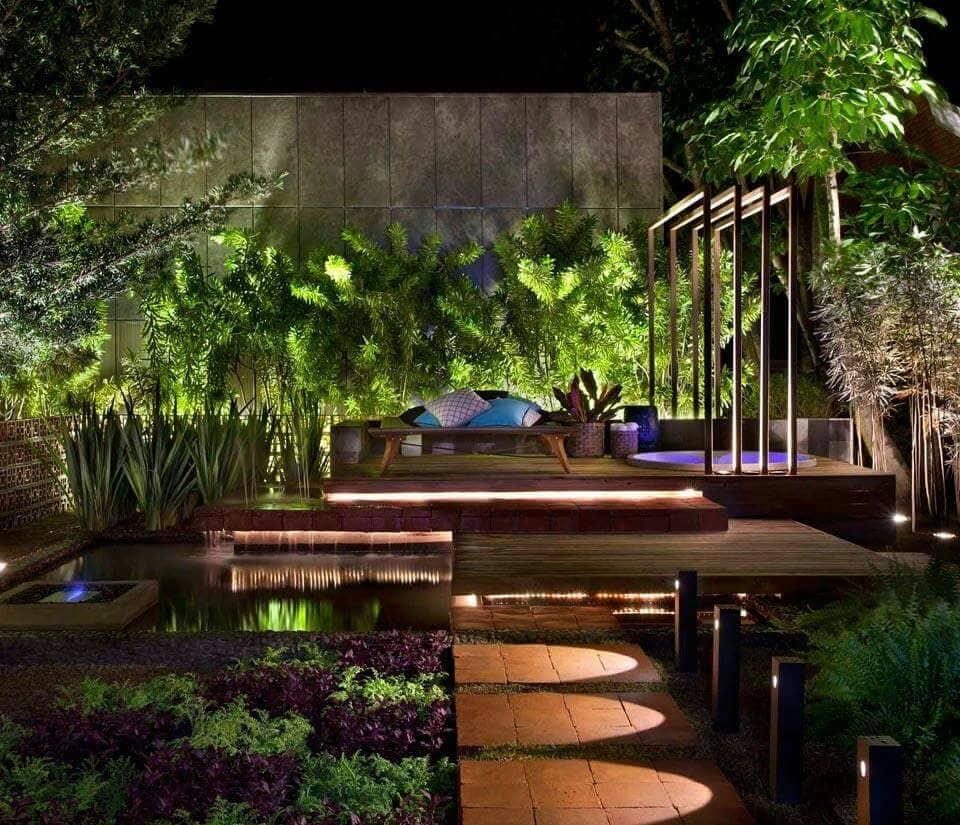 This water garden is an impressive getaway for some night time contemplation. Source


Candle Spheres provide subtle light. You can use just a few for accent, or you can flood your water feature with candles for a real statement. This is an idea you can DIY, even after the build. Source


Designing a pond with night lighting, preferably from below, takes your koi pond to a whole new level. It's entertainment! Source


This waterfall pond and water garden has a linear, horizontal motion – like the house. Source


Even a small pond comes to life with lighting. Don't they look fantastic under the lights at night? Source
Take Your Pond Design Up a Notch
Because it can be more than a koi pond or water garden. It can be a magical floating orb pool, it can have a model train running through it. Looking for that luxury touch? Add a little Chihuly to your feature. Or some metallic glass orbs. If all this is too pedestrian for you, how about a glass elevator for your koi? Check it out below.


Floating orbs give your water feature design a magical quality. You can find them at many upscale pool and garden stores and online. Source


A water garden booth for four – and the waterfall runs through the table! What a great spot to have company come for lunch or dinner. Source


Drive your model train through your koi pond? Why not? All aboard! Source


Fancy a little Dale Chihuly in your design? There really isn't a better accoutrement. Source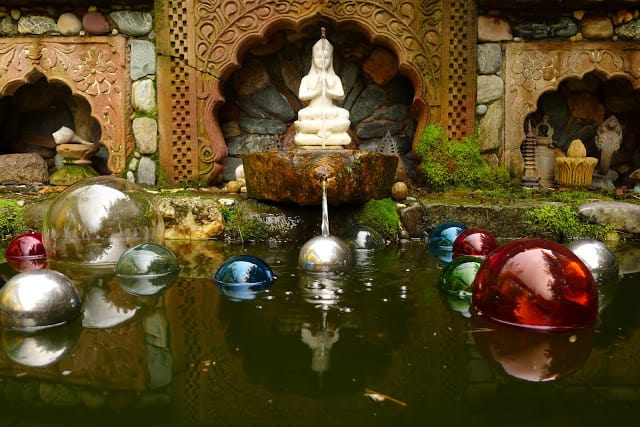 Metallic glass floats in water garden if Chihuly isn't in the budget. Source


Add a Sphere gives a raised viewing platform to the koi. We think they like looking around and seeing new views! Source


Give your fish the equivalent of a pond elevator – now that's an elegant pad. We really do think they like to come up to see how we live. Source
As you can see from all the fine examples above, a koi pond or water garden really can enhance the design of your home. With many modern styles available, and the clear opportunity to create your own from the ground up, there's a design idea that fits every house and every decor. Get out that graph paper and pencil and start designing your pond – spring is just around the corner!