We've gathered the most awesome swimming pool designs on the planet for your armchair viewing pleasure. You don't have to leave the comfort – or warmth – of your home in order to experience the best ideas we found. Swimming pools have really come a long way. No longer is an Olympic-size pool in your back yard (or living room) a big deal. Pools are part of your architectural design theses days. In the odd case, not happily so, but for the most part they are a stunning addition to the modern home. To any style home, really. But from an architectural standpoint, the prize goes to the contemporary.
We've searched high and low and found all kinds of designs: infinity, lap, indoor, sitting, grotto and cave pools and then – the very unusual ones to wrap it up. Some are urban, some are rural. Some are seaside, some are desert. Some are glass, some are cantilevered, some are on the roof. They're all fabulous. Come along as we show you the 55 most awesome designs on the planet.


Saltwater or Freshwater? It's pretty much a done deal. If you're building new, go salt. If you're buying a house with an existing pool of any kind and it's chemical-based (freshwater), convert it. There's no reason for anyone to be swimming in chemicals any more. Here are the pros and cons for each – you'll see the list is heavily weighted. The only disadvantage to a saltwater system is the cost. But we always say, you get what you pay for.
Saltwater
Pros
Low chlorine levels (salt-water generators convert salt to natural chlorine)
Low salt levels (less than the ocean)
Gentle on the skin and eyes
Soft water feel
Lower maintenance and cost – extremely low
Cons
Expensive to install
Salt is corrosive and will impact equipment
Freshwater
Pros
Initial costs can be lower
Cons
Chlorine is a hazardous irritant bad for skin, hair and eyes
More maintenance is required
Chemicals are more expensive than salt
Infinity Pools
Infinity pools – or horizon pools – are designs with an edge, so to speak. They are built so that your sightline is even with the top of the pool to the horizon – and so perfect for homes with magnificent views. In fact, not just perfect, but essential.


This infinity pool is at a hotel in the Caribbean, but you could certainly do this at home. If home is the hills of some tropical island, that is. Source


This infinity pool gets the tropical treatment from palms and birds of paradise flowers. It's like being in Hawaii – in San Diego. Source


Infinity pool and spa in the Hollywood Hills. Note the garden sculptures. Source


This sleek infinity pool overlooks the ocean from the grounds of Marina Suites on Grand Canaria Island, Puerto Rico. Source


A Kinnelon, NJ private residence infinity pool with nightlights creates the most stupendous setting. Source


This infinity pool really is like looking over the end of the earth, at One & Only resort, Capetown, South Africa


Villa Amanzi is a gorgeous residence in Thailand built into a rock face facing the Andaman Sea. The infinity pool has a bird's eye view. Source


Yarra House condominium, penthouse pool, South Yarra, Victoria, Australia. That's Melbourne in the distance. Source
Lap Pools
One thing about lap pools – their narrow design can often fit in spots where a full size design will not. They are also fantastic for the serious swimmer who doesn't want to give so much space up to the pool. Let's face it – smaller, full-width designs are more difficult to do laps in. And lap pools are less expensive than full width ones. The downside? It's pretty hard to have a pool party.


This lap pool in a summer home in Peru has a glass wall end. It really is the outdoor focal piece. Source


This lap pool in the incredible Steven Holl Planar house in the Arizona desert. Desert homes have their own style, don't they?


This indoor lap pool in Sag Harbor, NY has natural stone floors. Don't you love the spa look? Source


This modern house in Brazil has a lap infinity pool combo that has the most incredible view. Source


This lap pool has an adjoining living area with folding glass doors and a marble fireplace for those nights that might get chilly. After a dip in the heated water, come on in and get warm. Source


This Solar Equinox house in Bulgaria is incredible – including the lap pool. The placements are set by the solar equinox and solstice angles, turning it into a celestial instrument. Source


This above ground lap pool and terrace have a very Zen atmosphere. Slatted wood and bamboo are a good combination. Source


Hey, there's a tree in my lap pool atrium! Source


This lap pool combines the best of both worlds – it's indoor and outdoor at the same time. Source


The lap of luxury awaits at this lap pool in Rio de Janeiro. Source
Indoor Pools
In many climates, an indoor pool will more than double your swimming time. In warmer climates, it's good for the rainy season and for keeping flora and fauna out. An indoor design is also much more private. That said, it's more expensive. Much more. Not only is it an additional room on the house but you will require an industrial strength dehumidifier and fan. But what if that could double or triple your swimming time?


This pool in London is part of the Beauchamp Estate. Don't you love how the Jacuzzi or hot tub circle plays off the circular inset light sources in the ceiling? And note the cool rock wall spitters. Source


With this Lake Michigan indoor pool – you'd never know it was winter. Your own personal Tiki hut. Source


A beautiful minimalist white room with a touch of the Mediterranean in the columns and the cobalt blue Moroccan lamps. Source


Contemporary indoor pool in New York. We love the cathedral look. Source


Indoor pool with a swing in Indiana. What fun – one of our favorites! Source


The room is organic – and soothing. The round shape of the (almost full wall) window is echoed in the river rock floor, the curving motion of the wooden slat roof and chairs, there's not a hard angle in the room. That's Zen. Source


This glass atrium pool in Oregon really lets the sun shine in. Source


Villa Montana has that black & white Casablanca thing going on with it's muted colors. The only real color in the room is the gorgeous blue of the pool and the emerald green of two well-placed tropical plants. Source


Craftsman pool with waterfall – what's that white stuff outside the window? Source


An indoor pool with a cave ceiling has an expansive countryside view and a spa atmosphere. Source


Amazing lap pool and fireplace is half in, half out with its open walls (all the better to see the view). Source


A sleek and modern indoor pool – with Mayan statue lifeguards. Source
Grotto Pools & Swimming Caves
Grottoes and swimming caves really are outdoor entertaining areas as much as pools. They are settings. Some are almost stage or movie sets. Some are man-caves. The kids love them, from the waterfalls to slides. Who needs Six Flags when you've got this at home?


This indoor grotto pool with a waterfall has a tropical thing going on. Did you notice that it's also got an aquarium? Source


This grotto has a TV, a fire pit, a swim up bar and granite counter. Talk about a man cave! Source


This is one of the most stylish indoor grottos we've seen, with it's Turkish bath theme. Deep inside a beachfront home in Cabo San Lucas, Mexico – it also has a spa, bar, TV and lounging alcoves. Source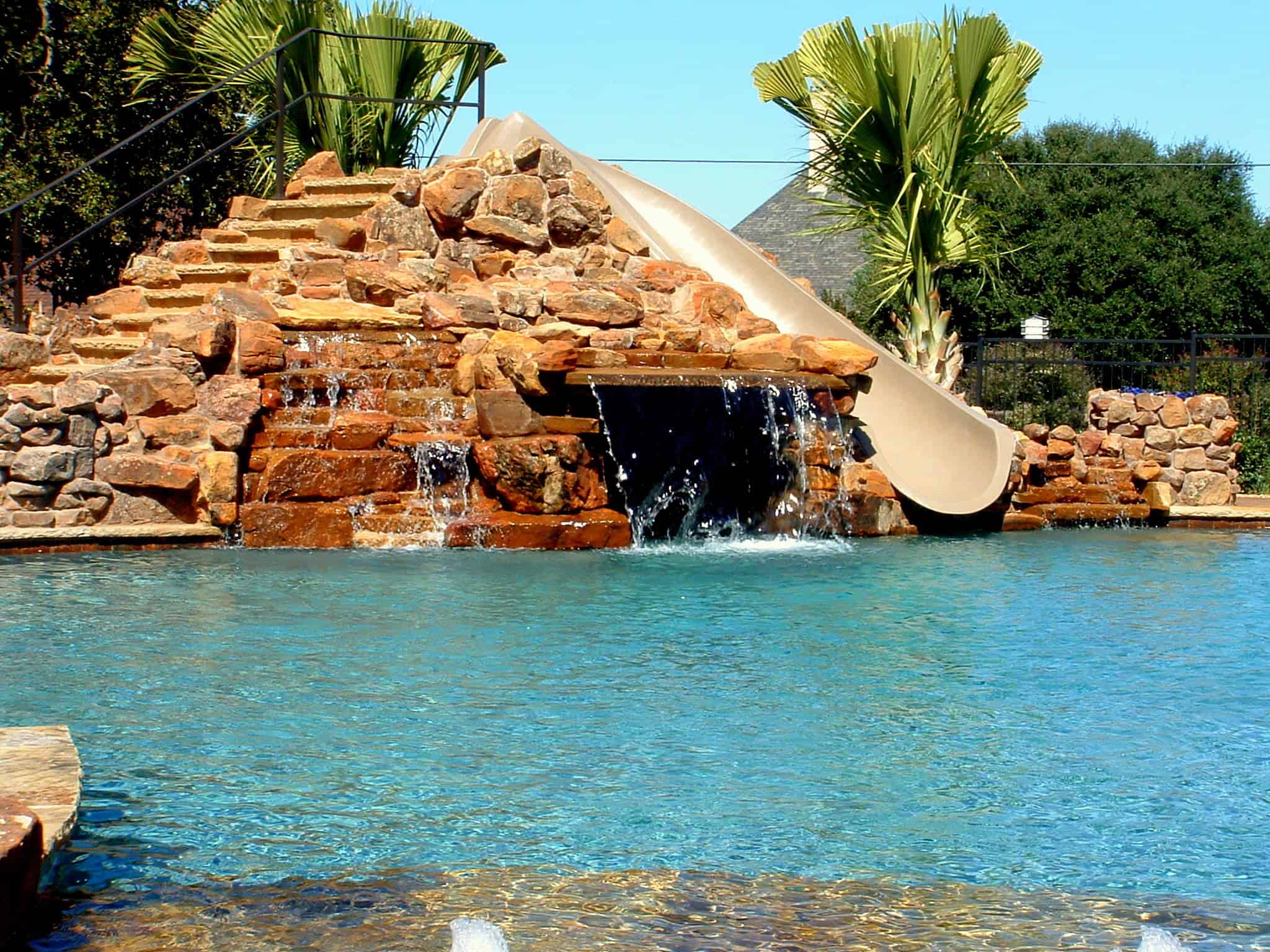 A pyramid bolder cave pool with a waterfall and slide is an interesting twist. Source


Domus Civita (above and below) is a castle home, available for weekly rentals, located in a pristine Medieval village in the middle of Italy. That's a private cave pool you see. Can you imagine the vacation you would have in this rental home? Worth saving up for. Source


Source


Swim up everything in this outdoor pool cave / grotto. Love the lighting. Source


This out-of-sight cave space attached to the pool has a TV. Source
Sitting Pools
We don't mean sitting at the pool. We mean sitting in the pool. Some days, it can get so warm that you just want to sit in the water. Maybe you even want to eat while submerged. Or at least have a pina colada. Resorts have had swim-up bars forever, but now they're part of the cool design trend for home. And if you don't want to get wet, you can still get down to the sight line of that infinity pool by installing a submerged patio area. It's probably a little more elegant for a cocktail party.


Natural stepping stones lead to the cool submerged patio area under the big umbrella. Source


LED infinity pool stools for your over the edge viewing enjoyment. Source


A submerged stone breakfast bar – at the outdoor kitchen. Don't miss the waterfall coming from the hot tub. Source


This one has a table for dining! Source


This is more like a lounging pool. We love it. Source


Another sitting/lounging pool – and this one has a waterfall curtain. What a pleasing background sound it would make. Add a little spa music and your guests will never leave. Source


This is a deep sitting patio area – kind of like an infinity patio. Source


This romantic dining booth sits inside the pool overlooking that expansive ocean view. Source


This monster design has a fire pit seating area – you get there via the bridge. It also has a rock slide and a waterfall. Source
Really Unusual Pools
Then we have the designs which don't fit into any one category but do stop us in our tracks and command our attention. Whatever they are – they're over the top in one way or another. And lots of fun to contemplate.


The Roman Pool (Hearst Castle, California, U.S.) has a lot of elements not normally seen in a pool room. There's also the Neptune Pool on the grounds (outdoors). Source


This cantilevered pool is part of Hemeroscopium House, outside Madrid, Spain. Source


This Mediterranean style design looks like there was a flood. It's intriguing – and imaginative. Source


This rooftop infinity design on the Greek Island of Tinos acts as a cooling agent for the all but invisible house beneath its surface. We covered this whole house, including the swimming pool, a while back. Source


A concrete house in Vancouver, Canada, has a glass bottom swimming pool above the main entrance. It's kind of freaky. Source
Related Designs
Glass walled swimming pools


Movie night. In the swimming pool. That screen is 193″, by the way. Source


We're guessing that the oil business created this design. Source
The Boys in the Band


This violin design is truly amazing. We covered it previously, with lots of great photos and details. The neck becomes a lap pool. There are seating areas built into the shape. The chin rest is the hot tub. Beyond amazing, actually. Source


Is there a piano man in the house? Swimming pool at Kuching Sarawak, Malaysia. Source


A guitar-shaped design for the rock star. Source
And there you have it – some of the most incredible swimming pool design ideas on planet Earth. So far. We reserve the right to publish part II if we find more. Everyone in the water swimming!