Pool designs today are so different and flexible it doesn't matter how much space you have; you can still have one. Custom pools are not only incredibly unique but they are a God-sent for difficult sites. The contractor can offer various shapes and materials to choose from and install a pool virtually anywhere from a rooftop deck to a cliff. Swimming pool trends have long evolved from simple tiles and classic rectangular shapes. It's amazing how many more options are available today.
Lap Pool Design Ideas
Lap pools while pretty basic are perfect for those who really like swimming. If you want to get your morning exercise in a refreshing cool water the lap pool is for you. It doesn't have to be boring, though. You can easily decorate it with lighting and greenery. Overflowing options are also possible while wooden decks add warmth to a simple design and not only in a physical sense.
Simple built-in lighting is a great way to decorate a lap pool. It creates a beautifully glowing strip of water that allows to swim at any time of day. If there's enough space an outdoor lounge or a pool house could be built to complement such a pool.
This Weekend House lap pool is built into a giant wooden deck and features a minimal L-shaped poolside area. What a nice motivation to complete your lap knowing there's a resting area ahead.
A HYLA Design pool is modest but lengthy. It has a waterfall feature at one end and a backdrop of small trees along the entire wall length.
An indoor/outdoor layout brings water closer to the living area, which create a nice relaxing atmosphere all around. A deck separates the pool from wooden floors providing swimmers with a place to rest and catch their breath.
South Harbor Resort's wooden deck looks as if it was partially covered with blue glass. Square stepping decks along the pool's perimeter provide an easy access to the lounging area for those who don't want to take a dip just yet. A long swimming pool extends in thin long lines around the site, which saves space for a beautiful cascading garden.
Unusual Lap Pool Designs
Lap pools can also come in unusual forms, for instance, an overflowing design in this Los Angeles home. Though it looks like a regular lap pool from the inside the house it definitely becomes a focus of attention from facade.
There's just one downside, they can be quite space-consuming. So if you want to combine a deck and a lap pool there might just be a sole solution for you. AGOR's disappearing pools. Equipped with a moving mechanism the swimming pool floor elevates to become a beautiful deck.
Built-in steps make for an easy pool entry while the wooden planks are quite unusual for pool flooring. The process of one turning into another is a sight to see, by the way, mesmerizing.
Incredible Infinity Pool Designs
Besides being incredibly beautiful infinity pools can also double as lap pools. Or vice versa. Even if your house isn't located at some picturesque site you can still enjoy their beauty. Creating a reflective mirror an infinity pool is always a nice addition to a backyard.
Looking at this pool it's not hard to believe it's located on a private island in Fiji. Blending with the blue waters it stands out among others (mostly rectangular infinity pools) thanks to its rounded shape entry.
It seems like there's enough room to get a lap in and enough flair to make it look so spectacular.
Hovering over the edge of a cliff or some other elevation is the best position for an infinity pool as it will blend well with the horizon. Casa AL has a pool that can easily blend with the sky or the sea, in front of which it sits.
Studio Arthur Casas definitely managed to combine the beauty of an infinity pool and functionality of a lap design in this pool.
Unusual Infinity Pool Designs
There are also other shapes for an infinity pool to take. For instance, this Ramon Esteve Estudio design has an abstract geometric shape that doesn't take away from its functionality or beauty in any way.
Sometimes available square footage is so challenging it just calls for creative solutions. Unlike many other pools this one also echoes the architecture.
Mirage House has an amazing square infinity pool that cantilevers on a stone wall blending with the not so-distant sea. The unusual pool design is enormous, but if you look closer you'll see that its biggest area is actually just a water-covered deck.
Provided your house sits on a hill or some kind of elevation an infinity pool becomes a relatively easy feature to introduce. And although the best thing it blends with is water, blue sky is the second best backdrop for it.
Free Form Pool Designs
Free form pool designs look somehow luxurious and can come in a great variation of sizes. They are perfect for those who simply like to relax poolside without counting laps. Being so flexible in their shapes free form pools can also be designed to fit any site.
Guz Architects know a thing or two about incredible swimming pools. This one from their Fish House project is a perfect example of a unique free-form swimming pool that doesn't just have plenty of space for lounging but also swimming.
Wrapping around the house it's built with a green patch cutting it right down the middle, a bridge access to a covered seating area, and different levels of depth. It's simply amazing!
If you're more into traditional style it doesn't mean you can't have as fluid shape as you want. Stone pools don't have to only be rectangular.
A tiled pool will still give you that traditional look, but a more interesting shape will help it stand out.
Speaking of summer, who wouldn't want a beach strip in their own backyard? This is where a free form pool with a beach entry becomes an ideal design solution.
Its rounded shallow entry can be painted as this one by Craig Bragdy Design or simply covered with sand yellow tiles. Both create an unparalleled beach look.
Free form pools can also come with decorative grottos. This one, for instance, located in a $40 million Castillo Calibre beachfront mansion has an entire cave to it, stalactites and everything.
Geometric Pool Shapes
Geometric pool designs are gaining more an more popularity. Besides being able to fit onto almost any site these wells have something their round and rectangular counterparts lack, unpredictability.
While triangular pools may not be the most efficient in terms of swimming space they can fit into tighter places unlike standard rectangular ones.
They won't be much suited for making laps but would definitely be a welcome bigger alternative to small plunge pools.
Using any available space can produce unexpected results when it comes to pool design. Dan Gayfer created a pool that looks a lot like one of the Tetris figures.
And this is great! Why waste space that could give you more swimming area? Surely the more complicated the shape the costlier the pool, but if you already can afford it why not take an outside-the-box approach?
A free form geometric pool is a great way to combine both a plunge and a lap pool in one. While its one side is spacious and deep the other half is long and narrow, perfect for decent laps.
This is a shape for those who want it all. If you can also fit in a deck alongside the narrow strip of the pool, you can call it a perfect design.
Wrap-around swimming pools may be a luxurious investment, but they literally bring water closer to home. Such a pool can be accessed from any room with an indoor/outdoor layout and vice versa.
Taking advantage of the house shape the pool can end up looking truly unique. Now the cost for such a design is an entirely different topic.
Geometric shapes may not be the most stunning but they really are creative. Fill in awkward angles of your backyard with water and see how they transform.
Luxury Indoor Swimming Pool Designs
Another luxury type of pools is an indoor kind. They are no budget-friendly, as you can imagine, as any additional structures would simply require more planning and construction.
Carlos Miele has designed a lap pool that is technically an outdoor pool but keep its shallow plunge part covered under a beautiful pavilion enclosed in glass.
It's always pleasant to swim in the fresh air, but some locations make it impossible to ever do that. And, well, it has its own charm to have a pool of water under the roof.
For instance, an indoor pool in Alpine House located in Fribourg, Switzerland has a sauna look to it. Wood-clad walls create the effect, but a 20 meter (65.6 ft) pool looks surprisingly refreshing.
Even indoors a swimming pool can have quite incredible decorative features. Here, there is a modest but beautiful spout that pours water down from the wall.
An indoor pool with an atrium is the ultimate luxury, but what about the more modern options? Robert Konieczny shows how to do it in his Safe House design. A glass pool house makes for an amazing look. Complemented with blue light it looks as if the entire room is filled with water.
Glass Above-Ground Pool Designs
Above-ground pools aren't the most attractive especially compared with their in-ground counterparts. But if there is one material that can make them look even better than the built-in options it's glass.
Guz Architects have created not one glass swimming pool but a whole portfolio of them. This Singapore project from the firm features an above-ground swimming pool with a glass wall that creates an unparalleled look that resembles a thick slab of glass.
Thanks to lush vegetation surrounding the swimming pool it looks very natural. But even without all that beauty a glass pool would still look better than any of the common ugly above-ground designs.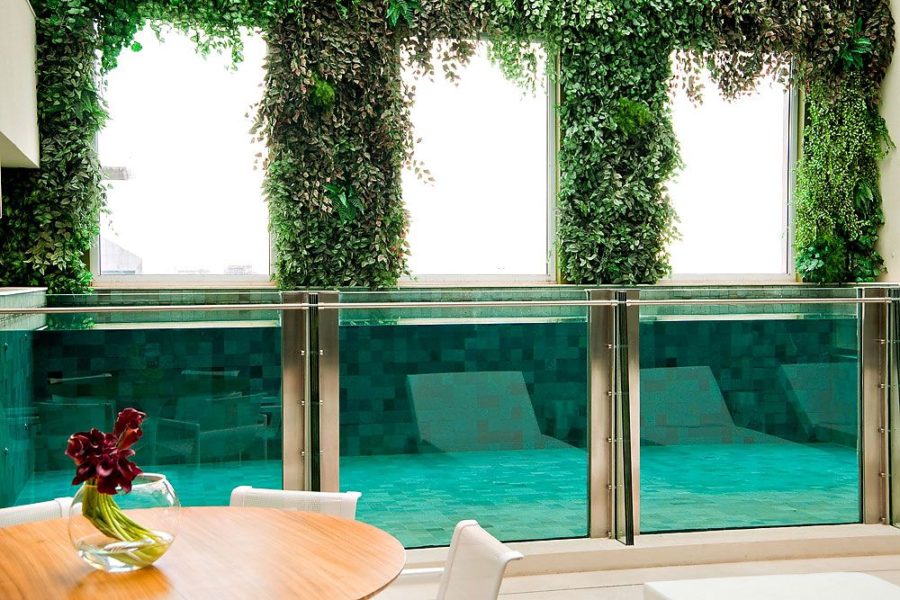 Fernanda Marques enhanced an indoor pool design in her Malibu Residence with not only glass railing but also vertical gardens. Greenery really works well for pools, so it's always a welcome addition.
The views of the water and partially windows would be blocked with this above-ground pool from the seating/lounging if it wasn't for glass.
Even a small inclusion of glass can make an above-ground pool look more interesting. Here's an example from Andres Remy Arquitectos. Wood is a reliable material when it comes to decorating.
But here a small glass window makes the pool look that much more intriguing and stylish. And the same goes for stone as well.
Fish Tank Pool Designs
Another house by Guz Architects in Singapore makes a wall in one of the rooms, so it looks like a giant aquarium.
It doesn't only give the interior a wow factor but also brings plenty of natural light in. The pool wall is covered with stones designed in cool multi-levels and layers.
DAPstockholm created a stone pool for Villa Midgård that looks pretty normal from the above view. It quickly turns into a square-shaped aquarium at the side.
But this isn't, of course, a unique idea. Metropolis Design has completed a spa room for their South African project with windows that open up to the swimming pool outside.
Water allows some natural light into the interior outfitted with black marble, but the swimming pool design itself looks pretty standard from the outside. A great way to save on the pool construction, but enhance your interior architecture.
What doesn't look standard is a swimming pool that features a glass floor, which also doubles as a roof.
Wiel Arets Architects made it an integral part of the house facade. It looks like a human aquarium from the inner courtyard. From above, though, it's still a simple rectangular pool.
Swimming Pool Floor Designs
Pool designs aren't all about shapes and materials. There are simpler ways to decorate them bringing down the cost of construction. Pool floors allow plenty of room for creativity. And there are some affordable options that always look good.
For instance, this checkered tiled pool floor would look too plain without its monochrome blue squares. Tiles from which they're made are cheaper than any other material and they are easy to maintain.
Sure, they may require a bit of re-grouting here and there, but nothing major. Besides they are pleasantly cool to the touch.
Another great work from Craig Bragdy Design shows that a plain pool can be completely transformed with an artistic touch.
This particular work resembles those 3D pool floor designs that were so popular a while back. Made tastefully an artistic floor design can really add dimension to any pool design.
Multi-level floors entail more planning and construction. And that in turn ups the pool cost. But there are advantages to such floors like depth variation and playful additions like an in-water deck.
Incredible Custom Pool Designs
Custom pool designs that you can see in private projects and resorts differ incredibly. One differing factor is, of course, size. Resorts accommodate a lot of people at once thus requiring bigger pools. Some celebrity cribs or just luxury residences for the rich treat a custom-shaped pool simply as an attraction.
This Westchester residence boasts an amazingly huge violin-shaped pool with fiber optic lighting that makes the strings. Taking advantage of the complex shape the designers have integrated a hot tub into the design and generally stayed true to the original form.
Gorgeous colorful built-in lights help accentuate and define the pool's giant form.
Amangiri Resort and Spa designed by three architects Marwan Al-Sayed, Wendell Burnette, and Rick Joy is a huge pool with a rock integrated from the site. Complete with individual decks and built-in lighting the pool looks breathtaking but inviting.
Pools Designs With Decks
Island decks and all kinds of creative pool decks are very popular right now. They are convenient, they take less space and look incredible. Why wouldn't they be popular?
At Mandarin Oriental Hotel in Turkey the stone and wood pool deck overlooking the sea simply stuns with views. It also provides instant access to water from every side all the while offering lots of room for lounging.
Island decks don't have to be big. They can be as small as stepping stones that allow both a place to sit and a way across the pool.
Some contractors are trying to use every inch of space. Since often times they need to fit a pool, a hot tub, and a deck all on one limited area they have to make sure every foot counts.
Here a small deck is tucked between privacy bushes complemented by a wooden fence. And the rest of the space is distributed among a swimming pool, an ultra stylish black hot tub, and a waterless garden – all of which creates a perfect urban getaway.
What can be more pleasant than sitting comfortably with your feet in cool water? Canny Architecture have not only connected this swimming pool to the warm wooden floors of the house, they also added a spacious deck for lounging on water.
Small Plunge Pools
Plunge pools are perfect for those who long for refreshing coolness regardless of space. They are useful for battling the scorching summer heat and provide a decorative element to your backyard in spite of their small size.
Clavel Architects demonstrate how a familiar circular shape can turn into a stunning design. The mere contrasts between it and the house shape creates a dynamic in the yard. And then there are details like an integrated multi-level hot tub and a rounded entry step.
Even if you have the smallest plunge pool it will look impressive in a carefully designed space. Here the white walls and floors contrast beautifully with sparse greenery and the pool's blue-ish green water.
Natural Swimming Pool Designs
Natural swimming pools look like gorgeous spacious ponds. They are surrounded with greenery for water filtration, which gives their water a distinct green color.
If you can get past the water tint a swimpond comes in different shapes and sizes. Some are more like regular pools while others are free form. An accompanying bog garden is an unmatched feature for a natural pool.
If you think natural swimming pools can't look tidy this one by Woodhouse Natural Swimming Pools may just change your mind. Its shape is well-defined and separated from the plant filter that creates a picturesque look.
Classic Pool Designs
And finally, classic pools. They can still often be seen in mansions, celebrity cribs and expensive traditional homes. Gorgeous and versatile these can bring a majestic feel to your yard.
All similarly shaped classic pools can really differ by their features. From raised hot tubs to the waterfall fountains there are objects that can turn your swimming pool into a functional piece of art.
Also patterned tiles allow a lot more room for creativity. Covering just a ring can immediately take a traditional pool from 'meh' to 'wow'.
Pool designs are much more diverse than one could've imagined even a couple of decades ago. Today there are all kinds of design possibilities on offer. The only downside of unconventional swimming pool designs is their cost.