TV may not be the main device of the house anymore, but it's pretty popular still, and so requires a little more love than a simple console. Besides, with the modern units growing in size by the year, it makes for a cool focal point in the living room, which you can only make better with these TV wall design ideas.
Storage-Friendly TV Wall Design Ideas
Storage is a crucial part of any living space. Modest square footage and consumer culture do not match well, and also stuff scattered all over the interior doesn't flatter it. A TV wall designed to hold a few pounds of clutter is a better idea than a small entertainment unit built just for display.
Built-in storage is a popular element in modern housing. You can easily incorporate a TV unit into a storage wall as well. It's the most optimal solution for small spaces.
The storage wall can be an open shelving or a row of cabinets. There can also be an option to hide your TV when it's not in use behind a pair of doors.
TV Wall Niche
TV wall niche is a better design solution for contemporary sleek living rooms that require no additional storage. It's a beautiful way to keep the flow of the smooth walls and floors going.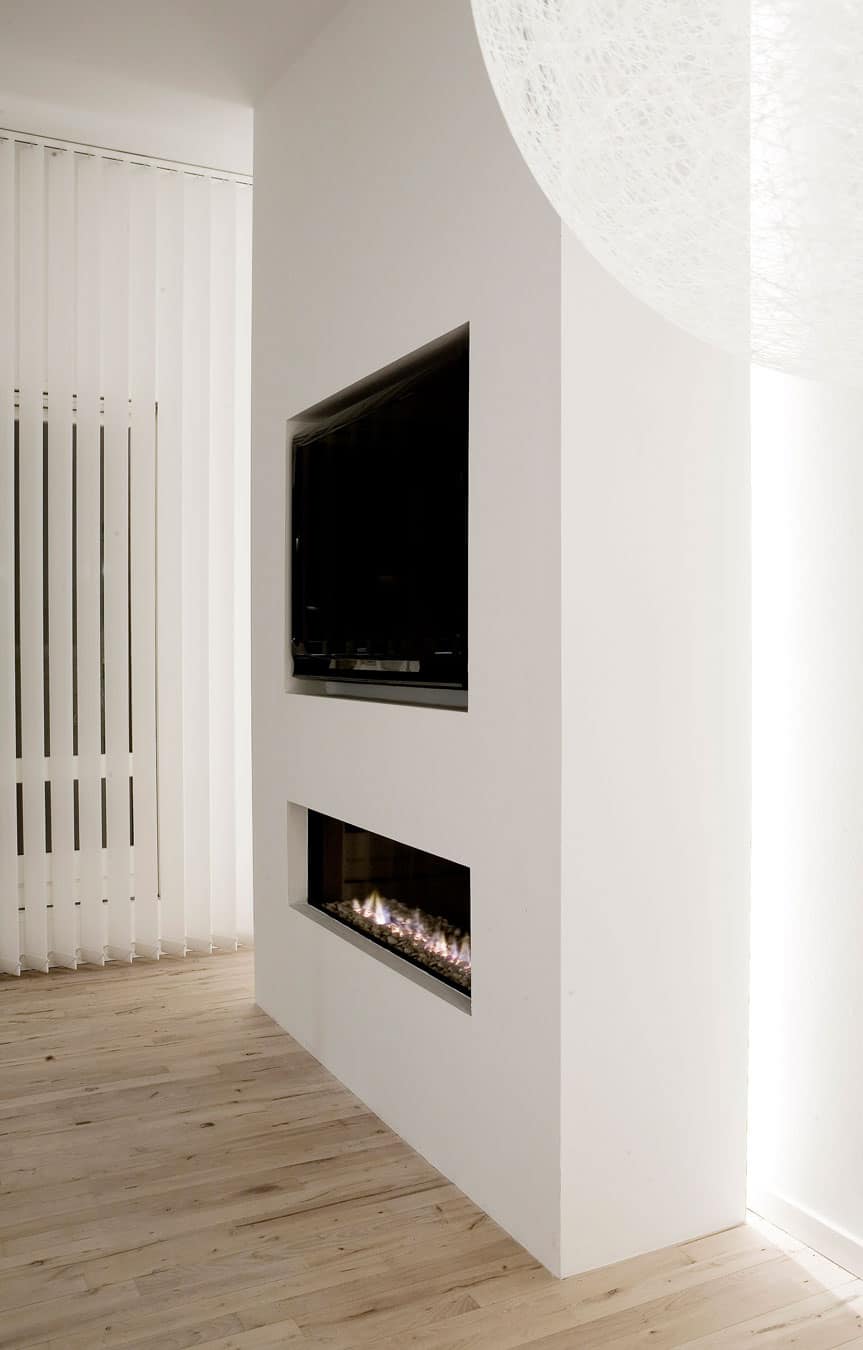 Inserting your TV into a wall is a great idea, if you want to keep your interior cable-free. There is also more than one way to do it.
APA London decided to add a small sliding element to disguise a wall-inserted TV unit when it's not in use.
TV Wall Design Ideas with Wooden Features
Various wall inserts and features are the new drywalls, and they are very TV-friendly. Want to make your entertainment zone stand out without purchasing an entire unit? Wooden feature is a way to do it.
Wood looks nice in almost any variation. It can be a TV unit-wide strip or an angled storage cabinet.
In contemporary homes, a wooden element is especially welcome, as it has a tendency to soften cold and sterile aesthetic.
Divider Walls
Dividers aren't just a gimmick. They truly shine in smaller spaces, but they can also accommodate a TV unit, and even more so allow it to face both rooms at either side of the wall.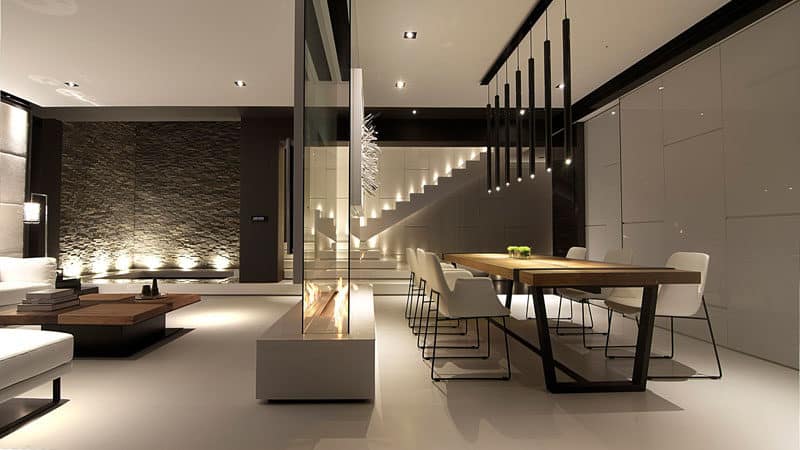 Mounting a TV unit on a revolving platform is a great way to enjoy your favorite programs from a living room couch or bed.
Beatrix Design went on to divide the living and dining areas with a double glass wall, one side of which accommodates a TV, while the other displays an artwork. A strip of fire runs between the two glass partitions.
Creative TV Wall Design Ideas
Creative walls are usually the ones that make a main focal point in the room. But since a TV is a great accent for a feature wall, why not combine the two for a more impressive effect?
Feature wall designs aren't limited only to contrasting paint colors. It can be a wood pattern feature, marble effect, or even drywall.
Contemporary ideas go far beyond still. Yodezeen offers to make your feature TV wall out of a rare backlit stone.
Balancing Act
No need to mandatorily build storage all around your TV unit. Slim shelving may be enough to hold clutter contained. It may also give your TV wall a dynamic look.
Backlit shelves may not work in a small TV wall, but a big one like this by Love Design works just fine.
Design3 built a shelf into the side of a TV wall, which is a great solution for when you want both a clean contemporary look and a place to hold your things.
TV Wall Design Materials
Different materials breed more diverse TV wall design ideas. And even certain materials can look completely different, depending on how they're used. Wooden slats first spring to mind, since they are such a popular contemporary design element.
Marble, concrete, leather, and rare stone can all be used to create that unique TV wall design. Of course, you can never go wrong with a strip of contrasting wall paint right in the middle of a white wall. Contemporary approach is to make the TV wall stand out further with an unusual structure, so you may want to look into that as well.
You can also use these TV wall design ideas to reinvent your feature wall without mounting up a unit.