Modern fireplaces are so much more efficient than they used to be so they are no longer relegated to an outside wall where they can get an air draw without causing drafts throughout the home. By being able to install a double sided fireplace anywhere in a house, architects and designers alike are choosing to give them a pivotal role in a home's design, and by locating them more centrally they are also becoming far more efficient in heat distribution. This combination of pivotal role and heat efficiency makes a modern fireplace ideal as a room divider, but why stop there, why not make these dramatic room dividers showstoppers in both material choice and design aesthetic. Read on for design ideas.


That's exactly what Nicolas Tye Architects did when they designed this double sided fireplace room divider in Knutsfor House. The design has a clean look of stacked stone, but the twist is the stand-alone column that acts like a floor to ceiling log holder and when filled with logs the contrast between the stone and wood is gorgeous.

With a natural woodland setting easily viewed from both sides of the fireplace, the stone and stacked wood feel right at home. Source.


Snook Architects also created a vertical void for wood storage, only this time it is in the actual fireplace room divider. Here a void is installed on the side of the fireplace which is covered in the same brick as the outside of this historic barn conversion. Source.


How awesome is this design by K M Architektur with its bench seating built into the back of the fireplace?


The asymmetrical location of the firebox is played up by the off centered flue stack. Source.


This Estudio Galera design also plays with asymmetry by creating two different cubes, one for fire and one for wood. Source.


Following the design mantra of less is more, I29 Interior Architects designed a fireplace as room divider with a minimalist, clear finished pine plywood facade.


The simplicity of this design is what makes this fireplace a showstopper. Source.


Kolenik Eco Chic Design is not known for simplicity but rather for their "eco glam" approach and this double sided fireplace is a perfect example of their slightly glitzy and definitely elegant aesthetic. The room appears to be clearly divided but you can still see through the glass – what an awesome idea. Source.


Media centers and fireplaces are commonly combined, and when they are also part of a room divider the triple duty features may be functional but as this example shows, they can also be drop dead gorgeous. Source.


By keeping the suspended room divider wider than the fire pit below, the TV on the wall is not subject to the rising heat of the flames. Source.


12″x24″ slabs of stacked marble tiles are a favorite geometric design of architects and designers and when you look at this fireplace room divider it is obvious why. Source.


While stacked marble tiles make a power packed statement, single slabs of marble are just as impactful. But what really makes this room divider with fireplace by Kababie Architects a showstopper is the way the fire bed mimics the flanking Snake Plant containers. Source.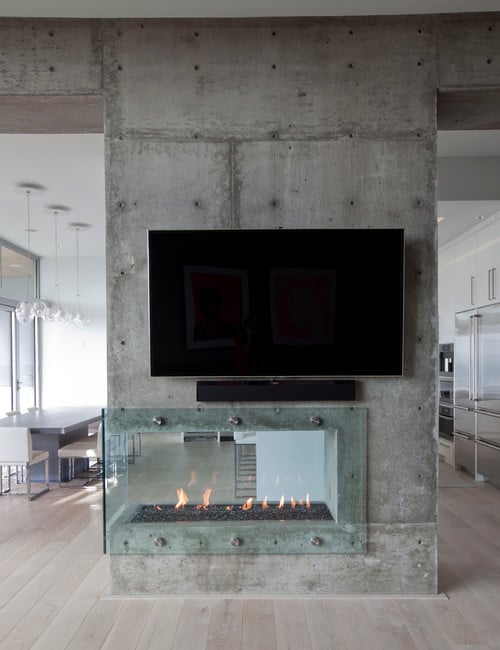 Nothing says show stopping like a design that pairs concrete with glass. Source.


If you want to keep a visual connection between two spaces but still want to have a fireplace dividing the room, the answer is simple – a double sided glass fireplace. Source.


If you prefer a peek a boo view through the room divider than a two sided fireplace design is the best idea. Source.


Cindy Rendely Architexture uses tiles on this fireplace facade in the traditional brick pattern but modernizes it with the 3″x9″ linear shape of the tiles. Source.


Alexander Gorlin Architects designed this facade with stone tiles in a combination of long and linear with square. Source.
If you live in a condo or apartment and there is no way you can install fireplaces as room dividers than a Bio ethanol fireplace is the perfect way to add some heat to a home that doesn't have a chimney, and if you like it can also give the illusion of being a room divider.