There is nothing better you can do with your interior than open it up with a free-flowing layout. It allows to bring natural lighting into more rooms, and make the house look more spacious. It also makes for a very contemporary look. And if you need a piece of privacy, there are always unique room dividers that won't ruin your home's modern look, and might even bring some pizzazz to the picture.
Wooden Dividers
Wooden dividers have a classy look and would fit almost any style. You can never go wrong with ash wood or lacquered walnut.
More contemporary designs may look like Strukture from Zeitraum, which may be more decorative than functional.
Complex or simple, wooden screens and dividers are good when it comes to both functionality and decor.
They can also look very different from one another. Just compare Tierras Artisanal Bis-Cotto and Venetian Mermaids. Different wood finishes, different styles.
A playful fan-shaped screen is a perfect addition to an outdoor lounge that requires some privacy and color. It is a perfect divider to separate the swimming pool area from a garden, patio, or terrace.
Also made of wood, it looks more like a weathered fence than a handcrafted house furnishing.
Closter isn't much of a divider, but it makes for a stylish screen. It looks dynamic in a contemporary backyard, and brings lots of flair to the poolside area.
Unique Room  Dividers
Many unique room dividers come with unusual patterns and shapes. And plastic or similar materials offer more flexibility and, well, plasticity when it comes to shapes.
Here is a floor-to-ceiling shelf and space divider by Pietro Russo that looks like no other thanks to its immensely complicated pattern.
Although simple, Esther & Tonin offer lots of various hues in one piece. This modern divider would make a good mediator between a kitchen and a dining room or a kids eating room.
With enough open air in its body, it can promote as much visual communication as it can provide privacy.
Another kid-friendly divider is a modular Gradient that mimics grass from a coloring book. It can also take shape of an irregular indoor fence.
Place it in a kids room to separate play area from the study zone, or make yourself a cozy reading nook shielded from the world of distractions with a little white fence.
Vintage is a retro-looking screen which will give your room plenty of attention. While it can work well with modernist decor, it will definitely make a contemporary room look more interesting.
Quinta Floreale will add a nice floral note to your garden. Romantic and sophisticated, it comes in a cozy half circle which makes for a nice backdrop for a ground seat.
Multifunctional Room Dividers
Multifunctional design is big nowadays. You don't always have to choose between one item and another. More and more furnishings tend to provide additional storage space.
Here is a Softwall that allows you to keep magazines, newspapers, and all kinds of lightweight reading within a hand's reach.
Float divider isn't merely a screen. It is also a cabinet with a double shelf and a set of three drawers at the back.
It also has some space for floating shelves where you can keep your plants, rendering the divider super versatile.
One more storage-friendly design is Pietro Russo's gorgeous metal shelving that doubles as a divider. Contemporary and dynamic, it adds a lot of visual impact to the room.
Again, wood works perfectly for this design that you can utilize in many different styles.
Storage isn't the only option when it comes to multifunctional room dividers. Here is a divider that doubles as a lighting fixture.
Thanks to both built-in lights and its patterned design, the thing looks plenty decorative.
Hanging Unique Room Dividers
There are a lot of hanging designs among unique room dividers. These don't differ much from their firmly planted counterparts but can be very useful if there is a lot of activity in the screen's vicinity.
Bloomming offers a very modern multifaceted hanging pattern in a frame that is bound to turn heads and captivate eyes.
Flux is a lightweight sound absorbent screen that doesn't only look pretty but also comes in a rainbow variety of hues.
Abstract and artsy patterns are made of natural flame resistant wool fibres and come with sliding and fixed track.
When curtains are too light or too plain for a room, opt for a hanging divider like Membrane to help you create a private zone in style.
It may accommodate a bedroom or a home office. In a case of the latter, it can really bring a lot of dynamic to the interior.
Folding Room Screens
Folding screens are cool and mobile. They are also easy to store, which makes them a better fit for small-spaced homes.
Folds also make them adjustable and prone to customization. Paper Screen Patchwork has an undeniable charm to it with its tricolor folds shaped as the doors of a beach dressing room.
The beauty of folding screens is that they often come in dynamic, asymmetric designs like this Diva from artflex. Colorful folds add another dimension to the design, while patterned upholstery may bring more detail to it.
Here is a great idea, if you don't want to splurge on a new contemporary divider – reupholster an old one.
Fiore doesn't need printed upholstery to look amazing. Its steel patterned design looks detailed enough to mimic the lush greenery outside if you put it somewhere near the window.
Taking after classic window shutters this room divider by Efasma makes for a very homey design that is also stylish.
Another perk to the folding screens is their ability to shrink and wall off a smaller area, if necessary.
Creative Room Dividers
Particularly creative dividers are not limited by patterns or materials. These come in all kinds of shapes and styles.
MDD's Viva is an abstract creation that'll make your home library look stylish and cool.
Daa Italia offers laser-cut dividers in recognizable but adorable shapes that will look great both indoors and outdoors.
Pair one with the brand's outdoor bookcase and you'll have the best home library or your own reading cafe on the block.
While the rabbit comes in a fitting grazalema white finish, Anacleto divider couldn't look better in anodic bronze. Other available colors include grey and black.
Nest isn't your typical wooden room divider. It comes with a structure of a potential shelter, which makes it all kinds of interesting.
For one, it could make a great play area fort (or maybe a yurt?) for kids.
Unique Room Dividers
Glass and sticks don't seem like ideal divider materials, but these few designs might surprise you with their style and beauty.
Laminis is a divider made of glass tiles and illuminated from within by inbuilt lights. The difference in glass patterns creates a beautiful picture.
Sticks turn out to be no less interesting. Aligned in a sand, they stand tall and short offering a dynamic look to the contemporary interior.
Coming in a range of colors, these can easily be grouped to create a creative wall between areas in the main room.
Extremis take advantage of the idea and take it further with different stands. This time they align them in a perfect half circle that can accommodate a home office or a sleeping area.
Black 199 is using bamboo-like sticks to create a dynamic hanging pattern inside a frame. While it's a more familiar shape for a divider, different materials can reinvent a classic screen look.
Fabric Room Screens
Fabric is a better choice when you're looking to decorate your bedroom. There is simply more softness to its look.
Saba Italia also chose a rounded shape for their Shade dividers, which makes them perfect for a modern bedroom.
When you need to protect your sleeping area from not only light and view but also sound, a Soundwave divider may be the right choice.
Acoustic sound absorbent, it also looks modern and cool with its active pattern and sectioned panels.
Made of felt, Wave is a perfect room divider that you can arrange in a form of a wave using two basic extendable pieces.
Available in beautifully neutral brown and grey, it looks best in a fitting wave-colored hue.
Unique Room Dividers with Cool Patterns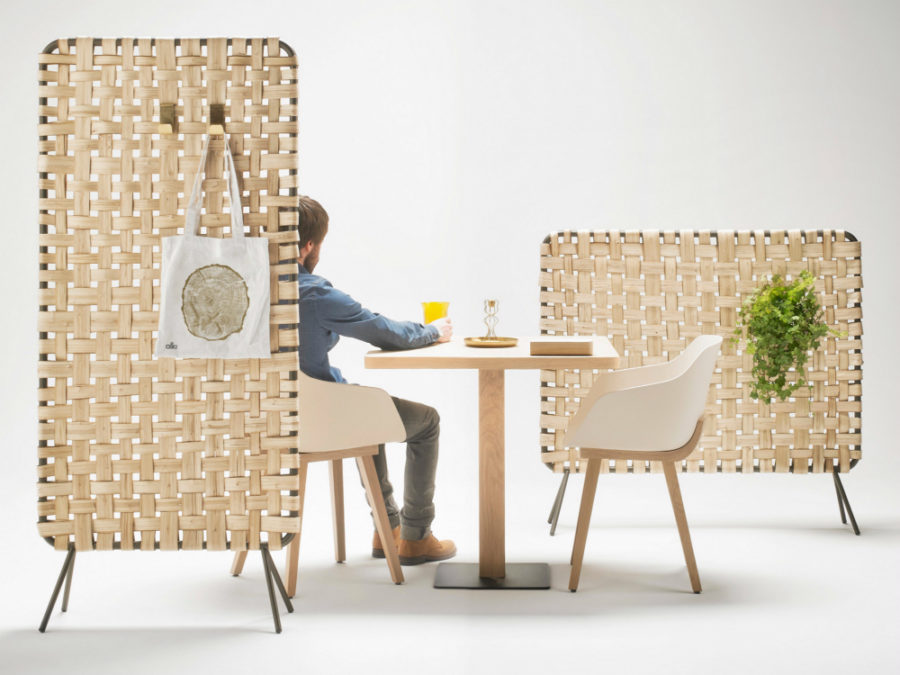 Unique patterns make for interesting accents in decor, so you can use room dividers to provide you with such.
Zumit is a cool rustic style design that you can use in a dining room or kitchen to create a homely country atmosphere.
Wing, on the other hand, is a cool futuristic-looking design that would bring lots of detail to the contemporary living room.
Its slits are super stylish, and bring a smart and sleek accent to the interior.
Looking for a contemporary arabesque? Here is a dividing structure by 3D Surface that is one of the most among unique room dividers.
As if built out of space invaders, the modern arabesque is there to add a little more futurism to your interior.
Tendura is, again, a beautiful addition to contemporary style decor. It looks like a creased piece of fabric frozen in place.
Unique room dividers are more multifunctional that they may seem, but their decorating power is a non question.