Modern TV stand assortment offers a lot of different options when it comes to aesthetics and practicality. Some units are thin and space-conscious while others occupy entire walls providing plenty of storage space. Materials vary from solid wood to plastic and fiberglass, and the shapes are as different as human imagination allows.
Modern TV Stand Designs
Entertainment centers are usually big and require quite a bit of space. In return they offer a lot of additional storage and display space. These are great for spacious open layout homes as they help create a focal point in the main room and occupy all of that empty wall space.
This is the beauty of the wall entertainment centers, as you don't have to think about a gallery wall to disguise your TV. Some of them come with sliding panels for hiding the thing when it's not in use.
Multi-functional TV stands are great. But not many of them are as flexible as this 360 by Ronda Design. Comprised of two parts the stand consists of a movable table that allows you to watch TV from any part of the room.
With our fast-paced lifestyles multitasking is a necessity, so having a flexible entertainment center is a great idea.
Creating a gallery for a TV isn't an easy task. Antologia Bookshelf by Studio 14 for Mogg eliminates the need for one, creating an interesting pattern around the TV and providing space for external devices.
This is a perfect space-saving media center that will both take little space in an apartment and make for attractive wall decor.
Jovo Bozhinovski has designed an apartment with a futuristic modern TV stand, building it into the corner of the room. Featuring a sleek black wedge shape the stand fits perfectly into the backlit wall niches.
The contrast between the black TV and white walls also makes for a stylish look while the blue-ish light further promotes the futuristic aesthetic.
VIG Furniture TV Stands
VIG Furniture offers a lot of modern TV stand designs. Luxurious and minimal consoles and cabinets are perfect for smaller living rooms as well as spacious houses.
Armani Black Crocodile Pattern TV stand is a gorgeous cabinet with a laser cut croc pattern and black glossy lacquer. It's perfect for creating a luxe feel in the living room and can easily be used as a TV stand or just a media console or a cabinet. We can totally see it as a small home bar.
To add a bit of the futuristic feel to your living room opt for curvy glossy shapes that look like parts of a sci-fi spaceship. This stand also includes LED lighting built into the single glass shelf that ca house external devices and a minimal movie collection.
Barbara will add a few unusual angles to the interior. It has a generous pull out drawer for storage and can also be used as a console for displaying objects. Glamorous and attractive the unusual cabinet is a welcome change to the familiar rectangular TV stands.
Modern TV Stands in Interior Design
Studiovision Architecture have created an interesting modern TV stand in one of their residential projects. The minimal freestanding wall not only holds a TV but also divides the kitchen and the dining area from the living room.
Since it has no shelves or any other additional details it creates no obstructions in the way between the living room and the adjacent areas.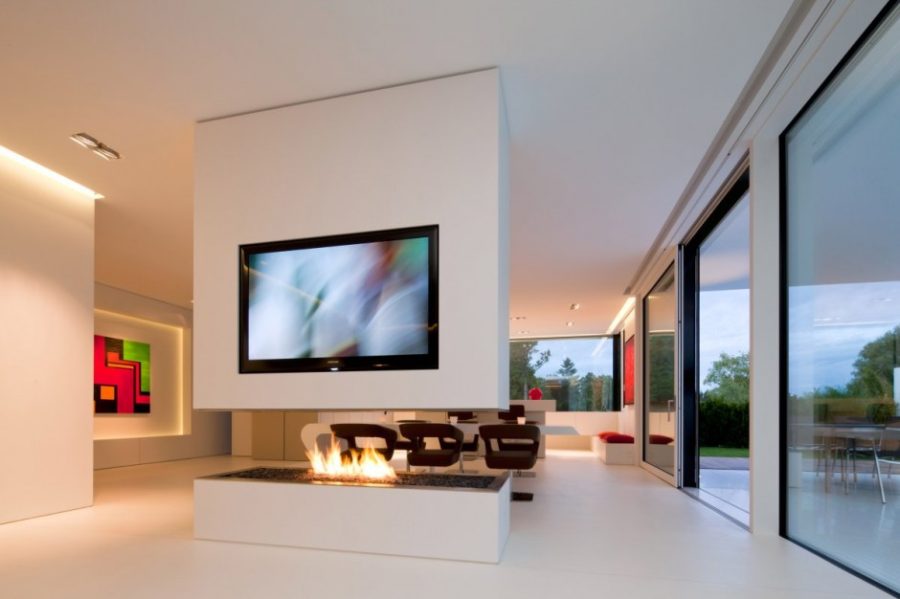 Karl Dreer and Bembé Dellinger Architects have designed this house in Bavaria, Germany. In the open living area the architects also created a room divider equipped with an open fireplace and featuring a built-in TV.
Playing into the art gallery style of the house, the TV fits perfectly into the interior design echoing artworks in the background.
Pitsou Kedem Architects simply mounted a TV on a post for one of their projects to save some space in the bedroom and create a sleek modern TV stand. It turns out it's also quite practical as the cables run through the pipe without ever showing in the interior and ruining its look. While not storage-friendly this type of stands is great for small spaces and minimal interiors that don't allow for additional bulky furniture pieces.
Antonello Italia TV Stand Designs
Antonello Italia's modern stands are similar to those minimal posts, but they have additional frames and shelves to store small electronics.
While BIT and TECNO stands are minimal and sleek Odeon stands out with its massive glossy TV backdrop and a rounded wooden open cabinet.
The swiveling panel allows more flexibility when it comes to TV positioning. And ample storage space is enough for both external devices and various other media.
Unusual Modern TV Stand Designs
Many modern TV stands still come in a rectangular shape simply reinterpreted in modern materials. If you're after something truly different and interesting there are other options.
Bloom TV Stand by Léon van Zanten is one of the most unusual TV stands we've seen. Made of wood it couldn't be more modern. Reimagined as a vase rather than a stand Bloom becomes an eye-catcher at home distracting from the tech style of a regular TV.
Providing space for external devices and openings for the cables Bloom is a beautiful addition to a modern or vintage home.
Tivu is more of a pedestal, but it's not dysfunctional. The T-shaped stand features two V-forming shelves that together create an incredibly eye-catchy design.
Designed back in 1990, it still boasts a relevant minimal aesthetic and offers a small compartment for hiding unsightly cables.
Cobra TV stand is the epitome of minimalism. Made of plywood the curved sleek panel features multiple sockets for audio-visual devices and a hidden cable inlet.
Also equipped with the wheels and a shelf for various magazines and small electronics Cobra can be easily moved from room to room or corner to corner.
This modern television stand is no ordinary rectangular TV stand. Featuring modern, mosaic design the unit has two storage drawers where the unsightly electronics and magazines can be hidden while the open space allows to display more decorative objects.
Though with such an attractive design it may not need any additional decorations as they can make the unit look overly decorated.
Modern Wall TV Units
Wall storage units with TV stands are very practical. They can even hold entire libraries. And their minimal design can also work in smaller rooms, which may just benefit from additional storage space.
Designed by Morassutti this media stand has an unusual floating lighting feature that highlights the TV for better screen visibility.
Specialists in modern TV stands, Manhattan Comfort have created a Vanderbilt TV Stand that makes for a nice wooden feature in the room, providing a bit of storage space and a wall panel for the TV.
The top open shelf is perfect for displaying decorative glassware or vases while the cabinet will hold smaller things for a clutter-free look.
Bruno Piombini turned a TV stand into a picture frame. Combining modern and traditional styles, it makes for an unusual addition to the living room placing the focus on the TV.
Two open shelves above and underneath the TV panel allow to store small things, but the major bulk of the unit is its unusual shape.
A popular freestanding modern TV stand got a new shape from Bonaldo. The circular panel with a wall mount for the TV and the built-in partially disguised shelves for the media.
Pacini & Cappellini TV Stands
Pacini & Cappellini designs are perfect for modern minimal interiors. They are sleek and have no unnecessary details. Storage-friendly they can fit additional devices. While most modern TV stand designs come in plastic, fiberglass, or metal, Pacini & Cappellini offers a warm wooden Lounge TV stand in a smooth and minimal design.
Porada Modern TV Stands
Porada TV stands come in a different form than most. Tall freestanding storage-friendly units offer a TV mount system, built-in shelving as well as floating shelves. They can be placed in the corner or in some place other than against a wall. Since they are quite tall they are best suited for the homes with high ceilings.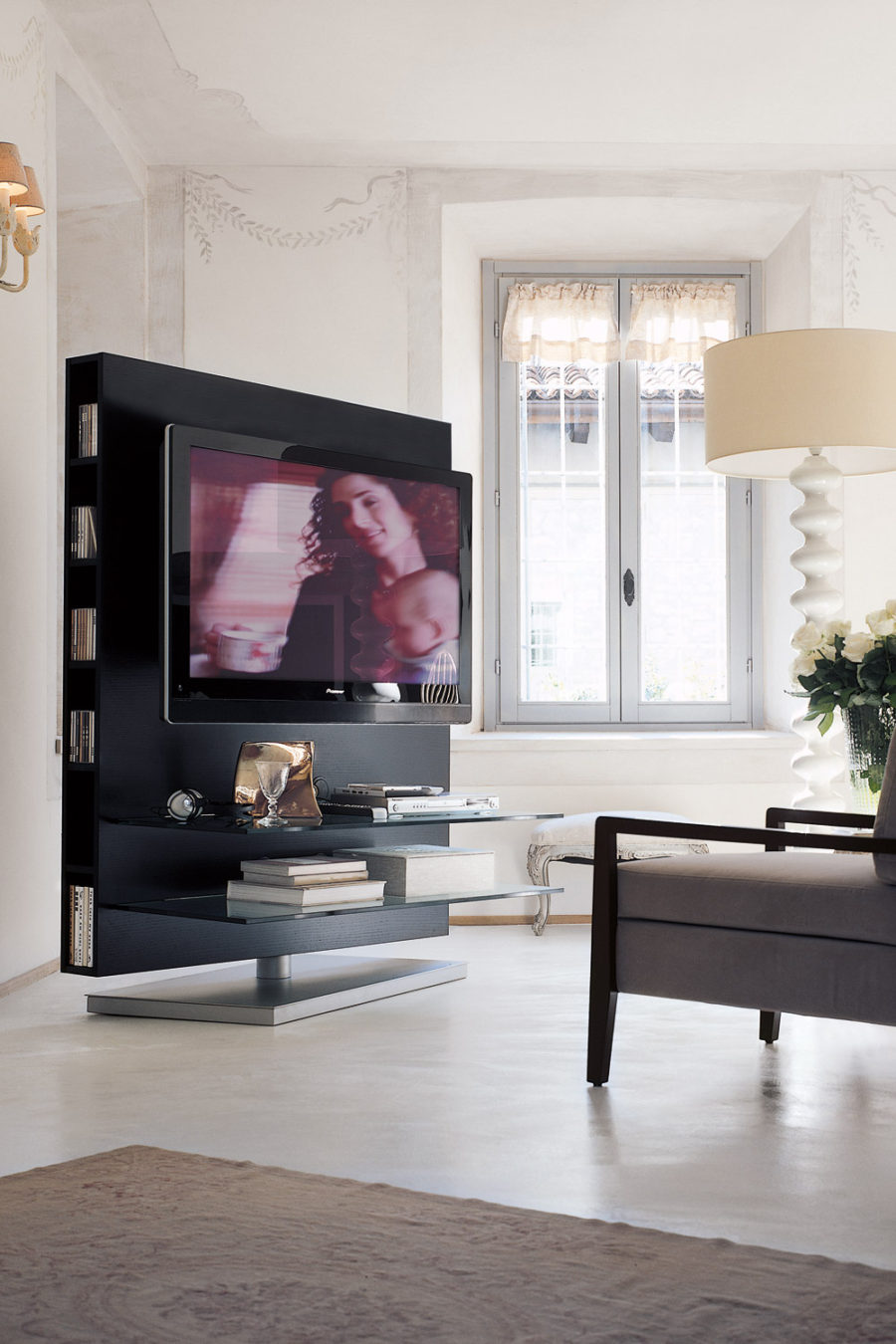 Multi-Functional Modern TV Stand Designs
When space is tight multi-functional furniture pieces can be just what is needed. But the functionality of the TV stands doesn't end on storage only.
Combining the flame that can be watched for hours and a TV stand fireplace designers at Real Flame have created an ultimate entertainment center that would fit both a small room and a bigger open layout living area.
Providing additional shelf space for the books and external devices, this incredible TV stand is a perfect representation of modern multi-purpose design.
REVO-OVER TV unit by Fimar comprises a storage wall and display shelving. The TV unit opens up to a hidden storage that'd make a perfect home bar and a small floating shelf for little things like a remote or external devices.
A storage wall for mixed use can hold books, display objects, china, and other personal belongings.
Minimal Modern TV Stands
Sail Swivel is as minimal as REVO-OVER multi-purpose. Designed by Caronni & Bonanomi Associati the TV stand doesn't distract from the images on the screen. While some of its variations come completely stripped it can include a simple storage box that will help keep the area clutter-free.
Aico Design's Totem TV stand is a great addition to the office. It is space-saving and storage-friendly and can be mounted floor-to-ceiling or floor-to-wall. Available in a number of configurations Totem is a perfect compromise between a post and a storage wall.
While it doesn't occupy too much floor space it offers plenty of room for storing DVD collections, books, and all the different external devices.
SITA is a TV support stand that adds nothing unnecessary to the picture. It comes with a floating shelf and as is to create a clean look with only the 'screen in the air'.
J&M Furniture TV Stands
J&M Furniture offers quite a few very unusual options like the Strada Premium Wall Unit or the Organic Premium TV Console. Both with unusual shapes and built-in LED lights. Other designs are are more sleek and would fit into smaller modern and minimal living rooms.
Organic Premium Tv Console is one of the most unusual units out there. Its round TV panel is repeated by its general shape and the unconventional design even features drawers and floating shelves that add functionality to the appearance.
Sleek Metal Stands
Nordic TV Table deserves its name in terms of its sleek design. Comprised of metal legs, wooden shelf and glass tabletop the stand plays into the Scandinavian style as well as into mid-century modern aesthetic.
Unlike other stands it can probably double as a coffee table and fit with almost any style due to the variety of finishes in one design.
This interesting modern TV stand has a look of the gym equipment, but it just might be what makes it stand out among all the other more or less similar designs.
Available in silver, dark bronze, and copper finishes the stand is an amazing modern piece that itself can start conversations.
Modern TV Cabinets
TV cabinets can still be very stylish. The modern designs are all about unusual shapes, materials, and textures.
Glass cabinets and stands give the interior a very modern look, although they don't always look interesting. FLÒ 1 solves this problem with a cool double G shape.
Equipped with wheels the compact stand can be moved from corner to corner whenever the need arises, which is rare for TV units. 
Schoenbuch's glossy TV cabinet is a dream come true. Its sleek design and reflective surface would not be as impressive, however, if it wasn't for the beautiful deep purple color.
Brightly-colored cabinets aren't as widespread as neutral white and black, but they definitely add dimension to the interior design.
Luisa Peixoto Design's Diamond modern TV stand is another cabinet that would decorate any interior and make the media center stand out. Its textured doors and royal blue color make for an incredibly attractive look.
The smaller asymmetric cabinets at the sides amplify the storage space, which renders it simply perfect.
Frame from Luisa Peixoto Design makes a case for a sleeker TV cabinet that still captures attention and stands out with a beautiful dark red color.
A modern TV stand is still a crucial part of not only interior design but the home itself. Families and friends are gathering around the blue screen not only to catch a game or enjoy their favorite entertainment but also communicate, if only sparingly. A good TV stand will not only frame the media room but will make the watching experience more pleasant.