Modern tableware can have a wow factor like never before, and its storage ideas have evolved far beyond classic cupboards. Modern tableware display ideas can take your kitchen or dining room to the next level, adding both function and beauty to the interior.
Modern Tableware Display Ideas
Open shelves are among the most widespread modern tableware display ideas, but there are all sorts of other ways to show off your china collection. Many thrifty a decorator go with vintage, old-fashioned cabinets, cage shelving and such. Others choose contemporary kitchens organized to store and display dinnerware.
Regardless of which one you choose, it can become a beautiful addition to your dining area, keeping clean dishes within easy reach. A half open industrial cupboard is a great accessory for open plan dining area and adjoined industrial chic kitchen. Wooden shelves with metal supports work equally well in the industrial and rustic kitchens.
Classic Glass Cabinet
A classic glass cabinet can look fitting in a modern eclectic home. Scandinavian interiors, for example, can often be seen with these. A vintage model will also fit the industrial or minimal contemporary interior. Just look at the Grant Davis Thompson kitchen below.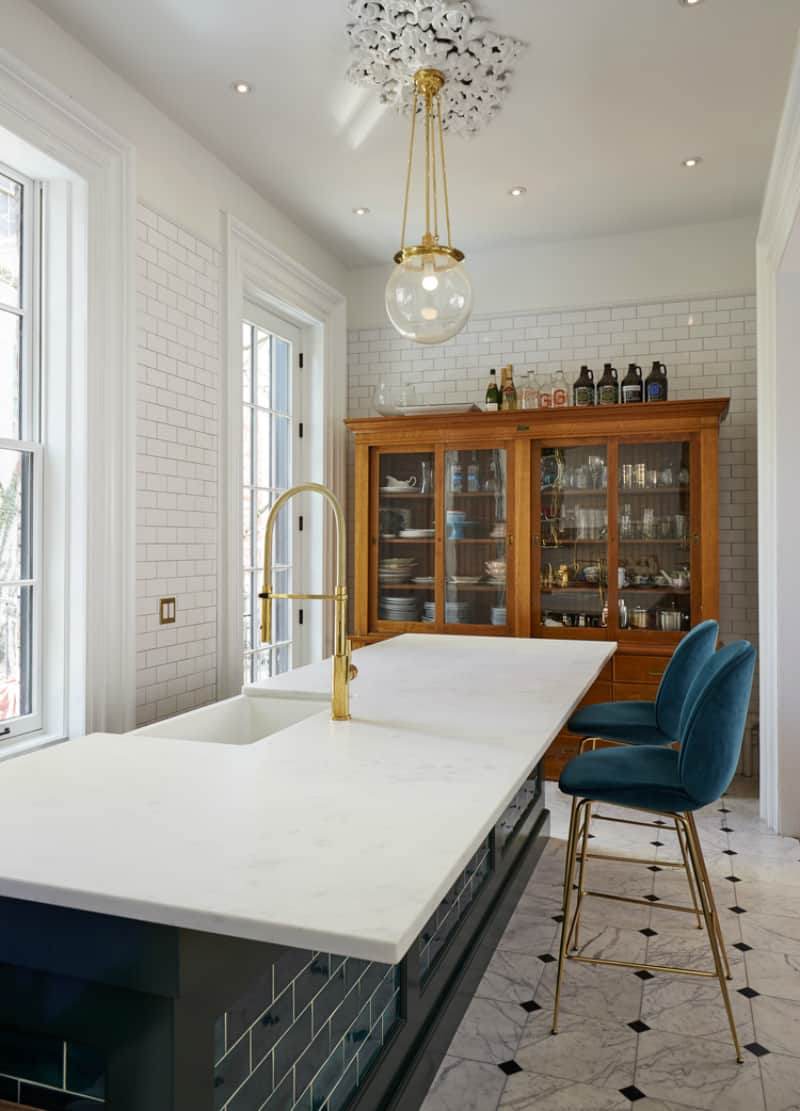 Such cabinet won't hold many tableware items, but it also won't take up much space in the room, which makes it a perfect small-space storage solution. If you can find a vintage piece you love, it can easily fit a modern interior with a few styling tricks.
Modern Glass Cabinet
A modern glass cabinet is often a part of a manufactured kitchen design. It's usually spacious and dramatic, so you can accommodate your tableware, glassware, and bar glasses in there.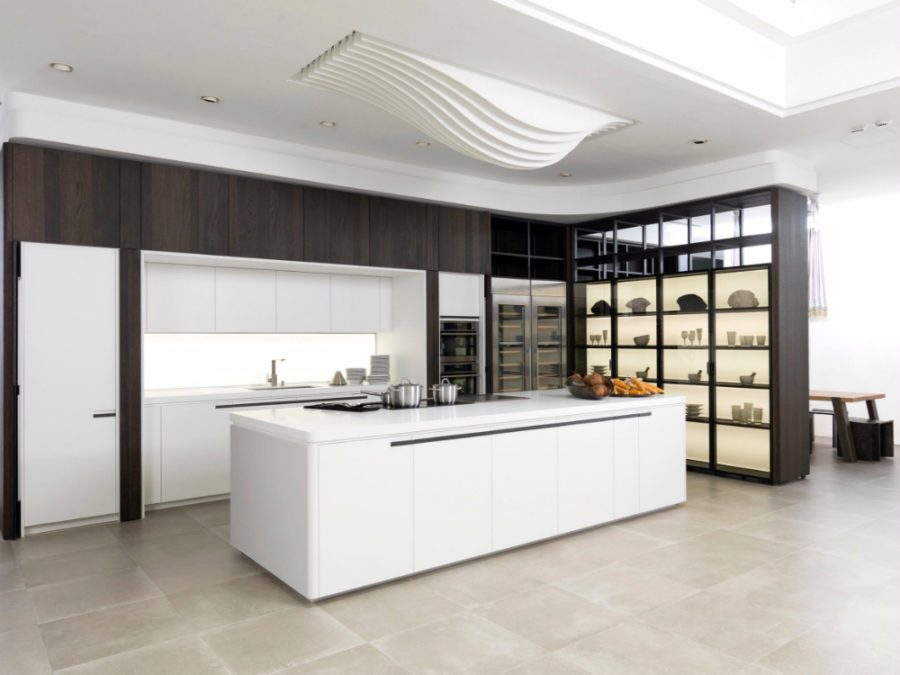 Modern cabinets or shelving is all about efficiency, thus the cube-like shape. The best part of modern cabinets is that they often come with built-in lighting.
Hanging your tableware cabinet from a ceiling is a great alternative for a kitchen, when floor and wall space is limited.
Contemporary Shelving
Just like the cabinets, contemporary shelving is all about space efficiency. Expect floor to ceiling heights and built-ins. It may not be a good option for clumsy homeowners, so consider making pathways wider around them.
Expansive shelving like that is useful only if you have a lot to store. Say, you like changing up tableware or have a lot of people in the household, then it's just perfect.
If you love the idea, but afraid it might look empty, you can add a few books or display items in between to make things a bit more interesting.
Floating Shelves
Floating shelves are the latest trend in kitchen design. And what's a better thing to show off in the kitchen than good-looking tableware? Aside from giving a kitchen that airy look, floating shelves provide enough space to keep dinnerware organized and beautifully arranged.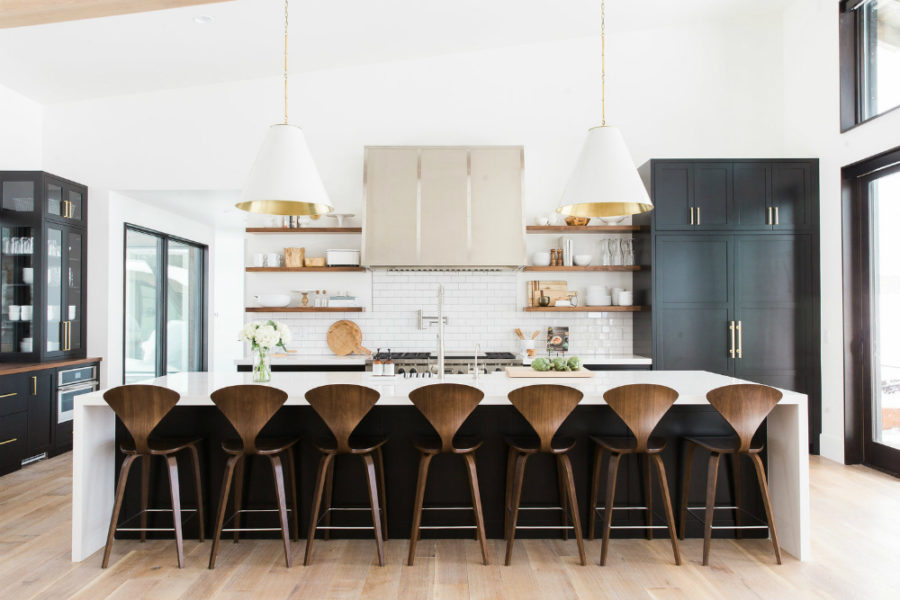 Since floating shelves have that clean look about them, you can really pile on tableware, if you like. Just don't make it a case for every shelf, because then your dining room will look like a ceramic store.
On the other hand, they look equally good with plenty of air between objects. The latter don't necessarily have to be tableware.
Open Cabinets
Open kitchen cabinets is a good spot for displaying tableware. It's convenient too. You can start serving food as you're preparing it. It also makes for a beautiful museum-like display.
You may want to hide the bulk away in more secured places, but separate tableware (or glassware) pieces will definitely make a statement in the kitchen. No need to look for specific decor accents. Just put your best stuff in there.
Kitchen Islands
Kitchen island tableware storage is only rational to consider. Since most designs aren't completely monolithic, you can utilize that open storage space to show off your table collection. Some designs are more generous with storage space than others.
Since many homeowners prefer to use their kitchen islands as dining tables, it is also useful having a few shelves of tableware close by.
Glass kitchen islands are not a rule, but there are some storage-friendly designs made of glass out there. They may not show it off as well, but they definitely create mystique with their tinted and smoked glass.
Modern Tableware Display Ideas: More Shelves
If all these ideas seem a bit too much for you, there are always more shelf designs to consider. You can rely on them to get the job done. The nature of a shelf is that it's incredibly versatile. You just need to pick a design that fits your vision.
While floating shelves look good, there is beauty to be found in shelf supports as well. They may become one of the metallic accents in the kitchen like hardware or cabinet handles.
Modern tableware display ideas are very dynamic. Many designers have perfected this type of storage, so all you have to do is follow the ideas you like.