Pristine white plates and hand-painted floral mugs haven't gone completely out of style, but they definitely evolved. Modern tableware is much more unusual and different. Flawless shapes and textures aren't a strict standard for it. And patterns changed from complicated florals to abstract brushstrokes and watercolor stains.
Modern Tableware With a Bling
Metallics have found their way into everything from table decor to interior decorations. A big home decor trend for the past several years, it adds tons of glamour to any room. It's not difficult to mix and match and fairly easy to take care of. So, take advantage of it, and start creating tablescapes for the upcoming holidays.
Metallic finish goes well with any color, but especially looks good with black, white, and teal or turquoise. If you want more options, you can also choose from metallic shades of copper, bronze, brass, and silver.
While gold is a versatile festive hue for any occasion, silver will look fitting for the Christmas table. Copper, however, looks good for Thanksgiving.
Marble Dinnerware
Another trendy material that spread beyond its primary areas like kitchen and bathroom to become an omnipresent trend is marble. Even if certain objects aren't made of actual stone, the marble effect gives them that undeniable beauty and timeless allure.
Popularization of marble (marble effect) in dinnerware was just a matter of time. While the stone itself doesn't handle water and food very well, other materials that do can be painted as this most noble of stones.
Marble stands are quite popular, though. Holding cakes, cheese, and small appetizers may not cause any damage to marble, especially if you protect it with liner.
Abstract Painted Plates
Contemporary art on your plates can make for a ton of great conversations. Or simply brighten up every meal. Chaotic, rough, or conversely smooth and gentle, the brushstroke patterns come in an array of different colors, in case you don't want to create a color arrangement yourself.
There is no limit to creativity when it comes to hand-painted ceramics. You can even order customized pieces that would be unique to your household.
The combination of colors can surprise as well as delight, and the patterns turn out less repetitive and more irregular and unusual.
Modern Tableware of Unconventional Materials
Modern dinnerware isn't all ceramics, however. Now, you can find plates and other tableware made of all kinds of materials like concrete, lava rock, and even biodegradable bamboo fibers.
Since many people pay a lot of attention to the materials their dishes are made of, the designers try and seek for not only eco-friendly solutions but also unconventional ones.
Concrete makes for surprisingly stylish tableware. Specially treated to be water-resistant and food safe, such pieces may even be cleaned in a dishwasher.
Minimalist Modern Tableware
It's hard not to talk about minimalism, when we're on about modern design. Minimal plates, mugs, and bowls make for very contemporary dining tablescapes. Muted earthy colors and unique textures are the only decorations that can be found in such modern tableware.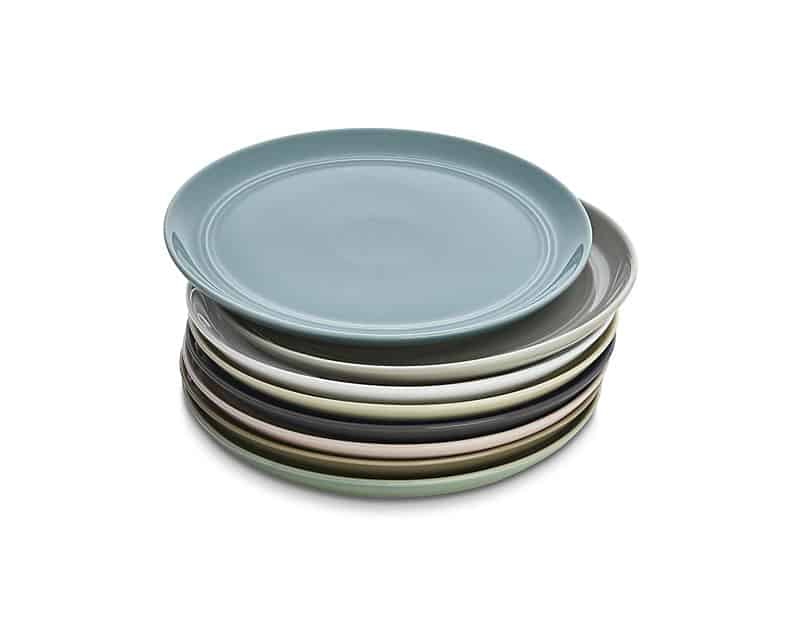 Simple shapes, irregular surfaces, and washed out hues definitely make for an ascetic look, but it somehow manages to appear charming.
You can see this type of dinnerware in Scandinavian decor that praises simplicity, affordability, and neutrality.
Unusual Shapes
Not only materials changed in modern tableware design. Shapes turned functional but also more creative and unexpected. You can find plates shaped to fit a certain dish. And you can also find dinnerware pieces that will make you pause and wonder about their purpose.
This type of tableware is an alternative to china sets your grandmother used to display in her cabinets. Not too practical, they surely tickle imagination, and can get conversation flowing.
Not all unusually shaped tableware is useless. And you can find pieces that will both serve you dinner, and be there to entertain you.
Ink & Watercolor
If you think about it, quite a few people see tableware as their canvas. Chefs, food photographers, and finally designers and craftsmen – all use dinnerware to frame their work. The latter may use it to create beautiful paintings, but one of the latest trends is ink and watercolor blots.
If you don't mind their very close resemblance to the real thing, this dinnerware may become a very designing part of your table decor.
Mix and match it with white pieces to create a starker contrast. And add colored glass to punctuate the arrangement.
Color & Pattern
Modern tableware comes in any color and hue imaginable from matte black to rosewater pink. But it's not just the color that gives dinnerware its allure. Patterns, prints, and drawings make it that much more diverse and intriguing.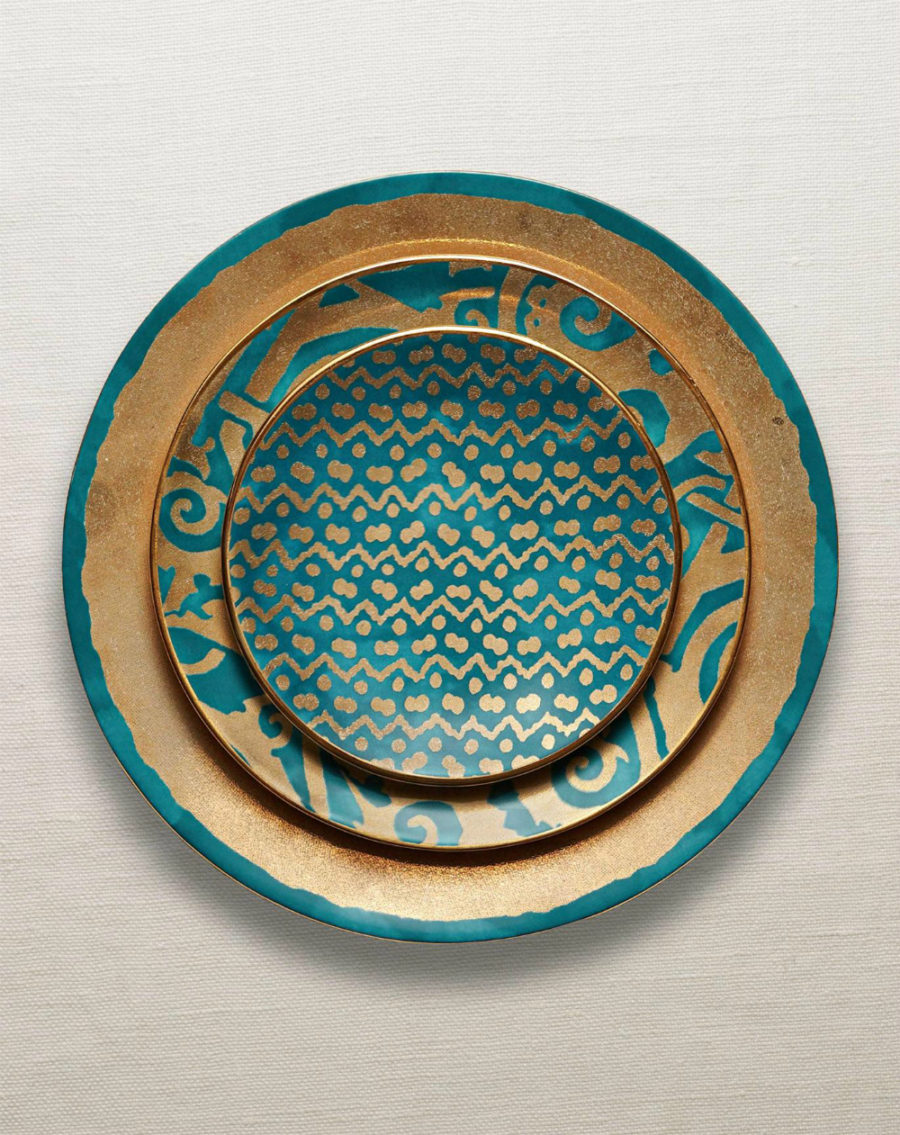 Even color isn't an absolute. There are pieces that are solid bright and sets that are grained with neutral gray. It's just a pleasure to look for nuance in each and every design.
Bolder patterns are easier to spot on the table, so if you want to add bold accents to your tablescape opt for the style of Christian Lacroix.
Hybrid Design
In a world of abundance, choice can put one through agony. To avoid this tortuous practice, some designers try to give their customers more things packed tightly in one piece. This is probably where the hybrid style comes from.
Seletti isn't the only ones, who've thought about Frankensteining the pieces of different plates together. El-Aich Designs came up with a more organic way of piecing different designs. And half-dipped plates were bound to become a hot trend.
It might seem aesthetically torn up, but at least it's fun and not dull at all.
Popping Colors & Drawings
Just like patterns, popping brights are great for decorating a dining table. Pastels can too draw enough attention, and make a statement in decor. But there are also drawings and prints that can make a certain plate stand out.
They range from a single bright brushstroke to a natural stone pattern to skull-shaped sticker. Again the choice is abundant.
We like the minimalism of bright geometric bright pops, but there is something about an organic-looking brushstroke that makes it especially alluring.
Modern Textures
Modern tableware is very tactile. You can find plates with all kinds of different textures. Lace, for one, is quite popular as it resembles doilies. Geometric 3D shapes and organic materials are too repeated in tableware to give it more detail.
Smooth flawless surfaces aren't that exciting anymore. Especially not when you can have all that beautiful diversity of finishes, textures, and shapes.
Irregularities in modern ceramics are very important as they aren't regarded as mistakes anymore. But make each collection look very different from the rest.
Non-Traditional Coffee Cups
A cup of morning refreshment has become a lifelong tradition to generations. So coffee cups didn't stop on one shape or size. While some prefer max-sized mugs, others still savour each sip from mini cups that can make a difference on the table.
There is a lot of freedom in modern tableware, so you don't have to sweat about rules while serving a table. Pick what you like, accomodate your needs, and enjoy this limitless source of beauty with every bite.