Scandinavian decorating style has become one of the most popular styles worldwide. Emerged in the 1950's it appeals to homeowners with its simple, minimalist, and affordable aesthetic. There are no bright, eye-watering colors or extremely flashy accents. It's as if its signature white color scheme has seeped inside the people's interiors from the snowy, ice cold outdoors of Norway or Sweden. The boom of affordable manufacturing and modernist functionality have been preserved since the middle of the last century but the Scandinavian interior designs look as modern as ever.
If probably has to do with the fact that minimalism doesn't really go out of style. And most part of a Scandinavian decor  made of simple practical pieces that are neutral but can be easily repurposed or redecorated.
Scandinavian Interior Designs for Every Home
NorskeInteriorBlogger features this absolutely gorgeous, almost ethereal bedroom where glossy pink bed throws contrast with knitted accents and throw pillows replace a headboard. It is probably the easiest and cheapest interior with this kind of a look. The pristine white walls are practical for bedrooms due to low traffic and even white floors wouldn't be much of an extravagance.
The beauty of Scandinavian interior designs is that furniture can be replaced every now and again but the look preserved. It's simple and functional but also affordable.
Certain interior architecture can add a bit of luxury to a Scandinavian-style room or vice-versa the minimalist aesthetic of Scandinavian style can help show off certain architectural solutions. Boligmagasinet shows such an example with this amazing living room with a high ceiling crowned with intricate molding and a shallow alcove that fits a small couch.
The black painted wooden floors stand out in contrast with the rest of the design and a colorful plush rug adds that sense of coziness often found in Nordic interiors.
Oh.eight.oh.nine shows how beautiful a nursery can look in Scandinavian style. The neutral colors create a subtle picture where grey is backdrop and soft dusty pinks are the accents. White furniture can seem too impractical but again due to its affordability you can take a risk here or there. Besides, the nursery furniture has an extremely low life of service anyway. Kids grow so fast.
Scandinavian style is great for gender-neutral nurseries as well since its pinks and blues are so subtle and muted and you can easily swap the accents without changing much of the interior design.
This kitchen featured on KrispInterior has a simple but stylish look. The subway tiles that can often be found in Scandinavian-style kitchens accent the black and white color scheme. A wooden working surface also makes for a typical accent you will find in Nordic-style interiors.
Together they go extremely well and the clean functional look is what you want in a kitchen you're using a lot. Surely there's a lot of white but they are also washable surfaces and the floors are echoing the black cooking countertop.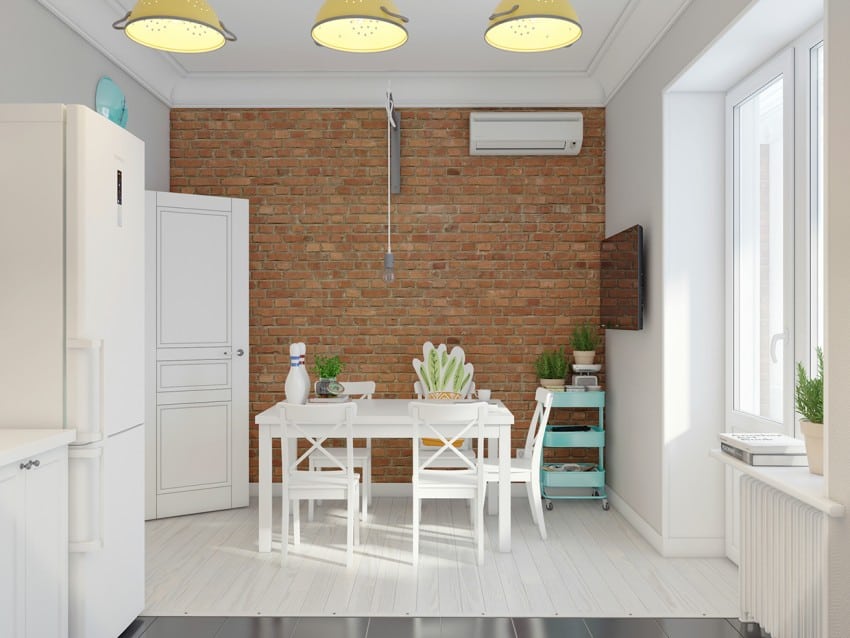 In many Scandinavian interior designs kitchen and dining area are joined. The practical use of space is another great trend that the style brought to the masses. This design found on HomeDesignSA was visualized by designer Anton Medvedev. It's hard to see the convenience of a wall-mounted TV (or rather its location) but it's still a great concept.
The wheeled cart doesn't just make a bright accent in the decor. These can be used in so many different ways from home bars to side tables.
Swedish real estate broker, designer Alvhem lists an incredible number of small apartments in Scandinavian style. Found on Freshome this clever design divides the living area from the sleeping one with a half wall that doubles as a headboard.
The use of graphic prints in bedding and accessories adds dimension to the all-white design. Scandinavian style isn't big on wall decorations but occasional small hangings aren't forbidden.
Featured at Decoratualma this gorgeous Scandinavian-style apartment has a few especially delectable accents. The light wooden floors show off the wood's natural texture and pattern. The more prominent wooden doors divide the living room from the dining room. And the gorgeous lighting fixture makes for a unique accent.
Another interesting detail of this whole design is the fringed rug that looks like a big winter scarf that echoes the Nordic origin of the style.
Found on DesignRulz this small dining area fit into the kitchen corner looks more cute than cramped. The white color scheme helps to visually enhance the space.
Scandinavian apartments often feature small balconies where the owners like to sit and enjoy the neighbourhood. The cutest table sets make for a nice place to relax with a cup of coffee or tea.
And again Alvhem shows how to do Scandinavian interior designs right. The black floors contrast with the white color scheme. The stove fireplace is modern alternative to traditional giants that make for a gorgeous interior feature.
Here the framed pictures are helping to blend the TV with the rest of the deor while the logs simply stored on the floor make for a natural wood decor accent.
This Warsaw apartment feature on HomeAdore was designed by Soma Architekci in an ultra modern style with a strong Scandinavian influence. This is another one of the style's greatest traits. It is flexible.
It can be mixed with the minimalist high-tech style, with shabby chic or modern luxury although the latter one is tricky as the simplicity and minimalism are at the core of the Scandinavian decorating style.
HomeDesign features this apartment as a 102 sq. m (1,097 sq ft) property. The unusual cream tones are due to light laminate floors and creamy grey walls.
Blue is almost always an accent color in Scandinavian interior designs. Usually muted it can come in dark navy or bright tones. Here it's beautiful jeans blue and navy mixed with white. And in another room is the traditional stove fireplace that give many Scandinavian interior designs their unique look.
Also found on Alvhem this Scandinavian interior makes use of exposed brick. The wall seems like it was added later to separate the living area from the dining room that features a great bird cage-shaped lighting fixture.
Many modern apartments with open layouts lose the privacy of each separate room but here this privacy was restored without making both rooms look claustrophobic.
Limaonagua shows a single-room apartment that deals with the same problem. Thanks to the layout there is a den in the corner that was made into a bedroom with a bookshelf separating it from the rest of the space.
The floating shelf can probably be used as a working area or at least a place to throw the keys after a long day at work. Take note of a Lucite coffee table that doesn't clutter the space at least visually and shows off that white rug in all of its fuzzy glory.
Delikatissen shows a more spacious apartment with blue tile kitchen backsplash, which makes for a lovely accent. The minimalist white cabinets blend with the walls and offer the highest degree of practicality.
The wooden countertops play very well into the simplicity of the Scandinavian design let alone don't cut into the budget that much.
Alvhem's example of the interior with a traditional stove fireplace used as a giant candleholder looks more than attractive especially with the opening on top, which allows light reflections on the ceiling. Speaking of lighting, in Scandinavian interior designs simplicity and functionality are kings so don't worry too much about wires.
Some interiors make them an integral part of the look though it can be a whole different challenge. No wires look may just win every time due to its cleanness.
Alvhem shows how you can mix luxury with Scandinavian style in this home office. The vintage look of that desk/drawer chest set is simply gorgeous and you can see how the rest of the design is built around them.
The neutral couch and ottoman and painted wooden floors blend with the walls while a portrait and a big mirror add dimension to the interior.
In this Alvhem living room the floors and wood logs make the most powerful color accents. But that fireplace is a star of the picture.
The unique structure looks custom-made and is probably the most expensive feature in the entire design. Wood logs make a great decorative accent in any Scandinavian interior designs.
The last Alvhem inspiration design is a grey-ish mint bedroom with a traditional stove fireplace and a glass chandelier. These two work beautifully in a tandem. The TV on a leg stand tries not to stand out too much. While the black framed mirror echoes it to make it more welcome here.
There is much more color here although the ceilings and floors are still traditionally white and light wood.
Many interior designers add modern accents like rose gold metallic lights or bright patterns to their designs to make the interior more lively and modern. ElleDecor shows how these trends can be used in a modern apartment.
Grey and quartz pink (the color of the year) is a match made in heaven and go well with the white general color scheme. The rose gold vases add a tiny bit of flash to the decor but not enough to overpower it.
Another Scandinavian decor trend found on ElleDecor is arranging wall hangings on the floor. It is a common thing for interior photography but in a more spacious apartment this might just work in an awkward corner.
If you have plenty of empty space, this is an unusual way to display art or your own photography. The more sizes there are, the more complex your arrangement will be.
HomeDSGN features a home in Mission District of San Francisco designed by Geremia Design. Its bedroom as minimalist and simple as it is features a beautiful alcove cover that instantly makes it that much more interesting.
The bright accents often attract all the attention but when you're tired of looking at them it's interesting to look around and discover details that you may have missed like the lighting fixture or a rug. Make sure to use them sparsely in Scandinavian interior designs.
This apartment in Stockholm was also on HomeDSGN. Its masterful use of grey and blue as well as the hanging artwork has something to teach. The corner might not seem as a good place for a sofa but in a small apartment every inch counts.
The living area is accentuated with a printed rug and the cactus goes well with the minimalist aesthetic of the room.
Scandinavian style isn't just for bedrooms, kitchens, and living rooms. This shower in an apartment in Helsinki featured on Home DSGN makes use of simple white square tiles that create the plain but crisp look and the hexagon floor tiles in tricolor. The latter make all the difference for this minimalist Scandinavian shower.
While the plumbing and the rest of the furnishings are sleek and modest those hexagon flowers liven up the place accentuating its clean and functional look.
Another Stockholm property featured at HomeDSGN looks spacious but makes use of the minimalist Nordic aesthetic. The wooden accents stand out against the white interior and the stark black accents make it more dynamic.
The marble backsplash adds a bit of luxury to it but it's diluted with floral graphic patterns in the artwork.
The space issue is big as ever right now but Scandinavian style doesn't require much of it. This apartment in Högalid found on HomeDSGN is an amazing example of that.
There is a bit of room in the corner that fits a medium bed and followed by a small sofa and a narrow coffee table. No fuss and everything you need is here.
Scandinavian interior designs are truly remarkable as they can look so different and yet still be affordable to many. Thanks to its traditionally neutral color scheme it makes the space look bigger and it can also carry various accents well. Due to its simplicity you can mix it with other styles as easy as 1,2,3 and create something truly yours, unique.