For most of us, coffee is practically an everyday necessity. But with the cold weather dropping in for fall and holiday season coming up, the demand for cute mugs skyrockets. Curling up with a warm blanket and a good book, sipping hot chocolate by the fire with the family, or shopping for seasonal gifts–we've rounded up the most unique, adorable, and charming coffee mugs and tea cups on the market this season. Here's our list:
#1. We love this fun play on words quote mug and matching mini tray set for your afternoon coffee and scone from Indigo. "Espresso Yourself" with your favourite snack and hot cup of Joe to keep you warm and fed all at the same time. We love how the simple navy and red lines remind of us of the classic '90's too!
#2. Spice up your kitchen cabinets with a lovely hand painted mug from Anthropologie. This navy blue and white design will carry you all the way through winter and we love how the intricate detailing continues inside the mug as well!
#3. For a modern autumn look, go metallic. These futuristic mugs are stylish enough to be dining decorations themselves! Rose golds, copper, and silver look darling on rustic wood table tops and marble also.
#4. This cute baby blue mug makes us want to curl up in blankets with some tea and a good book in our pyjamas on a cold evening. Everyone needs a go-to comfort tea mug for those days you just don't want to deal with anything right?!
#5. A great gift for a friend is a monogrammed mug with their personal initial on the front. Both Indigo and Anthropologie carry a full collection from A-Z. Personalized mugs are great for roommates and families too for everyone having their own unique cup.
#6. Ever wonder how to make your favourite StarBucks drink? These Indigo drink recipe mugs make it super easy to remember how to make everything from a cappuccino to a mocha latte–plus how charming are they!?
#7. If you're a tea drinker, this adorable elephant mug offers the perfect solution for tea bag placement after steeping. We love the speckled stone look and simplicity of this tea mug.
#8. Another charming hand painted mug but in tea cup form. This Anthropologie collection brings magical horses and mythical birds from the pages of Scandinavian folktale to life in delicate navy blue and cream. A kin to your fine china, bring this tea set out for an afternoon tea with friends in your living room.
#9. This double wall glass espresso mug from William Sonoma makes your drink look so good on display without burning your hands and we're loving it! The clear glass will give your mug collection an updated modern feel and will match any kitchen/dining colour scheme.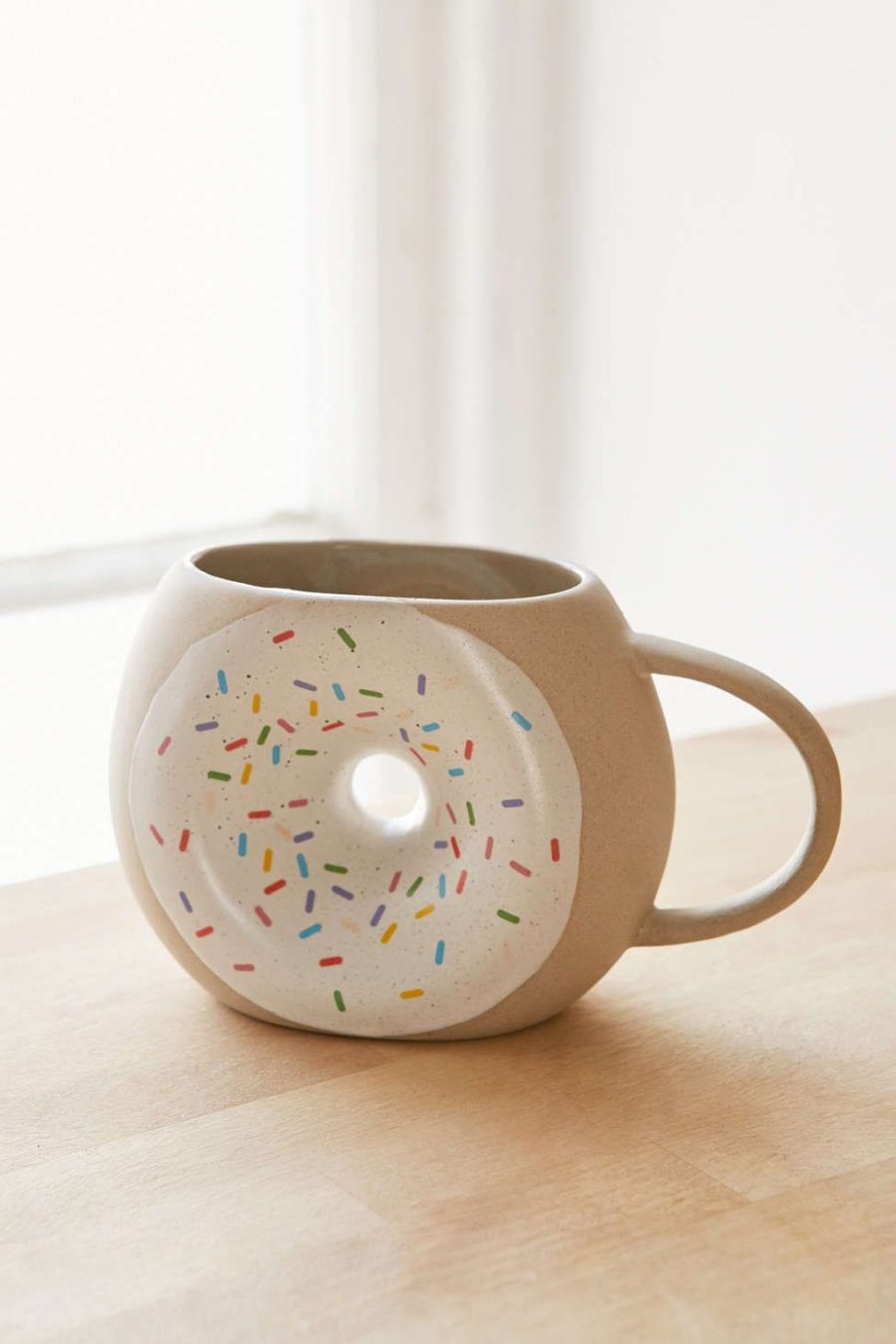 #10. The donut trend is not over! We love this playful donut mug from Urban Outfitters. The colourful sprinkles has this cup feeling fun and youthful but the beige base keeps it neutral enough to match your dining interiors still.
#11. Take your coffee to go and be a boss with this motivational travel mug. You'll stay productive and on track with this convenient caffeine holder. The design is simple but impactful and that's how your work should be too! Bonus: Cafés often offer discounts to customers who bring in their own eco-friendly mugs so you'll be winning all around!
#12. This beautiful robins egg blue patterned mug looks lovely in white kitchens. Keep things simple and make a bold statement with bright colours and fun patterns on your cups!
#13. For those Halloween lovers, this fun black skull mug is a cool way to celebrate the holiday's festivities. Plan a spooky Halloween themed dinner party, decorate your house, and drink hot chocolate out of these creepy cups.
#14. Another cute set up for tea drinkers is this tea set from Indigo. This one comes with a tray, spoon, and a steeper. We love the cute Charlie Brown-esque cartoon drawing of the tea bag on the front. This tea set would be the perfect gift during the holidays!
#15. Your drink needs to stay warm too so give it a sweater and call it a day! This adorable covered mug from Target would protect your hands from burning as well.
#16. For the world's greatest combination–cookies and hot chocolate–we found this funky Cookie Monster mug to make you smile.
#17. For those days when you just can't. When you're stuck in meetings all day or you're just too tired to function, this mug's got your back.
Which mug is your favourite? Let us know in the comments below!