Mug racks, drying racks, coffee cup holders, and/or cup organizers are a few names most of us have used to describe the perfect space to dry our favorite mugs. However, with so many options to choose from, it can become a bit difficult to find the perfect one to display. Furthermore, why stop at having only one mug rack when you can display a few around your home. Areas such as your entryway, kitchen, craft area or even your garage could use a coat rack that holds multiple different items. Here are a few every coffee and tea lover should see.
Wall Mount Rack
If you are looking for a simple rack that will get the job done with little to no interference this is the one for you. It is simple, crisp, and it works well with most décor styles. Plus, it is a wall mount which means it will not take up any counter space that you may need.
Rustic Wood Rack
A smaller yet rustic and dainty rack could be exactly what your kitchen needs a country flair. If you are wanting to add a farmhouse feel to your home this will help you do just that in a smaller way. Consider painting the wood for a pop of color.
Farmhouse Rack
A farmhouse rack is perfect for any space. It not only has a country feel, but it has that richness that you want when displaying your favorite mugs. In fact, we love the fact that it has a sign right above it, this gives the rack a welcoming touch.
Distressed Rack
A distressed rack works exceptionally well for those that want to create a breakfast nook. The reason behind this is the distressed feel of this rack gives the appearance of it being a part of a coffee shop. Therefore, decorate your kitchen around it for the ultimate breakfast nook addition.
Copper Mug Holder
If you want to give your kitchen or any area of your home a modern twist that is delicate yet subtle this is the way to do it. This copper mug holder screams trendy and innovative all while being simple. Pair it with wooden items to create a contrast between the two that makes an audacious statement.
Coffee Station with Chalkboard Accents
Why have a simple coffee rack when you can have an entire station dedicated to your favorite drink? This rack idea is simple yet captivating as you will be transforming a section of your home into the ultimate coffee space. Take a simple shelf and work your way around it constructing a custom station. Incorporate chalkboard accents to bring the entire space together. Now you will have a place to store and hang your coffee mugs plus a new focal point in your kitchen.
Cabinet Hooks
If you want to keep it as simple as possible, while still having a space to display your coffee and/or tea mug consider having cabinet hooks do the job for you. Although, this is not exactly a moveable rack, but rather a more permanent manner of displaying your favorite mugs. It is an excellent way of having a mug rack that is simple yet conventional
Mug Tier Stand
Your coffee and/or teacup rack and/or display does not need to be big instead consider having your favorite mugs on display. This can be done by having a mug tier stand. A tiered stand will help display your favorite mug in a smaller manner. By doing this you can display your intricate cups and have them become a focal point anywhere you decide to place it.
Mix and Match
Why have one mug holder when you can have two instead? Consider having two different rack styles in your kitchen for a modern twist. Doing so will give you a mix and match feel that allows you to have different options when displaying your coffee or tea mug collection.
DIY Display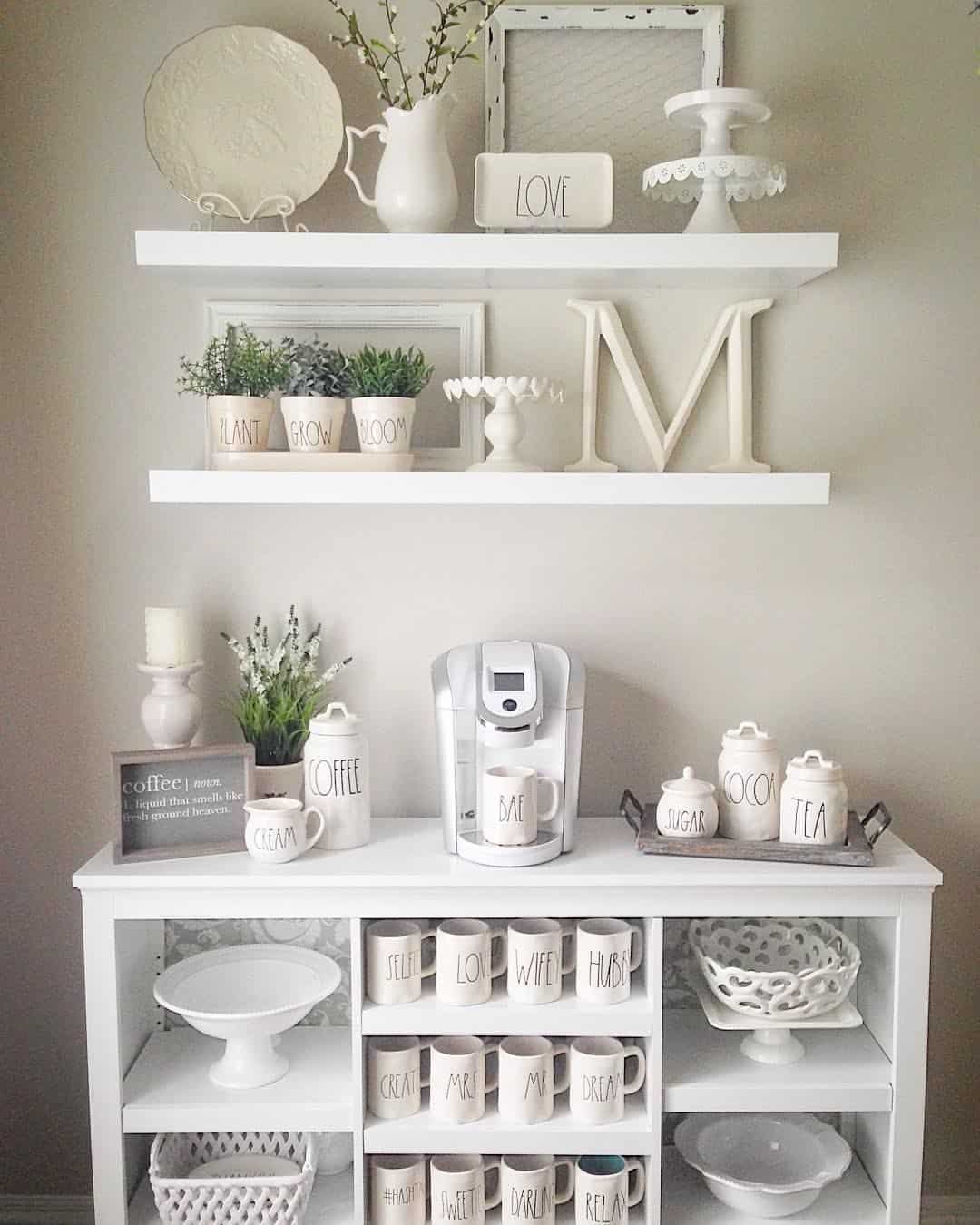 When you DIY your coffee mug rack you have the ability to create the perfect space for you. This will allow you to create the relaxing yet uplifting area in your kitchen. We are sure creating a DIY rack or DIY space will make your kitchen become one of your favorite areas of your home.Although, there are multiple different racks you can purchase why not create a custom display that works for you and your specific style. Create a rack that allows you to display all of your coffee mugs at once or construct a display that allows you to display your most used mugs. The options are endless.
As coffee lovers, we love the idea of even gifting a coffee and/or tea mug rack to a loved one. Let us know below which of these mug racks would you like to receive for Christmas?