Open closet ideas may not fit most people's vision of a perfect wardrobe, but when life sets its limits, it's time to get creative. And this type of storage ironically gives you a lot of room for creativity. There are all kinds of organizer systems that can help accommodate anything and everything from evening dresses to your collection of shoes.
Modern Open Closet Ideas
So before we get to the most popular way to storing clothes without a closet – which is a rack – let's see what other options are there to help you keep your bedroom nice and neat. There are storage boxes and cube storage, old suitcases and trunks, old metal lockers and floating shelves, and good old Ikea shelving. But of course, one of the most convenient ways to keep clothes almost perfectly straight and smooth is still a clothing rack.
A rack will help you keep the bulk of your wardrobe in one place. It might also have a shelf or two for shoes and accessories like bags.
Someone tried hanging a real coat rack in a bedroom instead, which might do, if you mostly wear casual clothes that does not need to hang on a rack to look good.
Minimalist Open Closet Ideas
A lot of people don't have that many clothes to keep a huge wardrobe filled. It almost always harbours all kinds of other stuff like bedding, unwanted Christmas gifts, and a bulk of clothes they never wear. If you want a clean-looking bedroom, it's time to overhaul your closet, and get rid of unnecessary things.
A minimalist clothing rack can also help keep your shopping habits in check. If you don't have a big wardrobe to store them, impulse buys would have to be averted.
Stylishly arranged clothing rack can become a real fashionable addition to your interior, so here you have to go with a bare minimum of the things you need.
Rockstar Clothing Racks
Contemporary clothing racks make for cool furnishings as well. They come in stylish metallic finishes, unique shapes and designs. It's easy to style these, because you just need to arrange the clothes well. Design will do the rest.
They also come in various styles. So if you want a bit of industrial vibe in your room, a tubular rack with reclaimed wood shelves should do the trick.
You can transform a bland clothing rack with just a spray of metallic paint, too. Rose gold and brass seem to be the most popular and stunning finishes.
Clothing Rack Styling
Speaking of styling, you can't just hang clothes on a clothing rack, and expect it to look magazine-worthy. It is about how much volume a rack can handle and how all of your clothes look together in terms of textures and more importantly colors. If it is a crowd of very different clothes, you might want to carefully handpick what goes on the rack, and what you might want to keep hidden in a storage box under the bed.
Storing a lot of clothes on a rack isn't very convenient anyway, so make sure you only keep what you wear there. And then start separating it by color. It's a solid strategy, if you have many clothes of different colors.
You can also sort it out by textures and fabrics, hanging thicker items closer together. The idea is to bring some order to the diverse wardrobe, hanging all on one rack.
Clothing Rack Helpers
Since racks aren't perfect for storing certain clothing items, a few helpers like floating shelves or cabinets should make things easier. It was an absolutely cool idea to repurpose old crates as shoe storage. They look particularly fitting with the industrial-looking pipe racks.
Old post office cabinets and school lockers are great for storing underwear as well as casual clothes like T-shirts and jeans. Floating shelves are best for things like handbags, jewelry boxes, and fancy shoes.
Anything from cubbies to tall shelving can help take a load off your clothing rack, and keep things more or less in balance.
Open Closet Ideas
Closet systems have long kissed heavy wooden doors goodbye. It's all about space efficiency now. You'll find that these no-closet-looking closets are almost just as convenient for storing clothes as the old-fashioned grandma wardrobes.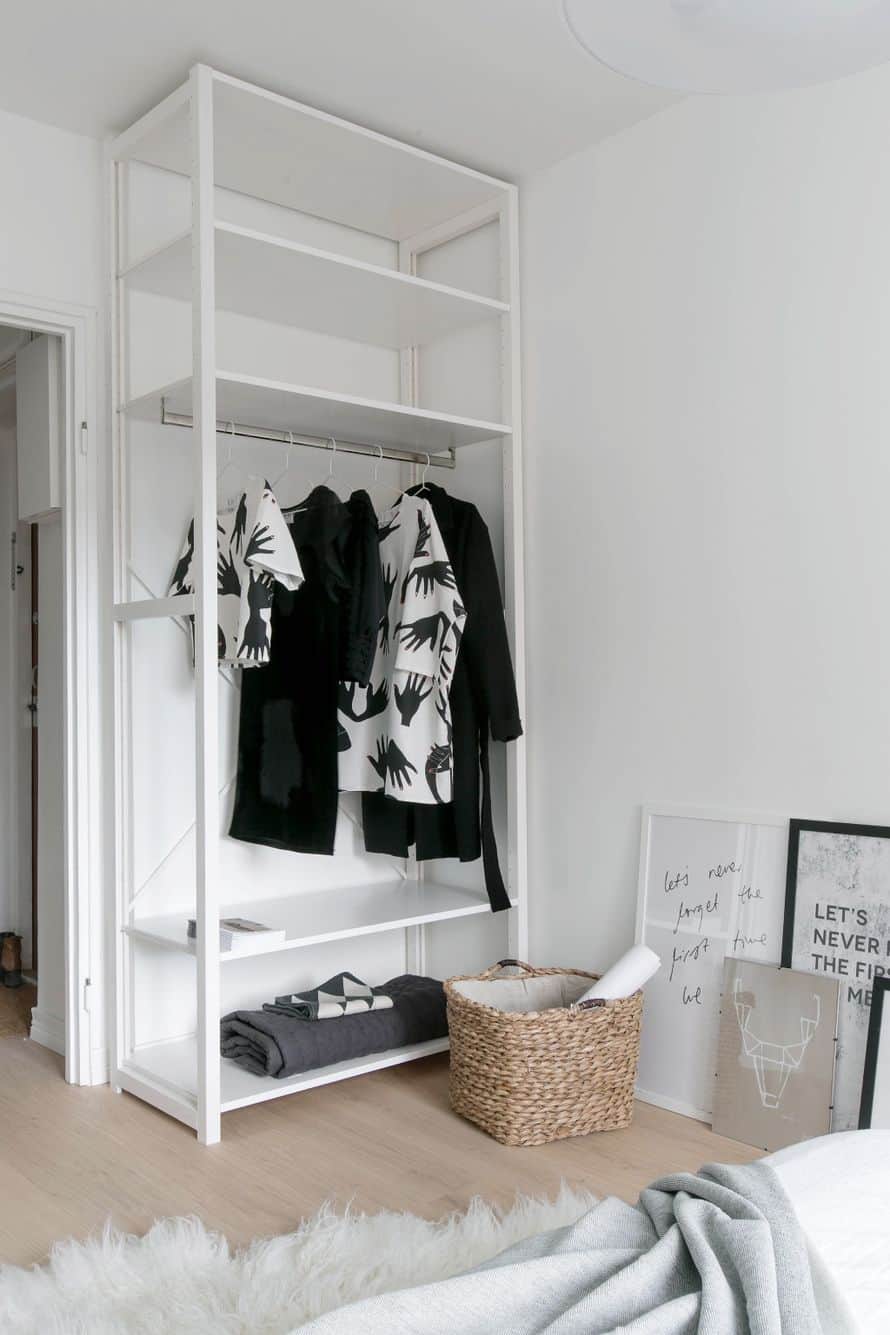 Take note of the cool cage closet organizers. These modern designs are just so very cool. No pretense, no nonsense, but they add a shroud of mystery to your wardrobe, instead of putting it all on display.
Rack systems with inbuilt drawers and cabinets are perfect wardrobe skeletons that save space but still provide you with everything you need to organize your apparel.
Open Organizers
Open organizers are the same thing, but they may come with additional elements like shelves and shoe racks. These are perfect for those with extensive wardrobes and enough bedroom space. Things look that much more organized with a designed storage wall.
The best part about these open closet ideas is that you can use them to turn a part of your bedroom into a real dressing room.
You may also not worry too much about impulse purchases, as a closet like that should be able to accommodate quite a few clothing items.
Elegant Open Closet Ideas
Open closet can look elegant. And setting is a big part of it. Look at the interior below, and tell us you don't find it immensely sophisticated? We dare you. An oversized mirror and a tufted pouf certainly add drama to it, but a molded door, light textured rug, and a crystal chandelier undisputably set the tone for elegance.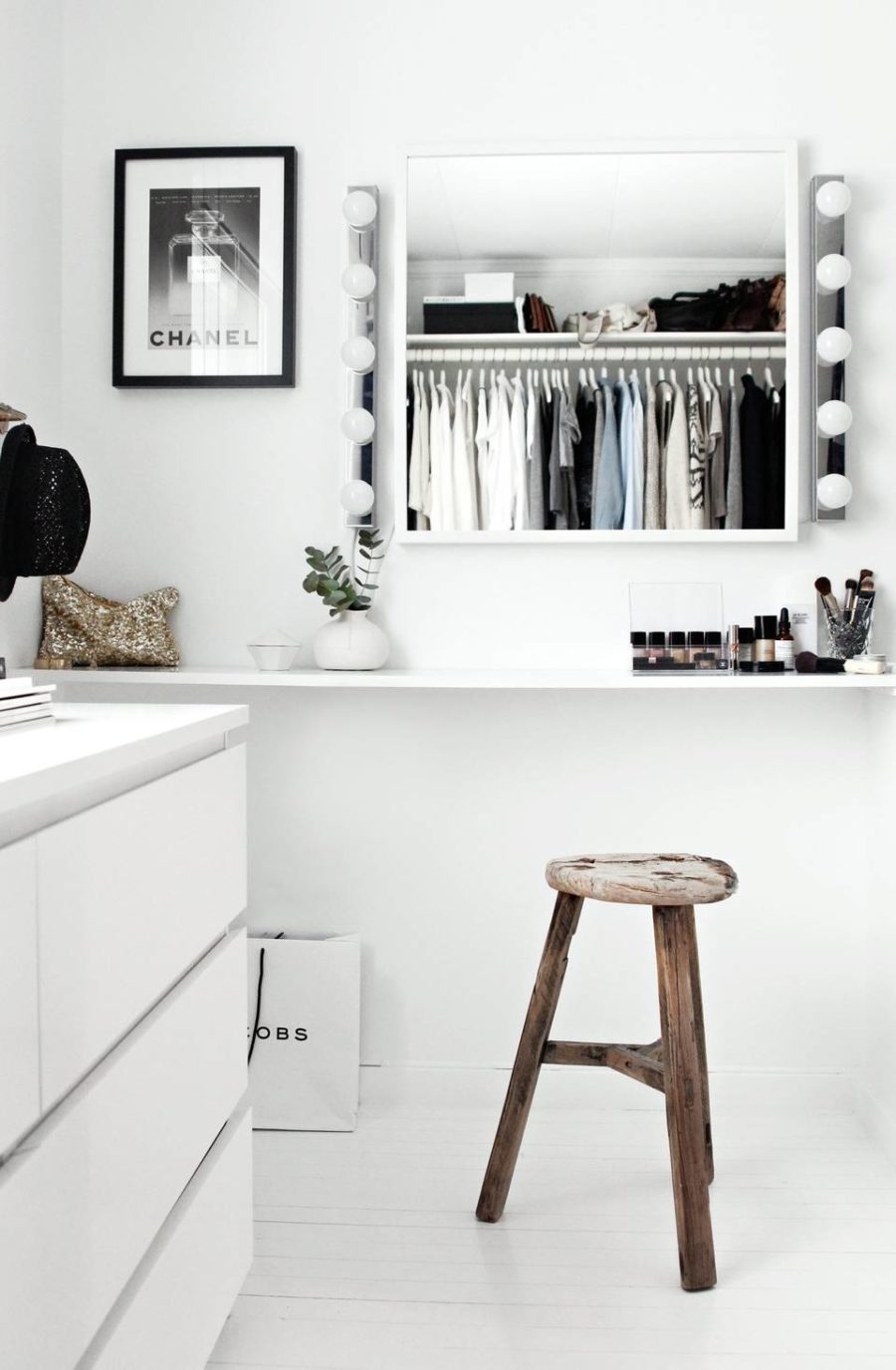 Another aspect of open storage that you may perceive as either downside or virtue is that it will require order and discipline from its owner. To look good, it must not only be well-stylized but also kept tidy and even picture-perfect.
Thought you'd never find enough open closet ideas to inspire your next big project? The best part of it is that it shouldn't be that expensive or difficult.