Cube storage is so popular because it's efficient and modern. Used in every room it can hold everything from books to kid's toys. Though simple, storage cubes come in a variety of materials and designs offering various options for your interior. Modular cubes allow for more flexibility when it comes to growing storage demands. And clear display boxes provided with a practical yet beautiful way to show off your precious collectibles.
Cube Nightstands
Storage cubes are versatile, so you can use them in place of many other furnishings like nightstands. Cubes are better than those regular nightstands because they don't look as bulky. You can display accessories or books all the while hiding extra blankets and sheets inside the storage baskets.
A DIY by The Every Girl uses Ikea's Kallax shelf as a glamorous nightstand. And it fits seamlessly into the white modern bedroom thanks to its smooth and streamlined design.
House of Rose used the cubby shelving from Target to create a nightstand for this adorable teen girl's bedroom. Outfitted with two grey bins and wire baskets the nightstand provides with display and hidden storage options.
Anything can go on top of a cubby from a night lamp to reading glasses. Here Mandy of House of Rose used decorative letters to spell the appropriate Dream and Pretty Little Things.
Cubes for Kid's Storage
This nursery by Sissy and Marley makes use of the cubby shelving for storing all the little things a newborn may require. Striped bins offer a neater, cleaner way to organize storage as well as provide a contrasting pattern to the star spangled wallpaper.
Bins and storage boxes can always be replaced with ornamental accessory bowls, display boxes and objects, which will give your storage a more decorated look.
Leclair Decor also makes a case for cube storage in a kid's room. It looks neat and highly organized and seems like it has a huge storage capacity.
Bright plastic bins act as accents and correspond with the room's color scheme. They can also be signed for easier organization and access to the toys, books, or drawing supplies.
Big cube storage doesn't have to be limited to the kid's room only. The Graceful Welding used a 5×5 Kallax shelf from IKEA to organize an office closet. As you can see it's a pretty cool way to also display family photos and trinkets.
Besides the weaved storage baskets they used kraft paper magazine holders and accessory dishes to keep the closet well-organized.
Cube Storage Home Bar
Organizing a home bar is a challenging task. You need quite a bit of space and custom furnishings. Or do you?
This Raleigh apartment features an Ikea shelving unit turned into a home bar. Filled with glasses, plates, and bottles the cubby makes for a nice entertainment corner.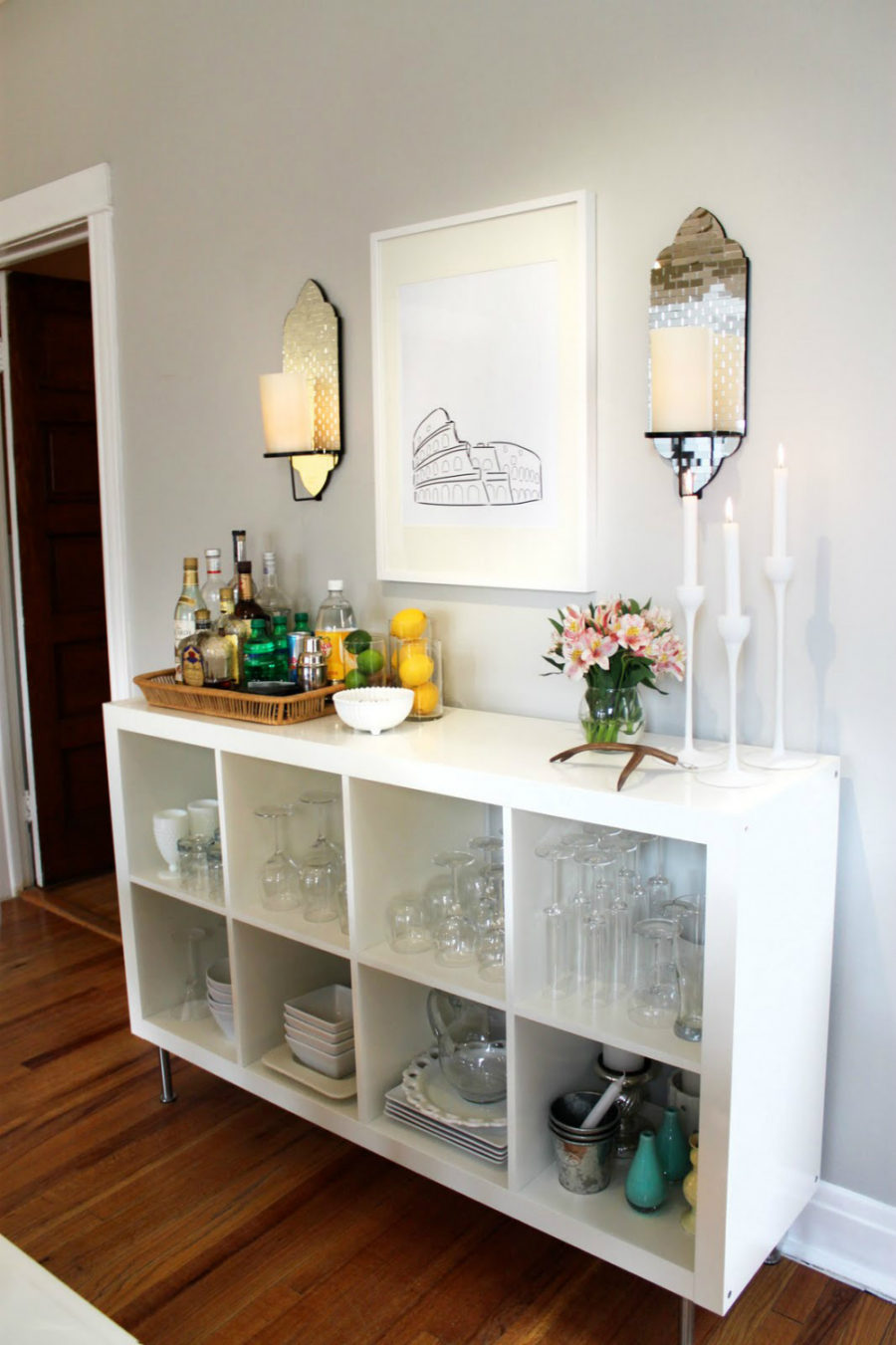 It's a great way to fit a home bar or coffee station into a small apartment. Treat it as a console and place it along the wall where it will not obstruct any pathways.
A few candleholders, vases, or planters should be enough to add a bit of flair to it and a mirror or an artwork should complete the arrangement.
Cube Storage For Every Room
As if to prove that the cube shelving can be used for virtually anything Marta of Sweet Harmonie has created a room divider out of one. Sweet little thing separates living and dining areas from the rest of the room creating a more intimate atmosphere.
Here the shelves aren't used to the fullest, but this is what gives them such an airy look. Besides, the bottom shelves with storage drawers seem to be enough to store some books or utensils.
A small cubby also makes for a great TV cabinet. Fill it with bins for a more organized look or leave the shelves open; it's incredibly functional.
Modular cubbies can provide even more storage space and, moreover, arranged in many interesting ways to create an entire entertainment center.
As an alternative you could use some wire storage cubes if you're after a more utilitarian look. If not, though, here is a wire shelving by Verner Panton that looks as exquisite as wire can get.
First created in 1955 the wire shelving design still looks modern. Staying true to the original design specifications it can be stacked and rearranged in a variety of ways to fit with your interior and needs.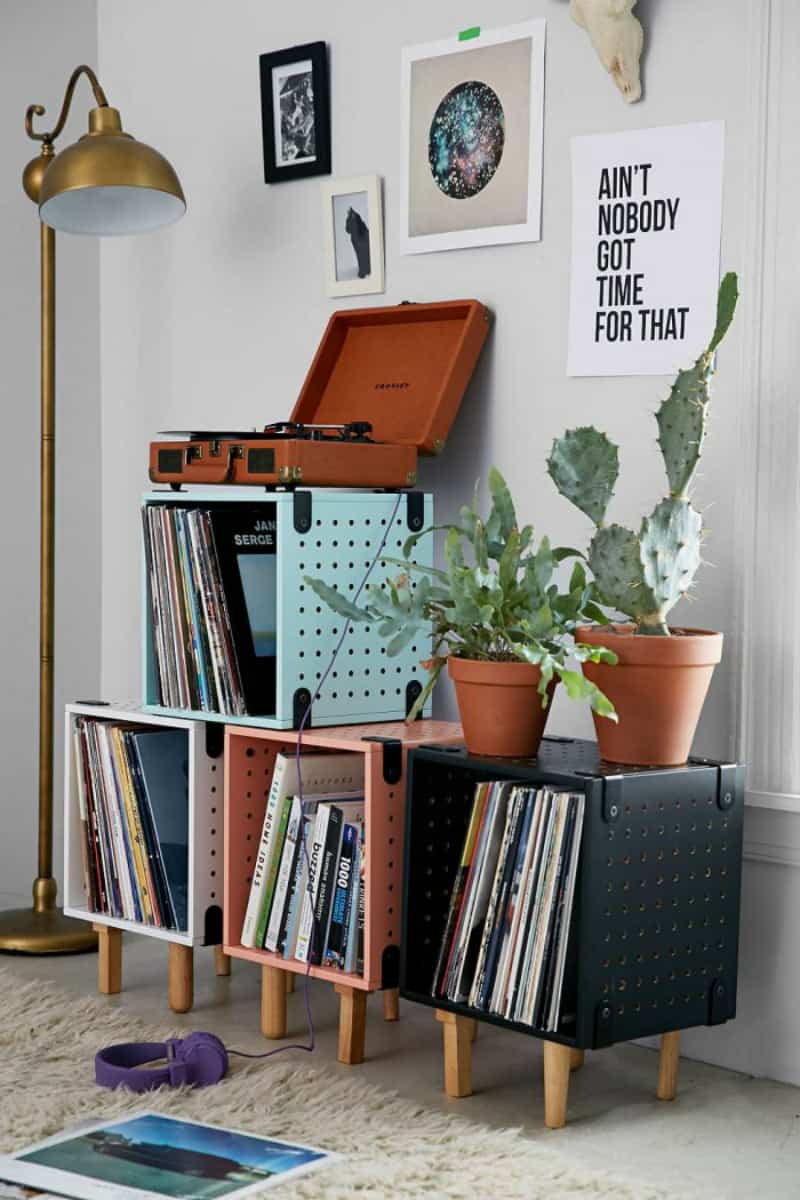 Not all storage cubes are plain white. Some designs are eye-catchy and even come with their own flair. These rather retro-looking perforated cubes are full of detail.
Some feature wooden legs and can be used separately. Others can be stacked as in case with the modular cubes. And their colors offer great dynamic and flexibility when it comes to decor.
Office Cube Storage
Customized cube storage is never boring either. Melinda Delst Interior Design and Studio Modderman worked together on Fairphone's head office design and came up with a cube shelf idea for the kitchen.
Framed in steel these wooden cubes are housing tableware, some products as well as small decorative plants. What a neat alternative to the tired kitchen cabinets!
Where do you need efficient storage the most? Why, a home office, of course! Cubby shelving takes up little space, but offers a splendid way of organizing your reading material, office documentation, and even crafting supplies.
In this modern office the checkered cubby shelving creates an interesting dynamic. Its glossy doors are disguising half of the library amplifying natural light from the window. And the open shelves show only the of your choosing.
Cube storage in a crafting room, what can be better? Stowing all the little crafting supplies in storage baskets keeps the room neat and clutter-free.
Cubbies are great at dividing supplies by categories or need, which helps immensely with space-management and organization.
Home Library Cube Storage
It's not hard to see why Ikea's Kallax shelving is so popular. Look at how these stacked units create an impressive library/display in an entrepreneur couple's San Francisco home.
The floor-to-ceiling shelving was safely fixed to both the ceiling and floors and each unit was bolted together. Achieved on a budget the result looks luxurious and expensive.
Read Your Bookcase is one of those designs that stirred up the net back when it just came out. And you probably can see why. Spelling its very name the bookcase comes with 16 cubic shelves that allow for flexible book storage.
Even when it's filled up to the brim you can spell out each and every word. No more plain book arrangements there.
Lago Sistema Net is another way to create a home library. These modular cubes come in a succession of lines with the occasional openings that make for an airy look.
Use it as a room divider or create a reading nook by arranging the cubes in a semi-circle. Possibilities are endless in terms of both size and arrangements.
Cube Shelves
Cube shelves are equally useful and versatile. These can be used in virtually any room from kitchen to hallway. These easy DIY cubbies were made for the bathroom.
Their L-shape ensures a neat intriguing look and decorative display objects help jazz up the entire room.
Modular cube shelves are an even better idea. These can fill up an awkward corner going all the way up in alternating patterns. Made from stackable differently sized cubes the system can be rearranged on a whim.
It can be used as floor shelving or a wall unit. Available in six different colors the shelf looks like it'd make a great addition to the kid's or teen's room.
Cube Storage for Kitchen & Bath
Cubby wall shelving seems like a perfect fit for a kitchen. Glasses go into one cube, a serving dish into another and so every tableware item has its own special place.
Besides you can show off your china and crystal flatware on those open shelves. And if you would like to hide a thing or two a bin or a basket is always an option.
Open shelving is a tricky design solution. On one hand you get to display utensils, but on the other it may get messy very quickly and there is no way to hide it until you have time to clean and organize the contents again.
Before choosing cube storage for kitchen be sure you can keep the order on the shelves at all times.
A cubby in a bathroom is a space-saver. It's also easy to organize all those little things in a cube storage. Here is a great DIY shelving that separates first aid kit from the towels and toilet paper.
The idea of the project was also to give the guests an idea what's lies in each bin and where they can find what they need.
Display Storage Boxes
Display storage boxes are more decorative than functional, but they can often be both. For instance, these wall-mounted acrylic display boxes are used to organize kid's things and toys in a sophisticated way.
Such boxes can also store a figurine collection or some art objects. It's a great way to create wall art all the while storing sensitive things that you wouldn't want to toss in a drawer.
Kartell's textured plastic cubes are attractive and colorful. And since they are equally functional and decorative they can hold anything from shoes to antique collectibles.
Different colors are also helpful if you want to add an accent to the interior. Many a time storage cubes aren't meant for making a statement in decor, but these were designed to attract attention.
Pappus Square Wall Display are the glass wall shelves you can also use as decor elements for your desk, nightstand, or side table. Use them to display your favorite plants or store jewelry and accessories. This is a great way to get rid of clutter and make every little thing work for your decor.
Probably the most important thing about cubby shelving is that it's very affordable. The shelf itself will probably run you less than $100 and storage bins and drawers won't mount up to even $50. Cease this decor opportunity to organize your space and create all those things you've always wanted like a home bar or a library.