Colder nights have began but no need to rush indoors – one of these 40 metal fire pits could extend your outdoors season with warmth and social fun. You'll find one fire pit design that will suit your patio or outdoor setting.
Whether you are a purist or you prefer a more dramatic style, some of these coolest design ideas will certainly inspire you. And what's more reliable and easier to set up than a metal pit. Most don't require any prep work – just set it in place, get some firewood and start using it.
In terms of fuel, you'll have the choice among the traditional wood-burning pits, those fueled by propane gas, or by bioethanol. Time to get cozy by the fire!
Best Fire Pit Ideas
We're going to dive into the many shapes and sizes of fire pits, so you can find the one that suits your needs best.
1. Metal Fire Pit for the Patio or Backyard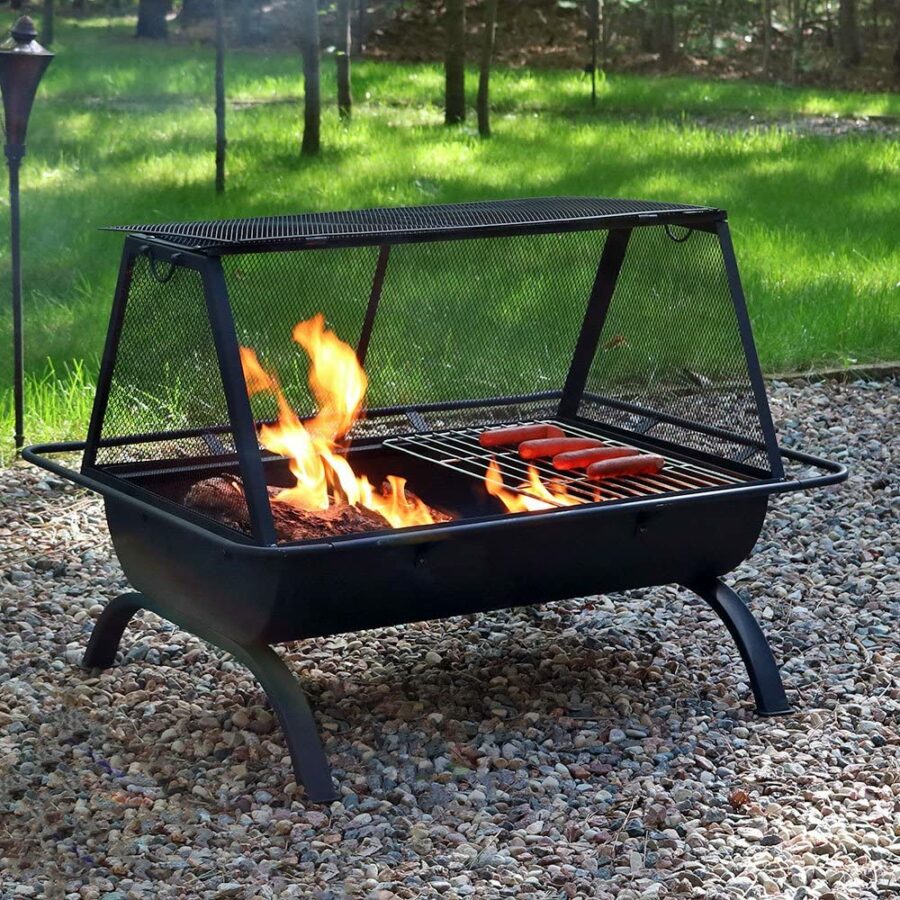 We're kicking off the list with this great-looking Sunnydaze Northland outdoor fire pit. It's 36 inches long and it is fueled by wood. Furthermore, it comes with a BBQ grill rate, a spark screen so everyone is protected, and a fireplace poker. Plus, it has its own waterproof cover for those rainy days.
The fire pit is made out of heavy-duty steel and it's rust-resistant so even if the rain does catch it uncovered, it won't be damaged.
2. Outdoor Fire Pit Idea – Mighty Oak
No, the fire pit is obviously not made out of oak, but it does feature a metal sculpture of a majestic oak tree. Even better, you can enjoy watching the fire burn through this beautiful cutout. We found this one on Etsy and it's available in a couple of sizes.
The fire pit is made out of 16 gauge steel and it's super easy to assemble. It comes in four pieces you can put together with the provided bolts and wing nuts. Another cool thing when you order with this company is that you can customize the two sides of your fire pit with any design you want.
3. Lord of the Rings Fire Pit Idea
For those Tolkien fans, this particular fire pit will be an awesome addition for their backyards. What makes this fire pit perfect for Lord of the Ring fans? Well, it has the same elvish inscriptions as the One Ring. And, when the fire is on in the pit, you'll be able to see through the inscription, making it seem as it if it's glowing, much like Frodo's ring.
The folks selling this on Etsy allow you to choose the thickness of the steel, as well as one of five sizes for your firepit. It's simply a wonderful addition.
4. Steel Fire Pit – Moon & Stars
Over on Amazon, this amazing-looking fire pit comes in multiple themes – stars and moon, bamboo weaving, or flame – all of which can be cut out from the sides of the fire pit. The wood-burning fire pit looks absolutely stunning and works beautifully in your garden, or on the beach. Since it's not too big, you can even take it with you.
Besides the dome shield it comes with, it also features a grill and a fire poker, so you can even cook dinner on it. It's such a stunning piece!
5. Patio Fire Pit Idea – Bali Pit
Up next, we have this great-looking wood burning fire pit that's perfect for late evenings, but also cooking some food on the grill. It's just a nice addition to any backyard.
Unlike many other fire pits we've seen, the grill is mounted on a spike and you can swivel it around, however you need it. The pit is easy to assemble and it's also small enough that you can take it with you camping.
6. Cone Shaped Fire Pit Idea

Modfire's Urbanfire (above) is an ultra modern fire pit and a piece of art. Hand-made from natural steel, it comes in different finishes, ranging from natural metal to strong colors (blue, red, orange etc) or luxurious copper. 48-inch tall (about 120 cm), this impressive cone-shaped design will catch everyone's eye. It comes as wood burning or propane fueled.
7. Tall Outdoor Fire Pit

Katan (above) means teepee tent in Swedish, and that's where the Dutch manufacturer Harrie Leenders got inspired from in shaping this particular pyramid fire pit design. Made in corten steel, at first it has a rusty metal look, but with time and rain it will oxidize and become rather black. It has a practical wood storage compartment at the bottom.
8. Metal Fire Pit Design

Pharos is another conical fire pit / fireplace design from Leenders (above) but it's also mobile which is ideal for outdoors. It can be easily moved around on solid wheels around your patio or garden to find the best suitable spot for the season. It's made from 6mm thick cast aluminum and is available in several color combinations. How cool is its chimney!
9. Cool Fire Pit Idea

We don't know who makes this red fire pit but it's sure one of the coolest cone designs out there. You can try to learn more at the source.
10. Metal Fire Pit Firewood Storage

Zero by AK-47 is a contemporary round fireplace designed to be surrounded by people. 145 cm in diameter (4.75 feet), it's made up of a central metal fire pit and an external firewood storage and seating unit. It makes an amazing centerpiece for large social places and it gets a more intimate dimension at home, surrounded by friends!
11. Tall Fire Pit

Harrie Leenders gets more contemporary with Spot (above), a compact outdoor fire pit that can also be used as a stove, and is designed to fit even the smallest outdoor spots. A 3-in-1 functional design object, Spot combines a pit, wood storage and an optional clip-on service tray. Perfect to enjoy a drink around the fire. Cheers!


Spot fire by Leenders is a perfect outdoor accessory to enjoy by an entire family.
12. Hanging Fire Pit
Is this the coolest fire pit idea you have seen yet? It's hanging! Was found in someone's backyard in Venice, Los Angeles, CA.
13. Witch-style Fire Pit

Dubbed 'The Ranch Boss', this large hanging fire is for those who want the absolute finest, as according to its maker Cowboy Cauldron.


Cauldron hanging metal fire pits are made either in cast iron or thick pressed steel, and are built to last for generations. You can also use the Cauldron's suspended bowl design as a grill, and it's a great accessory to have to entertain your guests. Each Cauldron pit comes complete with the tripod frame, suspension chain, hook and pin assembly, Cauldron basin, removable fire grate, and a cooking grill. Source.


The Ranch Boss may be the largest Cauldron but not the only one. They come in 4 different sizes – look at the chart above to pick one that fits your patio or backyard best. Source.
14. Bowl Fire Pit Idea

Bowl pits are some of our favorites – what can be more aesthetically pleasing and conveniently shaped to safely make a fire than a bowl design. Especially an oversized pit like the one found in this Napa Valley weekend house by Jim Jennings Architecture. An design by Erin Martin, this huge bowl is a outdoor dream. The whole settings is so simple and cozy at the same time, photographed by Marion Brenner.
15. Outdoor Fire Pit Idea

Above, using a cast iron wash pot as a fire pit seems like a great idea – at least it worked for one gentlemen. It's big, about 2.5 feet in diameter, and it looks cool. Source.
16. Rustic Fire Pit Idea

Another awesome setting with a metal bowl fire pit as a centerpiece, rustic and funky even – notice those carved out seats. Don't they remind you something? Photographed by Radostina – check out her great works here.
17. Sunken Fire Pit Idea

The above idea for a sunken fire pit setup is from Johannesburg, South Africa – source. What a clever idea and potentially interesting DIY project – a smaller and more shallow metal bowl is placed on a concrete pedestal, creating a center fire in the middle of a circular recess in the ground, and with a concrete retainer wall.
18. Flower Cast Iron Fire Pit

A bowl made up by welding together disc blades from a plowing tractor, this DIY fire pit is great for a backyard camp fire. Looks almost artistic. Source.
19. Metal Fire Pit Ring

If you like the look of copper then Hayneedle offers this CobraCo copper fire pit with cover. It's an eye-catching home accessory that is beautifully hand-hammered for a shiny finish. It comes with a protective vinyl cover to keep clean, and is 30 inches in diameter.
20. Contemporary Style Fire Pits

The above contemporary fire pit grill Langgrill can be purchased from Connox. It's a German design with a long bowl and a minimalist look of stainless steel, measuring 45cm wide by 95cm long.
21. Fire Pit Area Ideas

Sometimes less is more and this stands true for the Bella Vita stainless steel fire pit (above). A functional steel artist, Rick Wittrig made this round contemporary fire a maintenance-free one, so it requires no effort and offers pure relaxation moments to those seated around it. 46-inches in diameter, it holds enough wood for one entire evening of burning!
22. Fire Pit Modern Design

Another modern fire pit design with a shallow round steel bowl on a metal stand – this is a great decor piece for a contemporary home. The 63cm diameter bowl is sanded by hand to ensure natural rust to form over time, and stainless steel legs are also hand finished.
23. Futuristic Fire Pit Idea

The above mobile fire pit named Eclypsya, is a modern circular design by Benjamin Mesnard and is made by Arkiane. It stands out by its unusual design and its mobility. Just roll it outside and enjoy the fire on your terrace in all security, as the bioethanol flame is protected by glass on both sides. Inspired by the desert nomads who would settle down to make a fire, this beautiful pit is sure to get a permanent place in your lifestyle!
24. Geometric Metal Fire Pit Design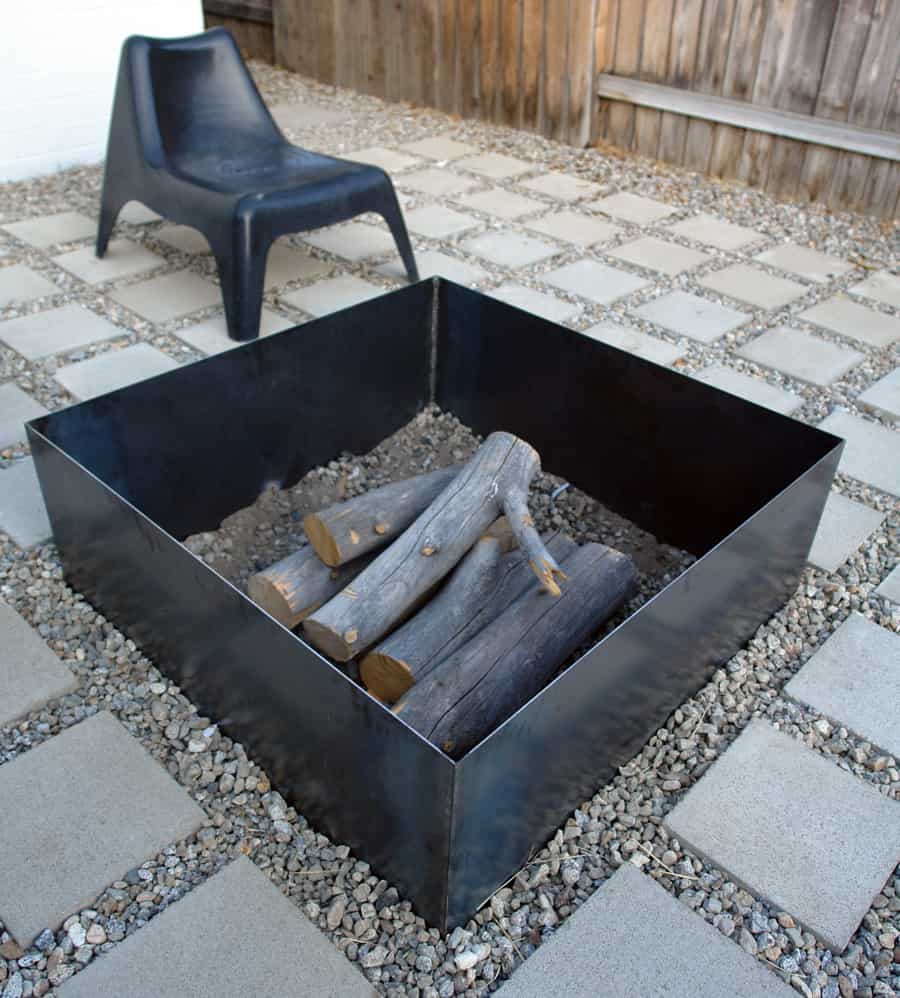 A simple square fire pit weld as a DIY project, from four 40″ x 20″ sheets of 12 gauge hot rolled steel – here's the tutorial.
25. Origami Metal Fire Pit

The Plodes Geometric Fire Pit (above) reminds us of origami designs. Designed by John Paul Plauche from Plodes Studio, who did projects for Google's offices. Available in two sizes and two metals – A36 low-carbon steel or Corten steel. By purchasing an additional grate top or cedar top you can turn this pit into a grill or table.
26. Minimalist Metal Fire Pit

A similarly shaped fire pit design is available on Etsy. With hot-rolled 14 gauge steel sides and a 10 gauge fire bowl, the Fin pit is made to last.
27. Geometric Fire Pit

A slightly different version of the above two geometric designs and also slightly more pleasing aesthetically, this is the Contemporary Outdoor Fire Grate by Peter Keilbach, a designer from the UK. It'll look attractive in your garden, and can be used as a grill.
28. Large Fire Pit

Talking an unusual geometry … here's a metal fire pit and barbeque combo named Decahedron. The name speaks for itself.
29. Artsy Fire Pit Idea

Made from recycled steel, The Great Bowl O' Fire is a sculptural piece. This fire pit never stops to amaze how proportionally it's designed. The 37-inch diameter bowl seems in flame even when the actual flame is not on! Stunning at floor level, it gains an "Olympic" feel when raised on a pedestal.
Some of the most known art fire pits on the market today are the hand cut fire pit spheres by artist Melissa Crisp. Melissa has many beautiful designs, we just picked 4 that we believe are some of the most amazing art pieces from this designer. Each design is one of a kind and comes with a numbered metal plate for authenticity. They are wood burning by default but can be converted into gas burning fire pits.
30. Love Story Art Steel Fire Pit

The above Winter Woods Fire Pit Sphere by Melissa Crisp has a romantic edge to it. For sweethearts, you cannot find a better piece to enjoy a fire on starry nights.
31. Lakeside Fire Pit Idea

This real piece of art above is the Earth & Sky firebowl that features a simple metal cup on a craggy tree branch base, and is 53″-54″ in diameter.
32. Sculpted Fire Pit Idea

The Hidden Angel fire pit sphere could easily be one of the most beautiful pits we've seen.


The Hidden Angel fire sphere features two angels with their wings wide open as if they are protecting you from fire. "This sculptural fire bowl is beautiful even when unlit and would be stunning in any garden. The angel wings wrap around the sides of the bowl and meet, completing the circle." Source.
33. Fall Leaf Fire Pit Idea

This very balanced, aesthetically pleasing design (above) is the Autumn Sunset Leaf Fire Pit Sphere by Melissa Crisp. This unique artisan fire bowl is 37 inches in diameter and can be a great patio centerpiece even without the fire.
34. Flower Fire Pit

Above is the exotic-looking Lotus fire art – handmade in stainless steel and gas burning.
35. Agave Plant Metal Fire Pit

Modeled after an agave plant, this artsy fire pit design comes in raw steel so you can watch it forming its unique patina.
36. Fire Pit Ring

A simple metal fire ring can often make the best outdoor setting idea. We love the oversized round design – it just seems so natural, for a fire pit to be round and big.
37. Metal Guard Steel Fire Pit

This portable fire ring could be a neat idea for camping.
38. Cutout Metal Fire Pit

Above is an adorable fire ring design for a cozy rustic setting – source.
39. Flowery Fire Pit Top

This cool, decorative metal fire ring can easily fit most landscapes. It consists of a steel liner and a decorative top ring, and was designed for building a fire pit with retaining wall blocks.
40. Fire Pit Table
Finally, a couple of unusual and neat outdoor setting ideas – the fire pit tables.


An outdoor table with a built-in cooler and a fire pit.
BONUS: Color Changing Fire Pit Table

A color changing Gabian fire table.
Final Thoughts on Metal Fire Pits
There we go, we've reached the end of this article in which we hope you discovered some stunning fire pits – we know we fell in love with quite a few pieces. In fact, we hope you'll even share your favorites with us, as we're super curious to see them.