Fire pits come in numerous different shapes and sizes. They can be a permanent fixture in your backyard or they can even be a barrel that you choose to carry around.Fire pits have always been a stylish fixture to have. They add warmth and elegance to any backyard design and they are very functional.
With that being said, if you have considered adding a fire pit to your backyard this is the time to do so. We have put together a few of our favorite fire pit design ideas that we think will inspire you to want to enjoy your outdoor space all year round.
It's All About the Layout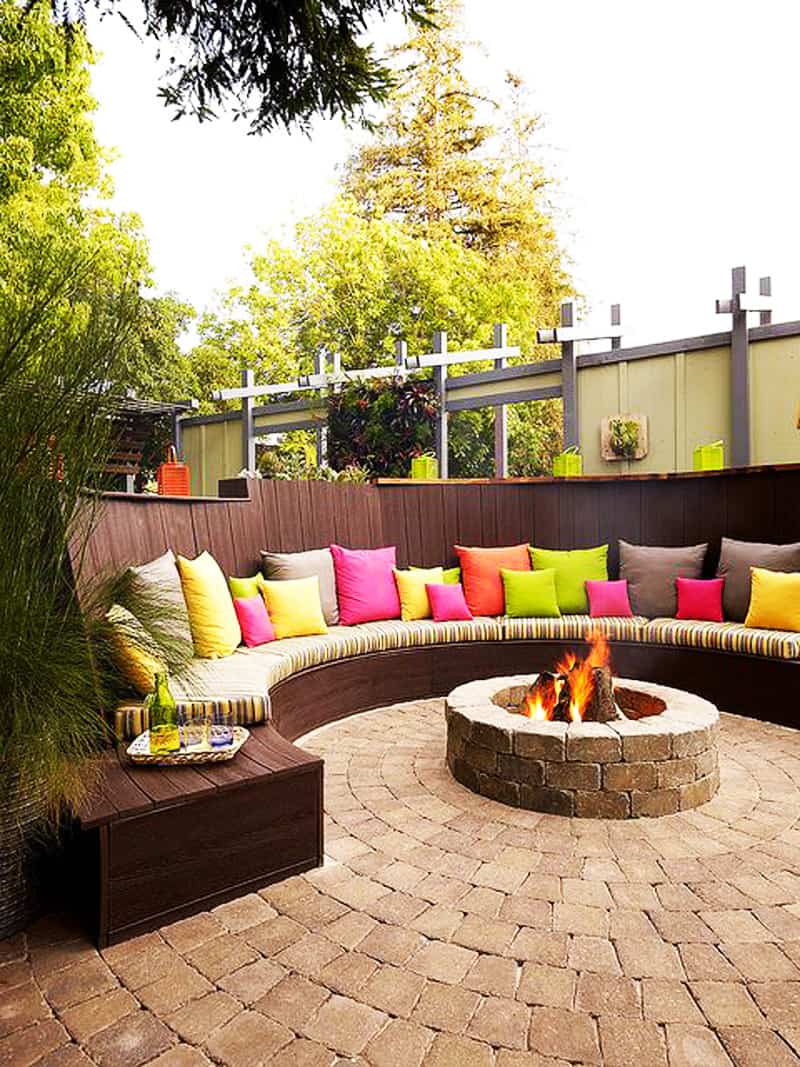 The layout that you place your fire pit in is very important to your backyard design. If you have a U-shaped seating layout, placing a rectangular fire pit in the center. Doing so gives you a chic look while ensuring everyone feels the heat coming from it.
Weather Is Not a Concern
Place your fire pit under a gazebo or a shaded area in order to enjoy it all year round regardless of what the weather may be. You may want to consider a transitional fire pit instead. Just in case you decide against this idea later on and wish to transport the fire pit to another area.
Natural Materials Are Best
When choosing the material for the exterior of your fire pit consider natural materials. Natural is best as it is easy to maintain and goes well with any décor it may be paired with. Crushed stone is an excellent option for a natural fire pit. Pair it with rustic furniture for a warm and cozy setting.
Add Personality
Anytime you are looking to redecorate or add new pieces to your home, consider adding pieces that display your personality for all to see. This includes your fire pit.
Although, you have to be quite selective with what pieces will stand the heat from the fire pit you do have the option of topping your fire pit box with metalwork. You also have the option of taking your firebox to the next level by creating an intricate design directly on the fire pit box.
Modernize Your Area
The great thing about having a fire pit is being about to create memorable moments by the fire. They are versatile enough that you can create the ambiance you seek. Put together a few colorful chairs and a modern fire pit such as a chimenea to create a modern appeal.
Firewall
If you want to create a grand appeal in your backyard space getting a firewall is the way to go. Instead of having a fire pit or a fire bowl contemplate adding a firewall to your backyard. A firewall is a big investment, but it will bring an extra dose of upscale, elegance to your backyard.
Multifunctional Space
If you have a small backyard space you may not want to have a fire pit as most of them can take up a significant amount of space. Instead of not having a warm and cozy fire pit, consider making it multifunctional.
What we mean by this is having a fire pit box that allows you to have a gabion around it. Having a gabion will allow you to have a multifunctional fire pit as when the fire is on the fire pit can be used as a table.
Make Use of Color
Fire pits have a tendency of being neutral tone such as gray, black or nude. Therefore, in order to bring vitality to your backyard space consider color. Color is an excellent way to make any space look fun and airy. For your seating area add colorful throw pillows and/or cushions to enhance the space.
Seating is Important
To create the perfect atmosphere, seating is important. You want the seating to feel comfortable and be able to have access to the warmth that comes from having a fire pit. The idea is to have a fire pit that enhances the space not take away from it.
You also want to consider having lounge furniture for your seating area such as a comfortable sofa instead of formal chairs this will create calming, peaceful space.
Portable is Sexy
Committing to a fire pit can be difficult because the permanent commitment they require. However, if you want a fire pit without the commitment of having one professionally installed into your home a portable fire pit will get the job done. Portable fire pits allow you to create a calming atmosphere whenever and where you choose to do so.
The more fire pits grow in popularity the more homeowners are intrigued on how exactly they should be placed in their backyard living space. We hope our ideas have helped you design the perfect area for your fire pit to reside in. Let us know below which concept you enjoyed the most.