It's easy to go completely wild with the Animal Print Decor all over the home. With the great selection of Animal Patterns now available you can add a touch of outgoing style anywhere. Pick your favourite from cow, crocodile, snake, zebra, leopard, tiger and giraffe prints to celebrate the diversity of the natural world with fun, funky prints. Whether you want to create the atmosphere of an up-market jungle getaway, remember the safari trip, or simply spice up your neutral decor theme, Animal Print Decor is a versatile and eye-catching option. See below for ideas in 16 different product categories hand-picked by Trendir for Animal Print / Pattern decor lovers!
Animal Print on Wall Coverings
Tile
Tiles are a practical and decorative way to add animal prints anywhere. The Animalier tiles from Settecento combine great looks and a fun tactile element. Leo, Zebra and Cobra patterns can be combined or used individually on walls or around key features in the bathroom for emphasis. Wild Thing Daktari also favours a surrealistic twist for high impact. These animal printed tiles are a playful option – the patterns appear abstract – copied from an animated jungle inhabitant rather than a real one! A timeless, sophisticated interpretation of the animal print trend, the Leopardo is from the 2008 Mosaic Tiles collection by Bisazza. Formed by an intricate pattern of tiny mosaic tiles, the Leopardo is truly precious. Mosaic tiles, by nature of their small size, are fantastically versatile too.


Animal Print Bathroom Decor
Countertop
Incredibly, animal decor in your bathroom can incorporate details you'd never even dreamed of – like the fabulous, contrasting flora and fauna prints. The exotic Zanzibar designs feature a countertop in animal print and a sink full of flowers. Brought to you by Kohler, the Artist Editions countertops and basins are a mix and match collection that makes it easy to express your own style.


Vessels
With the exciting Ethnic collection of animal print vessels from Vitruvit you can choose your favourite pattern from a wide range including snake, leopard, giraffe, and crocodile. Not only that, you can also choose from a range of distinctively shaped sinks. Focusing on the great prints and forms of the sinks, Vitruvit designers Manuela Busetti and Andrea Garuti have chosen the most minimal of slits for the water to escape, keeping your focus firmly on the shape and print of each vessel.


Vanities
Vanities can be used as a showcase for animal prints too… the AdattoCasa Couture vanities show their true stripes in the best possible way! Topped with a modern basin, the body of the vanity is wrapped in a terrific animal print, adding a new dimension of interest to a functional piece. Whether finished with a glossy black snakeskin or an impressive tiled zebra or giraffe print, these simple Couture vanities are totally contemporary.


Entire bathroom suite
Can't get enough of animal prints in your bathroom? It's a great place to experiment and Ceramica Cielo makes it easy with the Jungle Collection complete bathroom suite! These classy, rich-looking pieces are actually made from precious hide! Through a careful process of blending the natural hides with ceramic, a finish that retains the feel of the skins is produced. In this way, the real look and feel of gorgeous python and crocodile can accessorise your bathroom. Toilets, bidets, sinks and shower bases, all are matching to complete this sumptuous style from Ceramica Cielo.


Bathroom Furniture
If you adore the high-end look of co-ordinated bathroom furniture, how about the Junco bathroom from Gruppo Atma? Mock crocodile skin covers the linear, geometric vanity and standing drawers, adding glamour to a practical storage system. This subtle interpretation of the animal print trend comes in one solid colour, with the exotic tactile dimension of the raised print. The Sauvage bathroom range from the Elegance collection of Branchetti gives bright crocodile and zebra effect furniture a new edge by combining them with natural wenge wood. Strong, vivid contemporary colours combine with the feel of the surfaces to make a modern classic.


Hardware
If you fancy adding a discreet touch of the jungle to your existing bathroom units, the Crocodile style designer hardware from MNG is ideal. Designed by former jewellery designer Melissa Nathan, these precious knobs, pulls and handles will add a finishing touch to your bathroom furniture. Mix and match from a wide range of animal prints and colours with a fascinating texture and meticulous detailing.


Animal Print Fireplaces
An essential ingredient in replicating safari nights – fire! If you dare to be different you'll love the larger-than life fireplace Eva from Bordelet. This ceiling-suspended fireplace is truly dramatic, and like a campfire, it is accessible from any angle. Designed to encourage a sense of togetherness and community as you gather around the fire, the wide gap between the base and hanging top of the fireplace makes the Eva really special. But the most outstanding part of the fireplace has simply got to be its stunning animal print pattern. The huge, bold print really makes the fire come to life!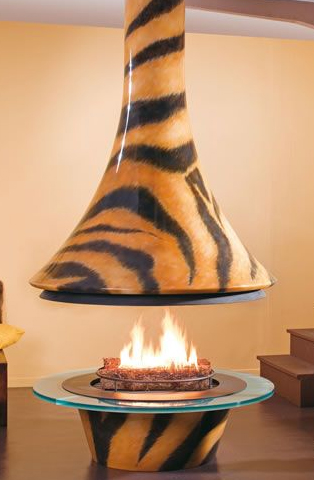 Animal Print on Floor Coverings
Rugs
A rug adds a cosy warmth to any room. Karastan Exotics rugs are made from pure New Zealand wool but carry with them the allure of the jungle! Made from a sustainable resource and totally eco-friendly, the hard-wearing rugs are stylish and comfortable under the feet. Patterns such as Majestic Leopard and Mystical Zebra will add a touch of the wild to any decor from transitional to modern.


Cowhide Tile
Something rather unexpected – these clever cowhide floor tiles are from Artistic Tile. Far from the cold, hard surface we think of when we think of tiles, these natural hide tiles are warm and soft! It's so easy to add a high-end designer touch to any room with these tiles from the Pampa Leather Collection. You simply lay a 'rubber steel' flooring and the tiles adhere magnetically, with no need for grouting or adhesives. This gives you the flexibility to re-arrange the tiles, which come in six individual cowhide prints. Whatever next?


Animal Print on Furniture
Chairs
If you are looking for an iconic designer chair to liven up your room, look no further than the Mademoiselle Chair design by Kartell. Designed by none other than Philippe Starck – the chair is then given a stunning animal print finish – by Dolce and Gabbana! The rich, sumptuous pattern coordinates wonderfully with the defined elegance of the gently tapering black legs. With a wide and inviting seat, the Mademoiselle Chair is a strong, yet feminine, look to accentuate your home.


Entertainment Center
Those with a practical inclination will love the Luxury Entertainment Center from Vismara. You can certainly justify this stylish purchase which will keep your CDs and DVDs out of sight, yet close to hand for when you have friends over to entertain. Tidied away behind crocodile, zebra and ostrich inspired leather doors, you'll achieve the minimal, modern look you've been dreaming of – without sacrificing your most treasured possessions. Available in a range of beautiful tones, the entertainment centre units have a contrasting trim that shows off their quality.


Animal Print Accessories
Lamps
Whether you are looking for an accent for a neutral decor, or seeking to pick up your chosen animal print themes, accessories are the perfect solution. The Vivarini Giraffe and Zebra collections of Murano glass lamps from Formia are bold yet refined. Their abstract animal print patterns allow the light to shine out from within, to emphasise their pretty, delicate glass forms. The lamps come in a variety of different shapes, appropriate for wall, ceiling, table or floor.


Mirrors
For an eye-catching detail the Gaucho Mirror pony-skin mirror is ideal. The funky design is seriously stylish – designs by APF Munn are in the Metropolitan Museum of Art, Museum of Modern Art, The Smithsonian Institute and The White House Collection! If that's not enough to convince you, take a look at the fine metal flourishes on each corner. A real talking point: the Gaucho Mirror in pony skin is a handcrafted original from APF Munn.


Tabletop Decor
Crocodile mats and linen napkins by Dransfield & Ross are available in red and black and are a great way to add a modern safari feel without getting carried away! If you just want to pick up the trend in an easy and versatile way, these charming placemat are for you.


Animal Print Architecture
Modern Homes
Demonstrating the pervasive influence of animal prints – there is now even a stunning luxury home with a nature inspired camouflage exterior! Even modern homes can get in on the animal print trend – as shown by the eco-friendly Orchid House designed by Featherstone Associates. The outer shell of the fascinating UK home is of laminated veneer lumber and covered in timber shingles, sporting a pattern they will help it to fit into its 450-acre nature reserve habitat!