Just like any contemporary art, Halloween-themed pieces come in all sorts of shapes and forms, from more traditional watercolor drawings to modern digital prints and 3D art. Pleasantly affordable and immensely decorative, it can become not only a part of your special Halloween decor but also everyday wall art. And it's not all pumpkins and skulls either, although there are plenty of those. Superheroes, Disney characters, and others are surprisingly frequent in contemporary Halloween art.
There are more uses to framed printables than you may think though. If you're not keen on perforating your walls for holiday wall art, you can still make good use of those frames.
Contemporary Halloween Art Prints
Art prints are the cheapest. They also come in a dizzying array of designs and options, so you can choose whatever you like from a welcome sign to a decorative printed pumpkin that won't go bad before you get a chance to clean it up.
Etsy has quite a few sellers who deal in various prints and printables. You may be required to provide your own frame, but that is the easier part.
To create a tasteful holiday table or console display, simply lean your Halloween-themed frame against the wall, and supplement with additional decorations. Easy and effortless!
Halloween Chalkboard Art Ideas
Chalkboard is the best canvas for temporary art. Draw bats and pumpkins for the Halloween, and wipe them off in time for Christmas. It's great fun for kids and adults alike, and the contents can be changed on a whim every single day, if you want. To create a sign or 'canvas' of any size use the chalk or blackboard paint instead of hunting for the right type of chalkboard.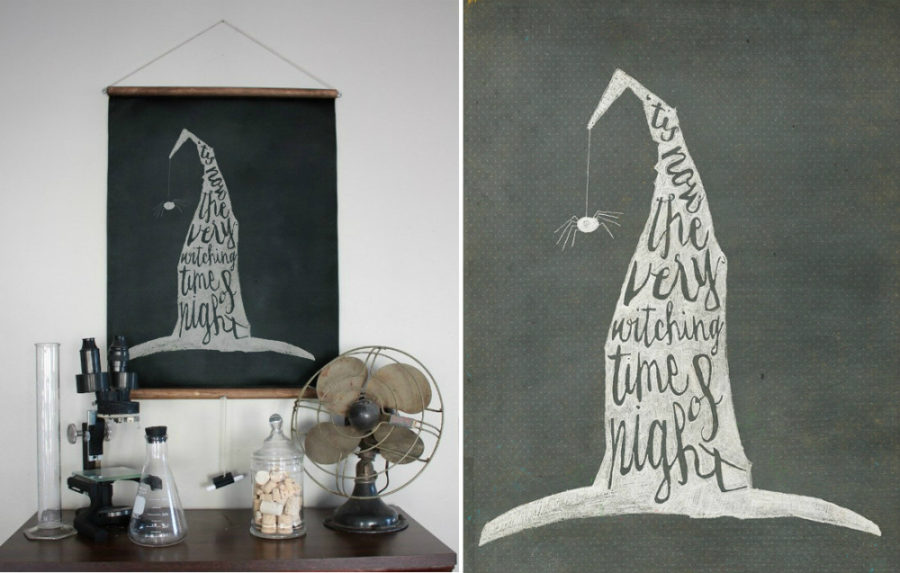 Some printables also come in the form of chalkboard signs, but these obviously have a downside as they cannot be changed.
String & 3D Art
String art is something that requires quite a bit of time and dedication. But it can also be bought ready-made. The beauty of string art is that it looks very different from traditional painted or printed pieces, and is characterized by thread patterns formed in the creation process.
3D art can bring a more realistic vibe to your decor as well. Of course, it will depend on what type of wall art you're choosing. This framed artwork looks rather life-like, if you ask us.
Sugar Skull Prints
Like all thing pretty? Sugar skulls, symbolic of the Day of the Dead, are much more decorative than regular ones. Printed, drawn, or cut out, sugar skulls never fail to look beautiful.
You can find your favorite characters and superheroes depicted in the sugar skull form, and keep it as a year-round wall art. As you can see, they can look completely gorgeous.
Even a floral watercolor painting of a skull is a spectacular wall art idea with just a small hint of morbidity. It's a great compromise between a sweet non-scary sugar skull and a morbid, grim human skull.
Pumpkin Art
The theme dictates a lot of contemporary Halloween art's content. Thus, you can always find pumpkins, crows, and bats lurking somewhere in the piece. They can be simple and decorative or spooky and lively, depending on what type of art you prefer – minimal and unimposing or narrative and elaborate.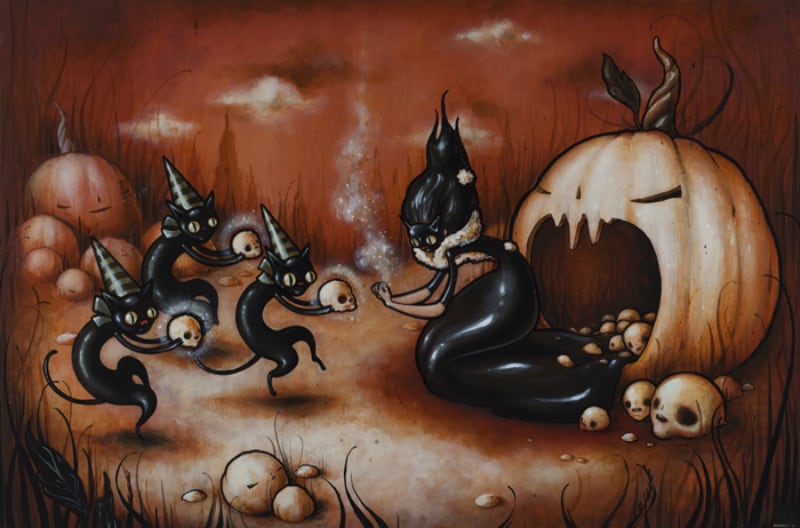 A simple watercolor pumpkin can make quite an impact in the decor. But the artistic paintings can also tell a story or inject some fright into your holiday theme.
Skull Art
Skulls are the next most popular contemporary Halloween art objects. They look positively deadly in any execution. Even dressed in flowers, you'll find a skull stare or smile unsettling enough.
You can create a very contemporary Halloween frame with a simple printable skull. Additionally decorated with black candles and pumpkins, it may become a very spooky table display.
Display skulls are even more popular, and can also help supplement your contemporary Halloween art.
Canvas Art & Illustrations
Although art prints have become immensely widespread, canvas art is still available. Digital illustrations are popular as well, and often offer such detail and colors that would have been impossible to achieve on canvas.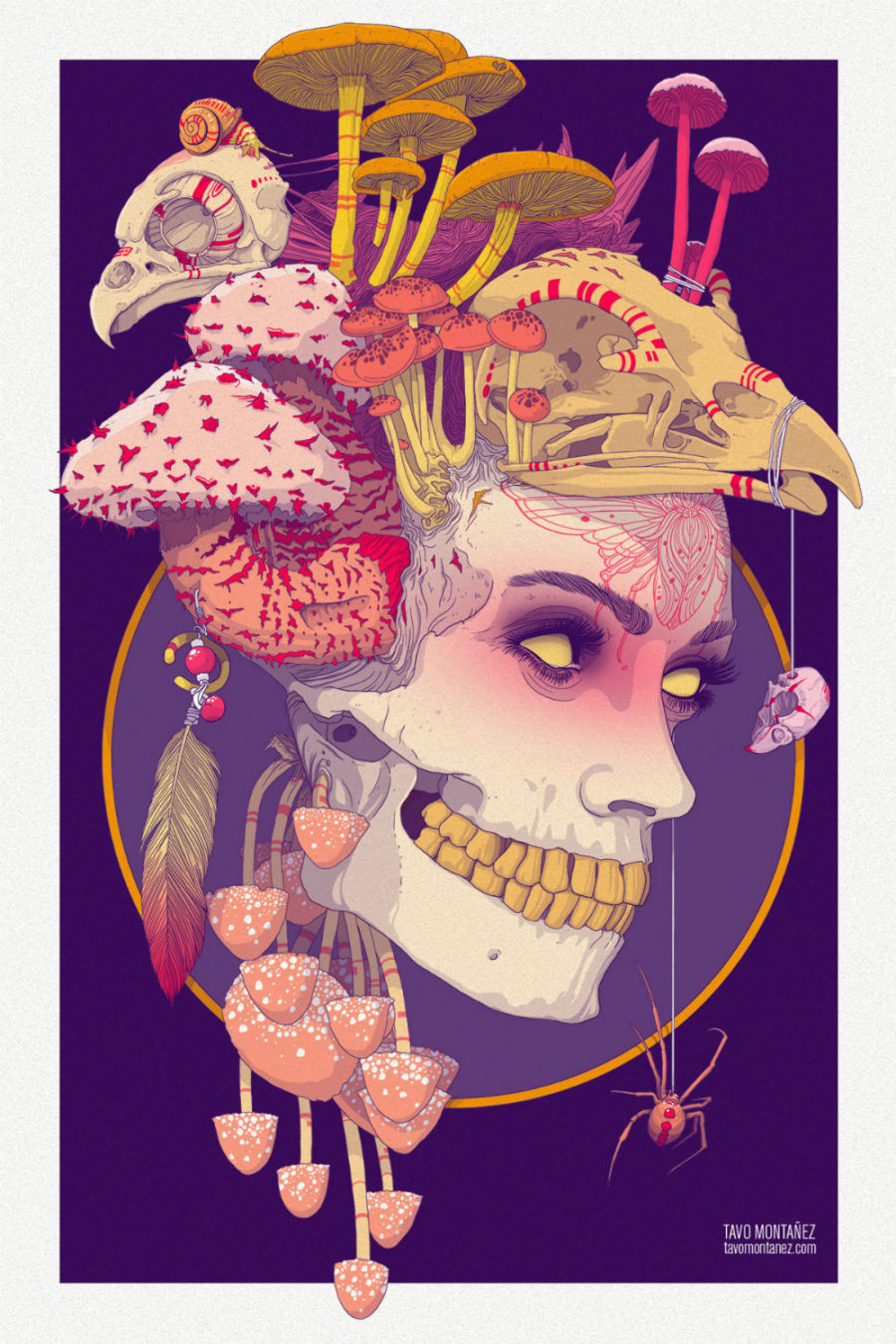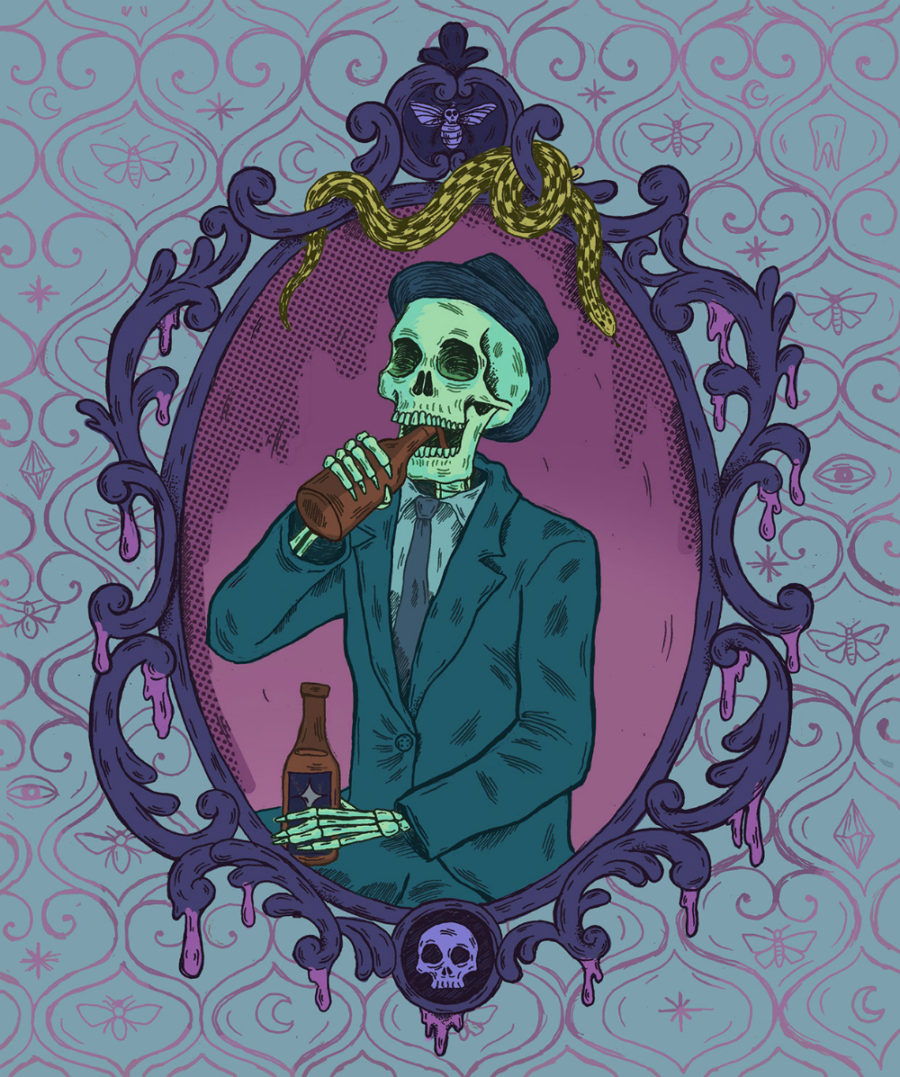 There is something about artistic illustrations that makes this type of art creepier and more scary. Take note of Greg Pro's character design. Those red eyes look fascinatingly spooky.
Colorful Contemporary Halloween Art
Don't expect all Halloween art to come in black and orange. Just like decorations, contemporary artworks come in all kinds of bright hues, shades, and tones. Digital art offers such rich colors, they appear to be glowing.
Such art pieces can become an unexpected focal point in a minimal modern room, often devoid of color. If you are looking to implement a colorful artwork into existing color scheme, however, it's best to pick a piece that coordinates with your room's palette.
Artistic Signs
Since signs are so popular in decor right now, we couldn't omit them from the list. Besides, they can be quite artistic as well as decorative.
Again, using a chalkboard, you can create your own Halloween sign for a mantel or a sideboard display. Use colored chalk to highlight certain elements of your sign, if you want it to really stand out.
Halloween Associations
Other Halloween attributes like zombies and ghosts make perfect art objects. And these intriguing, cool, and simply different pieces prove it.
Contemporary Halloween artis very diverse, as you may have noticed. It can be a modernized reproduction of vintage prints or a painting that uses contemporary techniques and style. It can be as minimal as the decor itself, but there are also pieces full of story, details, and color. Use the virtues of art to create the best Halloween decor this year, as you deck out your home with painted no-carve pumpkins, fresh cut gloomy blooms, and exquisitely-shaped candles.