Cat beds have become a lucrative field for designers as cat owners can't stand before the cute little beds for their favorite pets. Stylish designer cat beds are a great alternative to those ugly carpet trees that can ruin any interior. There are so many stylish options out there right now it's actually hard not to find something that will work with your decor.
Stylish Cat Beds
Pods are especially popular due to their interesting shapes that make for great interior accents. They are easy to clean and their cushions can be replaced in case of wear or damage.
PEi Pod is a cute egg-shaped bed for cats and dogs that comes in a variety of colors. It can be placed anywhere in the room and will stand out as a peculiar design element.
Throw in a bright yellow cushion and the pod will definitely look like an egg attracting attention and amusing everyone including your pet.
UOVO cat House from Pet-Interiors is a cat pod with a removable roof. Removing the lid reveals a plush cushion that can be easily replaced altogether or its cover changed.
A cat paw-shaped opening at the top of the lid allows air flow inside the pod whose entrance is rather small but probably most appreciated by any cat.
What can be better than a pod shaped as a cat? Studio Mango designed this adorable Kitty Meow Cat Bed for both indoor and outdoor use. Made of colorful PE plastics it's distributed for kitties worldwide.
Cat Beds on Stands
Cat beds on stands can make more of a statement in your interior. They are perfect for ultra modern and minimalist homes and can rival modern fireplaces with their stylish look.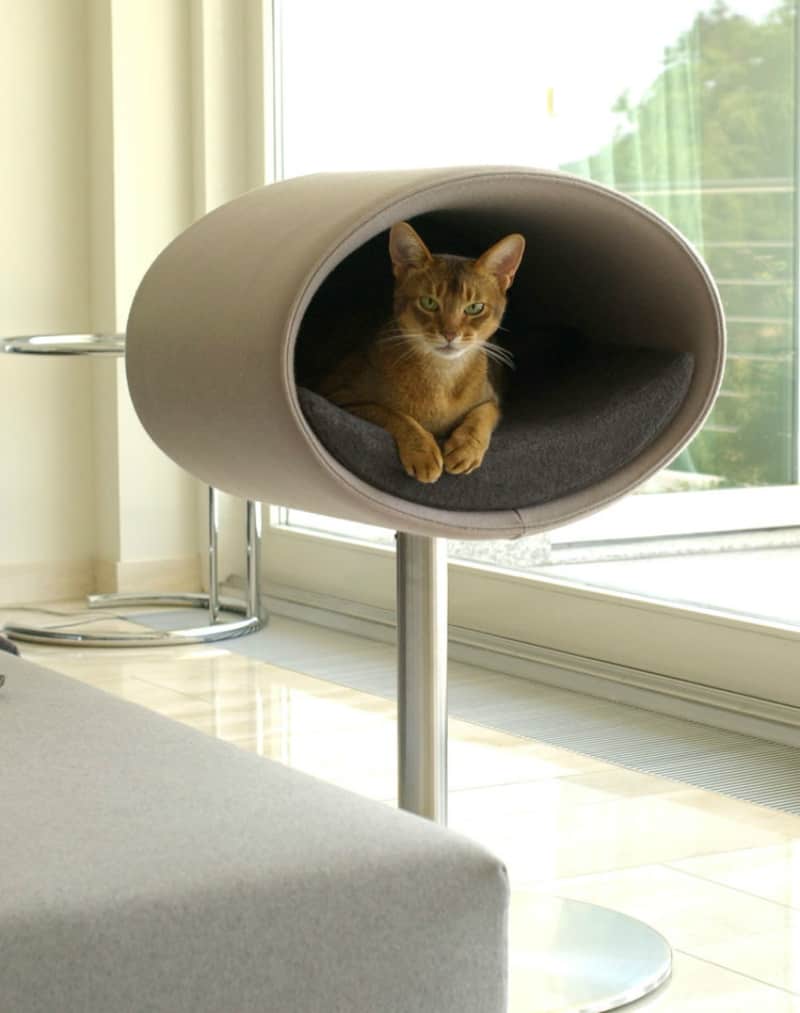 RONDO stand, also from Pet-Interiors, is an oval-shaped kitty bed on a long chromed stand made of high quality stainless steel. Nominated for a design award RONDO is almost a meter long (30.7″) and will definitely stand out in any interior.
Versatile and ultra soft felt not only makes for a perfect cat lounge but also comes in a great variety of stylish colors including a bright red and pea green.
Sauder Natural Sphere Cat Tower looks like a more traditional cat tree in design but it's far more stylish than any of the market options. Its weaved ball-shaped cat house stands on a wooden tripod with a little podium that can double as a bed.
And the cat scratcher and a puff ball toy act as functional details or even fitting design elements without taking away from the design.
Another variation of a pod was designed by Christian Ghion. The retro-futuristic shape gives it an interesting look. And since it's perched on a chromed leg it will not be as much of an obstruction under feet.
The mid-century modern style makes it fitting for both modern and contemporary interiors. And its exclusive embracing design can probably evoke some purring approval from even the most whimsical kitty.
Modern Cat Beds
Modern cat beds have evolved beyond simplistic plushy cushions. Because designers are trying to make their products stand out they're introducing new shapes and intricate design concepts into kitty beds as well.
Cat Bed by Lord Paw is for the 'true king of the home'. A handcrafted ball-shaped metallic bed on wooden legs comes in a variety of colors supplemented with an artificial fur and leather cushion.
Available in copper, golden, and metallic finishes it will not only make your cat happy but will also make a trendy impact in the interior design.
Abramson Teiger Architects' cat bowl is a peculiar cat shelter that is both a playing field and a sleeping spot. Made out of layered wooden rings the free-form pod is also a perfect scratcher and a hiding place.
Its odd openings allow for air flow as well as cat espionage as it's trying to always be aware of what's going on around it.
Cat cocoon by One Form Design was among the first to combine a cat scratcher and a bed with the help of cardboard. This match made in heaven was beautifully executed by the firm and took over the web.
Created out of perfectly-scratchable layered cardboard, this alien-looking sleeping pod is a great solution to almost all of cat problems.
Complex Structures
Knowhow Shop created an entire Lunar Cat Lander. Comprising a bed, a shelter and a dining table the thing is a perfect spot for a territorial creature.
Featuring a polygonal shape the lander sits on a contrasting black terrace into which the food and water bowls are built.
The Fishbone House by Pote is a product of love and care for stray cats and dogs. Made out of birch timber the bed features a skeletal fish structure held by lap joints instead of screws.
Due to the openings between the fish bones it makes for a perfect lounge spot for both summer and winter as it can harvest sunlight all the while allowing generous air flow depending on the season.
Real Furniture-Like Cat Beds
Vurv Design make a case for a real furniture-like cat bed with their Pod Lounge. A wave-shaped wooden structure resembles a real chair and looks amazingly luxurious thanks to a removable  faux fur mat.
Thanks to its mid-century aesthetic the Pod Lounge would fit any modern or contemporary interior.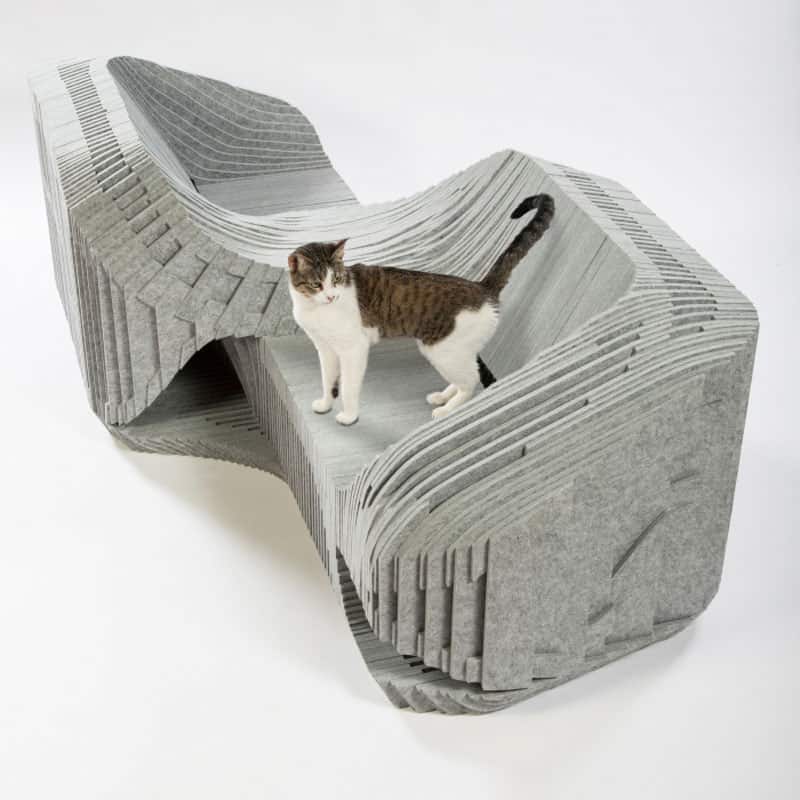 Designed in a collaboration between three design firms the "Cat-à-Tête" shelter is a truly luxurious designer piece. Between its amazingly complicated layered texture and a fairly complex inner structure it's not only a perfect cat bed but also a shelter, a home, and a playground.
Cat Beds With a Rustic Charm
If modern or futuristic pods aren't working for your interior there are cat beds that ooze rustic charm as well. But these aren't just simple baskets, you know.
Combining the needs of both pets and their humans Laia Fusté has designed Cluc, a collection of objects useful for both human and animal. One item on the list is a nightstand/side table cat bed.
Made in a shape of a basket the bed features a wooden tabletop so that a cat and his owner could share it just like they share everything else in life.
Toroid Cat Hammock by KittyCraft is a luxury cat bed made of CNC laser cut MDF. Combining the aesthetic of both a bed and a hammock the designers offer an intricate addition to any modern interior design.
Due to its design it requires no glue or tools for assembly. From our perspective it looks like a true cat pedestal should.
Knitted furniture and accessories are very popular right now. This chunky knit cat bed makes for a cute trendy accent all the while providing your cat with an incredibly luxurious sleeping spot.
Cave Cat Beds
Cave cat beds are great for felines who love a bit of softness to their spot. Of course, cats can sleep anywhere, but a cave bed can also provide a shelter for especially shy and private pets.
This hilarious Great White Shark cave bed by The Cat Ball is for those who like a bit of fun when it comes to decor. It's even become a sort of a trend in its own right.
Made of cotton fabrics the shark features not only a row of scalloped white teeth but also fins and fish eyes. With a back entrance the cat can fully stretch out inside this bed.
The Cat Ball cave bed is a happy medium between a cushion and a cat house. Made out of soft cotton padding the foldable bed can easily take a ball shape without collapsing on itself or the cat.
Cat Beds Shaped as Houses
Cat houses make perfect cat beds because kitties just love hiding and sleeping in enclosed dark spaces. Many modern cat houses are made of cardboard due to its sustainability and numerous design possibilities.
For instance, Loyal Luxe have created a line of kitty houses shaped as the Canadian Cabin and Native American Teepee. Thanks to cardboard's flexibility the houses feature incredible detail.
The Canadian Cabin looks like a real wooden dwelling because of its intricately painted pattern and house-like shape.
Native American Teepee is a triangular structure that comes with six interchangeable ornaments and plenty of sleeping space that can also be outlined with a fur mat.
As noted by Loyal Luxe themselves these are much more stylish than the regular cardboard boxes cats seem to love so much.
Poopy Cat is not just a cheeky name. This design firm specializes on cardboard products just for cats. Their latest endeavor is a collection of cardboard architectural landmarks that make cute cat beds and houses.
The collection consists of seven landmarks including the White House, Maya Temple, Kremlin, Sphinx, Eiffel Tower, Taj Mahal, and Pagoda.
Each cardboard house is made with great detail and can accommodate one adult cat. Though they probably won't fit a single cushion they are perfect sleeping spots for hot summer days. Also the designers are making a point about sustainability as the houses are completely recyclable and are painted with kitty-safe dyes.
The beauty of cat beds is that they provide your pet with a special little space of their own. Designer options while not always affordable come in a wide range of styles and materials that may not always be pricy.