We are so excited to be the first to introduce to you this brand new Vipp Shelter by Vipp. Vipp are not an architecture firm, they're a home products company that is using the Shelter as an ambitious step into the prefab world and as a way to showcase their products. Located in Copenhagen, Vipp has designed and created this easy lifestyle home as a prefabricated, fully furnished and accessorized shelter that comes complete with all the necessary aspects of living right down to the bedding and the kitchen utensils, with many being Vipp's own products. Featured here is a brand new unit that has only been completed in the past two weeks, and when you check it out you'll be amazed at how easily it adapts to any remote locale in any climate or condition.

Smartly minimal in design, Vipp Shelters simplifies the process of creating your own dream getaway to make it as easy on you as possible. Designers and engineers have already chosen the best options based on long experience and the prefabrication process means installation can happen within a couple of days – all you have to do is decide where to put your Vipp Shelter!


This project is not customizable, meaning what you see is what you get. It is delivered as a finished product with the installation done over just a couple of days. The only thing you need to think about is where to put it.


Vipp Shelters are plug and play getaways composed of a 55m2 (592ft2) steel grid structure that supports a two level space with only the bathroom and bedroom loft not contained within the main level social zone.


4 can sleep in the shelter at one time – two in the main loft bedroom and two on the daybed below. Wouldn't it be awesome to sleep in the loft with the stars above sparkling and twinkling through the skylight?


The bedroom loft comes complete with a 3sqm storage compartment, a mini table, a pair of wall mounted lamps and the integrated bed with duvet and bedding.


Just below the bedroom is the bathroom which has an integrated sink and faucet with a mirror and two wall lights above it, a glass shower cabin with shower mixer set, bath accessories set, 13 towels and a toilet. The bathroom ceiling is polished stainless steel and the hot water tank is 40 gallons.


An adjustable ladder offers easy access to the loft bedroom.


The daybed on the main level is located within the living room and can be used for a multitude of purposes. Also within the living room are 3 shelves, 2 wall mounted lights, 1 floor lamp and a mini table.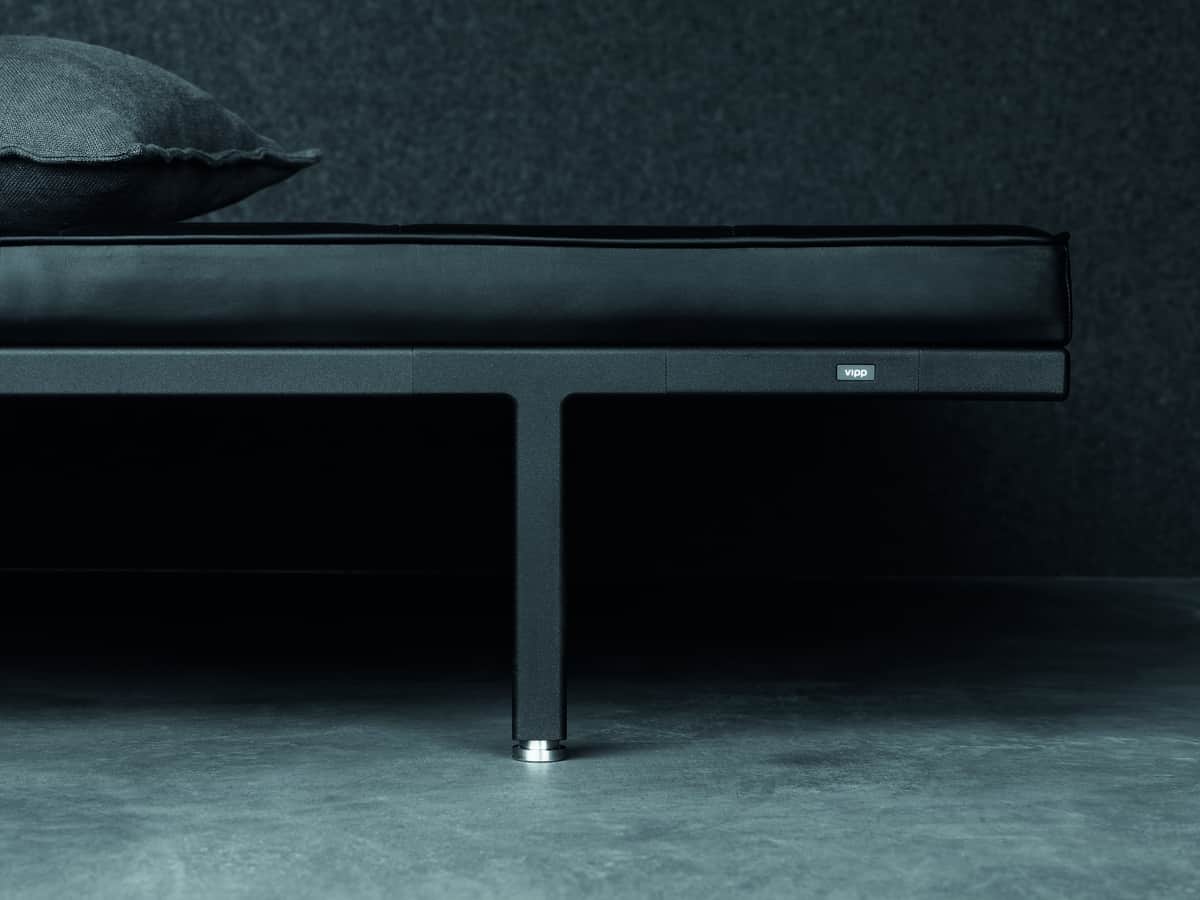 The daybed is a super stylish black leather and comes with 2 pillows and a blanket.


Creating a division between the living room and the kitchen/dining area is a centrally positioned fireplace that is beautiful to look at while at the same time creating an equal distribution of heat throughout the shelter. When the fireplace is not on, electrical in-floor heating offers supplemental heating that radiates upward from the magnesite floor.


For days that are warm, stagnant or just plain hot, sliding glass doors on both sides can be opened up to create cross ventilation for a natural air conditioning effect and there is also mechanical ventilation.


The high quality kitchen can be either gas or induction with all the appliances predefined – including a combo washer/dryer. The space has 3 integrated cabinets with the prep space and washing station (complete with soap dispenser) contained on the island. Dinnerware is included and consists of 36 ceramic, 12 drinking glass and a cutlery set for four. There is also a selection of utensils and a trivet.


The dining area at the end of the unit has two ceiling pendant lights above the dining table as well as a kitchen bin in the corner (although its easy to relocate).


Two shelves on the wall are designed to add four levels of storage for the dinnerware and any mementos you may wish to display.


There are three wall spot lamps within the kitchen/dining area in addition to the two ceiling pendants over the table.


The table easily converts into a desk area and a supplied desk lamp creates the perfect spot for reading, studying or using a computer.


It's amazing that so much functionality and style are so seamlessly integrated into the Vipp Shelter. Especially when you consider that it only weighs 25 tons or 50,000 pounds and occupies an area of 3mH(5 with upper level)x11.5mLx5.2mD or 9.8'H(16.4′ with upper level)x37.7'Lx17'D.


The Vipp Shelter is also extremely affordable due to its prefabrication. The price is only 485,000 Euros or 585,000USD with the only extras being the cost of shipping, delivery, mounting and installation as well as crane rental. Freight and installation are done by Vipp who's own experienced crew to make sure the finished product lives up to their quality standards.


Almost all foundation types work with the Vipp Shelters but road access needs to accommodate the delivery of the three 40ft modules. Access to utilities is necessary as are building permits. The shelter is available worldwide and is built to fit any type of landscape and natural conditions including heavy snow loads. Delivery time is 6 months.


The units are made with 250mm glass wool insulation and Protan folio mounted beneath the metal roofing. Additionally the walls and ceiling are fitted with 3mm or 0.1″ wool felt covered plywood panels. Flooring is casted magnesite. Internal ridge walls by the fireplace and bathroom are powder coated 10x15mm or 0.4×0.6″ aluminum extrusion mounted onto a 1mm or 0.04″ painted steel plate.


As with the loft area, the roof is easily accessed via a ladder for ease of maintenance.


If all these features make you as excited about the Vipp Shelter as we are you will be extra happy to know that this brand new Vipp Shelter is available for viewing through a private tour.
Vipp Shelter