Valentine's day is officially here! But we have all officially grown up so cheesy foil balloons paired with cheap candy are no longer the way to decorate. If you have been spending most of your day on Pinterest trying to find a more upscale way to decorate for Valentine's day, we have the answers for you right here. Furthermore, these decorating ideas can be used after the holiday is officially over.
Heart Shaped Ice Cream
Forget the heart-shaped candy and consider a more "grown-up" approach with heart-shaped ice cream pops. Who doesn't love a cool upgraded treat? We sure do and your special someone will as well, while this is not exactly a decorating touch it is a cool way of bringing a different twist to Valentine's day essentials.
Pink & Translucent
Bring on the pink and upgrade it with translucent furniture. We love the idea of adding pink hints here and there throughout the room to have a festive feel while being charming and chic.
Bring on the Flowers
Flowers and more flowers, please! Add blush flowers in your living room, kitchen, dining room and even your foyer to add that classic color palette while bringing elegant and put together all at once. The idea is to have beauty and femininity, but still having simple décor that doesn't necessarily scream Valentine's day, but it does scream charming.
Blush Color
Let's face it Valentine's day is all about having a pink and red color palette; therefore, it makes sense to have them incorporated around the home. Blush is the perfect blend between the two, but with an adult twist. Add blush furnishings to bring that cozy, yet dainty aspect throughout.
Pastel Additions
Bring in the pastel additional items to further push the idea of having that romantic feel in the room, but you can actually remove them as quickly as you put them up. The idea is to have additional ideas that add to your room without creating a completely new space.
Rustic Appeal
Add wood bits to bring a rustic touch in the room with little to no additional bits. You could create a wood sign or even have wooden labels that make the room feel cozy and fun while still having that rustic touch, add hints of color for a modern aspect that brightens the room as well.
Bring on the Table Décor
Decorate your table with Valentine's day touch to bring life to the space in an overall cohesive appeal. The room should feel put together, but with a twist of holiday festivity. Add flowers, candles, and hints of color for that beautiful contrast in the room.
Black & White
For those that are anti-Valentine's day yet want to have a classic holiday touch throughout the room, black and white décor is the way to go. Black and white are classic colors, but they can also bring beauty when you add hints of pink or even gold that contrast your décor with a love element.
Decorating Your Mantel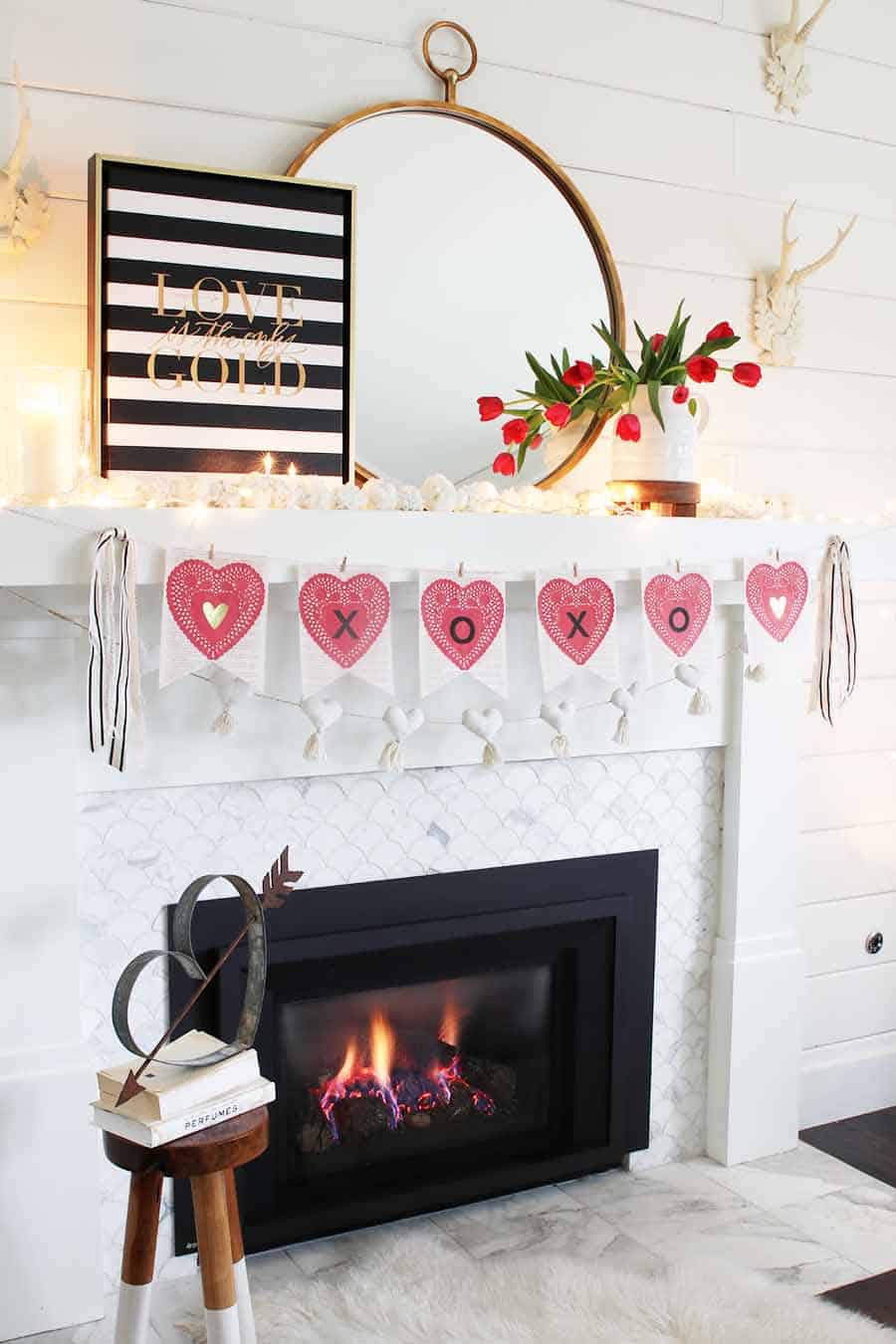 Your mantel is one of those spaces in your home that can be decorated in any type of way without you having to think about it twice. There is just something about this area that is perfect for adding decorative bits to the room, particularly when it comes to holiday décor. It makes perfect sense to decorate this area and take it down any time you choose to do so.
Wall Art
Yes, we said it, wall art! Add in wall art when you want to bring a word or two to the room without taking away from it. There is just something about this take creates a sense of holiday and put-togetherness that simply seems to make sense. You can get as cutesy as ever and as soon as the holiday is over you can take it all off and be back to your traditional décor.
Are you a fan of Valentine's day? Do you happen to decorate for all holidays on a regular basis? If so, share with us how do you like to decorate your home.