Modern wall art includes a very diverse range of things that are not necessarily paintings or photography. Today designers and decor enthusiasts alike prefer to reimagine and repurpose various objects as wall art, which results in very unusual decor solutions. From Juju hats to abstract watercolor prints – it's the age of modern art. Time to get on with the times!
Digital Art Prints
Versatile digital art prints can find their place in any contemporary home. They immediately draw attention to the area, and help make any room look stylish and smart. Since they're quite cheap as well as easy to DIY, it shouldn't be hard to amass an entire gallery for your living room or home office.
Anything can go to become a digital print. It doesn't have to be an inspirational phrase or an animal. City skylines, drawings, and all kinds of natural elements will easily make for a good print.
Electric Objects is a firm that takes digital art to a whole new level. Their complex frames are, in fact, matte 23-inch, 1080p displays connected to Wi-Fi for displaying static and kinetic images. Any art you can find can hang on your wall. It can also change shapes and colors, mesmerizing with motion.
Graphic Minimalism
Modern digital prints are often minimalist, so it's easy to use them in any type of interiors. Graphic illustrations that stand out can make for perfect wall decor in not only minimal interiors but also more elaborate rooms.
Graphic prints are very suiting for contemporary style. They don't attract too much attention or require ornate frames. You can hang them or keep on the floor or shelf, leaning against the wall.
If you want graphic minimalism with some meaning, it's best to mix it up with photography. Be sure to stick to black and white photos, if your digital prints also have no color.
Photography Reimagined
Speaking of photography, there are many more modern ways to use it in decor. For instance, photo puzzles are not that uncommon. Print out a photo of choice in a big size, and put every piece of the puzzle into a separate frame. This will create an illusion of a window view.
Photoshopped portraits and Polaroid arrangements make for interesting modern wall art. You don't even need to use frames.
Mixing photography with graphic prints can be a great idea, because both benefit from this arrangement.
3D Wall Art
What can be more modern than 3D wall art? Here, we venture into an even bigger pool of ideas. Nothing is off limits. You can hang old tableware on your walls, if you want. From sculptural artistic creations to whatever you could fix to a wall – 3D wall art is a big way to step away from traditional aesthetic.
As you can see, 3D wall art is not only about 3D paintings. Here anything goes. Faux animal skulls are the latest trend in decor. They look especially great painted white.
Functional Wall Art
This immediately leads us to functional wall decor such as vertical gardens, wall lights, and even furniture. That last one is getting more and more popular.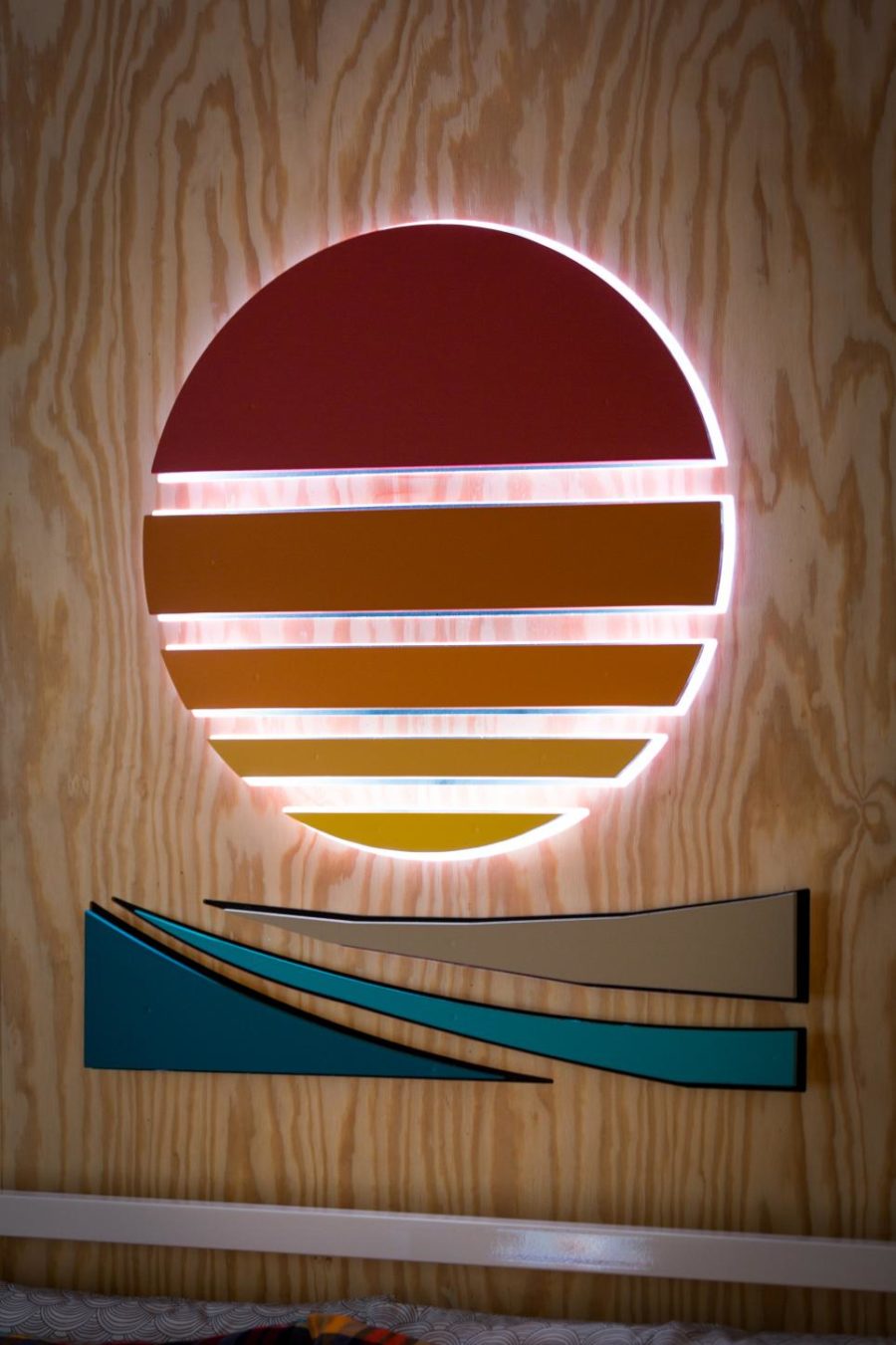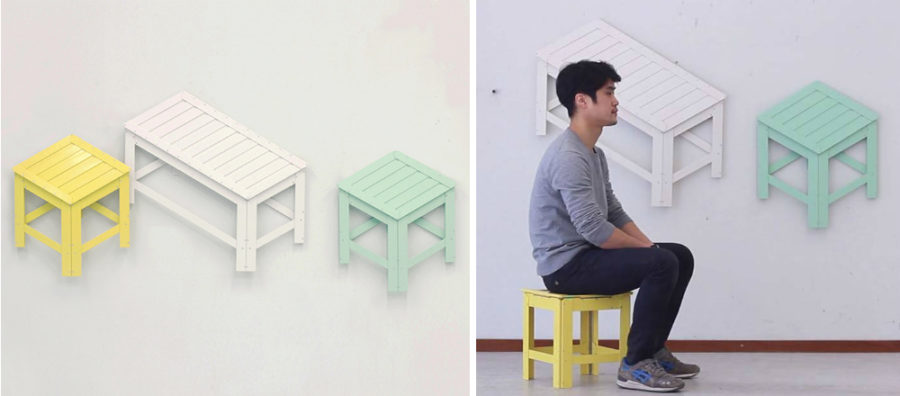 It's not so much as to save space, but to make wall art more interactive. Though Jongha Choi's chairs will definitely stay out of your way in a tiny apartment.
Interactive wall art is always an interesting thing to consider and experience, but if it's also useful, surely no one would complain.
Wall Jewelry
If you're not into functional art, then maybe fine modern wall art jewelry will tickle your fancy. Made out of metal, beads, and feathers, these gorgeous wall accessories are like bijouterie that completes your interior look.
Many metallic compositions are like brooches, and should be used alone as a crowning accent of your interior outfit. Others are like decorative pins that can be mixed with some buttons and small frames.
Sculptural Modern Wall Art
It you want a truly museum vibe to your room, opt for wall sculptures that often have that ability to transform living spaces – big, artsy, and complex. Smaller statuesque pieces work great in arrangements that will turn your walls into 3D canvases.
Wall sculptures aren't just breathtaking, they can also help you solve the awkward wall space problem. Not every area can fit a framed artwork, but an oddly-shaped sculpture may be just what you need.
In interiors with low ceilings, paintings can look too boxed-in as well as accentuate the defect. A sculpture will be a much better fit.
Unconventional Wall Art
Modern wall art, as we mentioned before, can be anything these days. Take traditional African Juju hats, for example. These things are gorgeous, and make for incredible wall decor.
Other things may include artistic wall murals, framed textiles, fabric paintings, and ornamental driftwood pieces. It's just a matter of what you choose from this vertiginous abundance.
The beauty of such unconventional wall decor is that you can apply any of your craft skills to create something meaningful, and do it for free at that.
Sign Wall Decor
Decorating with signs has become very popular lately. Symbolic wall art that indicates the purpose of the room can be quite designing. Dining rooms and kitchens get the most of this treatment.
Wall decals are the easiest of wall decorations. And they often come in symbolic designs like that cutlery sun above.
Light signs bring a certain atmosphere to the interior, but they also require proper installation and an electrical outlet.
Abstract Wall Art
Abstract wall art is the best option when you don't know what you want to be depicted on our walls. From beautiful watercolor stains to spray paint extravaganza – contemporary abstract art delivers color in the most creative ways.
Prints and paintings aren't the only things you can hang on your wall of abstractions. Fabric canvases make for an easy DIY material to experiment on.
To truly take advantage of the modern wall art, explore options beyond frames. You'll be surprised how many more decor ideas there are for making your walls unique.