They say every doorway has a story. And it should! That's why we're obsessing over these sliding barn doors lately. While the front door is often provided with the most attention, give some love to the rest of the doorways in your home. Barn sliders are super practical for a number of different rooms and situations (of which you will see below), plus there's something that just seems a little more polite about them than traditional hinged doors. From modern to rustic, here are some great ideas for installing stylish sliding barn doors:
White Out
Politely close off a bedroom with a sliding barn door like this one from a beautiful home in Mill Valley, California. Designer, Tineke Triggs, had the walls, trim, and door all painted the same white so the door blends in with its surroundings. We love the contrast between the clean pure white and rich dark wood floors, not to mention the matching bedroom colour scheme!
This barn door slides between a bedroom and studio workspace without restricting light or openness with the floor to ceiling windows. Light metallic hardware as opposed to a clunky black opens up the rooms even more.
We love how this sliding door blends into the white panelled wall creating a smoothness and unity with this kitchen/office space. The door here is constructed of shiplap material enhancing this home's casual country charm.
Customize your sliding barn doors with paneling, material, and style. This large white slider has a large x over the front but all in white creating a subtle enhancement of texture.
Practical
While hinged doors block off space for multiple users in the kitchen, a clean sliding door eliminates this problem, keeping walkways between the pantry and counters wide open for easy access!
Another modern and functional use for a sliding barn door is a closet. This sleek white one covers a generous walk-in designed by Murphy & Co.
Another practical and stylish use of sliding barn doors is to cover your laundry machine area. Whether your laundry is in the hallway, basement, or a designated laundry room, the sliding doors will not only save room over hinged doors, but also help stifle noise from the machines.
Here's a different set up of sliding barn doors. Section off a room with two doors coming together at a point. Imagine if the side walls were not here; you could convert a large open room into two separated rooms at will with the simple sliding of doors.
Add extra dimension and visual interest with a sliding barn door over a simple entryway.
Rustic
Here's an example of a lovely rustic bathroom with a soft washed wood sliding barn door that matches the distressed cabinets. This driftwood style lightens and warms this space with perfect accents of creams, chestnut flooring, and dark hardware to hold the door.
This rich wood panelled barn door reveals a quiet desk space. A sliding door adds an easy touch of modern luxury in this quaint country home.
This wide sliding barn door welcomes a rustic retreat for kids. Rich mahogany, plaids, burlap, and a patterned rug complete the look for a traditional cottage bunk feel.
Gorgeous olive green barn doors open up a breezy dogtrot entry area in this Lowcountry home. The secret here is to stash large screens in pockets so the entire opening can prevent bugs from entering.
A salvaged sliding barn door hides a walk-in closet next to a modern glass shower. The contrast between a rustic weathered barn door and the sleek brush porcelain and glass shower creates a refreshing bold look that we can't take our eyes off.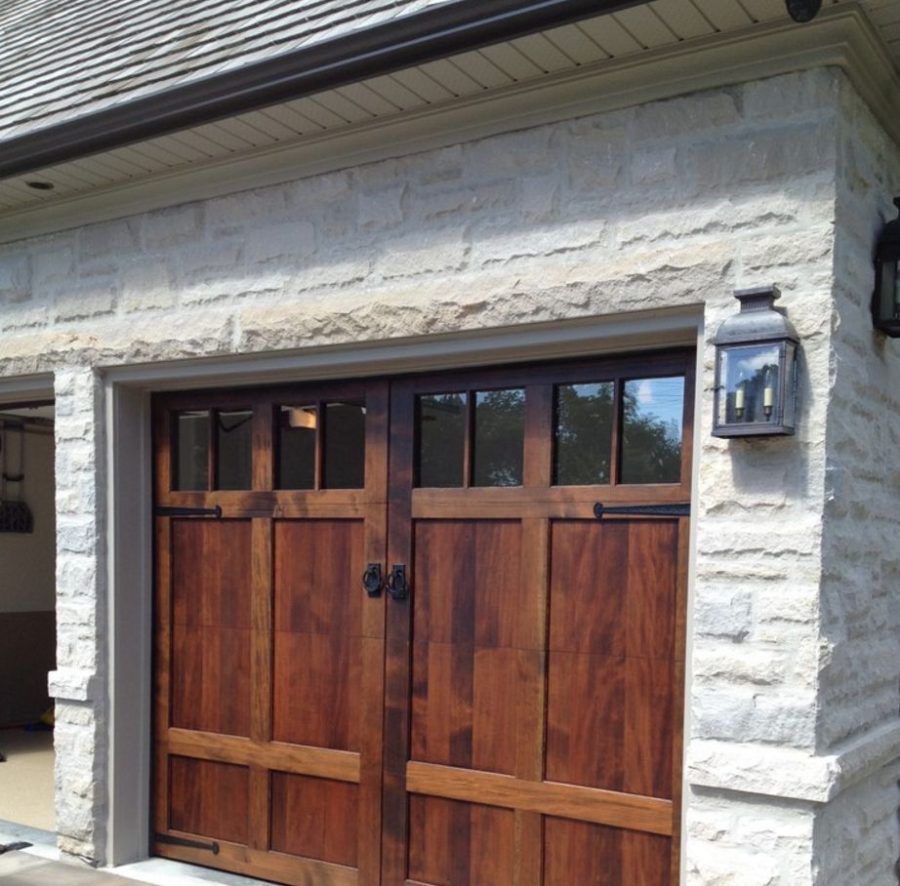 Add some spark and visual interest with barn doors for your garage. These custom carriage garage doors of a Toronto home sit well with a clean stone brick exterior cultivating a modern castle feel.
Trendy
Another example of sliding door practicality: note the amount of space saved by not having a door that swings out here into the bed. Instead, room is made for a chic chair in the corner here.
Add a pop of colour to this sliding barn door trend. We love this sunny pastel yellow to liven up an otherwise plain kitchen. Coloured barn doors can add just the right amount of character and quirk to any situation!
A sliding barn door makes a fitting touch for an industrial styled bathroom in this Montreal triplex. We love the combination of a rich red brick wall, translucent panels and aluminum.