There are some awesome barn home ideas out there today and if you're planning to own a barn style house, you have a choice to restore an old building or to build a new one. There are cons and pros to both the restoration and the new construction.Some restored rustic barns hide very contemporary interiors, others look modern outside but preserve historic accents, and some are like being at a high-end, luxury rustic resort. Some are much older buildings and major renovation projects. Some are entirely new construction with brand new plans and designs – but they are all enchanting. One of the most popular new builds today is a pole barn.And just what is a pole barn house? It's a barn home built using poles as the framing (often utility poles), or the skeleton. The poles are the weight-bearing component (in most traditional homes, the walls will bear some of the load). One of the reasons it's so popular is that minimal site preparation is required, because the house is lifted up off the grade of the ground. You still require a foundation, to sink the poles, but this method is less costly, more environmentally friendly and also allows you to reconfigure more easily later, if you decide to renovate.


But don't just use the internet to gaze at pretty photos. Do your research first before you dive in. Get expert advice – someone in your area will specialize in barn to house conversion or new barn construction. Find out about building codes and regulations and restrictions that may or may not be present in your locale. And check out your costs very carefully. Never assume that you can make small changes without incurring a large cost. Nothing is a logical progression when you restore something, especially if you intend to do it right. But nothing ventured, nothing gained – and if it's in your blood, a barn home can be an insanely rewarding project for you.
We hope these 15 contemporary and classic barn home ideas will inspire you to create your dream space. But even if this is the first time you've considered it, we know you'll love the designs and photos that you find here. And who knows, perhaps a seed will be planted. One that will produce a place you'll call your own in the future.
Ideas for an Old Stone Barn to Home Restoration

The Green Oak barn to home remodel, by Carpenter Oak is a tremendous example of this UK builder's craftsmanship. Refurbishing this structure into a luxurious barn home was no simple task. Doesn't the front entranceway look warm and inviting?


Timber arch ceilings define the interior of this restoration. But the builders kept their eye on design – the floor layout of the kitchen would rival any new home plan. An L shaped kitchen is one of the most practical kitchen plans to use – here the builder has kept things open while maximizing space. And he threw in some pretty serious appliances. You know what high-end appliances do for the look of a kitchen. Source


The open layout and floor plan really makes it seem spacious. The timber arch ceilings continue throughout the home – it's important to consistency to keep a flow like this. You can do this with floors, also. One single floor type through an entire storey can aid in coordinating rooms, especially helpful with an open layout. And we love the floating fireplace. It's such a great way to introduce a modern element. Source


If you have plans for a restoration – one of the most important considerations should be in maintaining the original structure as much as possible while adding the modern elements you need for both design and practicality. These new windows in this old remodeled stone barn are a prime example (the skylights, too). Source
Authentic Barn To Home Renovation with Contemporary Ideas

This barn style house in Michigan is a renovation project put together by Northworks. The exterior retained its old shape, while the interior is upbeat and hip. It's a great way to go – from the outside, the home looks like a well-kept barn in a Midwestern state. And once you get inside, it's like a New York loft. So it's easy to be true to both the heritage and your own taste if you divide it into two areas: inside and out.


The exterior of both sides of the building slide open for great ventilation and fresh air in the appropriate weather. And when you need to close off those large glorious glass doors, for privacy or bad weather, there are modern exterior sliding barn doors. It's a design trend that's quite strong right now, as a matter of fact. One of those perfect ways to update the look while keeping things related to original use. Source


Now we're into the New York loft (style) interior. Check out that breakfast bar and that killer stainless kitchen. Do you not feel like you are in the most popular cafe in Tribeca right now? We love all the old wood – it's a nod to the barn to home renovation, even though the interior looks nothing like a barn. Source


And then, there's this awesome swimming pool. What a bonus for a Michigan winter, to have a pool indoors! If you plan to go this far in your barn – do get the installation done by an expert familiar with indoor pools in that climate. A major, heavy-duty dehumidifier (commercial size) will need to be installed in order to protect the integrity of your home. But what a way to extend the season. This truly is one of the funkiest ideas we've seen so far. And it does such a wonderful job of keeping the structure integral to the source. Good work. Source
Looking for a pole barn home to build from new house plans?

A pole barn home is a good idea – it's a bit of a trend, keeping to the original construction style. Thistle Hill is a spectacular house on 200 acres in western Wisconsin. As noted above, using a pole design is the most economical and most environmentally friendly of your options. And the most flexible, should you want to make changes in the future. Open floor plans and floor-to-ceiling windows really let in the light. The best part? You can add some authenticity, even to a brand new construction. Northworks built this home new, but used the foundation from the dilapidated original barn in both the limestone fireplace above and the retaining wall that you'll see by the pool below.


This home is sheathed in classic barn red siding – but check the contemporary outdoor fireplace. There is a great marriage of old and new in this house design. Source


And there's a charming little office upstairs. The arch ceilings really cement the look for this newly constructed building. While you get a great juxtaposition with the modern loft metal rails. The top of a home is a perfect loft space. Source


The builders kept part of the old barn structure when considering this conversion, and used it for a faux wall by the pool – what a great idea that was. If you just think free form – you'll come up with some great plans to make your renovation not just a new place to live for you – but a piece of history, preserved through modern living.
A Cantilevered Barn – What an Unusual Idea

This cantilevered design in Northern Ireland has modern lines. But it leaves room for both old and new – the aged rock walls and the contemporary architecture. By Mcgarry Moon Architects.


The original barn was the stone foundation portion – keeping to the heritage while adding a modern component. Source


Inside, you have no clue that this is a barn to home renovation – it looks like a modern home. Source
An Unusual Natural Light Idea in this New Construction

Leroy Street Studio built this unusual barn style house with slatted siding – louvers – to let natural light flood the interior.


Called Louvre House, this New England country home features two fireplaces – and lots of room inside. Source


The designers captured the traditional barn structure – and wrapped it around a modern home design. Source
The Stables – A Charming Idea for a Barn Home

The Stables, by AR Design Studio in the UK, is nothing less than brilliant. So many original pieces were restored with this conversion – yet the look is a mix of modern and authentic.


Many stall walls and doors were retained in this renovation. And it looks so quaint. What a great job this team did. Source


The white walls play so beautifully off the original stable doors and partitions. They really kept the integrity of the original structure – one of our all-time favorites. Source
Classic Barn to Home Remodel Idea – Make it Rustic

This is a classic remodel from Shed Built – it has all the traditional barn bones along with modern design touches. On Whidbey Island, WA.


The master bedroom has an adjoining tub – positioned in the peak of the old building as a loft bedroom. Source


There's no denying that this house used to be a barn – but on the inside, it's all rustic charm and romance. Source
Dutch Barn Renovation Incorporates Trendy Home Ideas

This historic barn was converted to a modern style house by Jelle de Jong architects. The exterior says traditional Dutch, but the interior says contemporary all the way.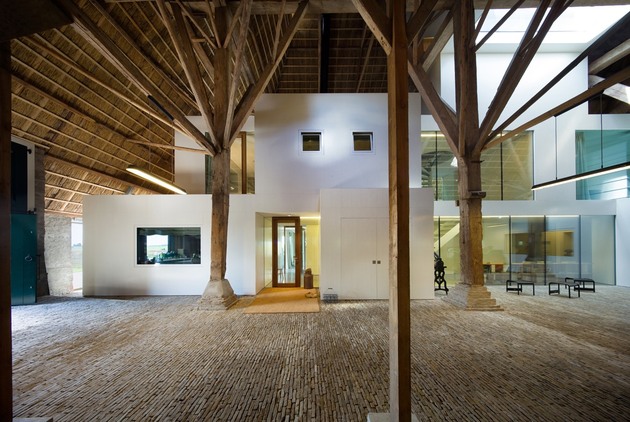 Jute carpets and a thatched ceiling almost give this design a tropical feel. Source


The interior says pure contemporary – would you believe this used to be a barn if you hadn't seen the exterior? Source
New Construction Barn Home is Certified LEED Platinum

Hupome Ranch, by Turnbull Griffin Haesloop Architects, is a Leed Certified house on 160 acres. Tucked away in California's Chinelo Vally, it doesn't get much better than this. Never think you have to give up your good design ideas – or authenticity – for energy efficiency. You can have both!


Passive heating and cooling with thermal mass and insulation, radiant cooling and heating along with solar and photovoltaic panels contribute to the house's energy efficiency. Source


But the house doesn't give up any style, or authenticity, to achieve the LEEDs rating. Situated on an old 160-acre homestead in a region settled by Mexican ranchers (see Wikipedia entry on the Chinelos), the style of this new build barn home has kept it attached to its roots. Source
Build a Pole Barn as an Art Studio

Mieir Rd 1 was began as a workshop art studio project – with a barn style design. And then, they added the Amoeba – an offshoot of the barn style structure. It was designed by Mork Ulnes who have offices in both San Francisco and Oslo.


The high ceilings are perfect for installing a corner loft office. Source


The Amoeba was added on to the left side of the structure – they were spending so much time in the studio that they needed a social area. Source


The builders created a barn-like single room with high ceilings and beams, tying the two pieces together. Source
New Construction Plan with Multiple Random Windows

The Goodman House is an impressive barn home in White Plains, NY, by Preston Scott Cohen. The windows are such a clever idea and make the home so distinct.


The interior, once again, is an industrial, eclectic loft style – which perfectly suits a barn idea with its high ceilings and often old wood accents. Source


There's no mistaking this house. You can tell first-time guests to turn right and continue on until you see the building with all the odd windows! Source
An Eco-friendly Solar Barn

This restoration project in the mountains of Italy came with a solar upgrade. A big one. By Exit Studio.


It's part of a UNESCO World Heritage site, so the architects went to great lengths to preserve much of the original barn. Source


Each board and beam was removed, cleaned and reassembled around a metal frame. Source


The interior, while using restored materials, comes out looking modern. Rustic, but modern. Source


It's a very minimalist look – and a renovation true to the original architecture. Source


The solar panels are flush to the roof – and really aren't obtrusive at all. Source
This New Home Sits Below Grade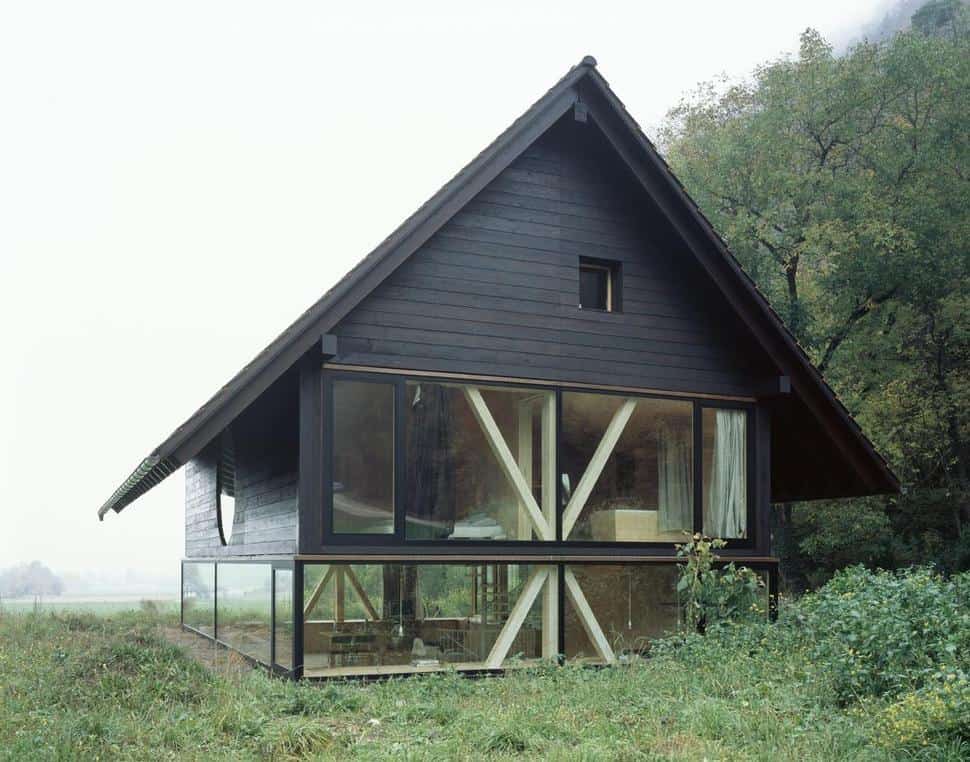 The ground floor in this coolest architectural creation is partially buried – what an unusual idea. Located in Switzerland, it has a facade made of glass. From Pascal Flammer Architect.


This floor is also the main social zone, with the all-around windows conveniently located at the ground level so you can walk outside right through the window. Source


One continuous tabletop surface occupies the entire interior perimeter serving as a work table and a kitchen countertop, and is made of beautiful knotty pine. Source
An Old Dairy Barn to Home Renovation on Bainbridge Island

Here we have the historic dairy barn renovated into a beautiful getaway. What used to be an old stable with a hayloft was converted into a stunning holiday home. It is for sale at Bainbridge Barn.


This renovation still really looks like a barn from outside. If you drove past it, would you know this was a home? Source


There are 16 windows in the great room providing light and natural heat. Source


Cathedral ceilings with exposed beams and authentic rough-hewn wood floors keep the feeling of a converted barn – but what a home it makes! Source
Industrial Ideas for Barn to Home Remodels

Designer Josephine Gintzburger took an old ban in Bourgogne, France and converted it into an incredible home. The exterior structure was sound – they built them to last back then.


The kitchen first caught our eye. Lots of ideas for you here. With its long concrete counters, and concrete flooring on the whole floor, we get the industrial atmosphere immediately. Stainless accents are always a good choice with industrial interiors and if you can put your carts on wheels, even better. Source


The other side of the concrete counter provides lots and lots of storage. The chandelier light fixtures are so eclectic. And note the metal half-stairway upstairs. We'll come back to that. Source


The pendant lighting fixtures over the counter are industrial style – and the mix works. The high ceilings in this former barn really help with the industrial/loft idea. SourceSource


There are separate spaces upstairs, on either end of the loft, up in the peak of the old building. Source


One end of the loft level contains a sitting area. The old timber arch ceilings remind us we're in a home that was once a barn. Access stairs to this level are found at the end of the kitchen. Source


The other end of the loft level has a bedroom – and here you see that mysterious half stairway – it connects the two upper level areas. Great ideas in this place, and many you could use in your own project. Remember, do your research first. The pole barn homes are the most economical, and most authentic as well – there were no retaining walls inside barns. You can go full on contemporary style with modern design, you can go eclectic and industrial, you can go rustic. Your choices are almost endless. For those of us who love old homes and their history, this is a project to really fall in love with. But you do need the passion and a lot of patience.
For more ideas, visit our general Barn Homes category or specifically the Barn Conversion Designs for more inspiration.