Little house seems like a sound investment when you're tired of renting or maybe want your own place that you can just pack and take with you. But is it all it's cracked up to be? As much as tiny homes are affordable, they may also turn out less convenient.
Portability and affordability may convince you that tiny homes are all you ever wanted, but prepare for challenges these little guys might pose for you personally. Many people don't realize that they will require additional things for their tiny abodes like land and/or trailer. Starting a family, receiving guests, and getting to a city may also not be as easy or even possible with a little house.
Although the house itself may cost you ten times less than a normal house you should consider things like commute, building codes (too little homes are illegal in some places), and maintenance before comparing it to real house prices.
If you're retired, anti-social, and don't mind tight walkways and claustrophobic rooms, however, a tiny house may just become your perfect dwelling.Here are a few that are worth seeing:
The Crib by Broadhurst Architects
The Crib is a prototype building designed by Broadhurst Architects in the image of traditional American corn cribs. Stylish and cute the little house boasts an office and a small terrace that extends the living room.
Aside from looking quite attractive and different than most tiny houses The Crib can be assembled off site and transported to any location.
Sandy Tiny House in Utah
Sandy Tiny House was built by Patrick Romero in Sandy, Utah. A 192-square-foot (17 sq. m.) dwelling is remarkable because of its breathtaking atriums illuminating a stylish black and white interior finished with chartreuse accents.
Beside the spectacular atrium-like skylights the little house brings in light and style with numerous French doors.
The Triton by Wind River Tiny Homes
The Triton is an adorable little house designed by Wind River Tiny Homes. With two lofts and an office area it's a house you can take anywhere with you and live pretty comfortably.
Built with its tiny size in mind Triton has quite a few windows that fill the interior with lots of natural light creating a cozy feel in a narrow living area, loft bedroom, and tiny bathroom.
The Tiny House Company House
The Tiny House Company bring a tiny house to an Australian market. Built to sustain more or less permanent living the house features a cozy terrace, a movable bed that gets out of the way once you're up and plenty of storage space.
Finished with recycled hardwood timbers the house has hidden features that allow it to accommodate more functions like a dining area that magically appears in a narrow kitchen.
Escape Traveller
The Escape Traveller homes look warm and inviting. Wood siding and interior finishes light up beautifully in the sunset rays while multiple windows allow to fully enjoy life on the road.
Carefully planned and built Escape Traveller homes come in RV and tiny home models with huge vista windows and cool media areas.
Salvatore Getaway House
Salvatore is a Getaway house that you can rent in upstate New York to 'relax, and recover' at just $99 for a midweek stay. Designed to provide minimal comfort Salvatore is more of a retreat, but many little homes are built in its style.
The main room clad in wood has multiple levels to divide kitchen, seating area, and a bed. It'd be impossible to live here permanently. What do you think?
Custom Little House by Mint Tiny House Company
Mint Tiny Homes' custom design is a cute little dwelling with a tiny terrace and a couple of loft spaces. Boasting 310 square feet (28 sq. m.) it has a full kitchen, a bath with a laundry unit and a loft that can be used as an office or or media room.
One of the staircases hides storage cabinets and the kitchen extends into a breakfast bar for two. Floating steps ensure that the living area comprised of only a modest sofa looked airy. All in all, it looks pretty livable!
Alpha Tiny House by New Frontier Tiny Homes
The Alpha Tiny House is a star. It was featured on HGTV's "Tiny House, Big Living" and it looks most inviting with its wooden siding and sunlight-filled interior.
Don't let its teeny tiny look fool you. With modest measurements of 24′ x 8'6″ x 13'6″ tall, Alpha can accommodate a washer, a bathtub, a full kitchen, an 8 person dining table, and a fold down deck, provided that half of these things can be hidden and pulled out when necessary.
Little House by Avava Systems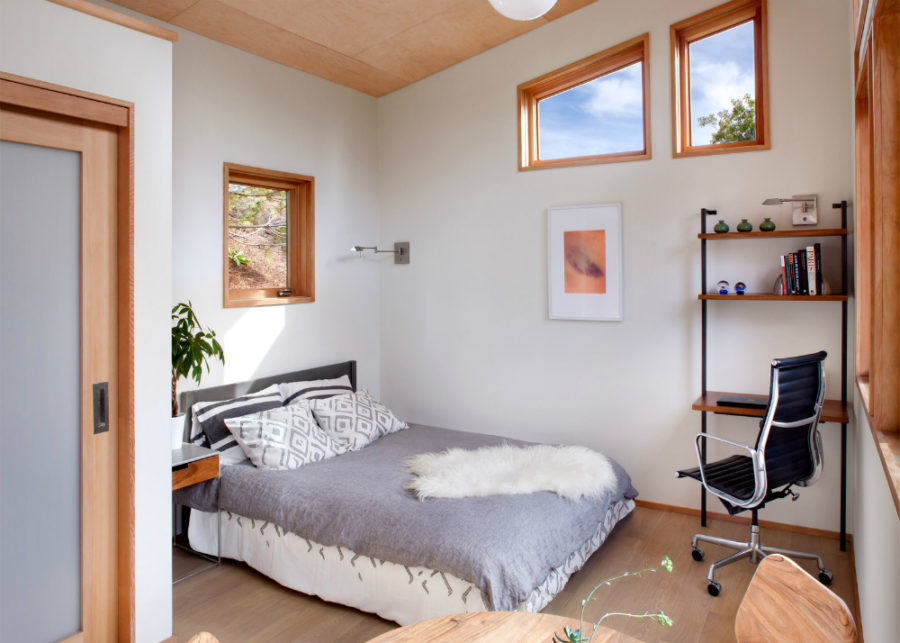 Avava Systems conceived a stylish flat-pack house called Britespace for easier transportation. The modern prefab dwelling comes in three different sizes at a price of a regular house. And even then the cost only covers permitting, contractor services, flat-pack delivery, and installation.
Assembled in around six weeks Britespace looks nice and stylish although this particular model seems to be missing a living room, which, we suppose, could be replaced by its teensy terrace.
Koda by Kodasema
An Estonian design firm Kodasema came up with an ultra modern little house that is only 269 square feet (25 sq. m.), but has an open plan and a mezzanine bedroom.
With only its facade featuring wall-sized windows Koda (name of the prefab) looks extremely intriguing. The impression is strengthened when it flares up with ambient lighting during the night.
Garage Conversion by Michelle de la Vega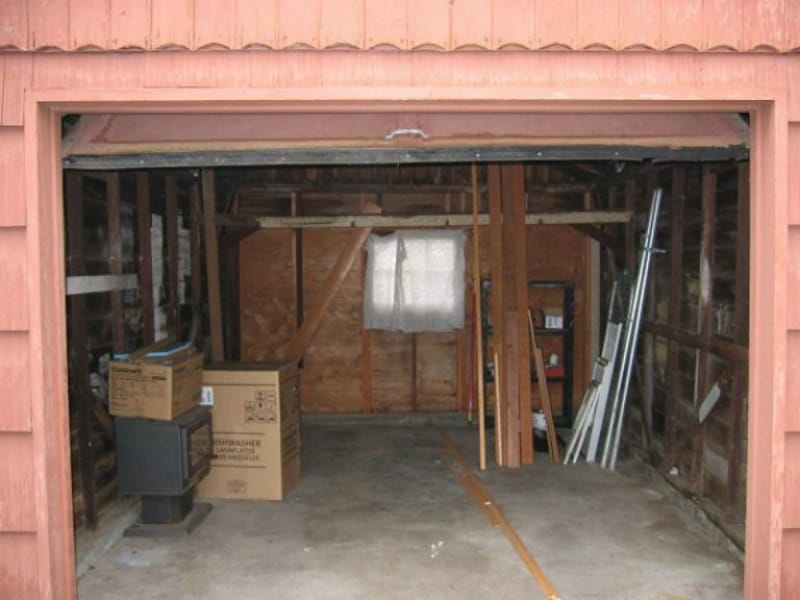 Michelle de la Vega transformed her garage into a 250-square-foot (23 sq. m.) home with a loft bedroom and a bathroom. Spending $32,000 on renovation the designer reused and repurposed many old things in her little house.
One of them is a wood-burning stove left from a previous owner. There's also a former ship ladder that now allows access to the loft bedroom and metal lockers from a maintenance building of United Airlines that act as closets.
Grain Silo Conversion
This little house used to be a grain silo. Transported to Phoenix and converted into a cozy home the 1955 silo boasts not only 340 square feet of living space but also a cozy green yard.
Christopher Kaiser met plenty of challenges during the conversion, which took two years to complete. But the result is a functional space designed with style.
Floatwing by Friday
Floatwing is an off-grid self-sufficient home by a design firm called Friday. A solar-powered floating house isn't that little, but its layout is pretty straightforward and only includes two rooms. The kitchen and living area share the main room while the bedroom is separated from the two for peace and privacy.
Built with wood, glass and metal Floatwing is sandwiched between two parallel platforms one of which creates a roof terrace overlooking whatever waters you choose to live on. It seems to be equipped with a navigation system so you could go sailing while living with relative comfort.
Tiny Boat House
Whim is a boat house of a model and designer Kyleigh Kuhn who upon moving to SF Bay Area found conventional rent prices to be too extreme.
An idea of buying a boat house came to her after seeing a boat rental on Craigslist. Her rationale was that it'd be cheaper to buy a livable boat than an annual rent in San Francisco, however, renovation cost exceeded what Kuhn anticipated.
Mid-century Marfa Tiny House by Kim Lewis
Kim Lewis shares so many great ideas in this tiny Texas Mid-Century Marfa home. She brings bright colors and bold patterns to every room including the porch and outdoor areas.
We above all love the bedroom platform closet design featuring a washer. And those laser-cut metallic elements decorating both exterior and interior we find create a quite unique house look all around.
Looking at these tiny homes it might be tempting to go and spend that down payment on a similar cute little house. Before rushing into it, though, it's best to rent one and see if you can really live like this.