As the line between living and working spaces is getting more blurry and the homes in general become too small, new architectural ideas bloom with creativity. Mobility in general is valued in everything and it can't pass by one place where we spend a lot of time. Portable homes are on the rise as a hot new house trend for the young and retiring alike. You can order them online and get a pre-manufactured design delivered on site. Just like that. Wish you could just leave and take your entire house with you? Well, with a portable home you only have to worry about the land rights and permits.
The beauty of portable homes is that they can be assembled off-site, loaded up on a truck and sent to the most remote corners of the Earth. Since no construction work is done on site you save money and usually time.
Portable Homes That You Can Load up and Go
Assembled at the factory Casa Invisible can be transported to any location of choice by a truck. But that's not its only feature. Dulgan Meissl Associated Architects made it reflective to blend with the environment and cozy inside to make for comfortable living.
Light wood interiors feature a fireplace and a glazed wall through which dwellers can enjoy their locale. It also can be tailor-made to your tastes.
Mirrors is a relatively new trend in architecture. MIMA Light house too makes use of them creating a levitating illusion. The bottom mirror strip reflects the ground making the rest of the house stand out more. And another chromated strip on the side also visually divides it into two squares.
Pre-manufactured in a warehouse the house is easily transportable. It features everything one needs for living including a cooking area and a bathroom. It can also have air conditioning and heating.
Wooden Portable Houses
Freedomky is a ready-made home you can take with you when you decide to move. The modern rectangular shaped has a warm wood finish that breaks to include a sliding glass door.
The low-energy home will be ready in three months and you can expand it with additional modules. Available in a number of sizes Freedomky also offers optional furnishings.
Transportable, sustainable, low-energy and very attractive Fincube house by Studio Aisslinger offers 505 square feet of living space. Available anywhere in Europe it could also serve as a guest house, a home office, or a place for events.
Nature-friendly wooden design allows dwellers enjoy the surrounding views, which makes it a great holiday house. At the same time, though, the vertical wooden slats and the curtains offer privacy. There's an intelligent bus system that connects all the electrical devices in the house to a control lead. This makes it easier to control lighting, heating and blinds all at the same time. And optional photovoltaic system system can make the house energy-efficient.
Small Homes With Huge Windows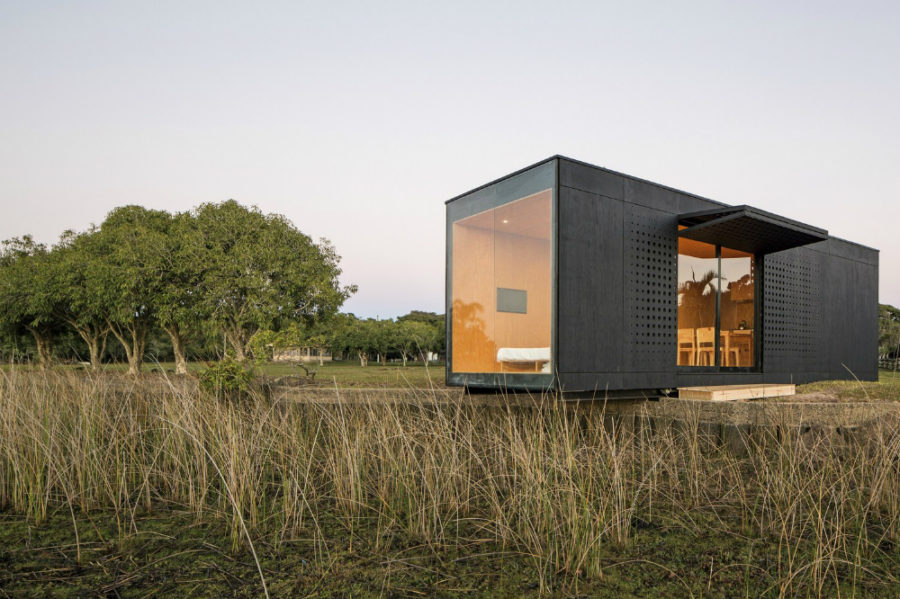 The rectangular shape is perfect for prefabs as it fits on a truck well. MAPA's MINIMOD is a modern minimalist prefab that can be plunked on the transport or disassembled and reassembled on-site. The perforated shutter doors add more privacy to the house, but the side glazed walls allow plenty of light in. Weirdly enough they expose the bedroom and the shower, so curtains are in order.
One other interesting feature of this design is that the roof can house a home garden.
You may not only bring your portable home almost anywhere but you can also use it as an extension to your existing house. Plunk one in a backyard and it becomes a fancy garden shed/office. Or in case with HonoMobo house your garage can become your living space.
Reusing shipping containers the Canadian company builds structures good enough to live in. Available in different sizes they can accommodate a single dweller or a whole family. And if our guess is right the shipping containers reduce their cost. If not, however, a Solar Photovoltaic system can help you save some money on power bills.
Floating Portable Houses
The powerful promise of postable homes to take you anywhere cannot be taken lightly. Can they take to the lake or the ocean to live on water? Well, agaligo studio's X-Float houses and rafts are gently nodding to that question. Oh, wait, they're floating.
Located on River Kwai in Thailand these floating living cubicles are equipped with showers, roof terraces, and natural water filtration. Their little porches with glass railings allow to contemplate the river flow during the day. And the rooftop terrace is perfect for star-gazing at night.
Another home that can float on water is Coodo. A mobile construction can be used for living, working, and resting. The customizable glass structure comes in minimalist style, but has everything for living. It also boasts better insulation and wireless smart system to control electrical devices.
Since Coodo makes almost no site impact, you can simply rent space and tow your new home there. The manufacturer also offers models for business like a bistro or a pavilion.
Houses on Wheels
We can't talk about portable homes without mentioning the original portable homes – trailers. Toy Box Tiny Home isn't a typical trailer, though. With its white thermoplastic roof plane and colorful corrugated fiberglass panels it looks positively toy-like.
Featuring a pair of wheels the tiny house can be taken around the country as well as for simple camping trips. It's equipped with a system that allows to route grey water to the plants. And the sliding glass doors make it easier to enjoy nature from a relative distance.
DIY homes are always interesting to see and the smaller scale of portable homes makes building them yourself much easier. Brian and Joni Buzarde designed and built their cabin on wheels on a budget. Boasting just 236 square feet a mobile home cost the couple $50,000.
Its spacious kitchen features plywood cabinets and storage spaces. A small entertainment area has a sofa and a 55-inch TV. And the loft bed is located under a skylight.
Wohnwagon is a similar house on wheels that can take off any moment. With just 174 square feet of space it's surprisingly roomy featuring a dining area and extra storage.
Numerous windows in its wooden exterior fill the wagon home with light and the adorable planter rack allows to have a semblance of a garden.
This tiny mobile house is said to be the first in the Netherlands, at least by its architect Daniel Venneman. This one looks different from a trailer or even a cabin. It's more like a downsized version of a real house.
Equipped with a dry toilet, lofted bedroom, and multi-functional furniture, this little guy looks surprisingly spacious, probably because of its minimalist furnishings and big windows.
Mobile Homes & Huts
Designed by Hangar Design Group and Pircher Orland this house on wheels is a far cry from a trailer. Made with luxury materials and premium quality the Moonriver is energy-saving and eco-friendly.
WIth three skylights and a glass door the house is perfect for living in a picturesque locale where nights are starry. It's one in a series of high-end homes, which won a Compasso d'Oro (golden compass) Award for industrial design.
Wheels isn't the only option for a portable home. Sleds make this Whangapoua beach hut on New Zealand's Coromandel Peninsula mobile. When the waters rise it can simply be towed further away from the beach.
Clad in macrocarpa the hut has glazed facade covered with a huge folding shutter. 430 square feet of space accommodate a living area with kitchen and dining, bathroom and two sleeping zones. A stove fireplace can warm up the wooden interior while the grey water tanks increase its sustainability.
Not all portable/mobile homes feature wheels or any other kinds of moving parts. Casa Transportable by Ábaton can be transported anywhere on a back of a truck. Clad in grey cement-board panels it looks pretty traditional in its form. Instead of a conventional entrance, though, the house features two sliding panels that open to the mirrored glass doors.
The wood clad interior features a living room and a kitchen that divide bedroom and bathroom. The two hooks on the roof allow the house to be easily lifted with crane and moved again.
Tiny House Designs
This micro house by Liu Lubin in Beijing speaks volumes about the living space crisis we're currently facing. Big enough just to sit, sleep, and cook this tiny home has only three windows that double as entrances.
But there are advantages to it as well. Thanks to fibre-reinforced foam composite the modular structure is light enough to lift. This makes it easier not only to move but also allows a living room module to be flipped and turned into an office or bathroom.
Micro homes may not be as convenient as bigger cabin models or let alone a regular house but everything has a trade off. The egg-shaped Ecocapsule house by Nice Architects is a self-sustaining, low-energy, portable pod with its own small windmill.
With just 86 square feet of space the capsule can accommodate two people offering amenities like a kitchenette, a shower and composting toilet. There is also a folding bed, built-in storage, and an all-purpose counter space. Not bad for such a tiny little thing.
Flatpack House Designs
Another shipping container-based dwelling is a work of Atelier Workshop. Called Port A Bach it has a retractable terrace and its side doors can be used to support two daybeds. Thanks to meticulous approach to space no inch is wasted here.
Featuring a bathroom with an open shower, a composting toilet, and a sink it's hard to believe it was made from a single container.
Tiny but cute POD Idlalal is just 186 square feet and has its own terrace and sun awning. The flat-pack cabin is modular and solar-powered.
Designed in a collaboration between architect Clara Da Cruz Almeida and studio DOKTER and Misses the tiny home can be extended with modular units to accommodate as many as twelve people.
Architect Hristina Hristova built a holiday house for her husband and herself that can be towed on a trailer. Offering just 96 square feet the wooden hut has a kitchen and a toilet. On the outside the little porch provides seating space for alfresco dining and a built-in sun awning makes the outdoor area more cozy.
The construction budget was kept under $10, 000 and the weight of the structure is just two tonnes. A great way to travel without staying in hotels, which the architect and her husband wanted to escape.
Mobile homes aren't perfect and definitely pose their own problems. How to dispose of garbage? How to manage plumbing, sewage and heating? There are, of course, different solutions including the most sustainable ones like solar power and water re-usage, but they are for each individual homeowner to solve.