Hammocks are great. You can use them to relax, nap, read, and simply hang out. There isn't anything better. It's a sofa, a bed, and a reclining chair all at once, but it also brings that summer vibe to the house. Some of these indoor hammock ideas are straight out of resorts. And what's a better way to battle winter blues than bringing a piece of that summer atmosphere back?
Striped Hammocks
There's something especially summery about striped linen hammocks. They are positively bright, and can make for a great accent in a neutral decor. They will also instantly invoke memories of the sea and sun, and all there'll be left to do is lie down and relax with an alcohol-free margarita with your heating sources on.
You can hang them anywhere, but if you want an instant teleportation to summer, the living room would be the ultimate place, since we tend to spend the most time there. Or it could be the kitchen or bedroom. You could also hang more than one, if you plan to hibernate in a hammock through the winter. That way everybody in the household gets to enjoy a piece of summer.
Knitted Hammocks
Knitted hammocks have this romantic air about them. They can look both summer-y and neutral. You can hang them just for decoration purposes, too. They work extremely well with neutral color schemes. And what a great addition would one make to a nursery?
Knitted hammocks can also look quite wintery. And these can be a great compromise between a winter and summer atmosphere. You can get cozy and warm in your hammock, but at the same time it can still feel idyllic and perfectly summer timey. They will also fit readily into modern rustic interiors.
Suspended Net Hammocks
Suspended net hammocks and beds are not just for kids. This new architectural trend can be great fun for kids and adults alike all the while keeping the space light and open.
Lofts are the best places to build suspended hammocks. You can take out some air from a vaulted ceiling, and it'll still look nice and gorgeous. In turn, however, you will have all that space above the hammock that would allow you to not only lie down but also sit, if you want to.
Bedroom Hammock Ideas
A hammock in a bedroom seems like a wasted effort, but if you are sharing your apartment with someone, that's where you'd want some privacy while relaxing and dreaming of summer. Some hang a hammock as a chair rather than a suspended bed by attaching it to a wooden rod, which shrinks the hammock's original length. This solution can work well (probably even better) in a bedroom.
A hammock can also be a mere decoration. Often an awkward corner gets a coffee table and a chair, but if you want something fresh, you could buy a hammock. A bright hammock is a refreshing accent that can work in tune with your curtains.
Living Room Hammock Ideas
In a living room a hammock can, too, replace a tired old coffee table and an armchair. It can serve as a reading nook or it can even replace your sofa, if you aren't having many guests over and often. It is a great money saver especially for students and young families. Why buy an expensive sofa when you can rock gently side to side next to your favorite person in a good ol' hammock?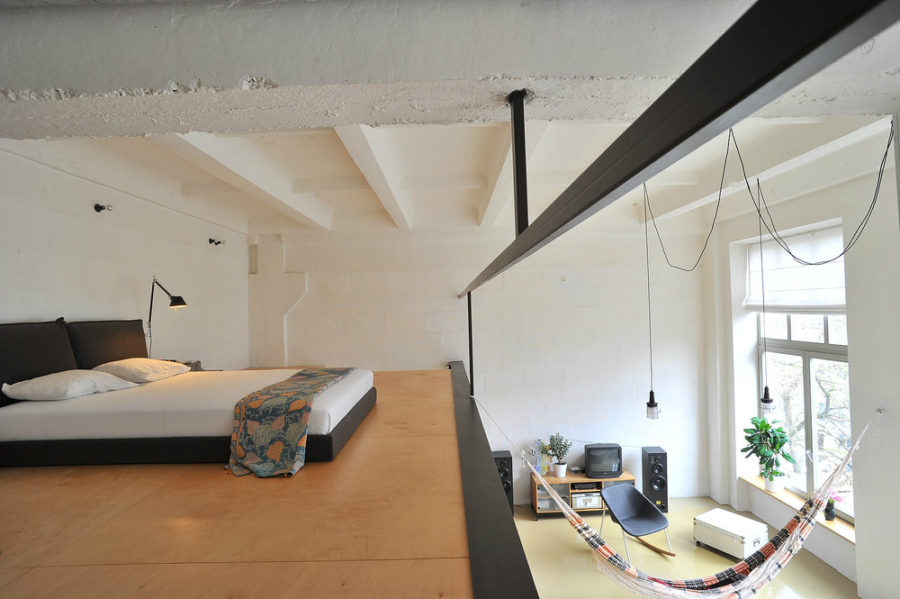 Lofts usually have lots of free space, so instead of cluttering it with unused furniture sets, why not add this summer accessory to the picture?
A hammock can soften the industrial style of lofts, and make them more inviting and homely.
Hammock Ideas for Reading
We mentioned that a hammock can make for a great reading nook, and that's true. Look at all these great hammock ideas for readers. They're all possible and easy to recreate.
It's best that you hang one near a big window or glass door, because then it won't black out daylight but will also allow you to take advantage of natural lighting during reading. Hang it low, if you want more privacy or hang it high, so you could look out, and take breaks from reading by people- or nature-watching.
One of the best locations for a hammock reading nook is the home library or a study. It's fitting, and you have everything you need within a hand's reach.
Terrace Hammock Ideas
Covered terraces, patios, and balconies are technically outdoors, but since there is a close transition between indoors and outdoors with these, you can easily think of them as indoor/outdoor areas. And though you cannot really take advantage of them during winter, if you live in a warm climate or can winterize them, these have a potential to become great lounge areas.
Closed balconies are the best places for hanging hammocks. In a cold climate such a nook can be all you've ever dreamed of. Warm and cozy, it will definitely remind you of summer with the help of some tropical plants or an incandescent sun lamp.
Sun Room Hammock Ideas
A sunroom is another way of having that summery moment during the winter whenever you feel the need for a little pick me up. It can be a screened porch, a glazed kitchen extension, or some area with an indoor/outdoor atmosphere to it. Nestle your little hideout there, and watch as the winter slowly fades away.
There is really a lot more you can do to keep the summer theme going. Opting for bold summery colors would be the easiest design solution. But you can also bring in some natural wood, greenery, and wall art to help you recreate that atmosphere of idyllic pleasure.
Boho Hammocks
A boho hammock can work in almost any decor. It immediately brings a romantic free-spirited vibe to the place, which is very fitting for a summer-inspired decor.
Cream is the most popular color, but teal or turquoise will give you a feel of floating in the blue waters of the ocean or sea. It will also be a great accent for a neutral interior. Want to know the bestest room for a swinging bed? Home office. You may not only be able to take much needed breaks from prolonged sitting but also take power naps to become more productive and efficient.
Light Fabric Hammocks
Light summer fabrics like cotton and linen are the best choices for summer-spirited hammocks. They are breathable and lightweight. If you don't keep a pillow inside one, it will appear almost invisible. They are also cool because they come in all the different patterns, textures, and hues.
Even a hammock can look fashionable, if it's made of a trendy printed fabric. Add a fur throw to it, and it might just appear haute couture as well as will definitely feel warm and super winter-friendly.
Bright, dark, and pastel hammocks can add another layer to your decor, so take color into consideration when shopping for your suspended hideout.
Unusual Hammocks
Some hammocks are more decorative than others, while others yet are completely different and out of this world. Take oversized plush hanging hammock-like beds, for example. A perfect addition to the kids room or a reading area that looks nothing like you've seen before.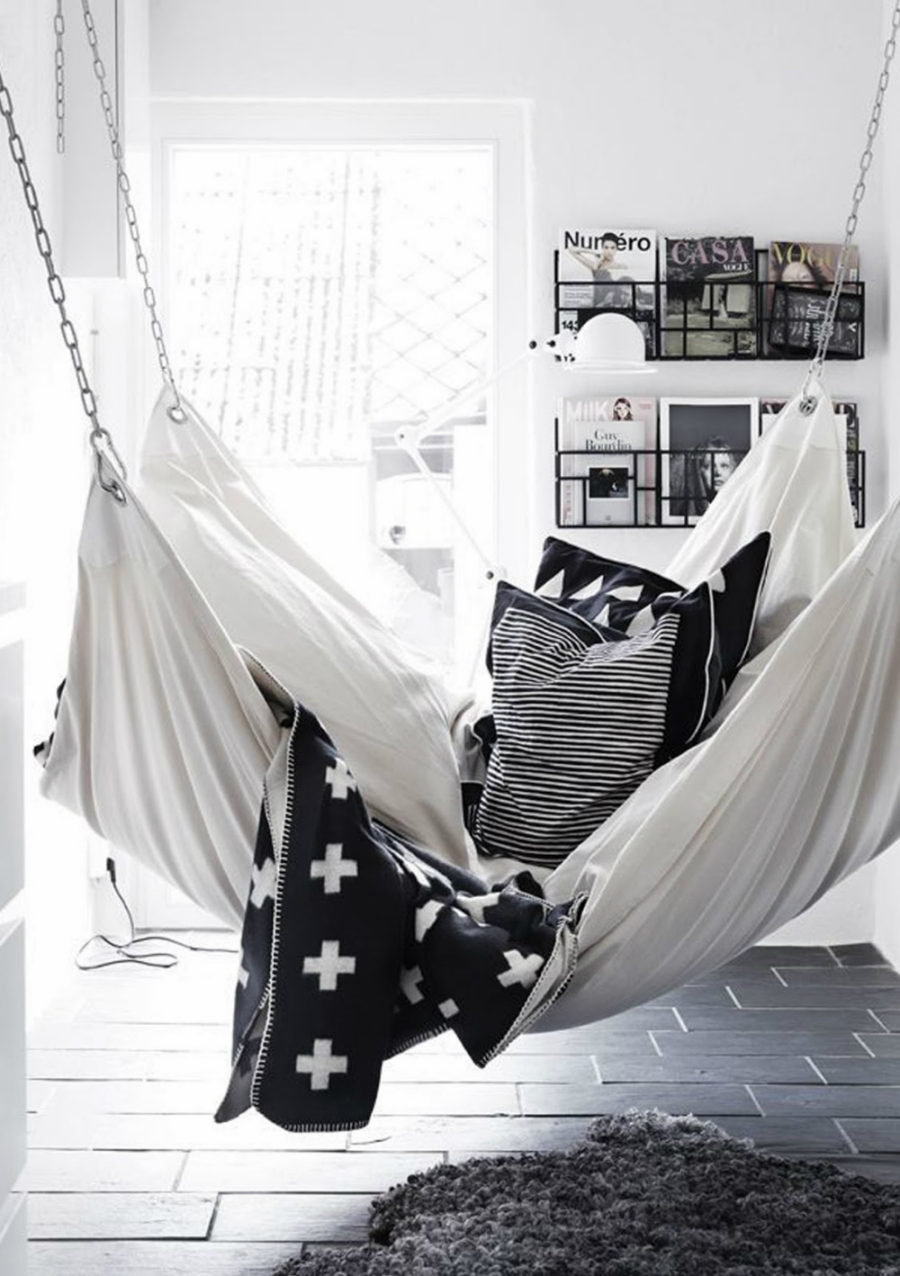 These hammock ideas are all about picking the best location, and making sure an accessory matches the interior. No need to splurge on a hammock, unless you're replacing a living room sofa or a porch daybed.