Regardless of who you are and where you're from and at what stage of life you may find yourself, accommodation is one of the most vital aspects of human existence. If you're a student, it is that much more important, and may even impact your studies. Whether you're sharing a dorm room with another fellow student on campus or rent your own place, it's probably lacking considerably in square footage, so we piled together a few student accommodation ideas for you to be able to maximize your living space and live more comfortably.
Micro Lofts
With micro apartments on the rise, you can find quite a few good offers on the rental market. Comprising everything you can find in a regular studio apartment, micro lofts feature inbuilt loft beds that free up some space for things like living areas and storage. Also, micro lofts are way smaller than studios. Expect a tiny kitchen and bathroom, but also maybe a lower rent.
If you're living in a tiny apartment, you can turn it into a micro loft yourself. All you need is a loft bed high enough to fit a few piece of furniture underneath it.
Thus you may get more bang for your buck and artificially increase your square footage. Since custom-building such a bed may cost you, look for cheaper market options instead. They can be quite nice too.
Studio Apartments
A studio apartment is a perfect place for a student to live, but it can also cost a lot, especially in big cities. Sharing a studio apartment with someone simply makes sense. It's still better than sharing a tiny dorm room. You may also get your own regular-sized kitchen, a not too tight bathroom, and quite a few square feet for friendly hangouts.
The tighter your budget, the less square feet you get for your buck. This way a small studio apartment can quickly turn into a tiny shoebox.
But again if you share it, you can maximize your living space. And it will also give you some human relationship experience that may aid you later in life.
Shared Spaces
It can be challenging to decorate considering someone else's tastes, but you can definitely find some common ground with neutrals and some bright color accents or minimal furnishings with showy details. Besides, not everyone is into home decor and they may not object, if you want to decorate your apartment in your own style.
Shared space isn't all about bunk beds and cheesy decor. Take a cue from designer shared bedrooms to achieve a look that will help your apartment look grown up and stylish.
Think upholstered headboards, muted brights instead of garish shades, and statement lighting fixtures. The latter will definitely make your room stand out among the sea of string lights that flood modern dorm rooms.
Space-Conscious Furnishings
When trying to maximize space, the issue of storage inevitably arises, if doesn't come first. Storing clothes, books, and various supplies may take up half of your campus dorm room. That's why high bed frames are so popular. But you don't have to give into trends. Take an example from these storage-friendly space-conscious furnishings.
An end shelving for the bed is a brilliant way to store apparel. Sort it by colors or textures to create a more coherent look that will prevent an untidy vibe.
Slim consoles are great for both displaying tasteful decor objects as well as functioning as desks. Today, when almost all work is done on a computer there isn't a need for a regular space-eating desk.
Storage-Friendly Designs
Continuing the topic of storage, it may get quickly out of hand even if you live in an apartment. Heaps of clothes, scattered books, and dirty laundry, characterize a student dorm room, but it doesn't mean you can't fix it. Use storage-friendly beds, tables, and sofas that were designed for that exact purpose.
Let's go back to those high dorm beds for a minute. They do have a certain advantage over regular frames. You can keep boxes of stuff underneath such a bed without it all getting in the way. But they often look untidy because of that. A bed skirt or decorative storage boxes may be a good solution or you could get a similar bed frame with drawers, which will make for a much cleaner look.
There are storage-conscious designs among other furnishings as well. For instance, some sofas allow to keep additional bed linens and warm blankets under the seats. And certain desks feature built-in shelves for book and paper storage. You can also use trunks as coffee tables and nightstands to provide yourself with additional storage space.
Easy Storage Solutions
Regardless of where you live, there are some storage solutions that work for every space. Cube box storage is the best when it comes to easy and stylish storage. It's also cheap and with a few decor accents can look extra cool.
Carts are trendy because they do just look stylish, they are mobile. You can use them to serve food or always keep the things you need within a hand's reach.
Clothes racks are controversial because they often look better on photos than in real life. For aesthetic reasons, you cannot store all your clothes on a single thing or it has to be impeccably organized at all times. Anyway, a clothes rack can become a room divider among other things, dividing your bed from the rest of the living space.
Space-Saving Tricks
Dorm rooms and tiny apartments could all benefit from additional square feet, but all you can really do is trick the eye to see more space, where there is none. Your goal is to hide additional functions of furnishings, and make it look airy.
One of the best space-saving tricks for a small student dwelling is a sofa doubling as bed. Since both take up a lot of space, combining them into a single unit will make your apartment much more inviting.
Slim and minimal furniture items leave more air between them, rendering your interior breezy and spacious even if it's small.
Multi-Functional Beds
Multi-functional beds come in all sorts of shapes and designs. Some come as daybeds while others as systems with storage units. Murphy beds are still pretty popular too.
A daybed is an interesting dorm room bed alternative. It looks more sophisticated than a sofa, and less private than a regular bed.
It is a perfect marriage of function and style. And it can also come with an unfolding design, which will give you more room for tossing and turning.
Bedside Storage
You don't have to hide all your things under your bed, and then struggle each time you need to find something. Though bedside furnishings occupy more space, they look much more appealing than plastic boxes and endless drawers.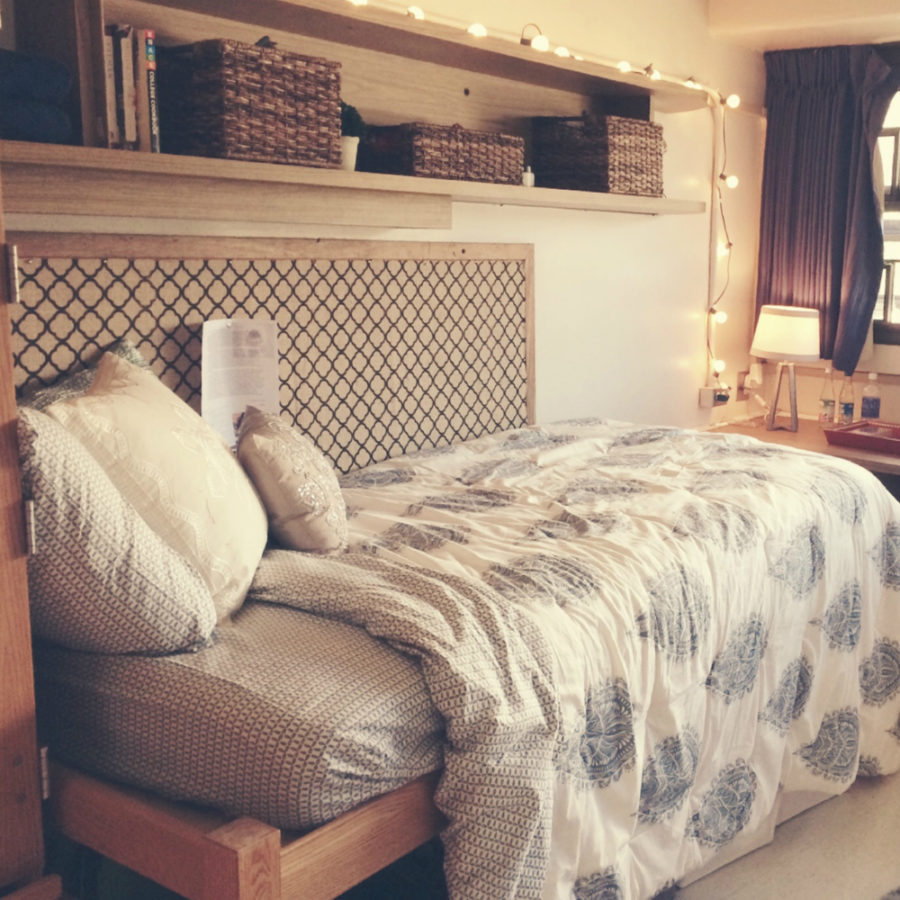 Even if you don't have enough room for a sideboard, you can make use of your walls to keep stuff in an easy-to-each place.
If you do add a sideboard to your room, it can also serve you as a TV stand, and become a good base for an artwork or a mirror.
Awkward Space Decor
Small space and big furnishings often create awkward corners in the interior. But they aren't that bad. These little space pockets can prompt your creative thinking, though a potted plant is the easiest decor idea for such areas.
After you're done experimenting with furniture arrangement, you can start thinking about the accents that could polish up the rough edges, and fill the place with personality.
We like the idea of using different sized framed portraits and artworks in an empty corner or turning it into a reading nook.
Modern Student Accommodation
If you think a bit of modern style wouldn't hurt your dorm room or apartment, be prepared to either splurge or hunt for some things on sales and in thrift shops. Creating modernist style with brand new furnishings requires thousands of dollars, but old mid-century pieces can cost almost nothing in garage sales and flea markets.
It's a bit easier with contemporary style because you can always rely on affordable manufactured furnishings to create that lean and clean look. There are also a lot of replicated designs that resemble iconic furniture on the market.
Student accommodation ideas are more diverse than you may think. It's only a matter of finding something that appeals to your tastes, and finding it in an affordable version.