All sorts of different ideas inspire furniture designers when it comes to their creations and while many look to geometric or abstract forms, many others turn to nature for a muse. Some look to trees and landscapes, others look to animals and it is the animal shaped designs that really come to life – pun seriously intended.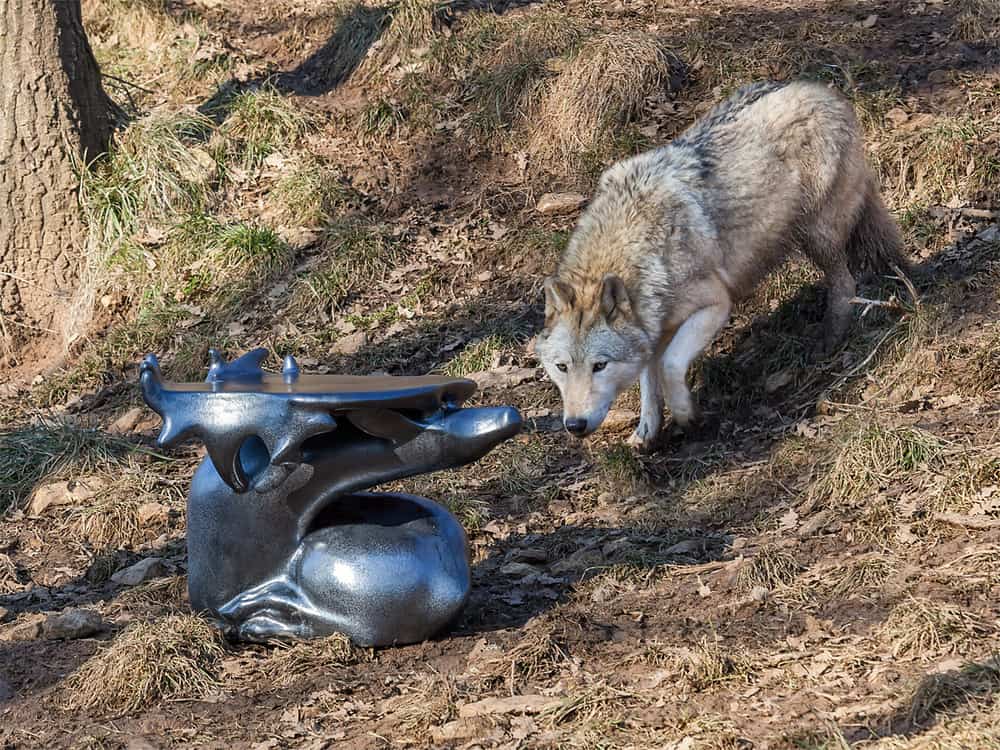 Edit Szabo has created a series of ceramic furnishings called TAME which consists of a bear, a deer and a fox. The deer is a table that is always at attention much the same as it would be in the wild.

Edit's bear table is cleverly designed to be either feet up, head up or back up. Source


This Bear Table is as much a bench as it is a table. The creation of Daniel Lewis Garcia it is made from maple end grain plywood.


Ugo is a solid cedar wood dog bench by Poalo Salvade that has its muse in a Basset Hound. I like the idea of the wood bowl beneath the head – that's fun! Source


David Ericsson must have had a whale of a time designing this ethereal Whale Cabinet for Swedish producer Friends of Wood. Made from birch wood and cotton aquarelle-paper that has been hand painted.


This owl room divider called Anacleto by Sivana Angeletti and Daniele Ruzza of Angelettiruzza Design doesn't let you see "hoo hoo" behind it.


Here's a fun shelving unit by Marcantonio Raimondi Malerba. It's called Sending Animals and the series consists of this cow, a pig and a duck.


Andre Simon's Llama is an abstracted image that will add a touch of whimsy to any room. It's a flat pack design so not only is it fun, its also easy to set up.


Here's a glossy table called the Pappera Table by A Lot of Brazil. Designer Alessandro Mendini says he created two versions because "Geese don't walk alone", now that's a considerate designer!


A coffee table featuring two hippos is appriately called Friends. Made by Mark Stoddart it is as much art as it is furniture. The Hippos, like all of his coffee tables is made from bronze and the design resembles a couple of hippo calfs peering out of the water.


Mark's Solid Bronze Rhino Coffee Table has its muse in the Black Rhino and was designed to help bring awareness to it's endangered plight. It was designed with the help of the British Rhino Society, Mark is a member of the Save the Rhino Society.


This Gorilla Chair by Robert Brou of Naturalism Furniture is made from stack laminated hand sculpted wood that has been finished in an ebonised black lacquer.


Well here's a ribbeting design. This Toad Sofa is part of an Animal Chair Collection my Maximo Riera.


The Octopus Chair by MaxiMo Riera is the very first design within the Animal Chair Collection.


Monkey see, monkey do or in this case Monkey is a fun concrete resin table by Jaime Hayon for BD Barcelona Design.


Are you an Aries? If so you must love this Aries Cocktail Table by Jonathan Adler. I'm not an Aries but I am a huge fan of both Lucite and purple.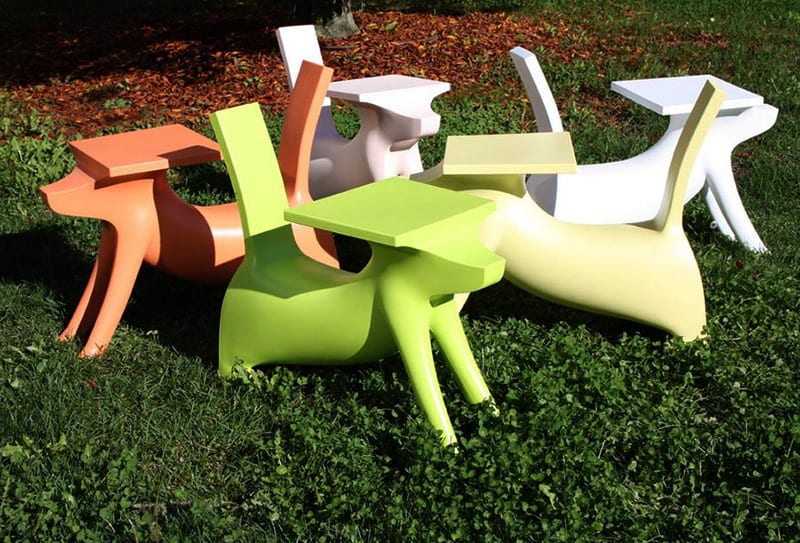 Le Chien Savant is a dog desk for children by Phillippe Starck. It's made from rotational-molded polyethylene so it can be used both indoors and outside.


There are so many chic dog beds but only one that I know of that is in the image of a dog. The Barkie Dog Bed by Arni Says is a private indoor/outdoor abode for your favorite canine friend that is virtually indestructible.


Jimmie Martin hand paints furniture in a wide array of images from street chic to dogs and dogs are one of their favorite images to paint.


Who knew pink flamingos could look Goth? Apparently Jimmie Martin did.
If you like animal inspired furniture you will love this whimsical table lamp – the Giffy – giraffe inspired.