Leave it to New York to host some of the coolest when it comes to apartments, this contemporary loft by Indi Interiors included. The bright white walls remind us of a gallery; a blank slate for the vibrant art collection – vibrant being a word we use to describe both its color palette and its splashy subjects. The eclectic furniture selections range from clean and contemporary, to lush and plush velvet in the richest of hues – a true royal blue that screams majestic. The tools displayed above the fireplace are an unusual choice for over-the-mantel artwork, and perfectly suited to this equally unusual, modern Park Avenue apartment. Here's the tour.

This living area has an art gallery feel to it – not to say that it is cold by any means. The clean white walls, the bold artwork, and the glass-encased sculptures offer something interesting to look at, something new to notice on every visit.


An more intimate TV room off the main living room offers privacy and a playful edge, with its graphic rug, multi-colored and patterned pillows, and toy collection on display.


In contrast, this sitting area is all business, but for the deep purple run underfoot. The espresso-colored cabinets add drama and storage. The white wall features two windows that brighten up this small room and its dark decor choices.


A foyer area, connecting the various living spaces. We love the large-scale art, and the strong, tapered table, standing like a sculpture at the center of it all.


While the kitchen is clean and minimal, the adjoining informal eating area is the extreme opposite – visually busy, and colored with original artistic touches by the kids. Love the cork-board corner behind the banquette!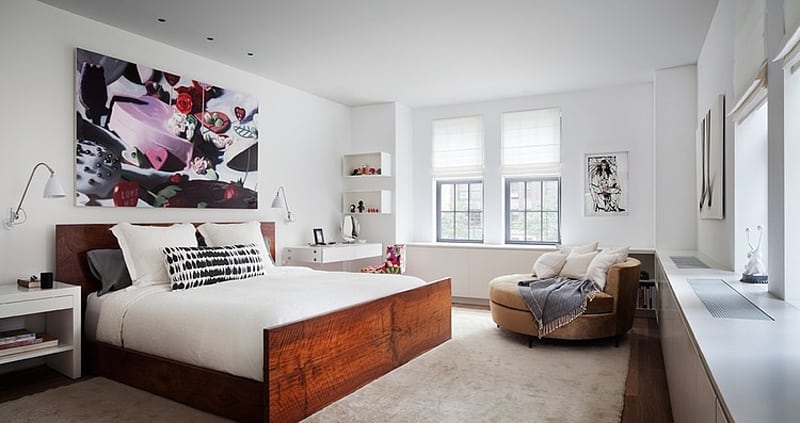 This is the bedroom of someone with adventurous tastes in… art, and love. We love the simplicity of the wood bed and the large, round lounge chair – cradle of comfort. A foot-wide ledge encircles the room, running just below the windows to provide a great spot to sit and enjoy the view.


This bedroom gets its fun character from its colorful accessories, colorful light fixtures, and is that some sort of swing suspended from the ceiling? Hang onnnnn…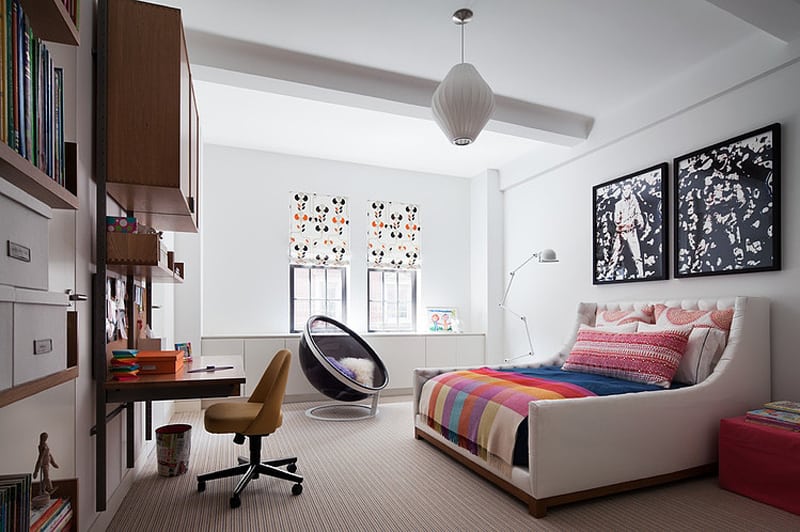 Another bedroom and study area would make a trendy retreat for a teen – a very lucky teen with a penchant for cool art and furniture! The ball chair, the bed, the built-in desk and bookcase give the space some fun flair.
Indi Interiors
via Home Adore