The weather is crisper, the trees are starting to change color and your porch will now become one of the most used areas of your home. For some odd reason, the porch tends to be used abundantly during the cooler months. Keeping that in mind, its time to decorate it and bring fall vibes, right where you want it most. Here are stylish fall porch decorating ideas to make your neighbors jealous.
Cotton & Muted Hues
A lush cotton wreath is a perfect addition to any outdoor space, its sleek and charming with just the perfect hint of color. Pair with a few muted hues to truly make the space come to life. The idea is to bring a beautiful contrast on your porch without the use of many colors. You want to use a softer palette in order to enhance the beauty of the room.
Bring on the Garland
Garland might seem like the perfect addition for Christmas, but it's actually just as sweet during the fall time. Take garland and frame your front door to truly make a statement. It brings beauty, charm and a chic twist right where you might need it most. Furthermore, it's a simple way of decorating your porch without having the need to go overboard with your décor.
Fall Crate
When it comes to home and outdoor décor having an organizing element is wonderful as it helps you showcase everything you want and need without the clutter. The idea is to display your favorite fall elements and have them make. Include an array of fall shades and textures to give your porch that classic touch.
Bright and Metallic
Plain orange pumpkins are always a classic touch, but this year brighter, metallic pumpkins are coming in hot. Instead of having only orange pumpkins, mix it up and display brighter hues and ones with a metallic touch. They're not only aesthetically pleasing, but they add an edge right where you need it best. As a bonus add-in lanterns for a classic intimate charm.
Pumpkin Cart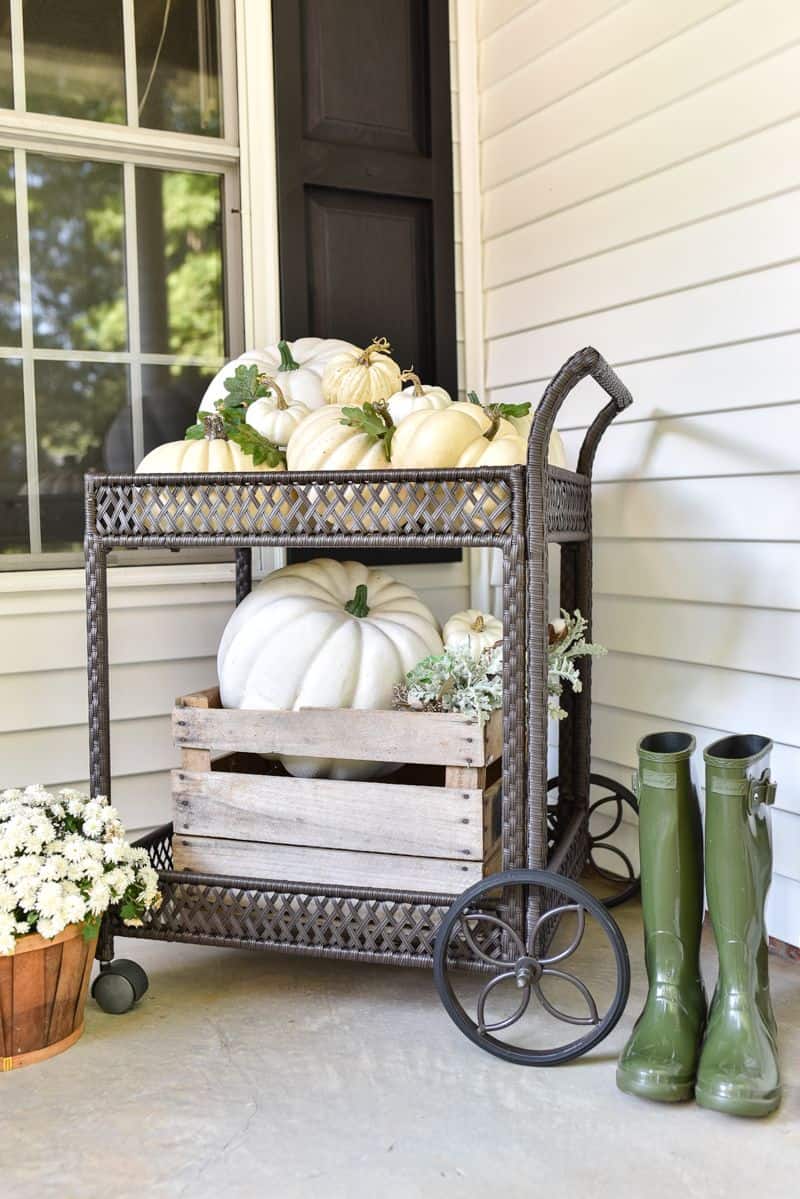 Give your outdoor space a charming twist by having your outdoor bar cart become the perfect pumpkin patch. You want to stash pumpkins inside of the cart allowing it to become the statement piece. Pair with bits of greenery to truly give a pumpkin patch aesthetic. Consider neutral hue pumpkins for a softer twist that works with the décor you currently have.
Black and White Detailing
When in doubt of what color selection to add to your porch display consider black and white. Not only are these two hues traditional and a truly classic staple, but they work exceptionally well when they are paired with other bright shades such as orange, green or even red. Add black or white pumpkins to your blend of colors and allow them to truly make a statement.
Bring on the Plaid
Another traditional yet statement piece that is charming and chic is plaid. Plaid has always been a fall pattern; furthermore, it's one of those patterns that adds a dose of warmth right where you want it most. Whether you add it in through a rug or other plaid bits, you want to make sure you are using a plaid pattern in a classic display for a beautiful outcome.
Chalkboard Charm
If there is one single item that is extremely versatile and can make a statement anywhere it is placed, it's a chalkboard. Chalkboards make a statement because you can write on them as much or as little as you would like. In addition, you can add them to any current décor you already have in order to add a quick charm.
Porch Signs
Set the mood for the upcoming cooler months by having porch signs. Porch signs are great as they are easy to do while still having a fun twist. Due to having a DIY aspect you can personalize your signs to your liking ensuring you get the most out of your decorating style. Say quirky lines or add fun verses to make your home the hit of the holidays.
Pretty Pastels
If you want to bring a feminine twist during the fall months to your decor, consider a pastel hue. Having a hint of pastel can make a huge difference while still allowing you to work with the holiday festivities. It's all about creating a balance in the décor you have. Work a few pastel pumpkins into the mix to give your décor that dainty, endless charm.
How do you plan on upgrading your porch during the fall time? Share with us below.