Like airy meringues pastel colors look delicious and are great at creating a light atmosphere in decor. They are also compatible and light enough to allow multiple color combinations in one room. They work well for any area from a teen's bedroom to kitchen. And there are a lot of design solutions that look simply amazing in pastels.
Pastel Colors
From walls to throw pillows pastel colors can be used in everything. Smaller accents may give a white living room a gentle pop of color, but pastel walls will create a completely unique interior look.
Interior designer Jamie Drake gave this 19th-century Manhattan apartment a beautiful fresh look with purple paint and blue and mint furnishing accents.
Pastel colors look good with all kinds of hues from all shades of grey to neutral white. A combination of dusty rose pink and taupe grey even became a classic in its own right.
It may not be a typical kitchen color combo, but that's a good thing. In this minimalist kitchen the colors look unexpected and fresh.
Mint is one of the more popular pastel colors probably because of its ultra refreshing look. Perfect for both clothes and interiors mint looks great anywhere but especially in bathrooms and kitchens.
Natalie Clayman divided wall and floor space between menthol green and grey-ish marble. Accented by yellow furnishings the bath looks simply stunning.
Pastel Bedrooms
Pale blue works not only for nurseries but also living rooms and bedrooms. It looks beautiful but also calming, which is important for a place where you go to sleep.
Brighter blue accents emphasize a gentler primary color scheme and darker details bring more dimension to decor in this brownstone bedroom renovation by Chango & Co.
Another great example is this bedroom with a neutral carpet and statement nightstand mirrors. Balanced out with pure white the room looks incredible. It seems like a matching painting above the bed became a palette for the room.
Pastels are made for monochromatic interiors. An entire room becomes a delicious cotton candy cloud you can't resist. Pink is very popular when it comes to designing a monochromatic bedroom. Pair it with white or grey and add rose gold details for a picture-perfect design.
Pastel Furniture
Pastels make beautiful accents. They can decorate any room without eye-watering side effects of brights. It's easier to incorporate them into an existing color scheme as well.
Going amazingly well with graphic prints pastels are made for sofas and printed throw pillows. And again rose gold accents can emphasize the pastel pink in your decor like nothing else.
What doesn't always work with brights can be done with pastels. Green and pink make a beautiful and organic combination in this sunroom echoing beautiful pink roses.
Complete with natural wood accents and flooring it looks inviting and incredibly cozy.
Pastel chairs, rugs, and other furnishings can transform almost any room. In a home office they will soften the 'office' aesthetic and bring a bit of glamour to it.
And in a hallway they will alleviate the effects of a tight and small space. With just the right lighting it will look even more open and light.
Pastels can be found not only in upholstered furnishings but also in solid pieces like this romantic lavender vanity.
Paired with golden brass details and decorative glassware in a matching hue it makes for a great addition to a feminine bedroom or bathroom.
Of course, furniture paint also comes in a wide variety of pastel colors, so if you want to give your kitchen cabinets or dining chairs a solid makeover it's only a matter of color choice.
Again mint is working its magic turning this kitchen into a livelier place. Even the stainless steel tech cannot make the interior look dull.
Pastel Walls
Pastel wall paints aren't just for one-color interiors. A combination of hues and shapes can create an incredible feature wall like this one.
If you're not sure about color combinations know that pink and blue always work well together.
Whether it's baby blue or gorgeous aqua, these two will always be a go-to color duo. And here is a way to use them in a fresh unexpected way.
It is the latest trend to paint your walls in various unusual color combinations using shapes and patterns.
Purple and peach is another color duo that works incredibly well. And the fact that it's not that prevalent makes it fresh still.
Texture Design used two shades of purple to create this incredible feature wall using circular shapes that merge into one another changing color.
Yet another trend that is still on peak is ombre. It looks quite bold and unusual in decor.
And what can work better with this trend than pastels? Calico created a wallpaper collection featuring ombre effect that uses dark blue and its pastel tones. 
Pastel Accents
Browsing through pages and pages of pastel interiors we noticed that pastel accents can be used more abundantly in decor without overwhelming it.
Also, as we already mentioned, pastels can offer you many more color combinations, which would be challenging with brights.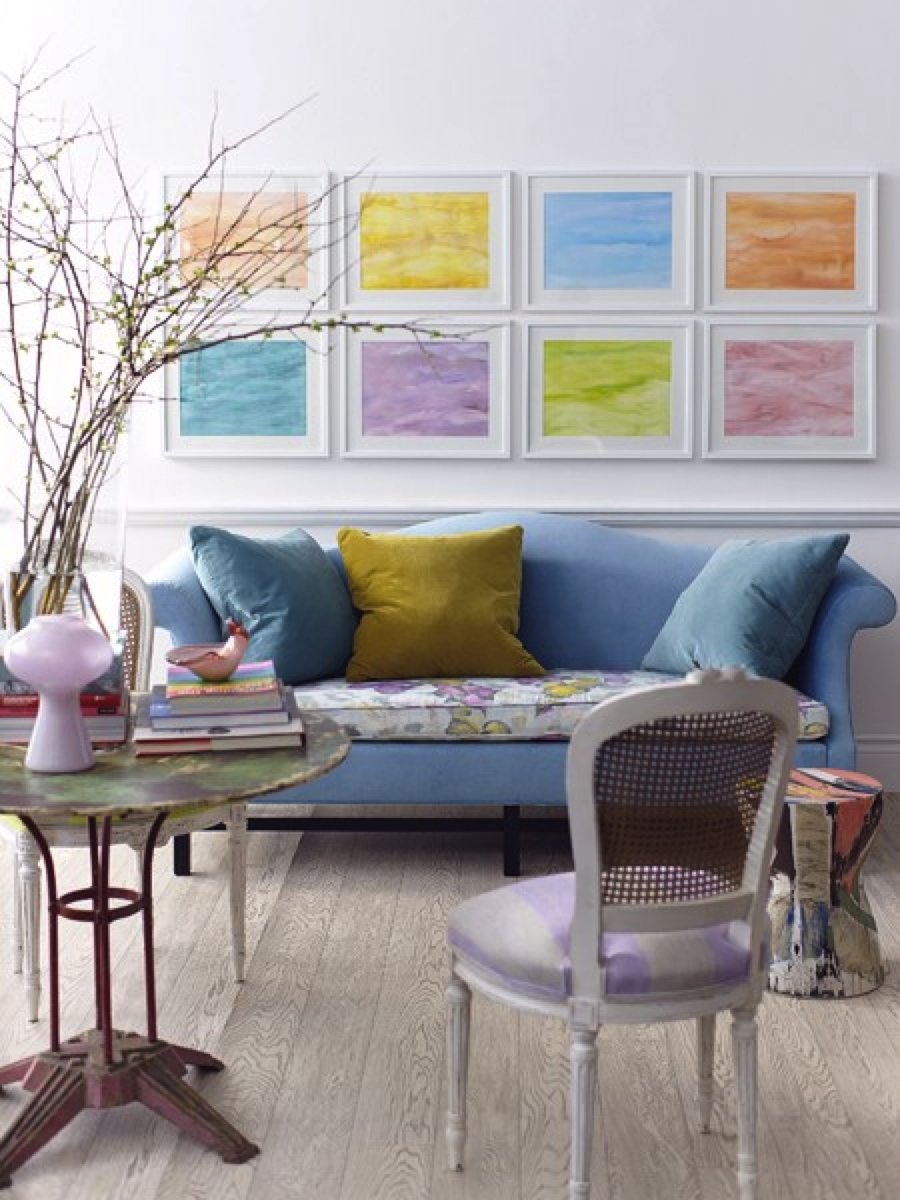 Take a cue from this interior using pastel and bright color swatches as wall decor. It's easy and cool and it complements the pastel furnishings.
It's also a great idea to use colors from an artwork or pattern to create an interior color scheme. Doing it the other way around may prove quite challenging.
Even small pastel accents can make an impact in decor. For instance, these dining chairs (that look like a fun hack for an old dining set) make the interior more lively and interesting.
A simple pastel throw pillow or a small lighting fixture can really spruce up a living or dining room without requiring too much effort.
Pastels & Brights
Great thing about pastels is that they work with everything, even brights. Adding bright details to your pastel-accented decor will help you create a multidimensional decor.
Hues of varying intensity will make the room more interesting and complex. It's also a way to bring attention to smaller details that would get lost in neutral colors.
One of the trendy ways to bring brights into focus is to use an artwork. Whether you take colors from it or choose a matching artwork for your color scheme it will tie in all interior colors together creating a cohesive look.
Pastel colors may have had a bigger momentum back in 2013, but they won't ever go out of style because they are so beautiful and easy to decorate with. Combine, experiment, and have fun with pastels as they turn your home into the land of Licorice Forest.