3D printing is as popular as ever, reaching spheres beyond design and home decor. For the last decade the technology got so sophisticated, we can now print human ears and parts of a skull. Furniture would seem like nothing compared to that, if it wasn't so intricate and imaginative. But 3D printed furniture isn't just interesting to look at. Its practicality and decorative qualities are simply undeniable. Take a look for yourself.
For instance, this storage wall by Simplus Design proves that 3D printed furniture isn't all chairs and tables. Colorful and geometric shapes as well as rich texture – all make this a decorative product for home or office.
Plastic SuperMod system is a great way to display and store your favorite books, wines, and plants along with some interior decorations.
Vortex bookshelf is another example of what can you get from 3D printing. Functional and yet so decorative, the shelving system is wall decor as much as it is a storage unit.
Even the ornamental top layers of the shelf are storage-friendly, and can house small things between their folds.
Patrick Jouin, who printed the first chair, also brings dynamic and flexibility to 3D printed furniture with his folding Oneshot stool that can easily take shape of your standard umbrella stand.
Thanks to its intricate, smart design, Oneshot also has the look of a furnishing that commands and draws attention.
3D Printed Chairs
Still, chairs remain the most popular 3D printed furniture items. And there are a lot of designs to choose from. They are rarely simple, though.
Taking the Giraffe chair by Lina Bo Bardi, Marcelo Ferraz and Marcelo Suzuki as a 3D protomodel, designer Guto Requena added the sounds of São Paulo streets to his design, and it turned out gorgeous, if barely practical.
Ventury is a France-based 3D printed furniture design firm that offers the most designer 3D printed creations on the market. One such design is an Eiffel chair.
Looking like a perfect representation of the iconic landmark, thanks to a similar pattern, Eiffel makes for a personal beautiful home accent that no other 3D printed design could rival.
Batoidea is a creation of a designer Peter Donders, who favors cellular design and colorful furniture. His 3D printed pieces are deliciously bright and contemporary.
Batoidea is only one in a collection of cellular goods that left Donder's 3D printing station rather than a classic furniture building workshop.
Joris Laarman Lab is full of interesting 3D print experiments that result in exhibition-worthy works. Founded in 2004, the lab managed to display their collection at the Friedman Benda Gallery in 2014.
One of their works is this Aluminum Gradient Chair that consists of microstructures that allow to create any form out of aluminum.
Lounge Chairs
We are not done with chairs quite yet. And we're not sure the designers will ever stop being fascinated with seat design, 3D printed or not.
Lilian van Daal experimented with density of a single material to create a simple design that is easy to recycle. Biomimicry is a result of those experiments that turned into a chair that combines solid and soft material density for comfort and sturdiness.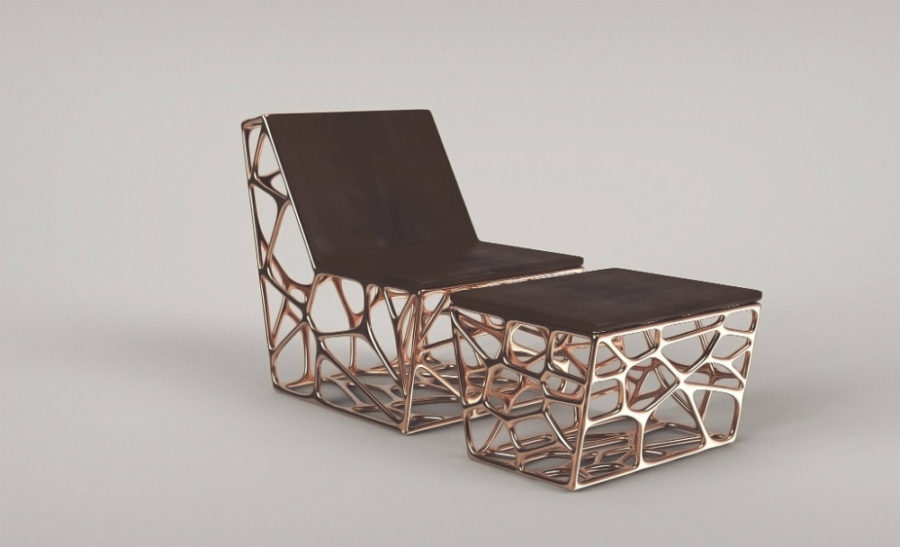 Another one of Ventury's amazing designs is this luxury lounge chair from their Gaudi collection. Its metallic cellular base is proof that 3D printed furniture can, too, look resplendent.
The brown leather upholstery adds to the chair's luxe look, and shows that combining cutting edge and traditional technologies works wonders for design.
Cellular Design
One of the 3D printing favorite patterns is cellular form, which often gives the 3D printed furniture that alien look.
Ventury used it in their Gaudi collection to tribute the famous architect who was known for his love for organic shapes. Gaudi bar stools would certainly make an impression in a home bar.
Gaudi side table is also a gorgeous cellular item that deserves its place in a contemporary living room next to one of these sophisticated sofas.
What makes this design especially luxe is the gold metallic finish, but a Lucite tabletop adds a beautiful yet casual contrast to the cellular base.
Marco Hemmerling and Ulrich Nether joined forces to produce Generico Chair using generative and additive manufacturing technologies.
Made entirely in this organic-like form, the seat looks unusual from the tips of its legs to the top of its back.
Industrial designer Onur Ozkaya has taken cellular design even further with his Cellular Coffee Table, the base of which is an entire system of cell systems within cell systems.
Using three layers of cellular structure, the designer achieved a very airy, lightweight but solid and stable base that holds a thick rounded square glass top.
Intricate 3D Printing
The beauty of 3D printing is that the final product can be as (if not more) intricate as the handcrafted pieces. And even though they're usually made of unnatural materials, they look as intriguing.
Cohda's Binary table is just one design from their 3D printed furniture collection designed with great detail and intricacy.
If you love warmth and beauty of natural materials, but also appreciate the design opportunities offered by 3D printing, there is a way to make them work.
Aleksandrina Rizova designed her walnut table to be different from all the rest. Instead of a wooden base, the furnishing features cellular 3D printed legs in an intricate shape, which support a matching angular tabletop. The contrast in materials is stark, but there is something alluring about it.
Vincent Coste's 3D commode is a modern take on 18th century furnishing originally designed by André-Charles Boulle.
The original ornament interpreted by 3D software, that was used to the maximum of its ability, resulted in an eye-catchy piece that although see-through, still has immense detail to it.
A team of students from Bartlett architecture school developed a new technique that allows 3D printing complex curvy structures.
They tried to use it in chairs, and the experiments yielded amazingly gorgeous results, one of which is particularly detailed and complicated.
Organic Furniture Designs
The problem with handcrafted and traditionally manufactured furniture is that not only does it leave a lot of waste behind, it also often limits the creators in what they can do.
Namely, it's difficult to create complex organic-looking designs by hand. When it comes to 3D printing, though, you can really let your imagination fly. For instance, designer Jan Habraken and a team of Formnation imagined how chairs would look like in the future, if they had DNA in their peculiar design Chairgenics.
Utilizing digital maquettes used in movies and video games, the designer Daniel Widrig created a Degenerate Chair that consists of 3 billion three-dimensional pixels stuck together with the help of a mixture of plaster and sugar with sake.
Thanks to its incredibly complex structure, the chair looks like a unique rock formation that was carved from a single block in a shape of a stool.
Researching the caves inside the "Mendenhall Glacier" in Alaska, NOWlab created a 'Glacier' table, which represents the 'optimum material cycle'.
Semi-translucent, the biodegradable table has a glacier-like tabletop bottom created in a layer-by-layer process rather than with the help of molds or additional scaffolding material.
Just like Guto Requena turned sounds of São Paulo streets into a chair, Lucas Maassen made a sofa out of a brain wave scan thanks to 3D printing technology.
With some help from an electro-encephalogram (EEG), Maassen got a 3D landscape image, and sent it to a CNC milling machine to create a very cat-friendly sofa in soft foam.
Colorful 3D Printed Furniture
Got used to seeing only black and white 3D printed furniture? The designer duo Reed Kram and Clemens Weisshaar present an entire collection of 3D printed furnishings featuring colorful bases and joints.
One such design is a contemporary sleek desk with a rack for storage. There are also a side table, a coffee table, and a console shelf in the collection.
Architect Alvin Huang of Synthesis Design also offers a colorful chair design, which he achieved through multi-material printing technology.
The gorgeous ombre turquoise seat fades to white around the edges. And the shape and materials make it a far cry from your grandmother's rocking chair.
Designer Janne Kyttanen was among the first 3D printer users. Now he creates mind-boggling designs fusing such materials as volcanic rock and 3D printed metal parts.
Metsidian is a table that was created with additional help of explosion welding. Aside from an intriguing production process, the table also has a surprising shape with the top collapsing inside right in the middle.
Not only traditional furniture can be made of reclaimed materials. The Endless chair by Dirk Vander Kooij is made made out of old refrigerators.
Kooij is also a special case because he built his own 3D printer that makes mistakes, which he actually likes as opposed to flawless 3D printers.
Patterned 3D Printed Furniture
Joris Laarman's 3D printed furniture at a 2014 Friedman Benda exhibition in New York demonstrated how massive 3D printing can be.
Laarman's MX3D printer, that prints bigger objects like chairs and benches, does it mid-air also using stainless steel and other metals.
3D printed furniture can also bear patterns and prints. It doesn't have to be solid. Joris Laarman's Maker pieces easily prove that.
Looking like something that came out of Wonderland, the Maker table would be right at home in some contemporary interior.
3D Printed Furniture With a Metal Finish
Even metal is subservient to 3D printing. But it's still easier to use more pliable materials like resin, and then get a finishing touch you like.
Janne Kyttanen's Sofa So Good couch may look like a metal dish scrubber, but it's in fact a soft resin seater coated with copper and chrome.
Another one of Kyttanen's works is this glamorous bronze Sedona table that represents the sandstone formations of Arizona.
We can totally see it in a contemporary dining room. Although what chairs would go well with it?
Mathias Bengtsson made his traditional approach work for the modern 3D printing design. He took his carved wooden walnut Growth table and grown it digitally to create Big Growth, a solid bronze table with a similar shape.
3D printed furniture is great for quite a few more reasons. It's environmentally-friendly, as it promotes waste-free production. It's cheaper and faster as well as less demanding than traditional furniture. And it may even get a digital distribution without the need for shipping.