Wallpaper has come a very long way since your grandmother used to have it in the kitchen, so much so that they're now on trend in a huge way. Whether you want to create a traditional kitchen aesthetics, or you want a more modern twist the options are endless when you use the right wallpaper. Wallpaper is cost-effective, fun, and versatile depending on the visual you would like to achieve with specific patterns and colors.  These fun ways to wallpaper your kitchen will drastically change your décor layout.
Elevate Your Bar
Make your home bar feel and look more elegant with a bold, colorful wallpaper as the background. Add a tropical touch to the space with a palm print wallpaper. Not only have these become trendy, but they are beautiful to look at and pair with other colorful bits.
Marble
No material works better in the kitchen quite like marble does. Marble is just one of these elements that makes sense in the kitchen space. Why only showcase your marble on your counters and kitchen island when you can display it on your walls as well? Marble wallpaper is not only elegant and versatile, but it is also a beautiful way to add color, texture, and personality.
Breakfast Nook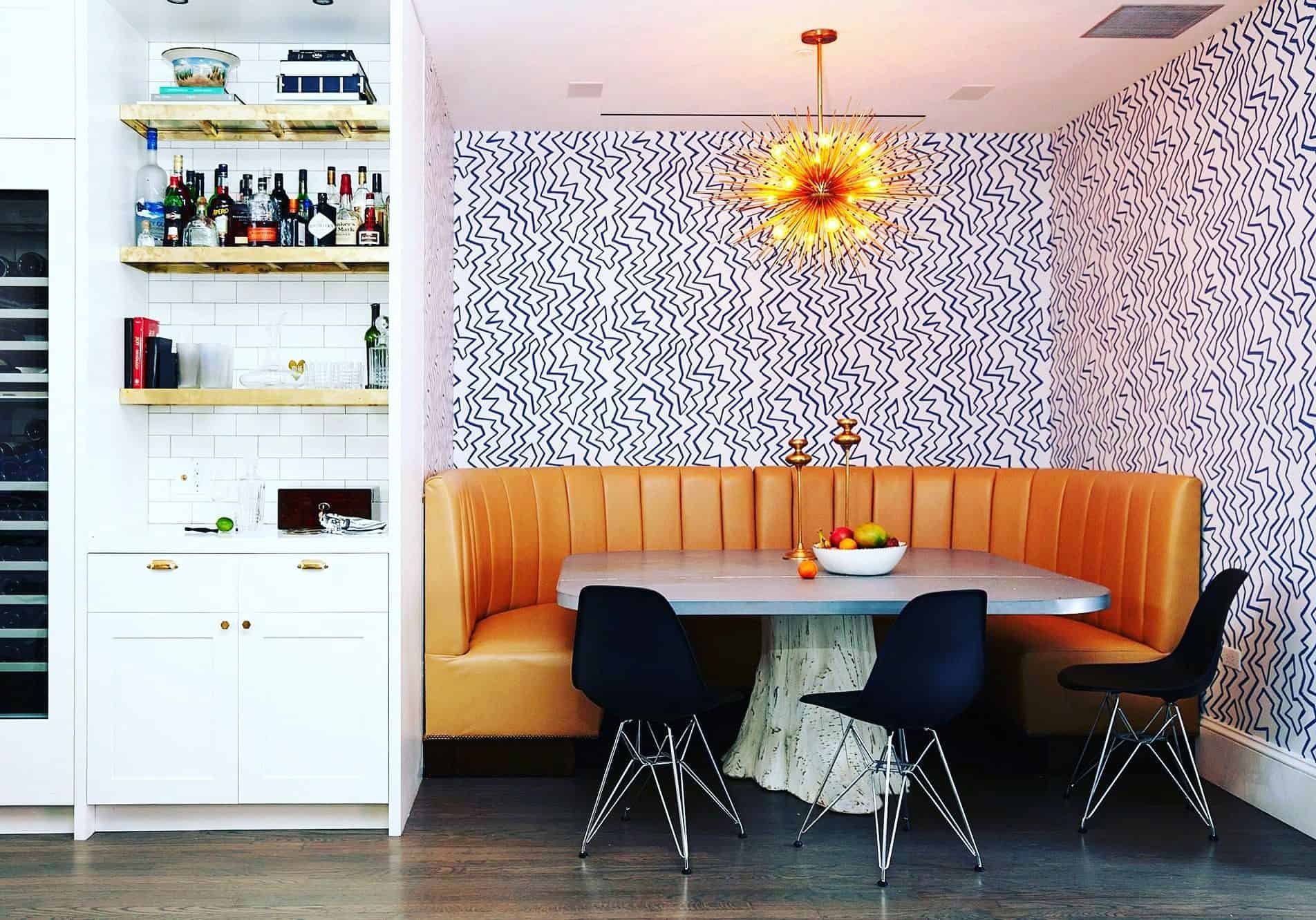 Keep your kitchen walls bare and allow your breakfast nook to make the statement by utilizing a bold wallpaper. You want to use a wallpaper that comes in a daring hue and with an even grander pattern. A striking pattern will bring life to the kitchen without taking away from your décor.
Go Floral
A floral wallpaper is perfect for a country inspired home or a farmhouse, there is something very traditional about having a floral background.  To keep the wallpaper from appearing "too feminine" pair it with darker, richer hues and shy away from pastel hues. Additionally, consider pairing with bits of wood and/or even hues of black for a more masculine aesthetic.
Black and White Texture
If you have been a bit hesitant about wallpaper a black and white textured wallpaper is the way to go. Doing so brings an industrial, textured appeal that is crisp and clean while allowing you to use any color scheme you would like to use. Consider adding bits of pastel to keep the décor simple.
Bold Backsplash
A bold backsplash in the kitchen is always a good idea. The use of color is one of the best forms of incorporating personality and texture to your kitchen. Not only is it easy to pair with other colorful bits, but it's economical to have as you can change it multiple different times without much charge needed.
Geometric Patterns
The black and white geometric print adds an Art Deco touch even to the most minimalist kitchen. Add it in a corner or two to have a little preview of the pattern without a bold in your face display. Doing so will lively up the kitchen without the need of adding an extra dose of color.
Bring on the Lemons
Ever wanted to have a bold, almost unique wallpaper in your kitchen that simply makes sense? If so a lemon wallpaper is the way to go. Pair the lemon wallpaper with simple décor to allow the brightness of the lemons to make that statement they were intended to make.
Go Tropical
If you have been dreaming of a tropical vacation yet have no time to take one, adding a tropical wallpaper in your kitchen could be the way to go. Choose a bold wallpaper with bits of pink and green for that classic tropical aesthetic, then pair it with brass bits to offset the colors and bring a modern vibe.
Daring Blue
Whether you want to elevate your house or create a Morrocan oasis a daring, blue wallpaper in the kitchen is the way to go. A blue patterned wallpaper is always a good idea because it typically combines multiple hues of blue into one.
Time for a fun wallpaper display right in your kitchen. Which of these is your personal favorite? Share with us in the comments below.