For many of us, the bathroom is our sanctuary filled with everyday necessities that can make life easier. A space filled with countertops and a sink ready to be used every morning and evening for your routine. However, while it is one of the most used spaces of the home, it is also one of the least decorated. Keeping that in mind, it's time to upgrade your vanity cabinets and bring a fresh new look and feel to your sanctuary.
Start with the Backsplash
When it comes to giving your bathroom a fresh touch, the backsplash you use can make a huge difference. Whether use you your wallpaper as the focus or you decide on tiling, the key is going minimal with a huge impact. To do this, you want to play with patterns to make an impact without going overboard. We recommend starting with a marble display that has gold weaved in. It's simple, and concise yet makes an impact where you need it most.
Simplicity at its Finest
The bathroom is one of those areas we tend to spend a lot of time in, from using it for everyday necessities to showering and even as a sanctuary. Reason why we believe in simplicity for this specific area. However, first things first, before you decide to go down any road of décor consider decluttering the room. The less clutter the more open your space will appear- that includes your vanity. Contemplate removing all excess skin and body care and placing it inside the cabinets. For décor opt for a simple plank approach as your vanity.
Double the Sinks
Okay, okay, if you have never had a double sink vanity, it's time to invest in one. The simple act of changing your vanity will greatly change the approach of your bathroom, ideally, it will give it the upscale upgrade it needs to feel more like the vision you have. When working with double sinks, the key is having unique faucets. The shape, shade, and contrast of your faucet can instantly change the approach your vanity gives off. Bring in techy, faucets for a modern take, or keep your faucet with a chrome finish for easy cleanup.
Make it Float
Not every vanity in your home has to be lying flat on the floor, sometimes a smaller area calls for you to have a touch of airiness. That is where having a floating vanity will come into play. Not only is it lightweight but it won't take up much from the room. Having a floating vanity will instantly give the room a grander approach. You don't want to elevate the vanity too high as it will instantly make the room feel overwhelmed. The trick is having the vanity sit about 5 inches from the ground.
Unusual Asymmetrical
Once you decide it's time to change your entire vanity, it's time to take a look at the room's aesthetic. Whether it's easy on the eye or a little bit more eclectic, always consider having an unusual, asymmetrical approach. Doing so will instantly make the room cohesively come to life. Bringing in a unique piece of furniture will instantly make your eyes shift in that direction, causing the room to feel larger with the perfect amount of intricacy.
Two Smaller Displays
When you first walk into a room, the first thing that might catch your eye is the bathtub, however, have you ever considered the possibility of making your vanity the focus? If so the best way to do such a thing is by having a set of smaller vanity displays instead. It's about keeping it simple while giving yourself added storage space. With two vanities you get to bring added storage right where you need it.
Open & Airy
Keeping your vanity clutter-free can be a tricky task. Whether you realize it or not many of us tend to load up our vanity with everyday items, from makeup to hot hair tools, they all tend to end up on the vanity. It's time to change that by bringing in a vanity that has an open layer. When you have a vanity that's somewhat fully open you will be more inclined to keep it neat. It's about keeping the aesthetics as clutter-free as possible.
Mid-century Upgrade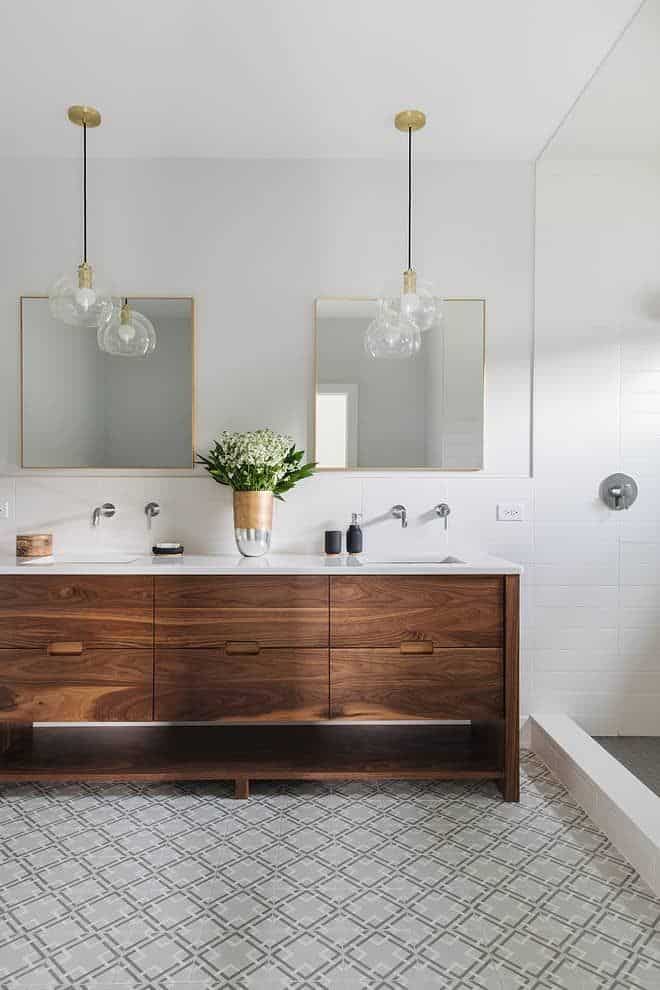 Mid-century décor is coming back boldly so why not be ahead of the game by having your vanity be the mid-century tool that gives you a bold upgrade. The key with mid-century décor is working with wood. The more wood you incorporate the easier it will be to have that mid-century appeal. It's all about having the room come to life with an easy touch. Pair your mid-century display with a hint of color.
Unrefined Wood
Sometimes a bold piece of wood doesn't need to be refined it needs to be displayed just as it is. Bring in a bold, wood-made item and have its main textures feel as authentic to the room as possible. It's about taking the natural state of the wood and having it become its focal point from every angle. Make your vanity as authentic as possible by keeping it true to form the entire time.
Bring on the Eclectic Mirror
Okay, Okay, so you want to upgrade your vanity, but don't exactly want to change it too much, here's what you do: you bring in an eclectic mirror. Having an eclectic mirror just does something to the room that is undeniably charming the moment you walk in. It's all about having that bold appeal that enhances the room no matter what else you add to it. Consider bring in a metallic finished mirror.
How do you plan on showcasing your new vanity display? Share with us your ideas below.