Modern kitchen backsplash is all about catching the eye. Forget about pure practicality and utilitarian aesthetics. Natural stone, wood look tiles, and attention-grabbing mosaics are the hottest kitchen design trends right now.
Backsplash should be the magnetizing juicy center of your custom cabinets. It's only about the look. Well, at least till it's time to cook. Then you may fuss with a protective glass and a soaped rag.
Veiny Marble
Flipping through pages of kitchen designs you'll notice how popular marble has become as a kitchen finishing material. It's used everywhere from countertops and wall coverings to tabletops.
Marble backsplash while jaw-droppingly beautiful and impressive isn't very practical. So if you don't have some extra cash for resealing and other maintenance work, it's best to invest into marble look porcelain tiles and other coverings.
Intricate Granite
Marble isn't the only natural stone that spread widely throughout the world's kitchen countertops, although it's still the most popular. Another option is, however, an intricate granite with its splatters, veins, and knots.
Slightly more affordable, granite is a nice departure from a more familiar marble. At times more showy, it's a great alternative for a kitchen that strives for a completely original, fresh look.
Stones Galore
Other natural stones like slate, limestone, and quartz can too become a beautiful focal point of your kitchen adding a bit of mystery to it.
Agate and onyx are two of the most showy options that you can also have backlit for a more spectacular effect.
Loft-Style Brick
If money is an issue, brick can make a nice alternative to stone. Of course, it will look less expensive, but there is a certain charm to it. Besides, if you ever dreamed about living in a loft, this is a good way of bringing the aesthetic to your home.
Wonder how to get the look without a hassle and also keep brick clean? Well, brick veneers will give you an authentic look without the weight. And as for cleaning, use liquid detergent and a brush on those faux bricks. No acids or wire brush.
Inviting Wood
Another way of bringing loft-style to your home is wood panelling. But instead of the real wood go for wood look porcelain tiles that are not only cheap and easy to clean but also come in a variety of designs.
Since these come in different textures and colors you can choose between a realistic aesthetic or a more polished stone-like look. There are also distressed wood look tiles, designs that imitate colorful painted wood planks, and all kinds of other interesting options to consider.
Stainless Steel
Looking to add chef's kitchen aesthetic to your kitchen? Stainless steel is what you need. With its sterile but stylish finish it looks smart, versatile, and very modern.
It can also easily tie all the stainless steel appliances together, which can be fairly difficult to do in other styles.
Glistening Metal
Besides sheet metal there are also metallic tiles that can give your backsplash a bit more detail. And there are also different types of metals including trendy copper and glamorous brass.
There may be just one downside to an otherwise practical metal surface – scratches. Metal's shiny texture is extremely prone to scratching, so it's important to handle cleaning with care if you want it to stay scrape-free.
Sleek Glass
Glass is among the most affordable backsplash materials. But if you think it can't look stylish, here are some examples to convince you of exactly the opposite.
Whether you're using uniform glass or glass tiles it's all about how you do it. Glass always looks glam in minimalist designs. And if you add a punchy hue to the picture it will look a bit more intriguing.
Revealing Windows
A window strip where a kitchen backsplash should be? Why, yes you can have that thanks to Built by Wilson and Cantilever Interiors. Both these firms offer this design solution for a kitchen instead of an old tired backsplash.
Cleaning this is as simple and annoying as any other house window, but if you have a worthy view outside, why not invite it into your cook room?
Graphic Designs
Graphic backsplash designs isn't something you will see often. But it's probably only because grease stains on people's likeness seem like a questionable honor/tribute.
Still, if you're looking for an original idea a photographic mural or wallpaper may prove a designing addition to your glass backsplash.
Chalkboard Surfaces
Chalkboard is a controversial thing, especially when it comes to kitchen design. And rightfully so, as chalk is quite messy and painted walls are a pain to clean.
It, however, has its own advantages like giving you plenty of space to plan a menu or leave lovely notes and grocery lists to kids.
Fun Shapes
What's great about tiles is that not only are they easy to keep clean but they also come in such a head-spinning multeity of designs, colors, and shapes.
It's not only squares and rectangles anymore. Caitlin McCarthy, for example, used a Swiss cross-shaped tile in her sophisticated emerald green kitchen design that really punctuates its luxurious finishes.
Beehive Style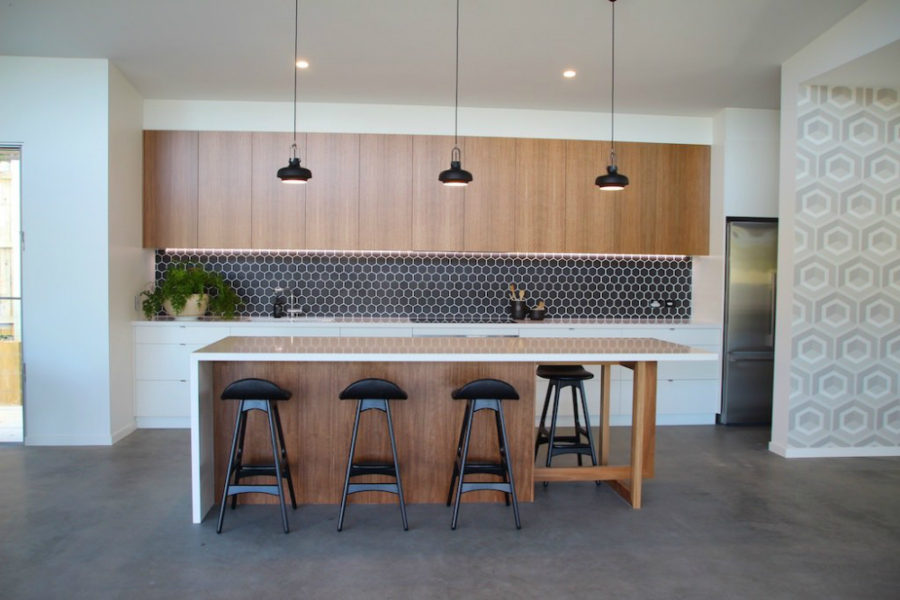 Honeycomb tile shape really blew up these past couple of years. Big, small, stretched out, they come in different sizes, colors as well as the coveted marble finish.
They also look better when used on only half of the wall than the even squares and rectangles as they leave a more decorative edge.
Kaleidoscopic Prints
Prints and patterns come in even bigger variety. From simplest to most intricate, printed patterned tiles always look showy and eye-catching.
The easiest way to use printed tiles is to lay them on a white background because then you won't have to worry about matching colors. Neutrals always work best with complicated patterns.
Custom Designs
Custom backsplash designs are always out and outer. You won't ever see anything like it anywhere else. From textured tiles to custom tile work, anything is possible with these.
You'll probably pay more for a custom designed backsplash, but if you have the interest you can always do it yourself.
Subway Tile Styles
With affordability being an issue, subway and square vintage tiles rose back to popularity recently. Of course, there are many more options to choose from than plain white designs. Black subway and square tiles look super stylish, but they are just a tip of the iceberg.
Modern kitchen backsplash designs come in very unexpected forms from rare stone slabs to custom designed mosaics. You don't have to choose something otherworldly to make yours look special, though, as even the simplest tile design can look amazing in the right context.