Working from home has become more and more of a trend. Therefore, more and more homes are adding a home office. This is great if you work from home, but it is also great for those that tend to bring work home. Having a professional space where you can unwind and get work done is the ultimate goal. Keeping that mind, you want to have a trendy home office that has everything you need in one simple space. Here are trendy home office ideas that will help you create the ultimate office space that works just for you.
A Tranquil Space
A tranquil space can be exactly what you need to get your work done on time and without interruptions. Creating this tranquil space can be easily done when you incorporate pieces of décor that work well together and add to the tranquility design of the space. Keep a color palette that is crisp and clean with pastel tones. You may also want to add a chandelier for a hint of elegance.
A Natural Feel
Nothing brings peace and relaxation quite like the look and feel of nature. This is also true for your home office. Use only natural furniture made out of wood for the charming yet cozy feel that is also relaxing.  This will give your office space a natural approach.
Open Space
An open space theme for a home office is great because it helps minimize clutter as well. A clean and well-organized space means a clear mind. Having an organized space means having multiple different shelves that help you store your most needed items. Add a bright chair into the mix for the ultimate contrast between your shelves.
Double Duty Space
Having the space for a home office is not always the easiest thing to have. However, if you do not have the space for the home office you desire you can always add it to another area. Doing so will allow you to have a double duty space that is multifunctional. The key to doing this is having a space that is elegant. An elegant multifunctional space works well because it will blend seamlessly into the home. Keep the space, elegant by using pastel tones and adding a crystal chandelier.
A Space for Two
If you and your partner both work from home, consider having an office that works for the two of you at the same time. Instead, of separating and creating two different spaces have one that works for the both of you. The key to having a space that works for two is having some sort of distance between the two. You do not want to get in each other's way while working. Therefore, you want to have two chairs either across from each other or next to each other with space in between.
Wall of Art
Sometimes all we really want, and need is a small space to lay out laptops down and concentrate on work. If that is the case, keeping the décor in your office simple is the way to go. A simple desk and table will do. However, in order to add personality and a custom touch you want to add a wall of art. Hanging images can inspire and add to your productivity.
Small and Stylish
A small office does not mean you need to have minimal décor in the space in order for it to be functional. You can have a small space and make it stylish by having a smaller desk with a larger chair. This creates a contrast that makes the space seem larger. It will also look and feel more comfortable all at the same time. Use a bold pop of color with white and black tones to enhance that color and make it the focal point of the room.
Clear Table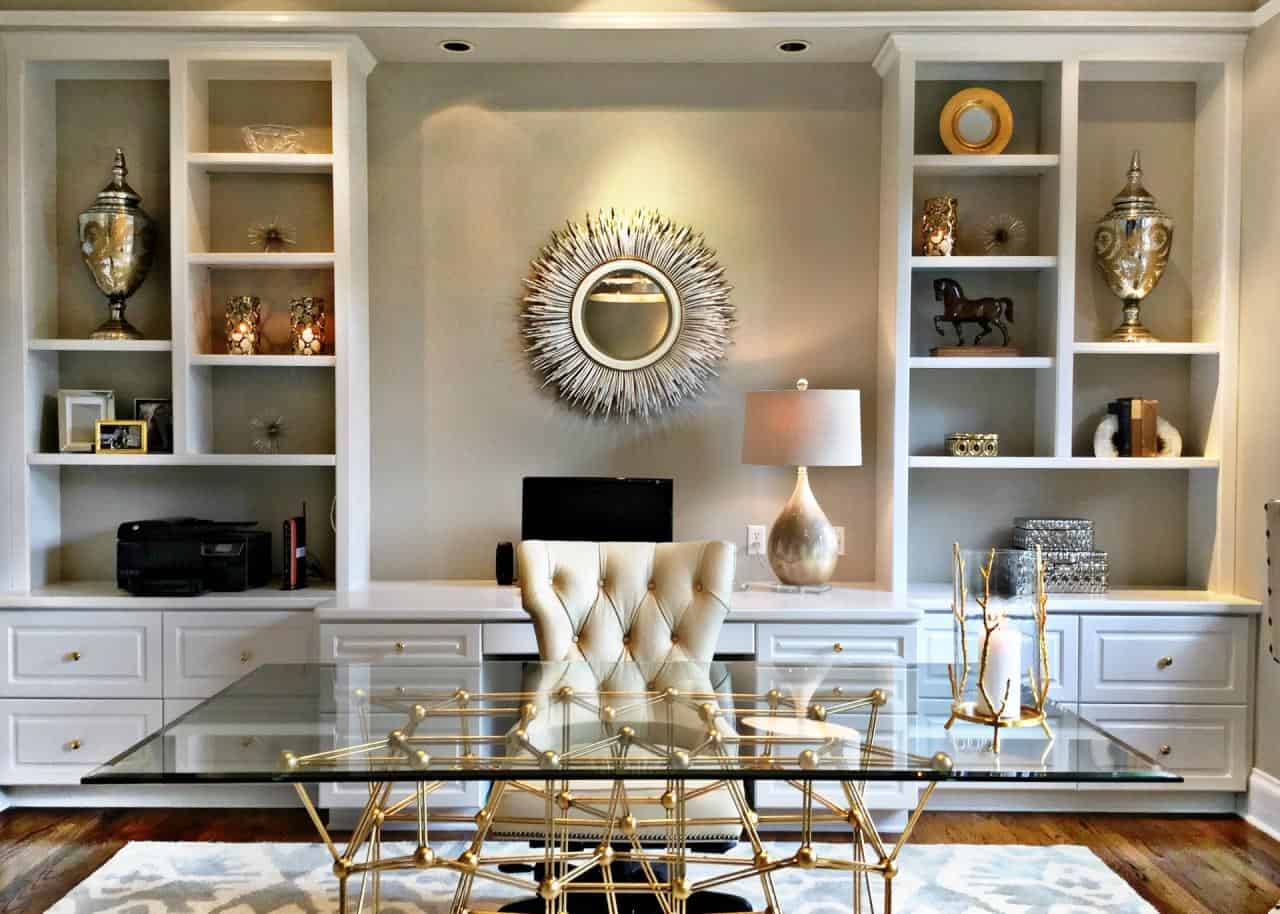 Modern, stylish, and trendy is the perfect way of describing having a glass work table. Make your glass table the focal point of the room by allowing it to be the only clear item in the entire room. Focus on having bright colors in the space. Doing so will cause your eyes to go directly towards the one item that is clear in the room.
Pops of Orange
Orange is a bright color that demands your attention. Adding it to an all-white workspace works wonders when it comes to creating an area that has a bright focal point throughout. Let's face it, work can sometimes become boring, especially if you are sitting in one continuous space for a long period of time. In order to avoid the feeling of being bored, you want to add a bold color.  This will ultimately help reawaken the space.
Geometric Take
Geometric patterns are great because they add visual appeal to a room easily and effortlessly. Take a geometric approach to your home office by adding a wallpaper that has a geometric pattern. This is the quickest and easiest way to go about this trend without having to add multiple different decorative items at once. You can also consider adding a geometric lamp. Adding the lamp will add color, a trendy feel, and a unique twist.
Working from home can get even better by simply change up the décor you have in your home office. Please let us know which home office idea you want to incorporate into your home office in the comments below.