Organizing your home office can be a really big project! -One that's hard to handle while you're trying to also accomplish your everyday work routine in it! It's tough to know where to start, but don't worry! Take a peek at these 21 visual aids we've collected to give you the motivation to get through the piles and piles of things sitting on that desk.
Whether you need to de-clutter, reorganize, or completely renovate your office space, let these unique examples lead the way and help you map out a plan.
Clean, neutral tones:
Notice the simplicity that the white walls and floor lend to this space. Choosing a neutral like white gives you the flexibility to have fun with textures, patterns and statement pieces without being overstimulating. With white, you can also dress it up with one-of-a-kind tribal prints and quirky wall hangs. -Check out those pink chairs! They really pull the room together with all the different, simple patterns placed throughout the office.
If you don't want to invest in any new pieces for the office, you can always paint one wall in horizontal stripes for an accent in your new space! Actually, an accent wall is almost always a great idea. It doesn't have to be horizontal stripes or muted tones, either.
When working with less square footage, it's crucial to keep it clean and organized. Notice the shelving to the left and the overall tidiness of the space!
If you're trying to set a certain mood for a family-friendly home office, then consider what colors and organizational techniques you're choosing. -Are these methods helpful to you? Humongous file cabinets aren't the only way to get rid of stacks of documents you've been trying to sort through!
Office storage creates a functional work space:
Although there are quite a few different areas for storage, it has all been neatly and succinctly arranged. Also, adding a mirror to a smaller office adds dimension, making the room appear larger than it actually is. And, it also gives the room a really nice focal point which ties this beach theme together nicely!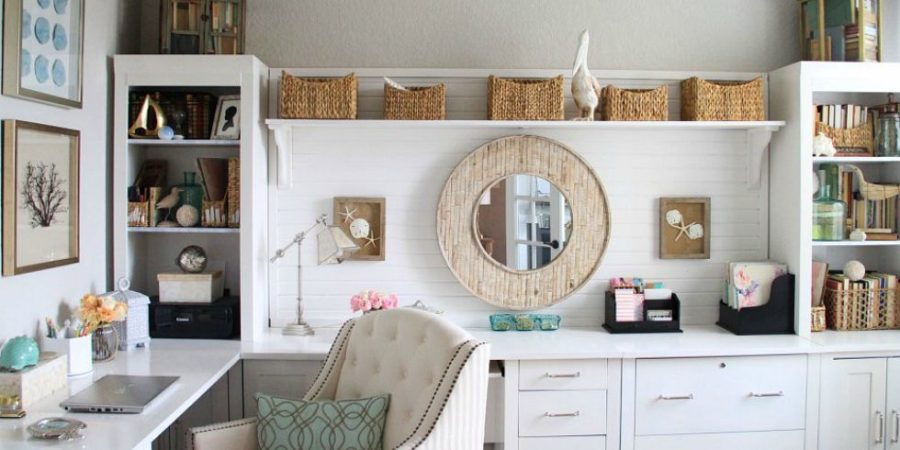 Another plus side of using white is that you can go crazy (not too crazy) with the accent color! Orange is such a vibrant color that it works perfectly in this little home office. A little orange, here and there, mixed in with all those crisp, white storage boxes is absolutely perfect! And the accent wall brings complexity to otherwise simple style pieces throughout the room, which is just what you'd need on the days when you need a little visual pick-me-up!
You know what else you can do to transform your home office? -You can scout out funky colors of furniture! Upgrade your boring old office chair to something unique like the yellow chair above! -Maybe you can even find a little seat with trim to match it!
Besides the very high number of file cabinets, what else do you notice? Look at all that natural light pouring in! If you have no idea where to begin, just remember to utilize all the natural light that you can! It will keep you cheery, and keep your home office a little brighter.
Investing in new windows for additional light sources could be a project worth looking into if you have the budget!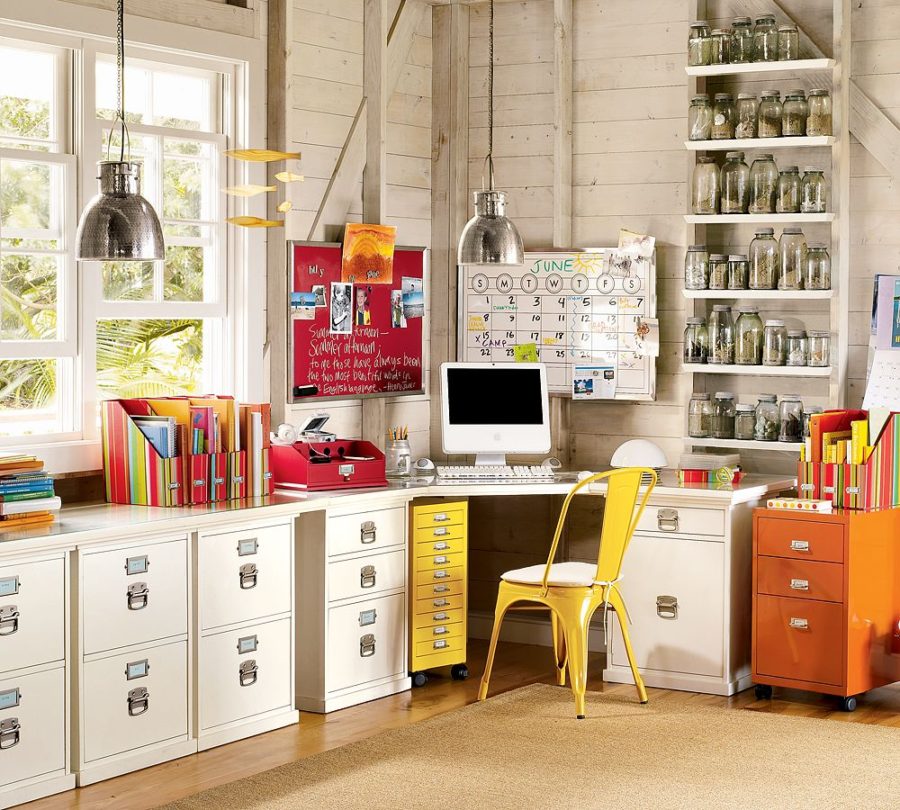 Put some wheels on it!
Check out this rolling desk below! What a great way to move your work from one side of the room to the other if you're also using the room as a place to practice your yoga!
Don't be afraid to dress up your office for the holiday season. Adding little green accents here and there can really bring some joy to you as you work during the busiest times of the year!
If you're not into Christmas decorations, you can always create a mood board. Pick out a few of your favorite paintings, photos, or inspirational quotes, and be sure to hang them in one place where you can glance up at them from time to time!
If you're into a more cozy vibe, choose warmer tones. -Especially if you have a hide-away bed for when guests come!
Look at the accents of blue in the home office below. Take note of how complementary colors change the mood of the environment you're working in. What colors do you have around you right now? Do they make you more or less stressed? Focused or unfocused? Colors have a complete psychology, if you can to know!
Blue makes it cool, and calm:
Gray and all shades of gray-blue are calming. If you've been having a hard time picking a color scheme, consider choosing colors that are generally neutral and light. Soft blues and grays are the perfect choices if you're wanting something a little different, but not too drastic of a change!
If you still can't decide what color to paint your office, maybe just keep it white and go for an eccentric pin-board instead. Taking the time to make your office truly yours is really important. You'll actually want to go to work if it's a place that you love going to!
Regardless of your taste in chairs, desks, color schemes or overall styles, we hope you find a way to make your home office a place where you love to work, grow, and dream.