Here's the latest trend in photo wall collage layout – designing a creative shape with just photographs, without frames, and with some fun and unexpected results. Here we've gathered 17 best DIY ideas for your inspiration. The photos attached to the wall directly in most cases or sometimes placed on a sheet of hard paper or a canvas or hanged on wire. In any case, this is the most inexpensive way to create a photo wall, all it takes is some work and imagination. Great for Instagram photos especially or for college dorm decor. And you could print photos for the collage in the same size or in different sizes, depending on your idea.
Heart Photo Collage is the Trendiest

Making a heart-shaped display of Instagram photos is the latest craze, via.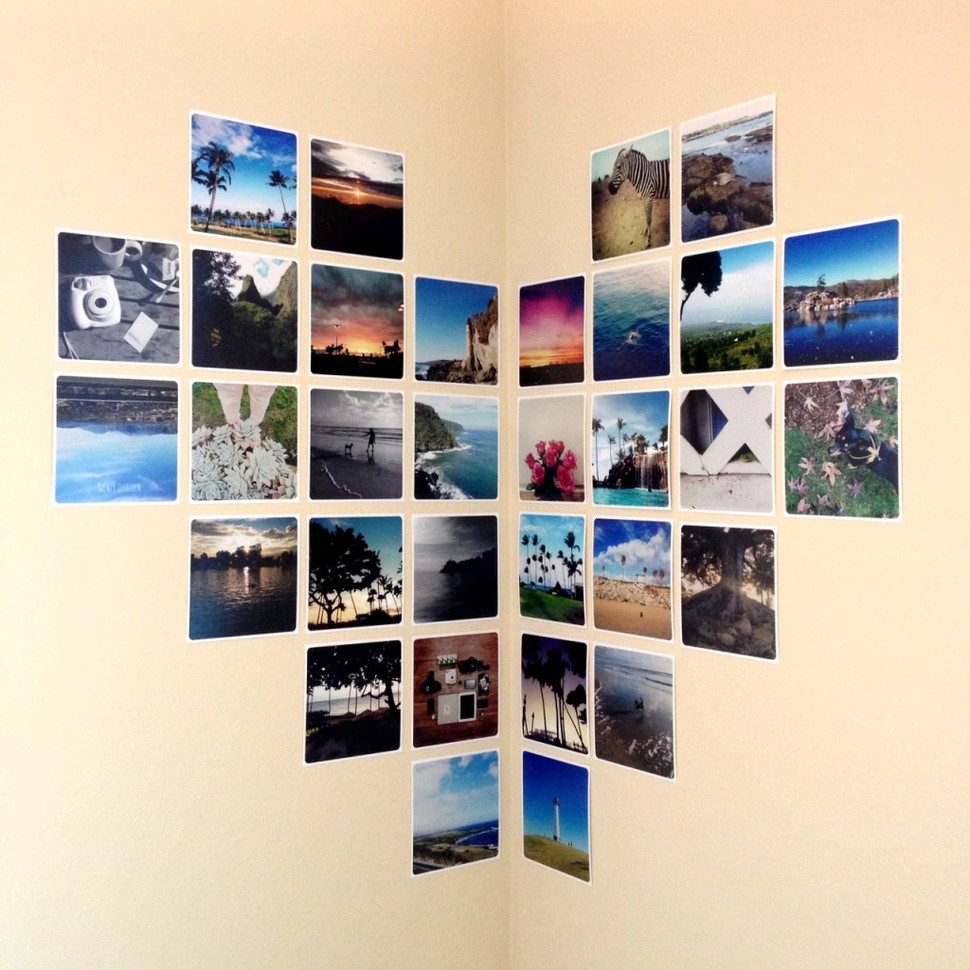 Have an empty corner? Turn it into a corner heart photo display. Postalpix.
Wall Clock Photo Collage is a Neat Idea

A photo wall arranged in a clock shape, with no frames. Photojojo.
Unusual Photo Layout Can Spark Conversation

A deer head decor has been a popular item lately – why not to improvise it with your photos, via.
Decorate Your Wall with Photo Art

What an awesome idea for a children's art project, to decorate their own rooms with photos.


Use strings to create a geometric wall art piece.
Hang Your Photos on a String

Square photo print set from Artifact Uprising, some string and small wood stumps were used to create this beautiful display.


A DIY photo hanging system for a very modern look, via.


The simplest DIY string photo wall display – see the step-by-step tutorial.
Go with Free-form Photo Collages for Eclectic Wall Decorations

A cloud-shaped collage makes this room a showstopper, a without frames idea from a Paris loft – learn more about it at Remodelista.
Straight Forward Rectangular Layout Can Be Best

A rectangular photo wall collage layout with pictures neatly arranged in the same pattern throughout, via


Have a big wall? Build a giant Instagram collage over time, with photos arranged by color, via.
Make a Family Tree Photo Collage Without Frames

A family tree photo wall decal – the faux frames are actually stickers. alittlemarket.com.
Fill the Entire Wall

An entire wall as a photo collage, via.


Instead of framing pictures, try a removable photo wallpaper.
Black and White Never Gets Old

A collage that kept expanding …


… and ended up as a perfect black and white photo wall. Via.


Everything is more beautiful in black and white, they say, via.