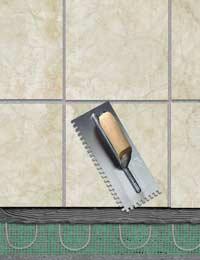 One of the fastest growing trends within the remodeling industry is the inclusion of electric radiant floor heating under tile or stone floors. Homeowners in ever increasing numbers are being drawn to the practical luxury and comfort advantages that electric radiant heating brings to bathroom floors and other areas within the home where time is spent relaxing or entertaining friends.
It's safe to say, that most homeowners would like to avoid that apprehensive first step out of a nice warm shower onto the icy bathroom floor. Electric floor heating's ability to make the room, including all its contents, luxuriously warm from floor to ceiling, is the ultimate offer in personal comfort, and everyone will quickly realize and revel in the spa-like comfort these new systems provide.
Tile, marble and stone have a few things in common: They are all cold surfaces that conduct heat well, making them perfect for floor heating installations. Cold-toed consumers will not have to wait long to feel the soothing and pleasurable touch that they will begin to identify with the comforts of home. It may also be comforting to know that electric systems are highly-energy efficient. According to Nicolas Mottet at WarmlyYours (www.WarmlyYours.com), "Operating a heated floor in a medium-sized bathroom will cost on average 5-10 cents a day." A radiant heating system is typically controlled by a digital programmable thermostat that allows you to wake up to the luxury of heated floors in the morning but turns itself off and saves energy and money when you're not using the room.


Recently, Honeywell introduced a new line of Honeywell electric floor heating systems (www.HoneywellFloorHeating.com). The Honeywell line will include four prepackaged, easy-to-install bathroom floor warming kits designed for bathrooms with open areas up to 40 sq. ft., along with a free 24 hour custom system design service. The design service will provide overnight system design drawings and pricing for larger bathrooms, kitchens, family rooms, foyers and other rooms that could benefit from the premium warmth and comfort dynamics of a Honeywell floor heating system.
One of the best things about electric floor heating is the ease of installation. Unlike hydronic floor heating systems, electric floor heating systems have been designed to be installed by floor covering professionals. No secondary tradesmen, beyond a qualified electrician (for final electrical hook-up) are required. Installation manuals or videos are readily available from most manufacturers. WarmlyYours even offers a 24/7 installation support to ensure trouble-free installations. Even if you don't end up using the help line, it's nice to know that there's one.
All in all, installation is easy, and with no moving parts to be changed, maintenance is, too. Once the radiant heating system has been properly installed, customers will enjoy many years of spa-like luxury, right in the comfort of their own homes.
Homeowners interested in radiant heated floors can use the very easy-to-use WarmlyYours online design tool (www.WarmlyYours.com/pplanner) to request a custom quotation for the bathroom or kitchen remodeling project.
Related resources:
Electric radiant heat: making the right choice
Radiant Panel Association (RPA)